What is Immers Space?
Immers Space is a platform cooperative with DisCO principles. We share control of the organization with users and creators of Immersive Web content because we believe democracy and accountability are the keys to a healthy community. Our mission is to foster a flourishing Immersive Web that promotes creative autonomy, decentralized control, and sharing of open-access resources, and our vision is a democratized new era of the Web where creators own their content, users own their data, and no single entity exhibits undue influence on the community as a whole.
In our Grant for the Web project, we have built the foundational technology to connect Immersive Web experiences into a federated social network without centralized control and a social chess game to serve as a flagship example. Our previous report is available here.
Project Update
We're happy to report that we have completed our key deliverables: a cross-platform multiplayer chess game Immersive Web experience, in-depth documentation, and a democratically governed collective legal organization.
Progress on objectives
Cross-platform, multiplayer chess game Immersive Web experience
Play Virtual Reign now at https://vreign.space on desktop, mobile, or in virtual reality. Play right in your Web browser with no installs and invite friends to play and spectate with live voice chat.
Virtual Reign is more than just a gorgeous and fun immersive social chess game, it's an Immer. That means it is a destination in a decentralized and federated network of Immersive Web experiences. In Immers Space, users can choose any Immer as your home base, and then take that account and identity with you and use it to login into any other Immer. You can make friends along the way, meet up anywhere in the metaverse with the click of a link from your friends list, and chat live across the Immersive Web. In Immers Space, creators can publish their work instantly without needing permission or approval and retain complete control and ownership of their creations. You can build up your own community around your creation while still being connected to the wider federation of communities from each Immer.
In-depth documentation
immers-app
One of the biggest obstacles to creating unique Immersive Web experiences today is a requirement for technical skills and tools just to get your own world and running, even when using a packaged solution like Mozilla Hubs. In addition to providing step-by-step instructions, we also put significant effort into simplifying and automating the process. We built a tool that can automatically apply the custom code and custom settings necessary to pair Hubs with Immers Space so that you don't have to install developer tools like git and NodeJS on your computer or dig into advanced settings menus in Hubs cloud.
This tool is called immers-app, and it's so convenient we even use it ourselves to manage our worlds. Check out the resulting streamlined instructions to setup your own Immer with Hubs Cloud.
How to earn money from your Hubs Cloud with Web Monetization
We wrote an instructional blog on how to add Web Monetization to Hubs Cloud, even if they aren't using the special Immers Space version of Hubs.
How to upgrade your Immer with premium content
All of the monetization features we developed for Virtual Reign (more details below) are included in our custom version of Hubs for others to incorporate into their own experiences without needing any special tools or coding. This article includes detailed instructions for how to add premium web-monetized features and content to their creations.
Creators FAQ
Through conversations with potential Immers Space creators, we've learned it takes work to differentiate our mission from the others who like to borrow the language of decentralization and autonomy but don't really live it. We created an FAQ for Immersive Web creators to help explain how we're different.
Source code
All of our work is open source and available on the Immers Space Github organization page.
Democratically governed collective legal organization
Immers Space is now an incorporated worker-owned cooperative and we've adopted the Distributed Cooperative model & principles from fellow GftW-er DisCO.coop. Our bylaws empower users and creators to participate in the governance of our organization and ensure that we have accountability to the people our decisions affect.
Key activities
Our focus for the second half of our grant period was on finalizing the chess game, designing our collective governance structure, and creating Web Monetization features for the Immersive Web
Finalizing Virtual Reign
Virtual Reign is now complete, with two beautiful chess scenes and chess sets designed by team member Dulce Baerga and a fully playable chess with move validation created by team member Quinn Madson.
We've had two launch events, the first on May 20th for our free, Vaporwave chess scene, and the second on June 10th/11th for our Web Monetized premium Alice's Adventures in Wonderland chess scene with animated character chess set.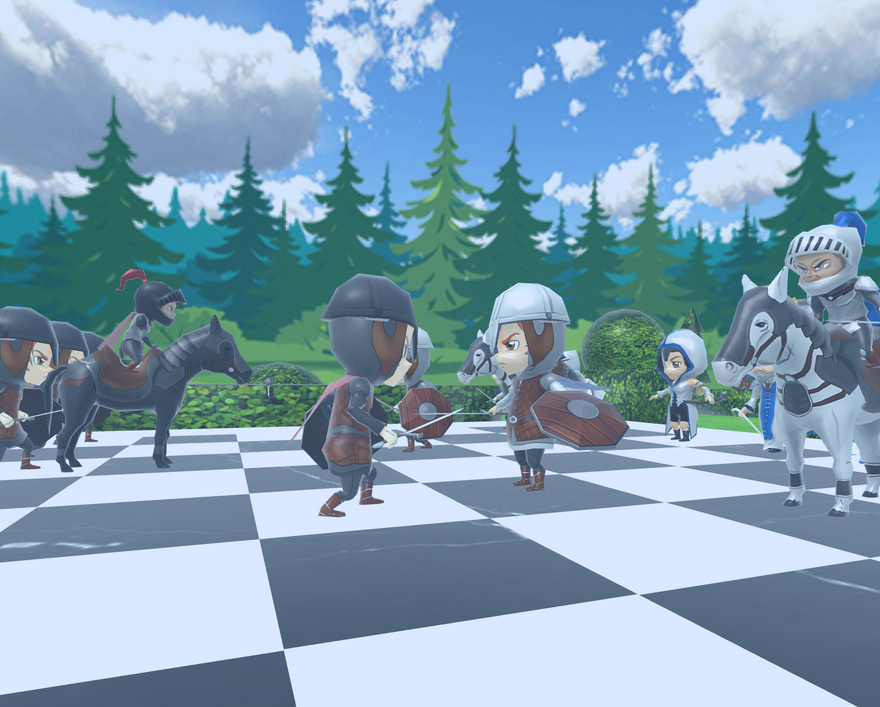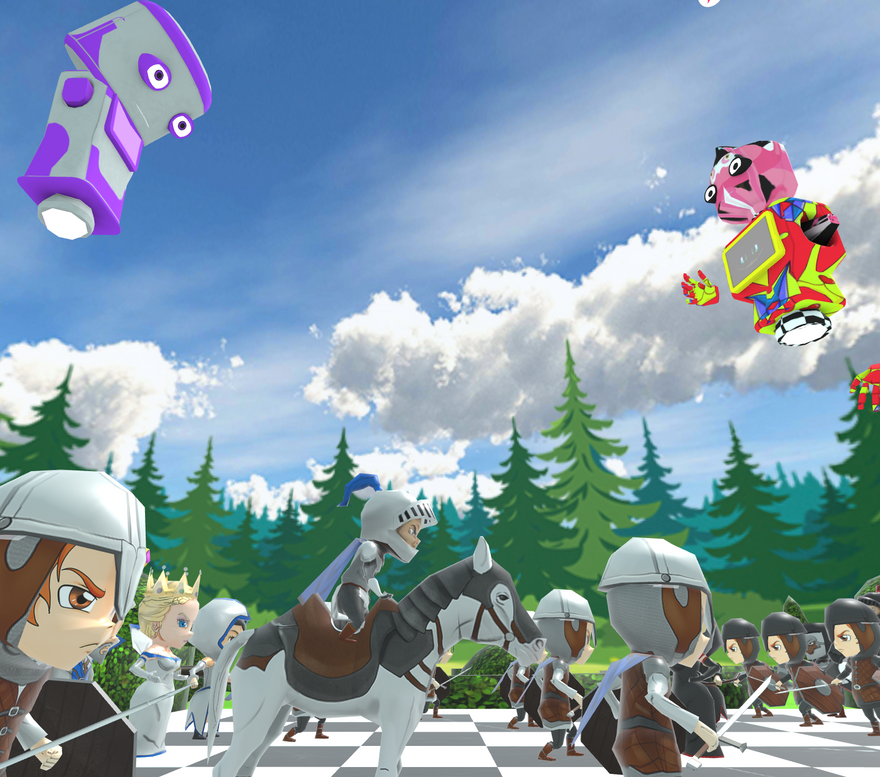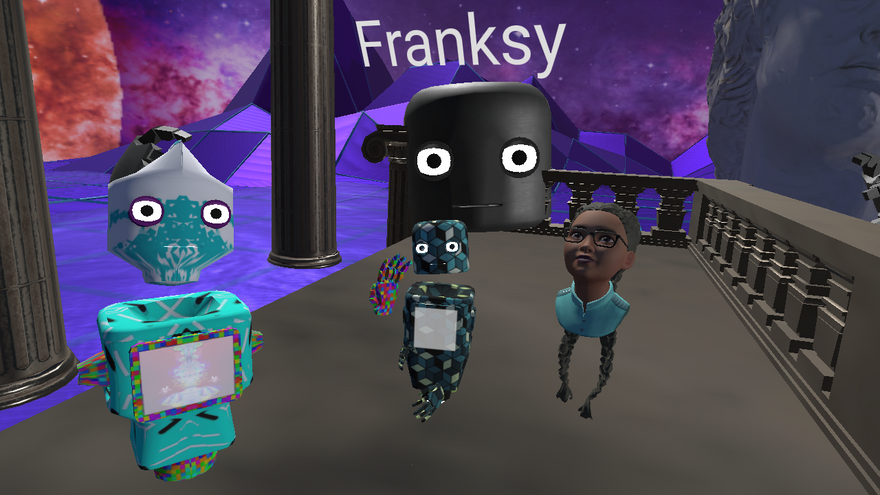 MattBCool

@mattbcool

Social webXR chess courtesy of

@ImmersSpace

Players spectating and playing across devices. Very nice!

17:55 PM - 11 Jun 2021
Collective governance design
We went through a 6 week governance design process with the co-op development consultants at Upside-Down Consulting
Thanks to a timely and valuable connection made right on this forum, we adopted the DisCO model with the help of @silvia_disco and Sari
We got legal consultation and help drafting the bylaws from co-op experts Cutting Edge Counsel
We're really proud of the bylaws we've developed that give users and creators power to block acquisitions & mergers, guide our open source development roadmap, and set community code of conduct & interoperability standards. We believe that real accountability to and input from our communities will lead to a better, healthier Immersive Web.
Immersive Web Monetization features
With the basics in place and great content ready to share, we got to explore different methods for adding premium monetized content.
Functional capacity: Bypass room occupancy limits
Immers operators can set the number of free slots available in rooms, and after that limit is reached, only monetized users can join.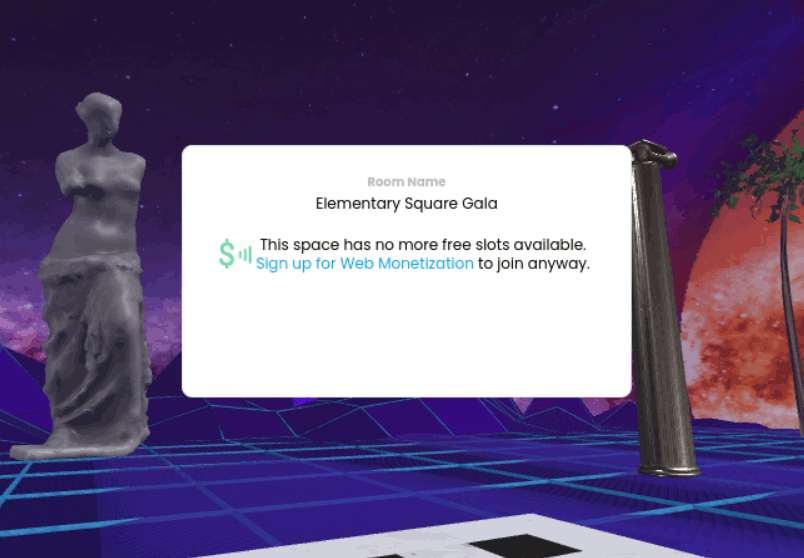 Identity personalization: Collect premium avatars
Bonus avatars can be placed (or hidden) in scenes and made available for use only by monetized users.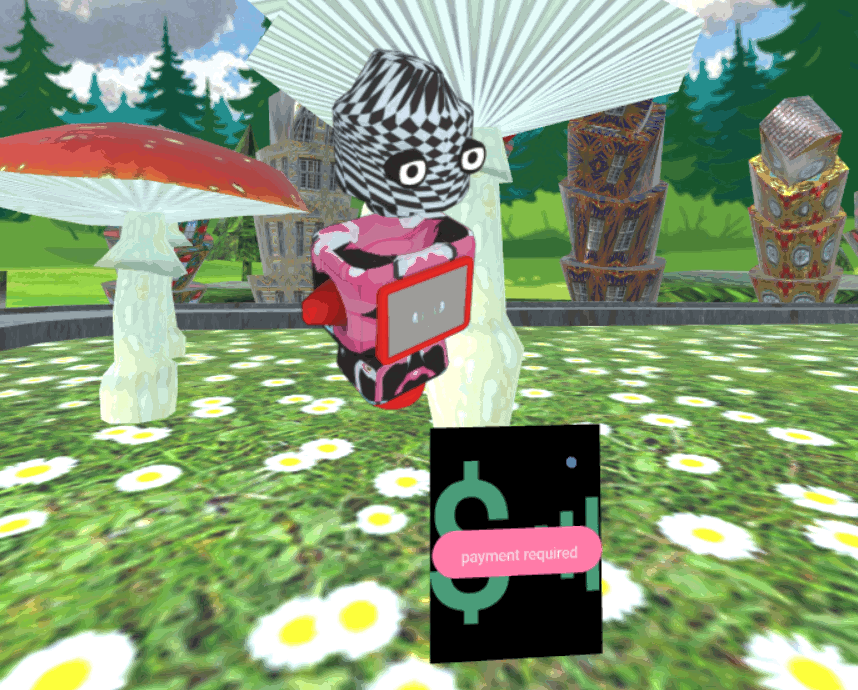 As a bonus, once you collect an avatar in Immers Space, it is added to your profile and you can wear it on other immers or even check it your home wirth augmented reality.

Game enhancements: Unlock premium scenes & animated pieces
Creators tag certain scenes as premium content, and they will automatically be advertised on the homepage and made available only for paying customers.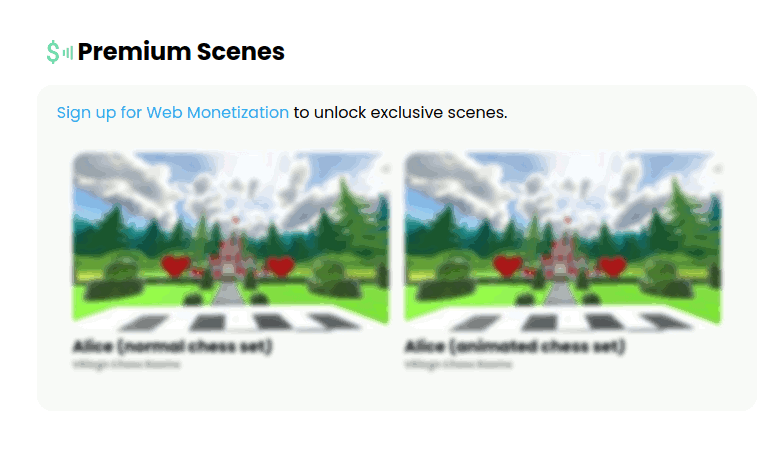 Game enhancements: Shared bonus content
Creators can also tag objects in their scenes to be hidden unless users are monetized, or for shared experience fun, hidden unless at least one user in the room is monetized.
Communications and marketing
We've expanded our social media presence with brand accounts, check us out on your platform of choice:
Twitter, Facebook Immers Space page, Facebook Virtual Reign page, LinkedIn, Guppe Groups (Mastodon/Fediverse), Matrix
Marketing website & mailing list sign-up
Fellow GftWer Just a Meme podcast
We conducted paid advertising campaigns on Facebook to promote our launch parties, reaching 55,000 people and generating 700 engagements. We also conducted a lead generation campaign on Facebook looking for Immersive Web creators, reaching 77,000 people and generating 75 leads.
What's next?
We're developing a partnership with chess clubs in Chicago Public Schools for the Fall semester of 2021
We will soon open up membership subscriptions for creators and users who want to to have a say in the future of Immers Space
The Immers Space team is available for freelance work & managed hosting to help you create your own unique Immersive Web experience and connect it to the federated metaverse
We'll be reaching out to developers with existing Immersive Web content to talk about adding social features with our free software
During our grant period, a group called the Open Metaverse Initiative has formed to help set standards for the Immersive Web; we'll continue to participate and promote the ActivityPub W3C standard
Live events have been our best recruiting tool so far, so we'll keep scheduling exhibition chess matches with the team and other players we can recruit
Submitting Virtual Reign to various Immersive Web and Web Monetization list curators
What community support would benefit your project?
Grab some friends and play chess at https://vreign.space