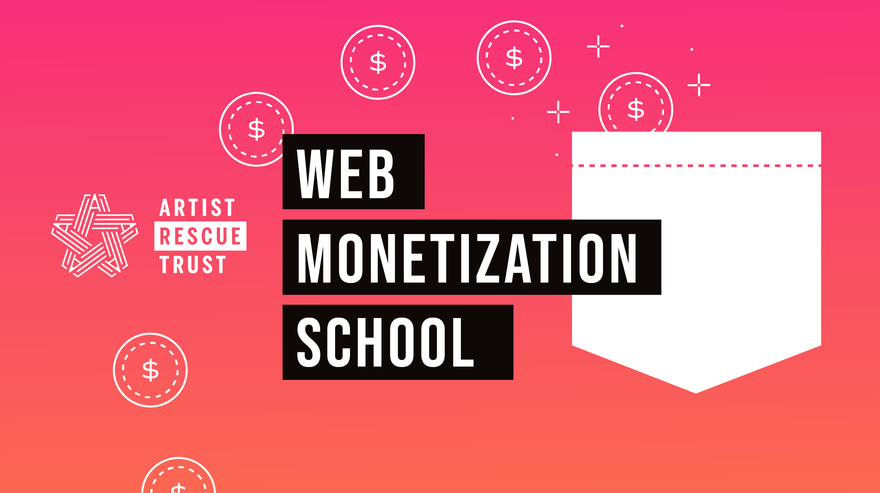 Project Update
Since our grant period began we have been focused on three key areas. First is understanding the potential for how creative/arts communities could use Web Monetization in their online world. We approached this through the lens of how to make this new technology approachable and easily understood. So no matter if someone is sixteen or sixty-two years old and of varying technological acumen they could understand and deploy the technology.
The second was finding and connecting with potent creative communities, organizations, and companies in the United States that could help amplify our messaging about the grant we would be awarding and also use the opportunity to explain Web Monetization. This has allowed us to understand some messaging hurdles that are present when explaining what Web Monetization is and how it works. We have become aware at times that for some it is confusing and at times, not an easy sell. So we've taken note of this and done our best to hone our pitch to alleviate as much confusion and, at times, the concern we sometimes encounter.
The third was taking the research and feedback from the first two and folding it into our strategy as we build out our asynchronous training modules about Web Monetization. Our outreach efforts are ongoing and we continue to get insightful feedback from past and current outreach partners. What we've come away with is that simplicity is key to understanding as well as repetition. While Web Monetization feels familiar to us as a result of this grant, for many it is initially confusing and met with some skepticism in regards to the relationship between our grant-giving and our Web Monetization. As we've developed our training modules these takeaways have been the lens through which we have viewed our content and focused our curriculum.
We are halfway through the development and production of our training materials with a completion date set for mid to late June. Our grant application will close on May 14th. After which we will finish the review of all applications and build our eligibility pool of applicants. Grants will be awarded in June and grantees will be notified and required to attend our Web Monetization School hosted on Teachable which must be completed before they receive their grants.
Progress on Objectives
Many of our objectives/goals/measures of success are dependent on the full suite of training modules to be completed and accessible to both our grantees and the general public. We currently have our "Introduction to Web Monetization" video on the application page of our website. It must be viewed before someone can apply. When our application closes, we will move this to the homepage of our site. We have completed our first training module with the second and third now in full and pre-production phases. All four will be available on our website when complete. These will be accessible to the general public and laid out as full training courses to be completed step by step or done ala-carte.
Key Activities
Three key activities have been taking place. The first being the scoping and development of our Web Monetization School. We've had the benefit of having the ear of a professional workshop organizer to soundboard ideas and review our content. The second has been building out a grass-roots base of outreach partners across arts organizations, companies, and art-focused technology platforms to help raise awareness about our grant-giving and Web Monetization.
The third has been our focus on reaching underserved communities and understanding better how our grants may help them and also how they view something like Web Monetization. A major theme that we've found in our underserved community outreach is that tech literacy and access tend to be a major hurdle. Likewise, there at times is a heavy amount of skepticism to overcome when explaining how something like Web Monetization could benefit them. As stated earlier in this report, the feedback and conversations we've been having during our outreach have really informed how we approached our training scope and content.
Communications and Marketing
We did have some funds earmarked for marketing and PR. After some initial research with the Jones-Dilworth agency around running various targeted ad campaigns through Facebook, Instagram and Google we stepped away from that strategy. It was just not going to be cost-effective. Too much upfront spend was needed to accurately drill down to potent audience verticals. We found that our grass-roots approach was/is more effective in communicating and getting buy-in to help spread the word about both our grant-giving and Web Monetization.
On the PR side, we have seen mixed results as well. We hired Giant Noise out of Austin to help us develop a press campaign and messaging about both the grants and Web Monetization. Again we ran into some challenges with explaining the relationship between ART and Web Monetization as well as cultivating understanding about Web Monetization in general. So there were some challenges there. About 50+ local and regional outlets were pitched as well as about 40+ national outlets over a two-month period from Feb-March. We saw some interest but mixed results and little interest in coverage. The feeling from Giant Noise was that while the grant amount was big, it was maybe not large enough to garner attention. Likewise, feedback from their initial outreach to the media was in line with our grassroots outreach efforts. A bit of confusion about Web Monetization but a lot of love for the direct funding of artists in need.
I was interviewed on this Podcast about a few things including ART. Our Underserved Community Outreach Manager, Audrey Ullman participated in a conference session with the National Museum of Women in the Arts. And we've seen a fair amount of success from our outreach partners sharing our grant-giving on social media and messaging it out to their communities and customers via email campaigns. This outreach continues until the grant application closes.
What's Next?
We will continue to finish our training modules and finish the build-out of our Web Monetization School. Outreach will continue to raise awareness about the grants. Once we have our grantees chosen they will be notified and required to complete our Web Monetization School to release their funding. We will follow up both with our grantees and also those who have signed up to learn about Web Monetization via our website with some surveys in the fall to better understand their journey with Web Monetization.
What community support would benefit your project?
Continued help with raising awareness about our grant-giving until our application closes on May 14th.