BessPay is a comprehensive digital content subscription service for creators in developing countries
Our Mission: Enabling creators and content businesses in developing countries to monetize and thrive online.
Our Vision: To be the leading content monetization and payment provider with the best rates and service for creators.
Introduction
BessPay aims to revolutionize how creators in developing countries earn and thrive online by developing and launching a comprehensive Digital Content Subscription Service.
This service includes an ILP Network node wallet and plugin facilitating:
seamless streaming payments
issuance of payment pointers to creators
integration with local financial entities for cash-out, and
flexible subscription payment methods. (credit cards, local payment agents, local digital wallets and carrier billing will be deployed in phases)
Research Findings
Our research reveals that Jamaican creators urgently need a transparent, efficient, and affordable solution for their content monetization and cash-out. Our survey results indicate that 48% of respondents find the fees for local bank transfers high or expensive, and 32% experience payment delays of over 7 days from content distribution platforms. BessPay will relieve these pain points with its low fees and payment delivery within 24 hours.
We found that Digital Content Businesses/Over-The-Top(OTT) platforms urgently require a scalable digital solution that streamlines creator onboarding, content monetization, and subscription revenue payouts while reducing costs and improving efficiency.
BessPay's Business Model
Our business model is centred on enhancing revenue and optimizing operations for both individual creators and digital content businesses/OTT platforms. We achieve this by offering competitively priced services and exceptional customer support, facilitated by B2B2C distribution channels through strategic collaborations with leading regional telecom and financial organizations.
Prototype, Launch & Our Growth Potential
Our plan is to develop, test, assess, and fine-tune our prototype over a nine-month period, targeting an April 2024 launch in Jamaica. Following successful adoption in the initial market, BessPay intends to expand into 26 developing countries spanning the Caribbean, Central America, Africa, and Southeast Asia. To support this growth, we have devised a well-structured franchising strategy, which will be executed over a seven-year timeframe.
Progress on objectives
We have successfully completed our Research and Planning Phase and laid the groundwork for the development of the service's ILP Node wallet and plugin.
Key activities
The following are the key activities that were carried out during the reporting period, under each objective
A. Business Plan :
We have successfully completed a comprehensive business plan that encompasses the business model, pricing analysis, eight-year financial projections, risk management, marketing and public relations strategies, as well as an expansion strategy through franchising.
B. Technology Plan:
Our technology plan has been finalized, detailing the integration of the Interledger Protocol, technical resource allocation, and cost estimates for the development of the prototype.
C. Legal, Regulatory Compliance & Risk Mitigation Strategic Plan:
We have developed a strategic plan addressing legal and regulatory compliance, risk management for Jamaica, and created a Risk Appetite Statement (RAS) to guide our approach to various risks.
Business Plan Synopsis
1. Surveys & Key Findings: Devised, conducted, and analyzed surveys to identify and understand the needs and preferences of Jamaican creators and subscribers, gauging feedback on fees, and determining market potential and demand for BessPay's Digital content subscription service.
2. Persuasive Use Case: Established a convincing use case for ILP-based Financial Services, positioning BessPay as a trailblazer in the creative and financial sectors in the Caribbean region.
3. Target Market:
BessPay has identified the following key segments for its services:
a. Digital Content Businesses and ILP-Enabled Platforms wanting to do business in the :
Caribbean (2024-2027), TAM including Diaspora : 8.1M
Dominican Republic, El Salvador and Panama (2026-2028), TAM : 9.5M
Ghana, Kenya & Tanzania (Africa) & Malaysia (Asia) (2028-2030), TAM: 32M
b. Independent creators operating personal websites, with a Total
Addressable Market (TAM) of approximately 24,000 individuals.
c. Telecommunications companies offering Over-The-Top (OTT) Value
Added Services (VAS) across 27 countries, with a TAM of 125
million subscribers.
The TAM includes potential subscribers aged 15-65 years who have internet access, a smartphone, and an income at least equal to their country's median annual earnings.
BessPay's revenue projections are based on a conservative penetration rate of 0.5-1% of the TAM in each market, with strong annual growth anticipated.
4. Implementation Plan & Budget:
Devised an 8-year implementation plan and budget, covering prototype, launch, growth, and expansion phases.
5. Spreading Strategy via Franchising:
BessPay will establish an Expansion Fund, allocating 5% of gross revenue to fund its growth-spreading strategy via franchising. The growth phase commences after successful service adoption in Jamaica and aims to spread to 26 countries over a 7-year period.
Key franchising activities include:
a. Franchisee Selection & Training:
BessPay will implement a rigorous selection process and thorough training on its platform services, ensuring adherence to the Franchise Agreement, standards, and operating procedures. Franchisees are accountable for local adaptation, regulatory compliance, creator outreach, and promoting BessPay's services while upholding quality and brand consistency.
b. Franchisor Support in Expansion:
BessPay, as the franchisor, will leverage partnerships with multinational telecom and fintech services to facilitate the adaptation of the technology to function in the local market. Additionally, we will assist franchisees in complying with local regulations and payment methods, ensuring a smooth and consistent deployment of the solution across different regions.
6. Marketing & PR
BessPay employs an integrated marketing strategy to promote its innovative digital content subscription services, including the ILP Network node wallet and plugin. Key tactics include:
Social media marketing and influencer collaborations to create brand awareness and attract users.
Community engagement, feedback sessions, and nationalistic initiatives to strengthen community ties and preserve cultural traditions.
Content marketing, referral marketing, PR and media outreach, radio and TV interviews to establish credibility and trust.
Email marketing, targeted digital ads, guest blogging, webinars, conference presentations, and social media collaborations to expand reach and exposure.
Marketing to the diaspora to leverage pre-existing networks and increase brand awareness.
BessPay's data-driven marketing approach ensures continuous optimization of campaigns and strategies. As the platform grows, BessPay plans to expand its services to other regions facing similar challenges, diversifying its customer base and tapping into new markets.
7. BessPay's Team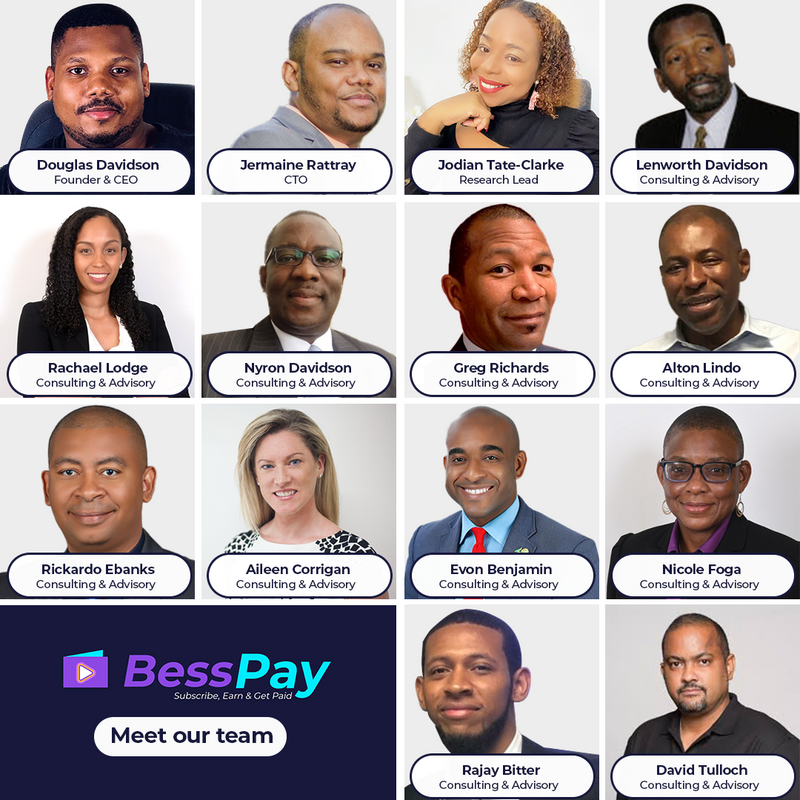 BessPay's skilled team has extensive expertise in various domains such as technical, IT, telecom, financial, creative, media, health, legal, regulatory, risk, and compliance. Each team member has between 10 and 30 years of experience, ensuring a comprehensive understanding of the industry.
Key team members include:
Douglas Davidson(CEO): A highly accomplished Senior Software Engineer, and Quality Assurance Lead with an accumulative experience of 10+ years in developing and testing web, mobile applications and games in varied industries. He is a Strategic thinker, solution-oriented, humble and has the innate drive for helping improve the lives of persons in developing countries with technology.
Jermaine Rattray(CTO): Over 20 years of experience as a System Architect and Software Engineering Lead, responsible for building out and managing development teams. He has successfully delivered many complex systems and API-centric projects for a wide range of industries including (Financial/Fintech, Insurance, Shipping, Health, Ecommerce, Content Platforms and other Consumer Apps)
BessPay's talent recruitment strategy focuses on attracting high achievers, offering competitive salaries and ESOP participation opportunities as rewards. This approach ensures the team continues to grow with skilled and dedicated professionals who will drive the company's success.
The organizational structure comprises various teams reporting to key leadership roles such as the CEO, CTO, Operations Manager, Franchise Manager, Marketing Manager/Consultant and Finance & Administration Manager. These teams include technical experts, software developers, designers, creative consultants, quality assurance engineers, security analysts, operations personnel, customer support, sales, marketing & pr, franchise consultant and finance & administration staff, all committed to deploying BessPay's vision, mission, and services.
8. Financial Projections
Over a seven-year period (2024-2030), BessPay projects considerable revenue growth and positive financial results in Jamaica, with key highlights including:
Total operating revenue exceeding USD$12.7 million
Net profit of USD$2.2 million and cash at bank of USD$2.9 million by Year 7
Expansion plans funded by allocating 5% of gross revenue to a Spreading-Expansion Fund Reserve accumulated to USD$593K by 2030.
Our strategy involves spreading-franchising across 26 countries beyond Jamaica, amplifying our operating results and fostering long-term growth.
Notably, the financial projections are based solely on the Jamaican operations for the first seven years, with further growth anticipated as franchise agreements are executed in other countries.
In summary, BessPay's innovative business model and unique technology lay the foundation for success in the digital content monetization and payments industry, ensuring value for creators, subscribers, and our shareholders.
Technology Plan Synopsis
The BessPay technology platform focuses on secure, efficient, and compliant content monetization and cash-out/payment services. Key aspects of the plan include:
Comprehensive security: Addressing secure development practices, data protection, privacy, infrastructure and application security, third-party assessments, and incident response.
Compliance: Adhering to international best practice standards and regulations for development and deployment.
Phased deployment: Transitioning from research and planning to prototype, followed by launch, growth, and expansion phases.
Payment methods: Including various payment methods, such as credit cards, local payment agents, local digital wallets, and mobile carrier billing, with a proposed deployment roadmap for each method.
Expansion strategy: Targeting the Caribbean (2024-2027), Central America (2026-2028), Africa & South-east Asia (2028-2030), with potential integration of Rafiki's functionalities for enhanced financial services.
This technology plan ensures a robust, secure, and scalable solution for the BessPay Service, facilitating seamless content monetization, cash-out and growth opportunities in the target markets.
The prototype stage of this project has an estimated total budget of approximately $380,000 - $440,000 USD, with prototype technical development costs of around $175,000 - $200,000 USD.
Legal & Regulatory Compliance Synopsis
The Bank of Jamaica (BOJ) under relevant legislation has regulatory responsibility and oversight for Deposit Taking, Banking, Money Remittance and Bill Payment Institutions in Jamaica. BOJ is currently developing legislation and regulations for Fintech companies and has established a sandbox for preliminary testing of innovations including digital wallets with a maximum timeframe of 24 months.
Pending Fintech Legislation, BessPay's approach in Jamaica is to utilize existing services of regulated financial entities for Subscription payment and cash-out service. Country-specific regulatory and compliance assessments will be conducted prior to expanding to new countries.
Risk Strategic Plan
BessPay has a strategic plan addressing legal, regulatory, and risk mitigation aspects, focusing on:
1. Managing Multiple Stakeholders:
Building relationships with government entities, banks, Payment Agents, and telecom companies.
2. Managing Risk, Compliance, Governance, and Legal Frameworks:
Comprehensive risk assessments, investigating Country Regulatory Sandboxes, and ensuring compliance with regulations.
3. Building Trust in BessPay Service:
Communication and customer onboarding plan, responsible creator engagement strategy.
4. Managing Financial Regulatory Approach:
Working closely with regulators to ensure compliance and utilizing services of regulated financial entities for Subscription Payment and Cash-Out Services.
We have developed a Risk Appetite Statement (RAS) outlining our approach to risk management across seven categories: strategic, operational, financial, compliance and regulatory, reputational, cybersecurity and data privacy, and technology risks.
Communications and marketing
BessPay has developed a comprehensive database of 1,246 creators in Jamaica, which will be used to design targeted marketing campaigns.
Other communications & marketing activities include:
Sharing information about ILP technology and its opportunities with key stakeholders.
Engaging with potential local and overseas partners within the ILP Network to explore collaboration opportunities.
Attending ILF online community events and sharing insights with our Core, Consulting and Advisory teams.
Utilizing targeted email marketing to nurture relationships with creators and their communities.
Hosted a creator-focused information session about the ILF community grant opportunity "Future Money" attended by 45 potential creative applicants from the Caribbean.
Marketing, Communication, and PR Strategy: BessPay has developed a strategic Marketing, Communication and PR plan to introduce its service during the Prototype, Launch, and Growth phases. This includes:
a. Marketing: Creating targeted campaigns to raise awareness and attract potential users.
b. Communication: Keeping stakeholders informed and engaged throughout each phase.
c. PR: Building a positive brand image and reputation for BessPay in the market.
What's next?
The next steps for BessPay is to:
Submit a prototype funding proposal to the Interledger Foundation in June 2023.

Upon approval (estimated July 2023), assemble the development team and execute the Prototype Development Plan.

Perform comprehensive Quality Assurance and Security testing for the BessPay Prototype.

After completion (estimated November 2023), invite a select group of First Adopters (Creators & Subscribers) to test, evaluate, and give feedback on the BessPay Service.

Carry out the Marketing, Communication, and Brand Development Plan for Pre-launch and Beta-Testing phases.

Successfully launch the BessPay Beta Service in Kingston, Jamaica (estimated April 2024).

Conduct a Post-Launch Review Period and refine the service as needed.

Implement the Marketing & PR Plan in the Jamaican market.

Monitor and achieve KPIs in Jamaica (2024-2027).

Ensure stability, growth, and a reputation for providing excellent client service.

Execute the Spreading Strategy via Franchising.
What community support would benefit your project?
1. Collaborations and Networking: Support from Stakeholders in the Interledger Community will foster cross-industry connections, sharing of best practices, and learning from each other's experiences.
2. Feedback and User Testing: Feedback from the Interledger community on our prototype, user experience and business model will provide valuable insights for refining our offering. We would also appreciate community members volunteering as first adopters to test the platform and provide constructive feedback.
3. Local Support: As BessPay expands into new markets, assistance from Interledger's community members within each country will prove invaluable for local franchisees in their business development and promotional activities.
Additional comments
We are grateful for the valuable feedback and collaboration from the community.
Our exchange of ideas and learning collectively will contribute to a fair, efficient, and accessible digital content ecosystem, enabling creators in developing countries to earn and thrive online.
We thank the Interledger Foundation Program Team for their guidance and support.
Report Dated: May 2, 2023