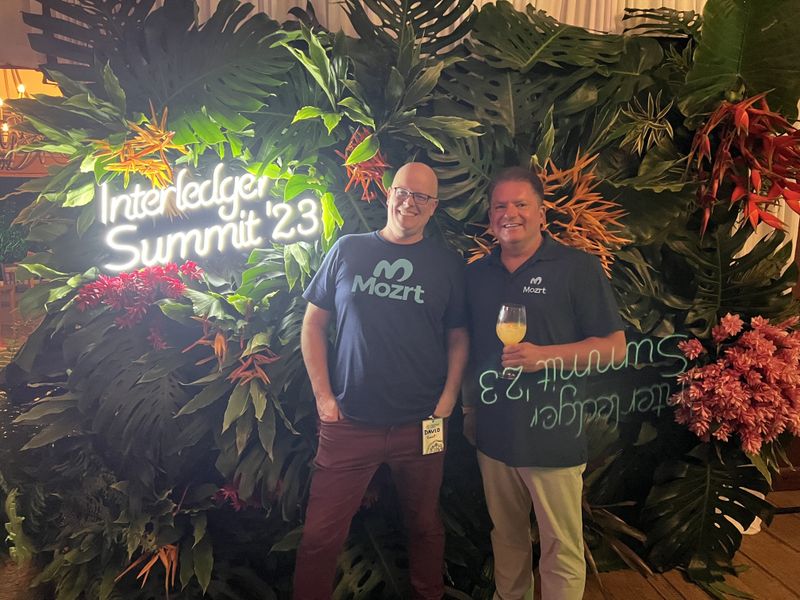 Our CEO, Jeff Althaus, and Head of Innovation, David Benoit
Brief Project Description
The purpose of the grant is two-fold: integrating Mozrt to Rafiki, and exploring the need to charter a bank to serve ILF community members.
Mozrt Bank aims to become an open payments and deposit bank leveraging the Mozrt technology API core to advance tech-forward fintechs and corporations.
Our mission is to provide accessible, affordable, and responsible financial services to create opportunities for fintechs, as well as individuals who are underserved by the existing financial system
Project Update
Our project so far has been an engaging experience, and has allowed us to truly dive into the Interledger world. Some of the highlights of the last four months include:
We have completed our creation of a local Rafiki instance
We have completed an extensible interface that demonstrates our API's capabilities. Functionality includes:
UI can be customized by client
Payment pointers are considered a first-class payment method, on par with ACH, SWIFT, Fedwire, etc. with no additional restrictions
Users can send money via payment pointer, ACH, or Fedwire
Users can create beneficiaries as Interledger-enabled
Users can screen interledger entities in line with regulatory and compliance standards
We have enabled all Mozrt-ecosystem entities so that they are automatically assigned a payment pointer.
Funds are deposited into the client's bank account and available immediately
Clients may customize their payment pointer
We have undertaken various marketing initiatives, including social media posts and boosts.
We have begun the process of consulting with knowledgeable partners to start the work of chartering a bank.
Project Impact & Target Audience(s)
Our project has had interest from many corners of the world!
We've had very interesting conversations with ILF, and ecosystem participants including Gatehub, JoPACC (Jordan Payments and Clearing Company), Chimoney (now a client!), Fynbos, Cheeri, SpendtheBits, BessPay, SmarterLicense, AgnostiPay, and People's Clearinghouse about how we can work together to connect their products to global banking.
We've been able to provide guidance on the complex banking landscape, as well as work together to plan on how we might solve some of the toughest challenges when entering the US banking market. We look forward to helping out Interledger community members with all of their banking landscape questions and concerns.
Progress on Objectives, Key Activities
We have made incredible progress on our objectives, with key accomplishments outlined by month here.
Month & Accomplishments
Month 1
(August)
Initial Design and integration plan complete.
Discovery sessions begun.
Conversations with ILF engineers (Sabine) complete.
MFX UI with payment pointers development begun
Charter - Initial investigation complete
Month 2
(September)
Rafiki-Mozrt Integration - Planning complete, Discovery complete. Integration begun.
MFX UI with payment pointers development continues
Conversations with Fynbos Rafiki developers underway.
Charter - In-depth conversations with advisors at the federal reserve and FDIC. Introductions and initial conversations with specialized accounting and legal firms to explore potential acquisition targets.
Month 3
(October)
Rafiki-Mozrt Integration - Technology integration continues. Testing sessions begin.
Demo of MFX UI with payment pointers ready
Month 4
(November)
Progress Report complete
Interledger Summit attended
Demo and explainer complete: https://www.mozrt.com/interledger
Rafiki-Mozrt - Technological integration in progress
Rafiki-Mozrt - Testing phase begun
Communications and Marketing
A demo of our services is here, envisioned as a simple UI over our API capabilities: https://www.mozrt.com/interledger
https://www.linkedin.com/posts/mozrt_have-you-rsvpd-for-our-upcoming-ilf-community-activity-7105232216313511937-RMPc?utm_source=share&utm_medium=member_desktop
https://www.linkedin.com/posts/mozrt_ilf-community-call-13-september-2023-activity-7110693212498927616-PZhr?utm_source=share&utm_medium=member_desktop
What's Next?
We are looking forward to continued discussions with regulators, banking attorneys, and more for Mozrt Bank, getting our Rafiki node peered, and sharing our experience with the community.
Community Support
We're excited to stay involved with the Interledger community and help to make financial inclusion a reality. We look forward to peering our Rafiki node with the community!