The fourth year of the Web Monetization category in the eleventh edition of the js13kGames competition brought us 21 awesome games out of 167 total - let's have a closer look at the best ones, and see what the experts think about them.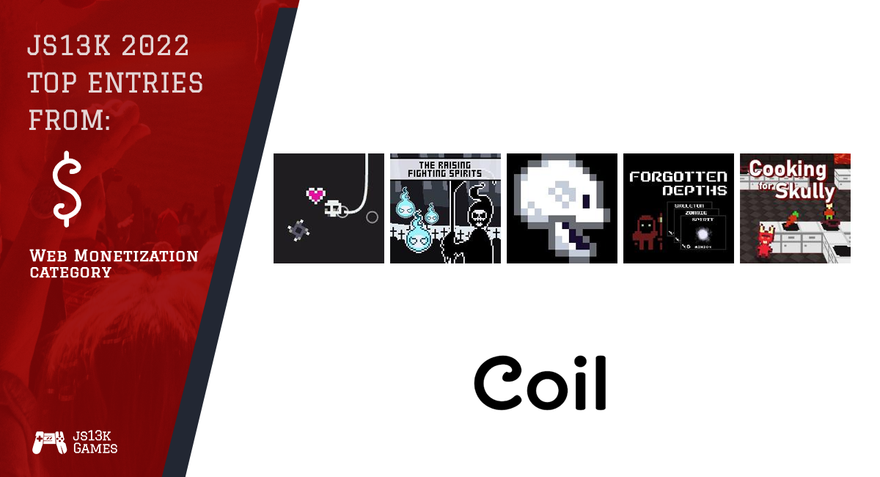 The constant support from Coil helped us run this category four time in a row, and the games are getting better and better over the years. The list below contains top 10 entries, and the top 5 are being showcased with the feedback from our experts: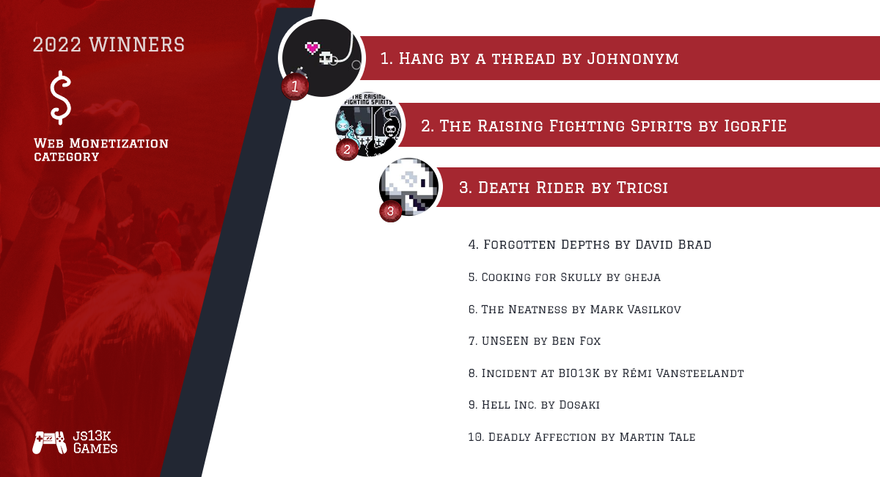 #1 Hang by a Thread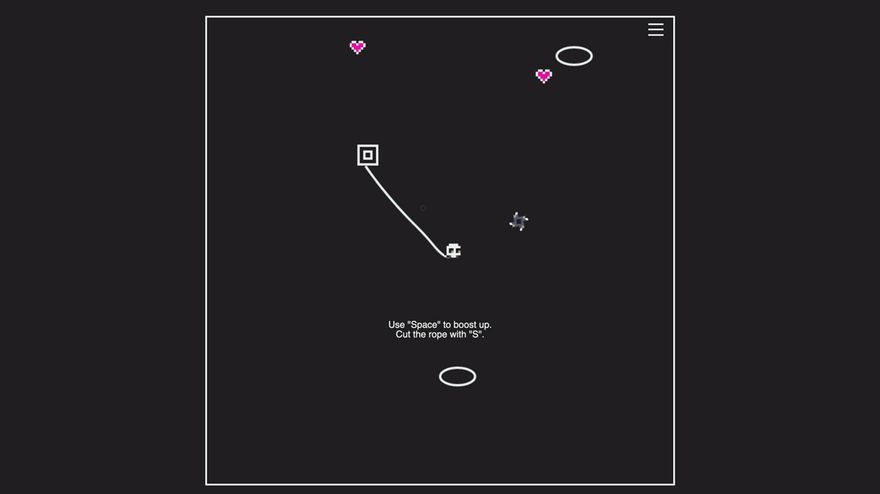 Nathan Lie : I really like this take on a physics-based puzzler. The solemn soundscape also really sells the theming of this game really well. Because of the physics-based nature of the game there is both a strategic as well as a dexterous aspect to the game that play off of each other really well.
#2 The Raising Fighting Spirits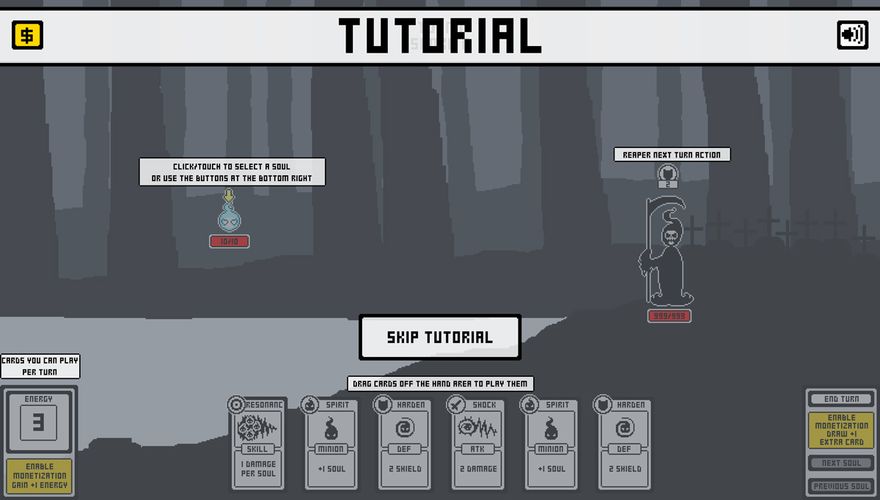 Ewa Mazur : Great game. Love the graphics, music, the idea, the way it's interactive and the player can easily learn how to play during the gameplay. The Web Monetization bonus is well-visible, especially while the Subscription is active (it's yellow and you just can't miss it), but I would work on how you communicate the bonus to a non-Subscriber.
#3 Death Rider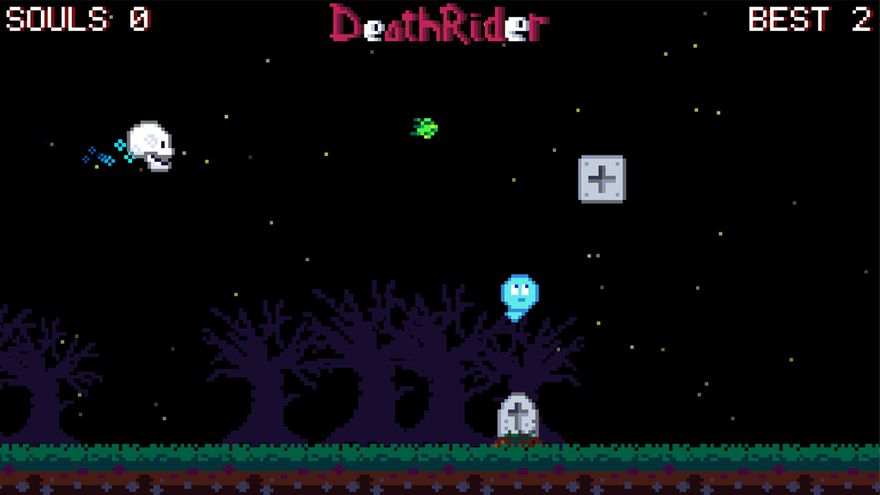 Nathan Lie : I like the quirkiness of this arcadey high-score chasing game. Even though it's simple, the graphics and sound design help motivate the player to keep going for a higher and higher score, and to keep trying for said high score.
#4 Forgotten Depths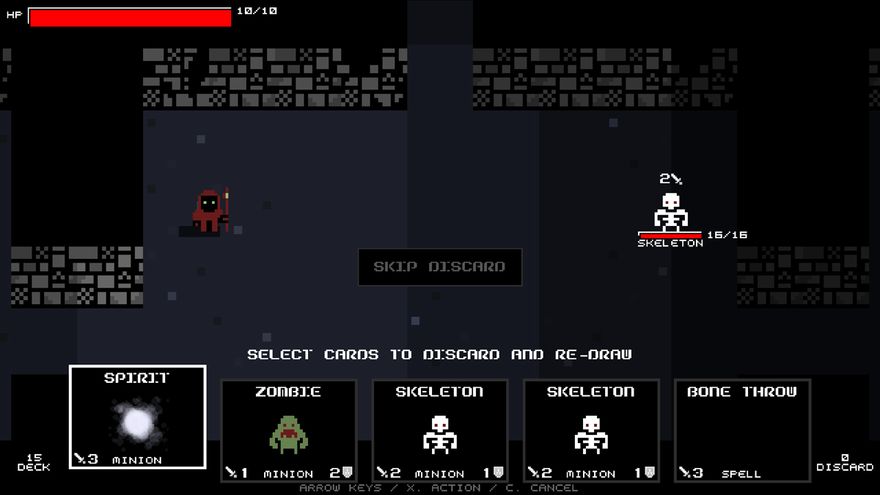 Ewa Mazur : Wow! What a game! First of all - great job! I love the idea, graphics, sounds, mood - everything. Fantastic game! Also it feels so complex and complete. I love the way you're showing the bonus for Coil Subscribers - you can't miss it - it's visible, it's readable, it's in the perfect place. Love it. The idea of the bonus is also nice - the game is playable with or without it but it's nice to have the bonus. But even if you have it, you can use it wisely or waste it - that's the perfect definition of a WM bonus.
#5 Cooking for Skully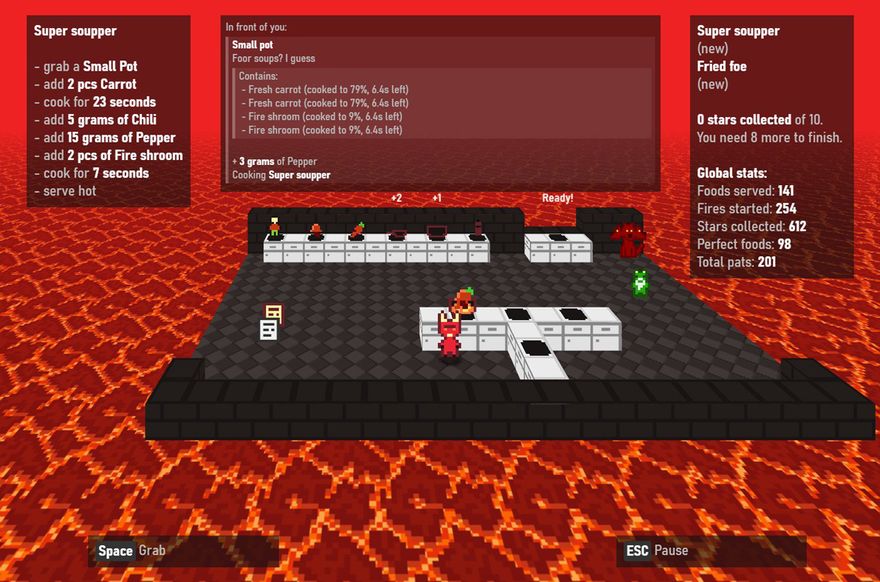 Nathan Lie : Great graphics & controls that both feel very polished. The gameplay is neat but I feel the Web Monetization bonus makes it a bit too easy. Maybe some other extenuating factor like time might be a good element of challenge when there's unlimited pans. Music would also round out the game very nicely.
Summary
It's amazing to observe the evolution of how the developers implement Web Monetization API features in their entries over the years, and given we already have four distinct editions to compare offers a lot of depth.
I can't wait to see what the future will bring!
---