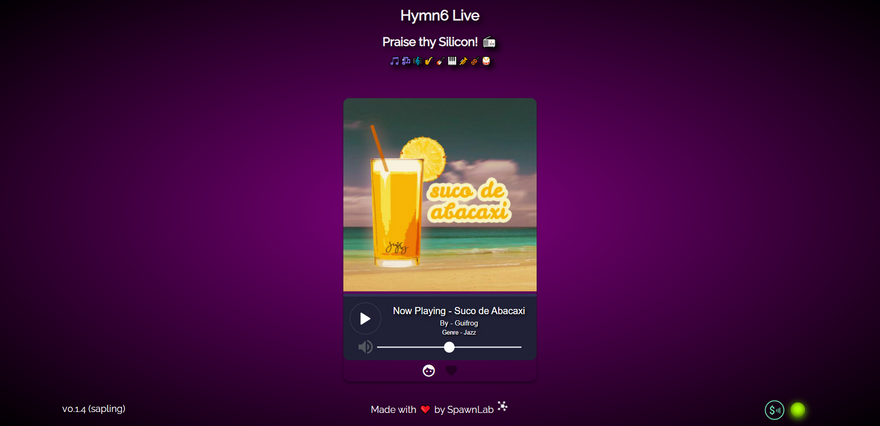 Project Update 📢
We have concluded the experimental iteration of the proof-of-concept that we set out to build at the onset of this project. In the meanwhile we have also been actively trying to research some additional features that would need to be built out before a beta release of the platform looking forward.
Progress on objectives 🎯
We set out to work on two major milestones for this project, one was a basic working prototype of a web-monetized internet music station and another one was some music tunes generated by the use of generative AI tools. We feel like we have mostly delivered on the first objective however, with generative music the tools and our capabilities were not at a stage where we could provide studio-quality tunes for our dear listeners. But we did end up with some nuggets of inspiring efforts by our fellow silicon-beings.
*Expect some downtime periodically, due to active development.
Key activities 📝
The source code for the proof-of-concept prototype has now been published on GitHub under the MIT license as promised to the community. And we have also published some snippets from our generative AI music experimentation (also MIT licensed), under our Audiomack playlist along with some general selection of the music being played on the alpha version (sapling v0.1.4) of the platform.
💻 GitHub: Hymn6
🎶 Audiomack: Hymn6 by SpawnLab
What's next? 🛣️
Since the grant period has now concluded, we are now focused on getting the platform packed up with some additional features which were out of scope within the proof-of-concept for the beta release. This will also provide us with an opportunity to look for some additional pre-seed funding for this project looking forward at the long-term horizon of where this project is headed.
What community support would benefit your project? 👋
Currently, we are looking to partner with fellow hackers and community members within the indie-music industry. Also, any introductions with funding programs and/or possible investment/business partners would be of great help.