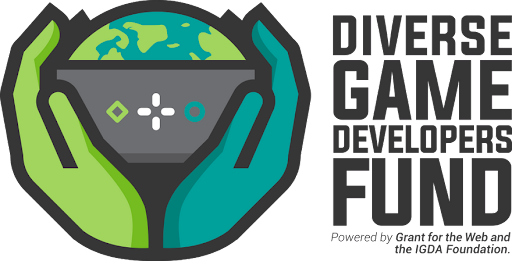 Project Update
The IGDA Foundation, a diversity and inclusion focused video game non-profit, aims to support underrepresented entrepreneurs seeking access and resources for individuals and independent teams on a global scale. Through this partnership, we developed the Diverse Game Developers Fund, a three-part initiative dedicated to empowering and funding marginalized developers and students in the games industry. Our goal was to create pipelines for diverse, global innovators who suffer from compromising their intellectual property for minimal gain. With the guidance of a steering committee, composed of game and tech industry luminaries, IGDA-F and GftW seek to decentralize access to funding, increase awareness on monetization alternatives, and educate communities on the value of open standards.
After three months of planning and six months of executing on this initiative, the IGDA Foundation has concluded its efforts on this three part initiative. In total, 10 teams were awarded funding to create prototype games, 10 students received scholarships to research alternative monetization methods in gaming, five awards were distributed in a month long game jam, and a 12 hour showcase illustrated the efforts of this initiative on Twitch, YouTube, Facebook, and LinkedIn. The following report details the efforts on our initial objectives and outcomes of the key programs in this initiative: Prototype Gaming, Academic Scholarships, and Game Jams.
Progress on objectives
The IGDA Foundation set out to execute three objectives. The organization set out to find and source the most innovative game developers from every region of the world to create games through innovative play while exploring alternative monetization methods to game development. Updates on each of our objectives and how achieved key results are included below.
Objective 1 - Explore monetization experiments through prototype funding
Key Result - Fund and deliver 8-12 prototype monetization experiments
Update - A core objective of this program was to explore the possibilities of alternate monetization and business models within the games industry. A large portion of our funding was redistributed to 10 ten teams and recipients located in Chile, Columbia, Israel, Jamaica, Nigeria, Puerto Rico, and the United States. Teams have concluded their prototypes through the Diverse Game Developers Fund and the results are listed below in the key activities section of this report.
Objective 2 - Increase awareness for monetization alternatives
Key Result - Run 2-3 game jams with the theme of monetization experimentation
Update - Early in the program, the IGDA Foundation sponsored the Global Game Jam which included a Web Monetization standard as an option for jammers to incorporate in their games. Following up with this event, the IGDA Foundation hosted a month long game jam in August distributing over $50,000 in prizing. The results of the game jam are outlined below in they key activities section of this report.
Key Result - Hold academic workshops for research papers on the topic of in-game monetization and economics.
Update - Due to COVID-19 and travel restrictions, the IGDA Foundation could not partner with conferences focused on gaming, digital entertainment, and interactive technology. Instead of sponsoring a traditional conference, we opted to award scholarships to students from Canada, England, Germany, Nigeria, United States, and Zimbabwe. These scholars will continue to work on academic papers, research, and game development after the conclusion of the program.
Objective 3 - Educate the community on the value of open standards
Key Result - Engage with 100+ partners and thought leaders of the IGDA Foundation community
Update - In an industry dominated by commercial engines such as Unity and Unreal, and platforms like Steam, Apple, and Google, it is easy for game developers to overlook the intrinsic value of open standards and the FLOSS community. The IGDA Foundation hosted a In our 2-day virtual August summit to raise awareness on these topics. The details of this effort are outlined below in the communications and marketing section of this report.
Key activities
Prototype Fund
After reviewing more than 140 applications and 6 months of game development, 10 teams finished developing their prototypes. With the assistance of our partners at Code Coven, each team went through a process of completing four milestone checks to create process and accountability so that the teams accomplish their goals. Additionally, multiple veteran game developers provided additional training, webinars, and workshops to support the award recipients and provide helpful resources. Below are the final reports and summaries of each prototype game completed in the Diverse Game Developers Fund:
Arutu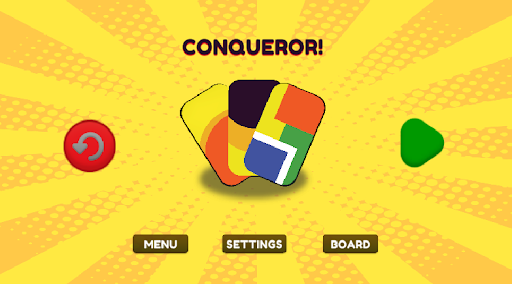 Project Overview: Conqueror of Words is a hypercasual, puzzle-like, guessing game. In our world, players have to combine their knowledge of word compositions, probability, and sheer luck to win. To begin each level, a word is displayed to the player, with each letter of the displayed word on a card. Then the cards are flipped and scrambled, players have to serially predict whether each card contains a consonant or a vowel. So there you have it, a combination of luck and unparalleled genius.
Project Assets & Build: Below are the assets of the prototype the team provided us. Additionally, you can find their web build below. The files can also be found in this folder for ease of use: Web Build of Conquerer of Words
Alternative Web Monetisation: For our Alternative web monetization, Coil was used. Although coil is relatively new to the web monetization space, its applications are endless and easy to implement. Our game being web-gl based fits right into the coil technology. Once activated (the user using a coil enabled browser or plugin), we can personalize in-game contents for our users( extended time, lower price for IAP, special leader board, etc) while also giving the user the option to choose which of these special features they want to be activated. For Conqueror of Words, an indicator (the top right corner of the screen) shows if the user is using a coil-enabled browser (indicator turns blue when coil enabled and grey when the coil isn't detected). When enabled, the user gets an extra +10 seconds for each level with the option to turn this feature off if they choose to. The user also gets a percentage discount for IAP with daily gifts of extra power-ups.
Bought Broken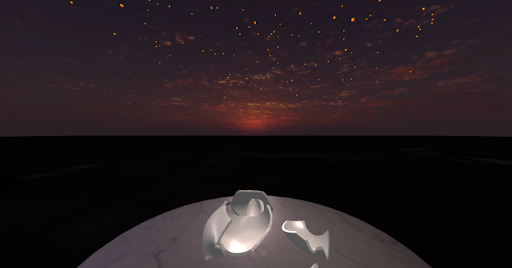 Project Overview: BOUGHT/BROKEN is a virtual reality platform built-in Web VR for those who have experienced intimate partner violence (IPV) to record their stories and begin the process of literally and virtually putting the pieces together. This holistic approach merges art and experience. The project examines relationships through the lens of objects bought and broken. Users create a collaborative sound sculpture built-in virtual reality and experienced in an immersive multimedia environment.
Project Assets, Build, & Footage: Their video of the project footage can be viewed here. You can play the beta here: http://www.boughtbroken.com/beta The experience is optimized for Oculus Quest and Rift, running Chrome Beta or Chrome.
Alternative Web Monetisation:
IN-GAME EXPERIENCE - COIL ENABLED
If Coil is enabled, particles float into the environment during the beginning of the experience. In the end, users are taken to a special web page thanking them for
using alternate web monetization.
CALL TO ACTION - COIL NOT ENABLED
If the user has not enabled web monetization, they are directed to a "Tip Jar" interface that leads to a page on boughtbroken.com. The page encourages donations to like-minded organizations. Currently, users are directed to Day One, a non-profit that partners with youth to end dating abuse and domestic violence through community education, supportive services, legal advocacy, and leadership development. We are currently pursuing contacts in Nashville's Mayor's Office domestic violence program.
FUTURE IN-GAME EXPERIENCE - RAFIKI ENABLED
Alternate web monetization maximizes our potential to donate the most to worthy causes, enabling us to direct funds to organizations in line with our mission. It's different from a typical closed VR app platform, where monetization is restricted and subject to overhead costs. We look forward to providing additional methods of monetization through Rafiki.
Elite Gems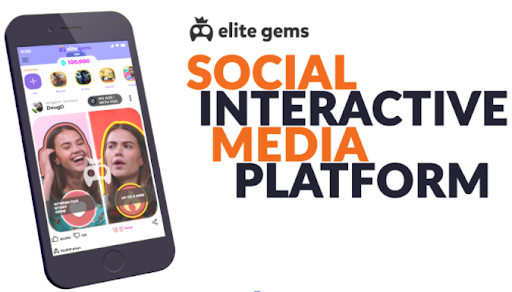 Project Overview: Elite Gems is a Social Interactive Media Platform which has a unique tech combination of Social Video Sharing, Augmented Reality and HTML5 gaming. Our users play, create and enjoy simple and exciting microgames, have an opportunity to earn and we give back a % of net revenue towards Game Development Training, Web Monetization awareness Webinars and Best Practice Forums for aspiring creators. During the Prototype Program Mid-April to Mid-July 2021 the Elite Gems Team accomplished the following:
Designed and implemented the Elite Gems Social Interactive Media Platform Prototype
Developed the Platform's 1st Game Type: 'Interactive Story Game'
Created the first Interactive Story Game Series Stress Busters; specially designed to help players unwind and have fun.
Mobilized highly competent, passionate and results driven technical and content teams. Instructions to install and run Elite Gems Platform Prototype Build:
Click here to download Android APK at link.
Copy the APK to your Android Phone device
Select the APK on your phone and follow the onscreen instructions to install app
Once Installed, open the Elite Gems App
Create an Account
Browse the app
Alternative Web Monetisation: The Elite Gems Platform utilizes Coil, Web Monetization and the Interledger Protocol as its preferred Web Monetization & Technology Providers. Elite Gems will adopt the 100+20 Method of Monetization whereby it provides users with a complete, satisfying and independently useful content experience for free and offers Bonus Features through Elite Gems Premium which will provide user advantages for a small and reasonable monthly Coil subscription.
Elite Gems for Free Users: Full access to games and all sections of the platform
Elite Gems Premium: a. 10 Free Addons Per Month b. Daily Check in Gifts c. Elite Gems Rewards X10
Fighting Chance Games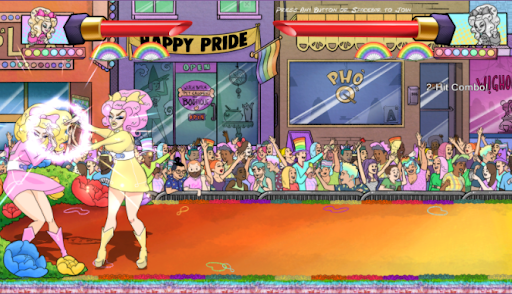 Project Overview: Drag Her! is a 2D fighting game that is fast, frenetic, and fundamentally stupid. Featuring name-brand drag queens, Drag Her! is forgiving to play, and draws on contemporary drag culture and history to provide levity on par with our approachable control schemes. You can view Fighting Chance Games' final presentations here!
Alternative Web Monetisation: Tipping is fun-dah-mental darling, especially when it comes to drag shows. So we built tipping into the game. Tip your fav, and enjoy watching the chaos unfold on-screen as the judging panel, petals, or bees quietly fuck your shit up (oh honey).
Folso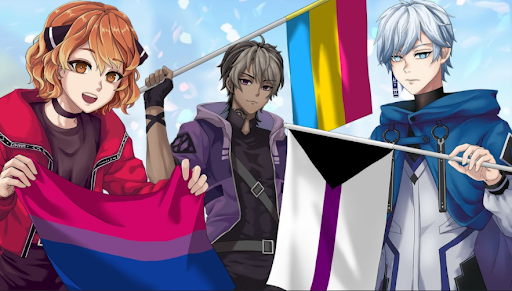 Project Overview: Maledictorian is an LGBT+ modern fantasy Visual Novel about being a new student at a magical college campus, where you learn to perform magic using your smartphone and meet three charming wizards. Will you get caught up in their pace, or free yourself and remain steady? Foleso's final presentation slides can be found here.
Project Assets & Build: Link to live prototype here: https://maledictorian.netlify.app/
Note: The prototype contains two chapters of the main story and a placeholder for the premium chapters. All web monetization features are implemented at a base level but require further refinement and are a little rough around the edges.
Alternative Web Monetisation: There are three currencies present in the game: Keys, Gemstones, and Shards. Keys are a free-player currency: one key enables the user to play one chapter of the game. With web monetization enabled, players can continue to play through the game indefinitely. Gemstones are a premium currency, and are used to unlock Premium Chapters.
Premium Chapters are additional content in addition to the main story. They do not affect the plot itself, but rather are a way for players to explore the world and characters further. Shards are a freemium currency—Players with web monetization enabled receive one shard per minute of active play, and can convert shards into gemstones in the shop. The goal here is to incentivize web monetized players to take their time and play through the game leisurely, as we get paid based on how long they spend playing the game. I chose to use Unity as a game engine, since it had a lot of the features I required ready to use out of the box. I also used Coil for the Web Monetization Provider.
How to Be Happy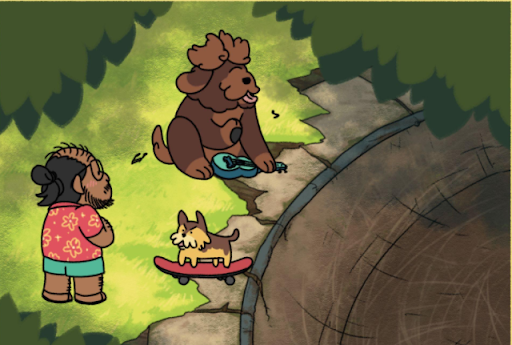 Project Overview: How To Be Happy is a musical interactive fiction in which you befriend the world's best skateboarding dog and his Ukulele-playing best friend. Get to know Terry and Jam through heartfelt comic pages, achingly sincere songs, and lovingly handcrafted 2D animations. Forge companionship that helps you through your darkest nights, sing out loud your feelings, and learn how to be happy.
Project Build and Assets: Hien's final presentation slides can be found in this folder.
Build download (best played in Firefox) https://drive.google.com/file/d/140Gowsa-WaOTIA0OFA4-YsDR72fPieQQ/view?usp=sharing
Mock storefront (password DGDF) https://wavingpeople.itch.io/how-to-be-happy
Alternative Web Monetisation: Every copy the game sold will contribute at least one free copy into the Community Copies pool. Anyone can claim a free copy through itch.io, and a limited number of copies will be made available manually by myself every week. This is done both to prevent exploitation and because the system isn't built into the itch.io storefront, rather it is a modification of their existing
Rewards system which gives extra rewards for extra money paid on top of the base game. This system is immediately effective when the game is fully released. The prototype funded by the grant will be playable directly on the web storefront (as it was made in Twine), and purchase options will be available right below it. This system encourages a goodwill Pay-It-Forward mentality, and helps create a good balance between being supported through my work and making my art financially accessible.
Pollito and Xiang Xiang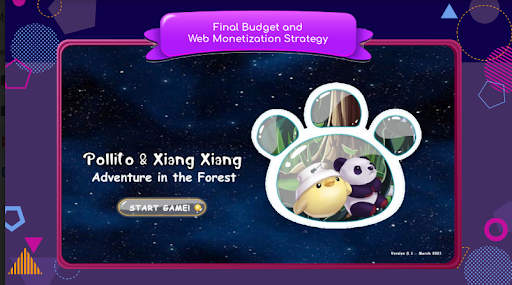 Project Overview: Pollito & Xiang Xiang: Adventure in the Forest is a family friendly adventure game with RPG elements, where you can control two characters (in single player and in the future also in online coop-multiplayer modes). Your goal is to save the creatures of the planet while getting resources (paw coins) to fix your ship, improve your House and personalize your characters. You can Personalize (via in-game currency) your player with skins, items and weapons but you can also personalize the Hub/House which allows the players to enjoy virtual activities like eating food, playing video games, raising mascots, etc. As you save the creatures in the planet you will access the Colombian Fair in which you can access additional mini games, items and characters.
Project Assets & Build: Web Build of Pollito & Xiang Xiang
Alternative Web Monetisation: Web monetization was used through Coil in gameplay elements (Power up, Transformations, Unlock bonus levels, and Hints) and in elements of personalization of characters and the house (Drink Beer and Eat Colombian Food), as well as in elements with which they interacted within the house (Luxury TV, Fridge, etc). The monetization web elements are accessed through green portals so that the player can understand that they can activate these surprise options, if the user does not have an active Coil account then the game invites you to create the account so that you can access these gameplay options such as bonus levels, gameplay improvements and elements with which you can interact at home that work with web monetization.
Smarto Club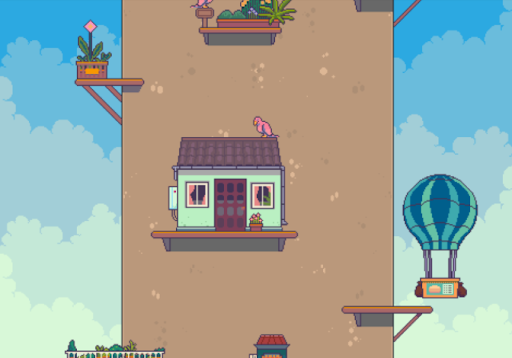 Project Overview: Baobab Island is a vertical roguelike inspired by games such as Downwell and Doodle Jump. The main character is a kid living on a small island with a giant baobab tree where a village has built its home. The player's objective is to reach the top of the tree by jumping through platforms, evading enemies and purchasing upgrades. Each run is randomly generated, but certain upgrades can be conserved in-between playthroughs, gradually increasing the player's chance of success. NPCs will react to the player's actions across runs, changing their dialogue accordingly.
Link to prototype - https://baobab-island.netlify.app/
From Smarto Club: We encountered errors with the web monetization plugin we used when uploading it online, so you'll probably encounter an error when you start the game and will be unable to access the monetization benefits. If a special build of the game with monetization enabled by default would be useful, just tell us and we'll upload it! Game instructions: Use arrow keys to move the character and space to jump. Use the Enter key to interact with objects when a big arrow appears. When in a menu, use the arrow key to move the selection and space to purchase, Enter key closes the menu.
Alternative Web Monetisation: Alternative web monetization was implemented using Coil due to its ease of integration with Unity, the game engine we used for the project. Two monetization features were implemented in this prototype: the first gives monetized players extra experience points at the end of each run, allowing them to grind less to get all the upgrades in the game; the second feature is exclusive items that only web monetized players will be able to buy, allowing them to become stronger than non-monetized players.
Team Abuelita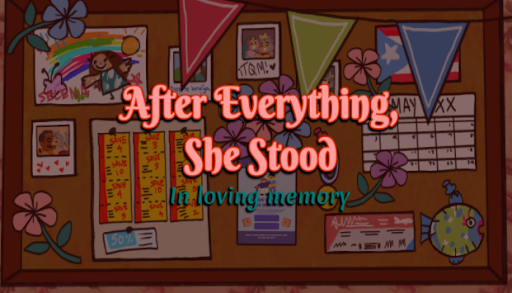 Project Overview: After Everything, She Stood is a narrative adventure game that takes place in your grandmother's home. The core gameplay loop is as follows: you talk to your grandmother in the morning and learn about your daily task(s), complete those tasks through mini-games and working with your grandmother, and at night, you get to explore the house and have more meaningful conversations/scenes with her. Our learning goals are to engage the player and make them feel emotionally bonded with a familial pairing that isn't normally explored. We want to portray a realistic yet heartwarming and comforting idea of grief, something the player can experience but not become overwhelmed by.
Team Abuelita's final presentation slides can be found here. They can also be found in the folder.
Alternative Web Monetisation: We chose a donation based model that would link an in game flyer to an external organization that assists the elderly. The in-game flyer appears after the first minigame, and you are given the option to donate to the organization our game has paired with, or continue gameplay with no repercussions. The flyer stays in your main menu journal, peeking out the back, available at any point in the game. 100% of the donations will be given to the paired organization, and the player will receive in-game incentives that are purely cosmetic. We chose a donation model because it aligned closely with our goals for the project, and we wanted to give back to the community.
Team Frum Girl
Project Overview: "Frum (Yiddish: רוםֿפ ,lit. 'religious', 'pious') is a word that describes Jewish religious devotion. The appellation is generally, but not only, applied to certain movements within Ashkenazic Orthodox Judaism, and used by some members of these groups as a self-reference."
—Rabbi Wikipedia
FRUM GIRL ADVENTURES is a narrative-driven game utilizing dialogue- and puzzle-based elements to highlight the unique and somewhat insular life of frum Jews—in particular, frum girls and women. Help Frum Girl navigate her crazy world of temptations and challenges, keep her protective bubble intact, always grow in her virtue, and eventually make it to Olam Haba ("the World to Come"—Jewish heaven)!
The story is largely shaped by the creators' personal experiences, and our artist Meira Goodfriend in particular, whose frustrations balancing her religious, social, and individual identities growing up frum inspired the game's original designs. While the framework for Frum Girl Adventures is comical and lighthearted, it addresses the limits and challenges of this religious lifestyle while also highlighting the unique quirks and intrinsic beauty of this often overlooked cultural group.
Team Frum Girl's final presentation slides are included in the folder.
Web build link: https://melodityproductions.itch.io/frum-girl-adventures-prototype-july-2021
Password: FGAprototype07212021
Alternative Web Monetisation: The integration of Web Monetization, and its Coil subscription feature in particular, lends itself to something that could build over time. So we thought—as Coil's microtransactions accrue behind the scenes, why not a fart bubble on the screen that grows in turn? And so we have an incentive for both Coil subscribers, who can use these farts in the game once the bubble fills, and those who aren't subscribed, who can see but not access the accruing farts until they enable Coil. Said farts have both diegetic and mechanical functions: In the story, they affect your relationships, but you might not know how until you try; in the mini-games throughout, farts enable various bonuses, such as score multipliers and speed manipulators. Besides that, in a game full of concepts that may be unfamiliar to non-Jewish players, it's nice to have a non-religious universal foothold.
But what makes using farts as a game mechanic feel so taboo—and especially THIS game? What exactly makes it so outrageous for someone to be religious, Jewish, female, and not hide that they engage in a normal, universal, everyday bodily function?
If there's one goal we have for this game, it's challenging societal expectations, and for religious Jewish women, the codified pressure of adhering to tznius—laws of modesty—only increases anxieties about such matters. Those tired of shaming our natural selves to fit a societal mold NEED a space to be able to express our full selves, every part—the good, the bad, and the fart-y. For other tastes and player types, we have a few other options: There's the pet plant idle game, exclusive to Coil users (even with a reference hinting at it in the dialogue about it "coiling" into different shapes), an accessory store, and potential for native advertising in the in-game smartphone interface, and possibly printed materials such as magazines in the hub/Frum Girl's bedroom. But none of that changes the fact that farts are part of our everyday lives, and also hilarious, and so they're our premium monetization method. Enjoy.
Scholarship Recipients
After a rigorous application review, 10 students were selected for the academic scholarship program. The projects the students worked on included game projects, virtual event spaces, new tech, and game-related research. Scholars had regular mentorship check-ins to discuss project progress. In addition to receiving support for researching and implementing monetization, participants attended professional development workshops to learn how to navigate the games industry and present their work in a professional setting. Because these projects were part of the academic system, students focused on making significant progress on their projects rather than completing projects during the program. Below are the program recipients and summaries of each project worked on in the Diverse Game Developers Fund Academic Scholarship Program:
Divine Maloney - VR Spaces for Children
Project Overview: The goal of this research project is to understand and identify what types of engagement experiences younger users are currently conducting on these gaming sites to uncover both the positive (e.g., cooperation, monetization, creativity) and the negative experiences (e.g., harassment, bullying, safety). The accompanying four-week research workshop will use participatory design methodology to uncover and drive recommendations for requirements, features, and mechanisms that developers can use for designing safer and more fulfilling immersive gaming platforms for younger users. The procedure of the workshop is as follows:
(Week 1) Participants will be asked to comment and provide feedback on their favorite immersive gaming experiences and begin the ideation for their own game.
(Week 2) Participants will be asked to begin designing a prototype of their game.
(Week 3) Participants will finish their prototype and begin giving anonymous feedback of other participants' prototypes.
(Week 4) Participants will vote anonymously on which mockup was best received by the group and consist of evaluations and exit interviews reflecting on their experience in the research workshop and broader in immersive gaming. The top three game prototypes will be rewarded a prize of an oculus quest VR gaming headset.
This research project will seek to recruit 30 participants aged 13-18, a particular emphasis will be placed on recruiting participants from underrepresented backgrounds, which may include but is not limited to LGBTQIA+, people of color, people with accessibility needs, marginalized genders, veterans, neurodiversity, etc.
Alternative Monetization: The workshop results are incorporated into a research paper and lecture on how teens utilize and can benefit from in-game monetization. The research paper will describe how teens can create in-game content (i.e. objects, worlds, prototypes) and how they can benefit monetarily from creating such content and an immersive ecosystem. The research paper will be submitted to top VR conferences and shed light on the unique practices of monetization in immersive worlds. Additionally, the paper will highlight unique ways in which marginalized teenage gamers (women, people of color, LGBTQIA+, differently abled, veterans, and neurodivergent) can uniquely benefit from this type of monetization.
Jasmine Bacchus - Fashion Economies in Games
Project Overview: This project aims to produce a research paper that explores how skins function as fashion and signaling mechanisms in society. In the future, the goal is to strategically propose skin collections that can both help Riot games generate revenue and increase inclusion within the industry. Additionally, this research seeks to help break down ideas that gaming is a masculine activity through empowering female gamers to embrace their femininity (and all other aspects of their identity), through skin selection.
To examine virtual fashion, Jasmin looked at how video gaming companies monetize their platforms by selling virtual accessories. In League of Legends, for example, skins are Riot Game's primary source of revenue. Each collection of skins allows them to monetize their game. Collaborative collections between fashion brands and video game companies are an alternative method of monetization, as users send real world money on virtual items.
Alternative Monetization: This project explores video game economies, specifically those found in MMOs (Massively Multiplayer Online Games), and the ways alternative monetization methods could be included in these projects. MMOs such as League of Legends have both an in-game economy and a thriving user-created economy outside of the game. In-game, players can use forms of currency to
Takunda Chingonzo - GAME ON Project
Project Overview: Despite the massive potential and economic opportunities presented by game development, Zimbabwe's gaming landscape is heavily fractured, informal, and with very few success stories, the reasons for this being largely unknown.
As such, this project, titled (GAME ON,) seeks to map the gaming ecosystem in Zimbabwe, which will provide data and insights that can be used to build a robust and contextually relevant program. This program will fuel the growth of a sustainable gaming ecosystem in Zimbabwe.
This project seeks to output a comprehensive visual map of all local actors and stakeholders in the ecosystem and a comprehensive report that will capture the state of game development, the challenges, and critical insights that can be used to develop solutions and programs events and interventions. Building on the mapping and report, the project will convene all Game Development Ecosystem Builders for an insights workshop where participants will discuss recommendations on program design and support systems. Lastly, the project will host a 5 part series of online training workshops for first-time Game Developers.
Alternative Monetization: Participants will be required to pay US$25.00 or its equivalent value in Zimbabwean Dollars. Payments for both the Guide and the Training series will be made via the GameOn Website, which will be built and will utilize both PayPal and PayNow payment APIs that accept local payments in Zimbabwean Dollars. Leveraging on the audience and PR that GameOn will garner, the team will also host a Public Webinar on payment infrastructure for Game Developers and creators in Zimbabwe. This is especially important as Zimbabwean Game Developers have failed to monetize games uploaded to the Google Playstore. The Google Play store requires all monetization to be through Google Pay. At the same time, the bulk of Zimbabweans transact in the Zimbabwean Dollar, which is not supported by Google Play and must deal with functionality restrictions on payment platforms such as PayPal and even Skrill. The Public Webinar will cover innovative solutions such as tokenisation and adopting crypto solutions for powering Microtransactions.
David Olamide - CLEANROOM Simulation Game
Project Overview: This Project is a CLEANROOM Simulation Game using Virtual Reality Technology. This project is an educational game developed in the Unreal Engine to teach students the practical use of basic microchip fabrication and pharmaceutical cleanrooms. The intended market covers University Research Laboratories, University Lecturers, Students and Professionals in the Industry.
The intended goal/outcome of the project is to teach students the practical use of basic microchip fabrication cleanrooms as well as pharmaceutical cleanrooms with a fun, entertaining and immersive approach. The team intends to use the latest technology available in the gaming industry to enhance the learning experience.
Alternative Monetization: The first is the Web Monetization Option. For the Web Monetization, the team project will build a game website where a HTML5 version of the game can be played in the browser. The team intends to adopt Web Monetization API to provide exclusive content on the game website. This means that only those who have subscribed to coil will be able to play the game, however, everyone will be able to view the game and see the trailer, and the gameplay videos.
The second monetization method is a Paid Monetization Option. For the Paid Monetization, a version of the game will be launched on steam and it can be purchased on steam and played offline on all platforms( Linux, Windows and Mac OS).
Lucy Stent - AI Playtesting
Project Overview: This project aims to use machine learning to create an AI playtester, which can find common usability issues listed in heuristic evaluation studies without the involvement of a human tester or deep knowledge of usability from the developers. This allows for the possibility of reducing reliance on a regular QA team; this will be especially beneficial for small indie teams who cannot afford to invest as heavily in QA. This will also hopefully increase the ease of access to digital games by reducing the cost of development. The finished thesis will contain
A link to the AI Controller tool that can be downloaded and used in any game to take over the role of the user
An in-depth explanation of the development process which can be duplicated
Results from the qualitative data collected from development teams that took part in testing
Alternative Monetization: Once the artifact has been created, it will be monetized using Web Monetization API as a development tool. Users can purchase a license to authorize use for the tool for a specific amount of time.
Nchima Kapoma - Mobile Money in Africa
Project Overview: This research project centers on monetization themes for game developers in African that involve mobile money (mobile wallets). The intended deliverables for this project include a published research paper on market growth, which highlights well-documented procedures and SDKs for Unity developers, the largest demographic in African game Development. Additionally, this research will culminate in freely available video lectures detailing workflow and best practices.
Why is this an important endeavor? The mobile growth in Africa has lead to 100s of millions of digitally literate people and having the knock-on effect of having 10s of millions of people that play games on their mobile phones. The breadth of mobile ISPs noticed their market penetration and used this knowledge to extend into offering alternative digital services, the most prominent amongst these being alternative banking services for people that are mostly thought of as "unbanked." Even then, there is a void in the presence of systems that allow game developers to accept payment for their games.
Spending patterns of this demographic will likely be different from that of the credit/debit card audiences around the world. This project hypothesizes that payment for episodic games would likely prove more popular than lump-sum-style down payments.
In summary, this project will include:
Research on practices of working with a mobile money audience
A Unity SDK to allow game developers to accept mobile money payments
Possibly a video lecture series on how to get into working with mobile money in a video game
Alternative Monetization: This project will research the viability of using a digital wallet for mobile money as a means for game payments made by the African Game Development community. Additionally, this project will provide guidelines for building a C# unity framework and documentation to help developers work within the existing mobile money framework.
George Odongo Ahere - RIZIKI Game
Project Overview: RIZIKI is a digital game project to explore how African music changes Rhythm games and their design.
The potential of Africa rises, but the dark corruption is still here, dividing the people and causing disunity. The Ancient Spirit Riziki calls the Mzito to embark on their next journey. A journey to unite Africa using its diverse music rhythms and dance. Only together can we fight the dark corruption. Riziki is a rhythm game that takes its players through an experience of beautiful African Music where the player as Mzito goes on a journey to Unite Africa. Here is a video pitch on Riziki and the Mzito Universe.
Here is a video overview on what RIZIKI is about: https://dai.ly/x75beq2
Alternative Monetization: Currently, in Kenya there is no reliable monetization method for games. In the prototype for Riziki, the team is integrating a web monetization API so Mpesa transactions (a mobile money solution popular in Kenya ) can be enabled.
Find more information about it: https://developer.safaricom.co.ke/ .
Gwen Kornak - Gaming Project
Project Overview: The team is developing a tactical strategy game with a premise out of this world: interplanetary levels. Levels are grouped to planets, with a theme and plot for each locale. Alongside planetary arcs is an overall narrative.
In this game, the player controls various generals (units with special abilities/traits) and their troops. The main center character is Twiddle, a regular soldier thrust into a leadership position to fight against an expanding and dictatorial empire.
Levels are 3-dimensional, with the battlefield having slopes, curves, and overlaying parts. Players can zoom out to see the whole level or zoom in to focus on a specific troop, rotating the camera to view the field from four different sides.
Troops are varied, from ranged to melee to healers. Players can also take generals into battle alongside the troops, one-of-a-kind characters with unique abilities. Players select the troops they want to have and their initial formation and then guide them against the empire's troops. The enemy has generals of their own, though, and they provide an additional challenge when they show up. Generals lead the story, interacting with each other and reacting to events.
Alternative Monetization: In addition to releasing on Steam, the team is incorporating an additional API. In this model, users can purchase steam keys directly through the game's promo website. Another possible area would be to use a website, and a Web Monetization API, to have the ability to "extend" specific pages of our website, perhaps those that document concept art. The team is also evaluating subscription models similar to Patreon, where users would be able to see more concept art and development tidbits than regular visitors. This format could help reduce the cost of hosting and provide an additional, though possibly small, stream of income.
Sarah Boo - Open Studio
Project Video Open Studio is a multiplayer digital game and social space for sharing and experiencing art as a community. It is a counterpoint to Instagram as an art space intended to center dialogue and longer-form discussion in a slower environment. It creates intentionality in matters of information sharing and consent of artwork usage.
Open Studio consists of rooms that are dedicated to displaying and discussing artworks and projects. Each text, image, video, or sound piece related to the project is embodied by a 3D object placed in the room and has an attached dialogue UI for discussions and comments related to the piece. They can be viewed and revealed upon clicking, moving the viewer's digital avatar to the object. Spatial presence is an essential aspect of Open Studio. The decisions made to arrange the space by the creator and engage with different objects by the viewers form an important part of experiencing artwork and being present.
The intended outcome is to make a functional game/application that is an alternative space available for artists and creators to use for more in-depth engagement with each other's artworks. While Instagram is beneficial for artists in discovery and networking, its feed-centric and dopamine-driven design does not provide space for slow, longer-form, and ongoing discussion of works. The intention is that Open Studio can provide this space and explore new possibilities of sharing and experiencing art digitally and monetizing as an artist in new ways. It does not require a large user base to be successful, as a room can be linked from an Instagram post about the same work (leading viewers to the Open Studio room to find out more). Upon completion of the project, I hope that some artists will begin to use it and find some success in receiving payment and enjoy it as a community space.
An early prototype for a room can be seen here: https://youthful-agnesi-a0f446.netlify.app/ (refresh if you do not see the glowing orb)
The rooms may be connected spatially and are included in a directory to allow for new works.
Technologies: Three.js, Firebase, Socket.io, React, Node.js
Alternative Monetization: With Web Monetization API, creators are able to choose to share process information, source files, and other information in exchange for payment, fostering an environment that encourages growth as a community.
When creating an object for the room, the artist can require Web Monetization for access to viewing the object. This creates an explicit place and reason to share more in-depth information between community members that otherwise would not typically be shared. In addition, it encourages open-sourcing artwork and fair exchange.
Georgiana Wright - PaperAI
Project Overview: The demand for creative fiction has exceeded the supply that publishers and independent authors can produce due to COVID-19 and publication layoffs. Media corporations and agencies rely on fan content as the fan fiction market has exceeded $150 million, and fan fiction generates press and retains consumers into their IPs. PaperAI is a web application using Open AI's GPT-3 API (a natural language processing model) to generate new stories customized by different users' preferences, eliminating fans and publishers' hassle. By focusing GPT-3 with three aspects for inputs (character traits, genres, and scenario focus), PaperAI has been able to generate unique short stories for its user base! In user interviews, the team found issues ranging from lack of diversity to price gouging for low-quality stories from competitors (Episode and Wattpad). Currently, PaperAI is competing in USC Workbench, AI@MIT Generator, and Black Ambition Prize.
The intended goal of PaperAI is a website where any user can generate any creative story with GPT-3 without coding or story-building experience, they need to have an idea and characters they want to use. PaperAI's official launch is planned in Fall 2021 on ProductHunt with a goal of 450 users. The MVP has already been launched in March 2021 with over 50 beta users. PaperAI is focused on increasing diversity and representation in literature and creative fiction, which is often neglected in digital publishing despite demands from fan communities. The team wants to focus on creative fans and partner with POC-focused creative media groups like Black Girls Gaming and ColorStack to get feedback and provide events to scale growth.
Alternative Monetization: PaperAI: focuses on three alternative methods of web monetization services like Coil.com. The first being, Stripe subscription API for story generation over 1000-5000 words/1-2 chapters and writing a research paper with faculty collaboration on large language models impact on digital literature and effectiveness with monetization alternatives on natural language models (smaller pre-trained GPT-2 models). PaperAI has started earning revenue, with 40% of the current user base having already paid for their fan-fiction during the product's beta phase. The team wants to use Coil.com to earn revenue from casual readers since they plan to showcase our AI-generated stories from popular fan communities. Stripe's SDK allows for transactions for all platforms and uses their subscription API for larger stories, so users can enjoy their stories without worrying about their payment becoming void due to cross-platform errors. In the future, the team wants to allow people to have access to small GPT-2 models that are trained on genre-specific data.
Game Jam
In collaboration with Grant for the Web, the IGDA Foundation hosted the Diverse Game Developers Jam, a one-month competition for marginalized individuals or teams, to make an original game that utilizes the Web Monetisation API. Our objective focused on educating participants and the game jam community about the Web Monetisation API and the opportunities it can create for developers. Additionally, we awarded $50,000 through prizing with a first-place award, second place award, third place award, sponsor award, and innovation award.
The game jam coordinated 46 competition sign-ups through GameJolt, one of the IGDA Foundation's primary steering committee partners with an additional 44 individuals joining the Diverse Game Developers Fund Discord. The newly formed Diverse Game Developers Jam community-engaged well with each other despite people having never met or worked together previous to the jam.
Ultimately 13 games were submitted from various teams and individuals located around the world. The entries covered a variety of themes and genres and were judged by a panel of industry game developers. The following games were announced winners of the game jam with corresponding links to their playable games below:
1st Place and Community Award
PixlPatches + Team Members
Kathrin Radtke is a game programmer based in Stuttgart, Germany. After her computer science degree, she started working at "Studio Fizbin" in 2016 where she was part of the team for games like "The Inner World", "Minute of Islands" and Lead Programmer for "Say No! More".
Zoë Koç is a game designer and started her career as a working student at Studio Fizbin during her game design studies in Berlin. After her graduation, she decided to stay with the company and moved to Ludwigsburg in August 2020.
Sophie Alicia Herrmann was born and raised in Chile but currently lives and works in Ludwigsburg, Germany. Some years ago, after university, she landed a job at 'Studio Fizbin' as a game artist, where she gained lots of experience working on games such as "Minute of Islands", "Say No! More" and apps for kids.
Kasimir Blust was born in Karlsruhe in Germany. He works as a programmer at Studio Fizbin, an indie studio in Germany. Recently he worked on Minute of Islands. He wants to create games that focus on accessibility and a good narrative.
2nd Place
Food Challenge + Team Members
Ivonne Prado Barros: Project leader, Director, programmer, music composer, screenwriter. She has 8 years of experience in video game development. She worked on 3 published games (1 for consoles) and several mobile interactive multimedia applications. She likes to be called Goky.
Paola Tejada: Lead Team Artist 3D, modeler, texturizer, rigger, concept artist 3D. She has 4 years of experience in 3D modeling and sculptures, she has experience in 1 console game and several hobby video games. She likes to be called Himmel Hilf 3D.
Roberto Ardila: Writer, programmer, lighting effects, he is passionate about exploring new ideas for video games. He has 13 years of experience in video games. He likes to be called Roberto.
3rd Place
Pixel Punch! + Team Members
Ethan Jennings: an indie game developer based in Maryland, USA who's been developing games for 5 years now. I mostly work on small projects although I'm open to anything!
Web Monetization API Award
Grogh + Team Members
Noa Beazley is a composer and Women in Games Ambassador. She recently worked on A Token War from UpRoom Games and is currently working on several TBA indie titles, including a
tic-tac-toe/Myst mashup, a big band era time attack, and a himbo dating sim.
Bruno Chiovoloni is an Argentinian artist and teacher. He participated in some game jams as a
multimedia and game designer but it wasn't until this year that he met beautiful talented people around the world that shared his passion for videogame development.
Joshua Tsuji is a Boston-based software developer, who's always wanted to try using his
experience developing apps to work on a game project. Together with his audio and art friends, Josh programmed Grogh, his video game debut.
IGDA Foundation Innovation Award
Cherry's Dreams + Team Members
Talia Skyles is a Baltimore-based illustrator and painter. A graduate from the Maryland Institute College of Art, she currently loves telling stories and creating colorful, emotionally expressive illustrations with a sprinkle of whimsy. She's also intrigued by color and light and enjoys exploring its impact on the composition, emotion, and storytelling of her work.
Xander Jake De Los Santos is a Filipino illustrator, concept artist, and video game developer. Based in Washington DC, Xander's passions are in storytelling and project development.
Communications and marketing
To wrap our six month program, the IGDA Foundation hosted a two day Twitch summit showcasing the entire effort of the Diverse Game Developers Fund and promoted education on alternative monetization standards in gaming. The Diverse Game Developers Summit highlighted highlight some of this year's recipients while also including panels and chats with other groups about how the gaming industry needs to evolve and change.
This year's Summit was hosted by none other than both HipHopGamer as well as Abby Sherlock who did a wonderful job at keeping viewers engaged and making the grant recipients and panelists feel welcomed and important. The summit was seen on Twitch, YouTube, Facebook, and LinkedIn with more than 15,500 unique viewers totaling over 91,000 minutes watched. In addition to the games and grant recipients highlighted, the summit included the following panels on diversity, equity, and inclusion:
Elevating Latinx Culture and Developers with Latinx in Gaming
A New Wakanda - Initiatives to Help Black People Build Gaming Careers
Navigating the Rainbow Road Through Careers in Games Charity Fireside Chats with TakeThis, Able Gamers, and Child's Play
Links to each stream are available here with the full schedule below:
Day one of live stream
Day two of live stream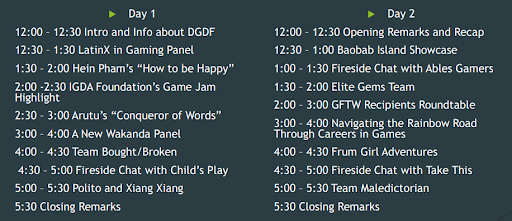 What's next?
The IGDA Foundation plans to continue supporting the 2021 award recipients from each initiative program through an alumni network. The organization aims to support its current roster of prototype recipients through networking while maintaining an open dialogue with the academic scholars as they progress in their research. Overall the prototype program and Twitch summit was a great success, and we hope to continue efforts with Grant for the Web in 2022. As the world continues to adapt through everchanging travel restrictions and COVID-19 policies, virtual efforts and outreach are critical now more than ever. The foundation plans to work with Grant for the Web and continue to empower game developers in underrepresented communities who have limited access to capital and funding.
What community support would benefit your project?
Now more than ever, the video game industry needs to adopt more solutions to advance diversity, equity, and inclusion in the global workforce. The IGDA Foundation thanks Grant for the Web for its continued commitment, creativity, and attitude towards making tangible change happen and given underrepresented developers a chance to develop games through innovative play. Our efforts in 2021 planted seeds and jumpstarted the careers and ideas of many developers seeking opportunities to promote their game ideas. As lockdowns and travel restrictions remain, we aim to continue partnering with the Grant for the Web community. Our goals are to empower more game developers in underrepresented regions of the world and boost more video game economies where development isn't reoccurring or frequent.