Hello, ILF community,
Have you registered for any or all of our upcoming community engagement events?
As a reminder, here are the upcoming activities you should be aware of.
---
Open Payments Huddle (April 27) - the 1-hour, bi-monthly session engage our grantees in purposeful discussions and facilitates the exchange of best practices in the Interledger ecosystem.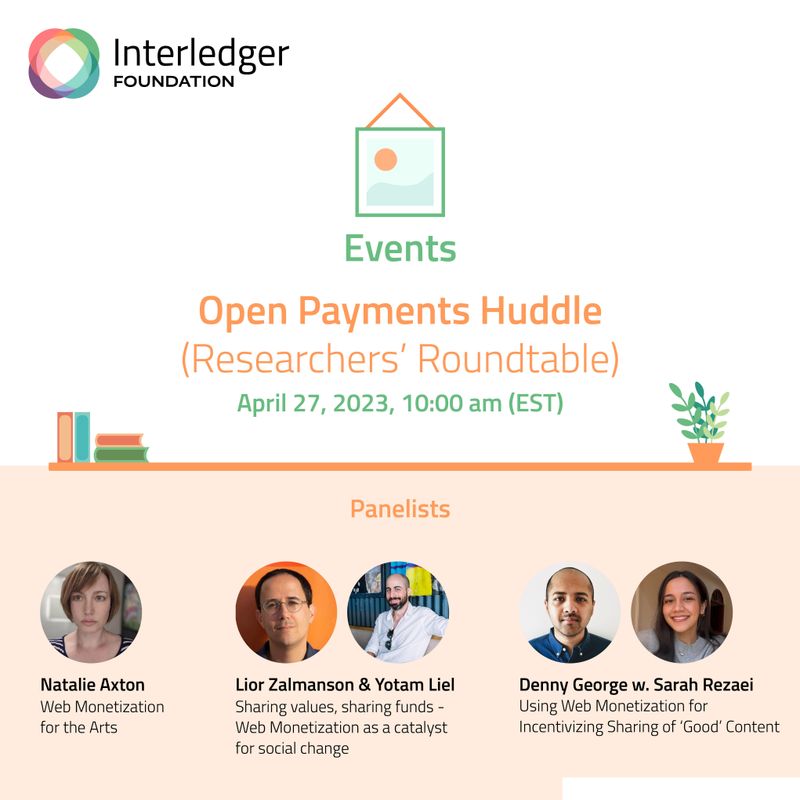 This month's OPH is a Researchers' Roundtable focusing on "User Research in the Open Payments Ecosystem" and will feature panelists that will discuss their respective research projects on the adoption of Web Monetization and Open Payments in various groups.
Meet the Panelists -
Natalie Axton - Web Monetization for the Arts.
Lior Zalmanson & Yotam Liel - Sharing Values, Sharing Funds - Web Monetization as a Catalyst for Social Change.
Denny George w. Sarah Rezaei & Hansika Kapoor, Tattle Civic Tech - Using Web Monetization for Incentivizing Sharing of 'Good' Content.
RSVP here: http://bit.ly/3VcqrE5
---
Global Digital Development Forum (April 27) - Interledger is pleased to host a panel with its current grantees on the topic: "The Power of Place and Open Payments: How solutions for financial inclusion are being built within the communities they serve" as part of our co-sponsorship of the #GDDF2023 event.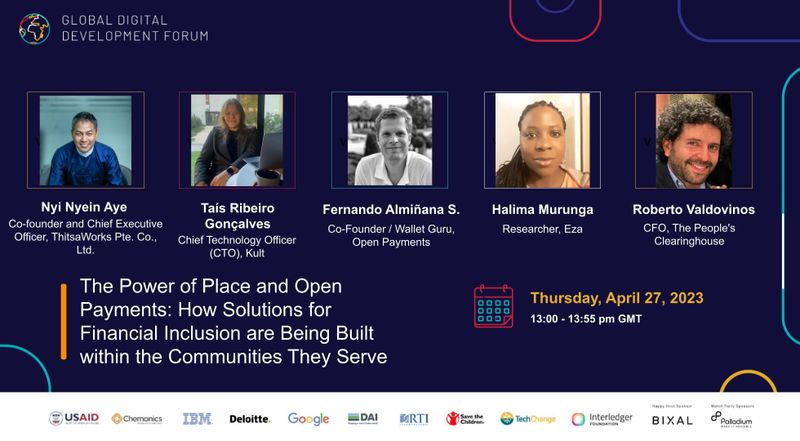 The purpose of this panel is to highlight the projects of builders working in Brazil, Central America, Kenya, Mexico, and Myanmar regarding open payments, who they serve, and why. Chris Lawrence, Head of Programs for Interledger Foundation will moderate the session and will feature five ILF grantees – Bitke, Kult, Paystreme, People's Clearinghouse of Mexico, and Thitsaworks.
RSVP today for #GDDF2023: http://bit.ly/3Ggn9sW
---
ILF Community Call - the next #ILFCommunityCall is scheduled for Wednesday, May 10th at 10:00 am (Central Time). We will have the usual updates from the Interledger Foundation team, Rafiki, Fynbos, and welcome updates from other open payments teams.
More details to follow.
In the interim, if you have any questions or need help? Join us on Slack here.