Happy New Year Interledger Community!
We end the first week of 2023 with a quick roundup of what's been happening on the community space while we were away.
---
Community Members continue sharing their reflections and insights about the ILP Summit
Karl Carter of Snake Nation attended the summit and shared in his reflections post how he and his team were changed by NOLA.
This trip started like many others. The Snake Nation team boarded the long flight from South Africa. We spent the next 20+ hrs getting up to speed on what to expect, watching movies, sleeping and reading. What began as our first IRL introduction to the #InterledgerSummit conference, ended with us feeling that we are part of a community of people using ILP to build the future and change the world. This was Tawanda's and I first time in New Orleans and thank God we had the best intro thanks for the ILP community and our local guru Gabrielle. From the first night, sharing our mission, along with the other grantees who were present we could feel the excitement and energy. As the days proceeded, watching the presentations, participating in the panels and having a chance to build with all the different people in the ILP community was a super rich experience.
Yotam Liel shares in his travel grant report about the opportunity to present at the summit.
Hi! My name is Yotam Liel, and I am a research scientist from Tel Aviv University. It was a pleasure to have the opportunity to attend the ILP summit and present the work Lior Zalmanson and I have been working on. It was also amazing to have the chance to meet the team and connect with other members of the community.
One of the Summit's highlights for me was the opportunity to hear from the Interledger team about their vision for the protocol and how it is being used in the real world. It was particularly interesting to learn from Stefan Thomas's presentation about future use cases, such as marketplaces for training data.
Another highlight of the summit was the opportunity to network with other members of the Interledger community. I had the chance to participate in interesting discussions and breakout sessions, which gave me valuable feedback about our research and ideas for future work.
Although Jerry Ojumah and Nasir Khan were unable to attend to ILP Summit, they each shared their virtual reviews, here are some excerpts…
I could not attend the Interledger Protocol Summit in person due to Visa issues i encountered, but the outstanding team at Interledger made me have a surreal experience with all the sessions at the Summit Virtually.
I was excited to watch the Introduction of Dassie, an Interledger peer to peer network that lowers the barrier to entry for developers looking to experiment with or build on the Interledger Protocol. This will significantly contribute towards the adoption of Interledger protocol globally. - Jerry Ojumah
---
I planned to attend the ILP Summit 2022 and received scholarship. But unfortunately I could not attend the summit due to not receiving the visa on time. I applied for the visa and they took about 2 months and by this time I missed my flight. It is very unfortunate and I was very excited to participate.

I was sure that the summit will be awesome. The use of Interledger protocol is expanding slowly and in the summit I could meet a number of other people who are working in this tech and building new tools and projects around it. - Nasir Khan
Thank you to our grantees and community members for sharing their experiences at the summit and to those who were unable to attend but shared their thoughts virtually.
If you would like to read their full posts, please click the following hashtags Travel Grants, ILP Summit Reflections and Virtual Reviews.
---
Projects Peer Pay and Company XV share final reports
Nestor Campos details in final report the latest developments for project Peer Pay
When we started with PeerPay at the beginning of 2022, we knew that we would learn a lot and have several challenges, but we have learned much more than expected, we have achieved more opportunities in the future, we have had valuable user feedback and we are already preparing the following years.
Regarding the technical details, we have managed to make a lot of progress, including doing a test implemented CBDC technology through an ILP connector.
We have also been able to present PeerPay to funds, accelerators, and other investors, mainly to get their feedback and show the advantages of Interledger for these types of projects.
PeerPayis already a functional prototype, which we have tested with users from Chile, Argentina, Venezuela and Colombia to verify the safe sending of money assuming that they will be remittances.
These tests were carried out within the XRPL network for the exchange of money, connected with own ILP nodes.
During the course of testing, we received feedback such as:
Adjustments to the visual design of the platform: At first, the platform was not so friendly and easy to understand, especially for those who do not understand payment networks or blockchain.
Ease of receiving payments: We take a functionality from other Fintech to facilitate receiving payments, and that is to create payment links to share and simplify payments.
At the communication and marketing level, we have made alliances and participated in some events in South America to show PeerPay.
In 2023, our goal is to integrate with businesses to make it easier for people to pay directly without having to attend in person or rely on credit cards.
Jakari Sherman shares in final report the success of project Company XV's pilot season experimenting virtual dance and the implementation of web monetization.
This has been an extremely special experience that would not have been possible without the support of ILF. Company XV was born and incubated through the Grant for the Web, and this is just the beginning of the work we'll do within the web monetization and the dance communities. We'll continue learning and growing, careful to lead with equity, transparency and curiosity.
Summary of Findings:
As an eXperiment in Virtual dance, the greatest success of this pilot season of Company XV has been the insights we have gained on the implementation of web monetization as means of supporting dancers within a company structure. The obstacles we've encountered, primarily around the subscription-based model of WM adoption, speak to the importance of the user experience. We've learned a great deal about how dancers interact with social media, and as a primary point of interaction between fans and dance makers/performers, this detail must be part of the conversation when engaging artists for Company XV. Furthermore, the nature of artistic work created or curated by Company XV must be determined alongside an understanding of artists' 'digital identity'.
I am pleased with the platform of agency we have created for artists. And while there is much to be developed in how we support and promote this platform, I feel that we have laid a solid foundation on which to build.
As a company we identified strategies for connecting with artists' social fans, and as our own social platforms grow we will continue to find means of social collaboration and symbiosis. One of the most significant takeaways from this experience has been a greater appreciation for the relationship between artists' digital identity and their concrete identity. The way in which artists see themselves, present themselves and their choices in the utilization of social platforms play a significant role in how they interact with the public and thus, how effective certain models of web monetization can be.
Many thanks to Nestor Campos and Jakari Sherman for their great work on these project, we look forward to seeing what you'll be up to in 2023!
---
For the Interledger Community
During our open call for proposals in 2022, grant writer Jason Luboyera worked closely with our Community Ambassador Lawil Karama and the Interledger Program Team to help African grant applicants develop and write applications.
Over the past couple of months, with my team at 360 DigiSales, I've had the immense privilege of working alongside the recently announced cohort of Interledger grantees in the Financial CFP.
For myself in particular, it's been wonderfully educational. Financial inclusion in Africa is a topic that's near to my heart, and the individuals we worked with were from the same part of the world I come from – near my home country of Uganda.
Through our work with the grantees we got a new perspective on financial inclusion in Africa, and dove deep into their business model, and how they work as teams. In working with the Interledger Foundation, we also learned a lot about what it takes to write a successful grant application.
To learn more about grant writing, please review Jason's helpful guide.
---
Updates from Interledger Foundation
Join us for the first Interledger Community Call of 2023 on 11 January 2023! You're welcome to share your project; discuss topics around the broader Interledger ecosystem.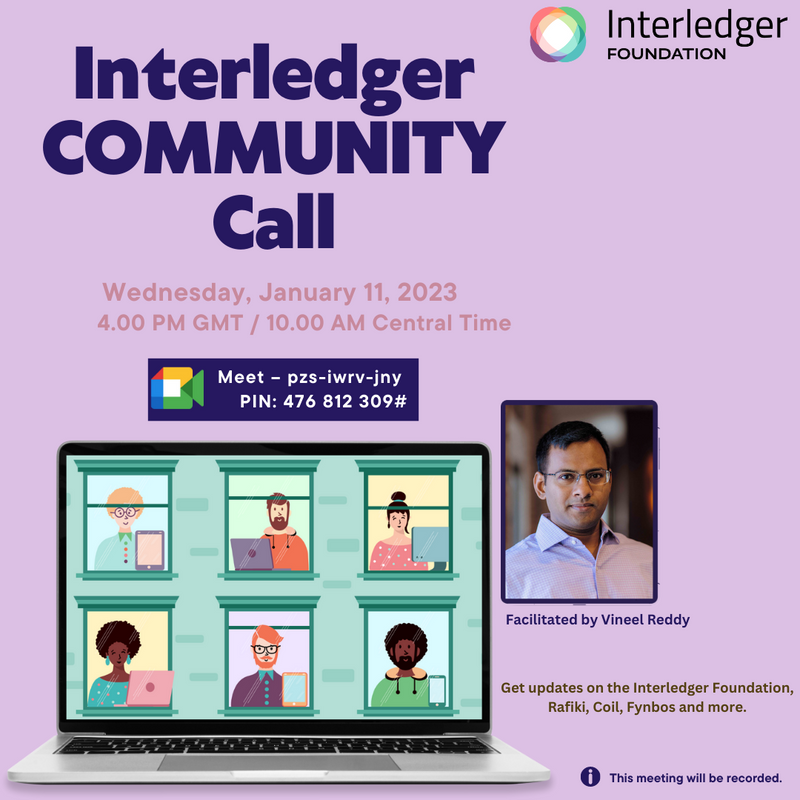 The Interledger community calls shall be once a month, on the second Wednesday of the month.
Time: 4.00 PM GMT / 10.00 AM Central Time.
We'll have 5 regular update slots from:
Interledger Foundation
Rafiki
Fynbos
Coil
Open Payments teams
Meet joining info
Video call link
Or dial: ‪(GB) +44 20 3956 1581‬ PIN: ‪476 812 309‬#
More phone numbers: https://tel.meet/pzs-iwrv-jny?pin=2824719901292
Add to Google Calendar
We have slots for more regular updates on projects that build on the Interledger protocol, so please feel free to add your project to the agenda, and talk a little bit about your project in the comments below.
Have questions or need help? Join us on Slack here
Stay tuned for more details on the February Open Payments Huddle and other community engagement opportunities.