Project Update - Grantee Progress Report
Background
MUDA mainly provides cross-border payments to B2B & B2C clients. One of the biggest challenges we face when executing cross-border transactions is the lack of adequate liquidity between different currencies. This makes it difficult for people to make payments and remittances at affordable rates.
In order to solve this issue Muda is working to aggregate liquidity through agent partners in several markets which we use to execute payments at better rates. The issue with the current system popularly known as the hawala system is that it does not scale very well due to the fact that it is based on trust between known parties and when once of the trusted parties does not have the required liquidity then the chain breaks down as transactions cannot be processed until they are sufficiently capitalized again.
Our mission is the build an OTC platform that can enable users from anywhere in the world to easily transact with each other in a safe and secure manner with a system that would provide them with an easy fall back solution in case of any disputes.
The key objectives of this project are as follows:
To study the ILP and understand how it can be implemented in our current cross-border solution.
Publish our research findings and recommendations.
Design an escrow system based on ILP technology that can work in the OTC trading environment.
Solution
In order to solve the issues mentioned above we shall use interledger to implement a solution that will apply the ILP to digitize and improve the way the current cross-border liquidity is aggregated, managed and utilized.
Project architecture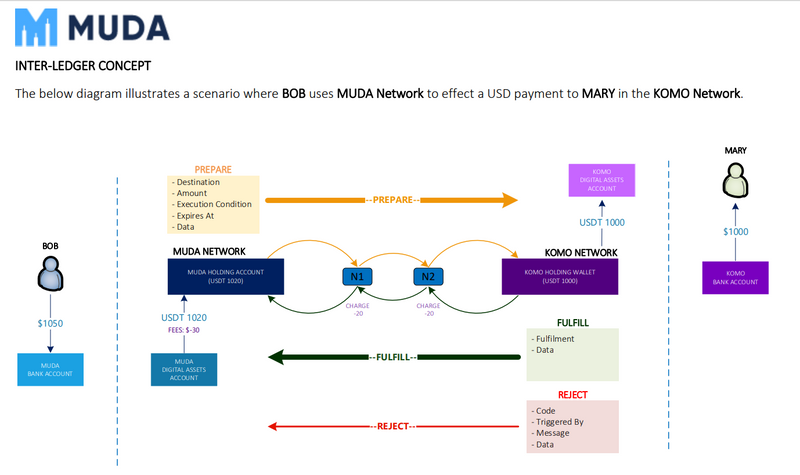 Project Update
Challenges
The designing a solution that would enable the system to work without relying on trusted parties or reduce the risk associated with trusting 3rd parties.
Getting official feedback from the regulator on their position in regards to their view on the implementation of this solution. The regulators that we discussed with have had challenges understanding the technology stack. We also had a challenge with a change in our compliance dept which affected our communication with the regulator, the change slowed down the communication and it took us 2 months to get things running again and this is because relationships are key when it comes to conversations around new innovations.
Big wins
We have managed to come up with designs that have reduced the reliance on trusting 3rd parties with the security of funds by adding digital assets to the infrastructure.
Connecting with other ILP members who are willing to test our solution once we are ready, these tests are scheduled for the 1st week of March.
## Progress on objectives
Our current progress is as follows:
We have carried out our research on the ILP and approved technical implementation designs for how we would implement it with our OTC system.
We have met with stakeholders in 3 countries and carried out ground research on possible pilot payments options for implementation. Our research has also made it very apparent that if this protocol is to gain adoption in the payments space, on and off ramping with sufficient liquidity is going to be very critical for a good user experience.
## Key activities
Our Key activities are as follows
Drafting our a report covering our findings in regards to the regulatory requirements for launching and maintaining ILP based products that are similar to our proposed use case.
Preparing to test our prototype and draft a report with the methodology and results.
Software development: We are developing an API (which should be ready by 3rd April ) and later finalize the integration of the API with OTC Staging server.
Communications and marketing
We have held discussions with potential partners.
What's next?
We are looking at achieving the following
Publishing our research report - technical designs, regulatory landscape, market recommendations.
Building a prototype of the OTC escrow service
Testing the OTC escrow service ILP with selected members.
What community support would benefit your project?
1.We would like more people to test out our project.
2.We would appreciate if anyone would help us recommend trusted deposit nodes in your different areas.
Additional comments
In this project we shall utilize digital assets to reduce reliance on third parties.
Relevant links/resources (optional)