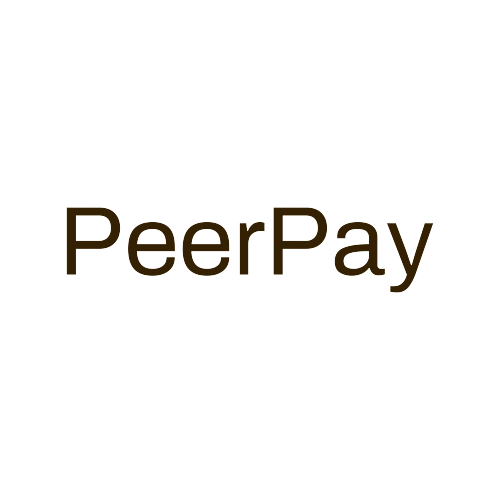 Project Update
PeerPay ("Payment system for one billion people") already has its first Web version (https://peerpayapp.com/), available for any user to try. Not only is this its first version, but it also includes a lot of feedback that the tremendous Interledger community and Grant for the Web have given us.
We are in the middle of the project, with a lot of learning, with many challenges ahead and with tremendous opportunities that we are working on.
Progress on objectives
The proposed objectives for this year in PeerPay are:
Web development as MVP: It is ready and functional with test accounts (ILP accounts). Accessible at https://peerpayapp.com/
Localization: Thanks to the feedback from the community, we realized the importance that PeerPay was not only in Spanish, so it can also be used in English and Portuguese.
API development: The architecture is ready and the team is working on refining the last details to publish the API and allow the development of new products for builders.
Communication and marketing strategy: We developed a strategic plan that includes alliances with other protocols and blockchain to participate in PeerPay. It also includes financial entities (which we are now going to talk to some of them taking advantage of the ready MVP) and exposure of PeerPay to entrepreneurs to test the functionalities and understand how they are used to adjust the platform.
Finally, with all the work that we have done so far, we see the importance on more levels of the problem that we want to address. In other words, the initial idea that we made that PeerPay be a payment processor is not enough, but also that we have to be an enabler of other platforms that build on Interledger, and we have built PeerPay like this, so that other platforms focus their parts important and to send and receive payments use what we have already done with PeerPay. Because if we want to reach a billion people, we will not do it alone.
Key activities
Our work during these first 5 months has consisted of:
Iterative development of the platform: We made 3 versions, in the first only available in Spanish and with a different design from the current one, which had feedback to adjust it due to problems in its use. In the second, with the current design, thinking of a simpler, clearer navigation and with new features (select the type of wallet to create, create payment links to share and information for reports). In the current one, similar to the second version, but available in 3 different languages ​​(Spanish, English and Portuguese), and built through API (which will soon be available to the public).
Payment module in MVP: Taking the competition (other payment processors) as a reference, we enable a form of payment through simpler forms and with data filled in by the payment recipient (without the need to code anything) and the possibility to generate a payment link to share, avoiding having to send payment data by traditional means such as emails or messages.
Marketing and communication: We have been exhibiting PeerPay in events for entrepreneurs, mainly face-to-face in Chile, to show the benefits of sending and receiving payments. Also in a private event of the Argentine InsurTech Chamber, of which our company Techgethr is a member, to show the other members the opportunities to use PeerPay in their startups.
Infrastructure: We are putting together an infrastructure plan to enable Interledger nodes for use in PeerPay, both our own and to support financial entities.
The modules that are developed in PeerPay are:
Wallet: Here users can add their different ILP accounts (for now only IPLv4 test accounts, but built for any provider). In addition, it allows differentiating between personal and company accounts, in which the latter allow adding more information for the issuance of invoices (this part is under construction). Finally, it allows checking account balances in a similar way to Web 3.0 wallets, that is, without saving the information/passwords of the wallet by database, but rather locally (this may change in the following versions). Additionally, remembering an ILP address can be complicated, PeerPay allows every wallet to add a unique alias, to be able to share it with anyone and make it easy to remember.
Address book: Like any payment platform, the user can add the recipients of their payments to simplify their processes and speed them up.
Payment and transfers: This module allows you to send payments to other wallets (of third parties or your own), including generating payment links to share and see the details of all the transfers sent and received in your ILP addresses, in addition to seeing historical records.
Reports (under construction): Although this module was not designed for this development, we realized the importance of giving users information about how they are using their money.
Notifications: This is not directly a module, but the platform sends certain notifications to users (validate emails, reset passwords, payment generated and payment received). We are working on the mail designs after validating all the notifications that we will build.
The hosting of the platform so far has been:
Microsoft Azure for the Web platform, API and database.
SendGrid for email notification system.
Cloudflare for DNS management, security certificates and content delivery network.
Communications and marketing
The first part of the job was to take care of the development. We decided to focus on having at least one working version of PeerPay and now we will start on that part (almost no marketing and promotion expenses to date).
But we have taken advantage of making PeerPay known to be integrated with other protocols. For example, we are working with the DICO Network (on the Kusama/Polkadot network) to integrate their protocol so that they can send and receive their tokens within the PeerPay and Interledger Protocol.
In addition, we created a LinkedIn profile that we will use as a professional point of contact.
Finally, we did a meetup (and we will do more) to teach about Interledger Protocol, WebMonetization and PeerPay. The video is available at: https://youtu.be/17YfiOnb0YY
What's next?
Despite the platform, we have a tremendous challenge ahead of us, and for the rest of this year, our goals are:
Create the PeerPay API, so that developers of new apps can create new products and services on our platform. Including an SDK for some of the most used programming languages (probably C#).
Help integrate PeerPay into platforms for entrepreneurs so they can sell their products and receive income. This may involve changing the web interface based on feedback.
Integrate ourselves with banking and financial entities willing to be part of Web3 and participate in the project.
Create our own nodes to enable our own accounts, that is, be an ILP provider like the rest. And we are going to integrate Rafiki in PeerPay.
Work on the marketing and promotion of PeerPay (the part of the unused funds is dedicated to this), massifying the benefits and establishing alliances with organizations and companies.
What community support would benefit your project?
PeerPay must have a synergy with the community from various aspects:
If you want to learn how to use it, you can create an account, use it as a test and give us feedback.
If you are a node operator (provider) and want to integrate with PeerPay, you are welcome to do so. We will help you reach more users.
If you are or are part of a financial institution (regardless of size), contact us and help your customers access payments at lower costs.
The community can help us by giving us feedback at nestor@techgethr.com, it can also help us show PeerPay to any other startups we might partner with.
Additional comments
PeerPay is an ambitious project, which is why our motto is "Payment system for one billion people", that regardless of your employment, economic situation, residence status in a country, they can participate in the financial system (either with fiat or crypto). That thanks to Web3, the financial industry is not excluded, but is a relevant actor, that entrepreneurs can sell their products formally with the minimum possible requirements, that small and large companies can send and receive payments in an agile way , that people can send and receive money at the lowest possible cost and access different services without problems.
We are making PeerPay an independent company that meets the requirements and regulations, starting with Chile, to be an actor in the Fintech and Web3 industry.
Think in PeerPay as the "Paypal for everyone".
Relevant links/resources