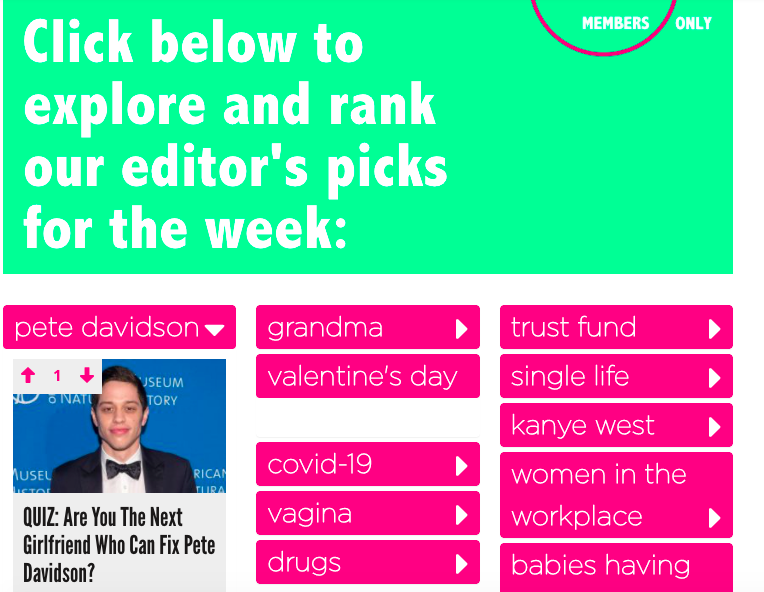 Project Update
Whew, what a project! We're so excited to fully launch our new and ever-growing "Members Only" section, designed for our most devoted readers who join Coil and subscribe to Reductress to engage with our content in a totally new way. For nearly 8 years, readers have only been able to engage with our content based on what's most recent, specifically searched for, or what we share on social media. But we've created a section where our editors can curate content based on authors, tags, and even exclusive content just for our subscribers, with the ability to upvote/downvote headlines so that you'll see our most popular stuff, as well as our deep cuts. This, to us, is just a jumping off point for a larger, bigger experience for our fans, and we're so excited to finally get it out into the world.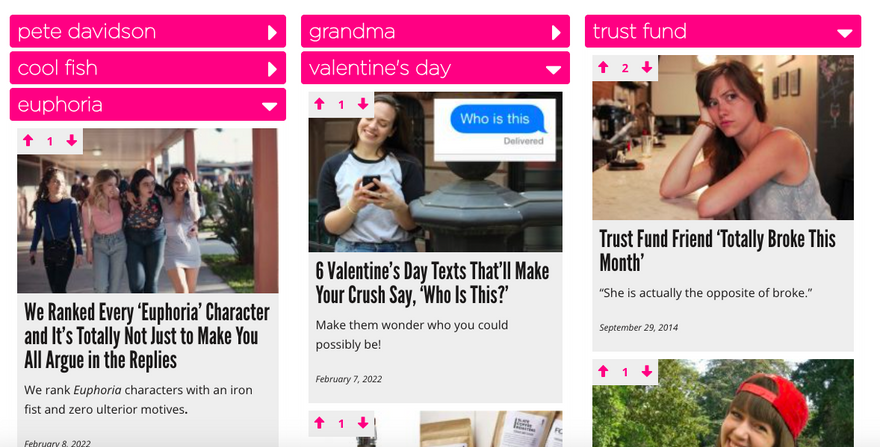 And it's worth mentioning at the top that a small extension on the project allowed us to align our design, dev, and marketing plans for a much stronger launch. So thanks, GFTW!
BIG WINS: On the technical side - I'm really proud of my team, especially our lead dev, Jibran! We hit very few roadblocks along the way (mainly bigger questions on how to get this in the hands of the most people possible while also being web-monetization-forward), and with a few UI updates, we now have a very cool and mobile-friendly experience that's simple and fun. While we strayed a bit from our original design, thanks to a small, agile team, we came out with a much stronger design. The core functionality remained the same, but will be wearing a much prettier outfit to the party now.
We also used the last month to make a design refresh that syncs better with our marketing/video design, and cleaned up our login/register forms to boot. Feeling great about that move since we had the time to do it!
2 BIG CHALLENGES: Can I sum it up in one word? COVID, babe! Our entire office got hit with Omicron in December, followed by our fearless dev, Jibran, in January, followed by our design + video team after that. Wow! This was not fun, nor good for productivity!
But on a more technical side, our biggest roadblock of all was the fact that web monetization is not supported in iOS - which is 90-95% of our readership. We didn't want to exclude all those users from our new features, so after some thought and sample user flows, we decided to only roadblock one page - the "register" page, which would allow users to sign up for Members Only after registering for Coil, but from there, they'd be able to access Members Only from any browser they like. Web monetization will still be in play for the folks who use the appropriate browsers, and hopefully in the future - our app. We determined this was the best solve for the constraints we were under. Our next goal from here would be to streamline that signup process for our users in order to get more of them on board.
Progress on objectives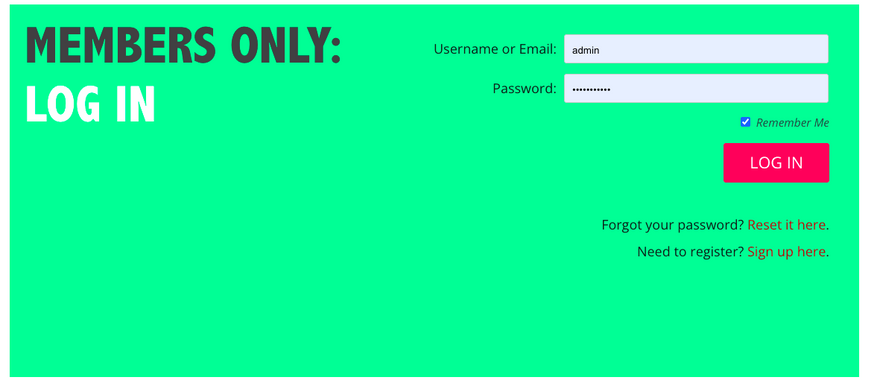 We hit all our key objectives for launch! We have produced a special place for devoted users with the intention of moving away from our ad model and toward a web monetization/subscription model, with the ultimate goal of having users spend more time on the site by engaging with our content in a new way.
As for the things that have evolved - we originally wanted to make this new section easily shareable via social media, but social APIs make it difficult without users having to go directly to the post page like a normal reader would. Something we want to explore more (and perhaps wait for better APIs from our social media hubs) is easy, effortless sharing to Instagram and other social media directly from the main Members Only Page. We'll definitely explore this more in the future.
Now, we see if our new functionality will lead to our bigger goals - a successful business model, and users spending more time on the site.
We will learn a lot in the next six months!
Key activities
We successfully built the Members only section functionality with upvote/downvote abilities, and a way for users to register and login/logout. This was a team effort between Sarah (me) and Jibran in terms of design, product, and development.
We then successfully curated content for launch, teaming up with Damien and Kendra on editorial. Kendra unfortunately left for another position in the fall, but was integral to supporting development, QA and preproduction in the early stages of the project.
Lastly, we're now wrapping up a final promotional video with our partners at Hiker to present on our main promotional and sales page and to disseminate via social media. We slowed down the progress on that to make sure all our design and marketing was in sync, and to update them with final product. We're just waiting on the final version to be delivered any day now!
From there, we are planning on executing our full marketing campaign, drawing some conclusions from early launch, and planning our phase 2 from there. This may include building out a standalone app to house the new functionality and even more.
Communications and marketing
So far, we've been pretty hush-hush about the project until the video and final marketing design is complete. But once that's finalized, we plan to execute a full-scale marketing campaign to hit our subscriber goals for the following six months.
This includes:
finalizing a landing page explaining the product
launching new, exclusive content for members (with the help of our editorial staff)
several campaigns directed specifically toward our fan base to draw subscribers in with compelling content.
talking about it on our podcast!
The entirely of the grant-funded marketing budget was spent on the video and design aspects of this, while our own funds will be used for any paid advertising that may occur. Our first goal is organic advertising, but we will inevitably put some paid budget behind this as well - although the key goal here is really to engage our existing audience, so we're going to focus on that by taking up real estate on our own properties - site, podcast, etc.
What's next?
Phase 2: We're going to use the next month or so to fully launch and advertise our product, and learn from our users about what they respond to the most. From there, we will start prioritizing phase 2. This may include - an app (so we can control web monetization better and also the user behavior), and more exclusive content that's more easily shareable.
From there, maybe we'll see you in the metaverse!
What community support would benefit your project?
If you're already subscribed to the Coil Comedy Bundle, check it out! It's the 'members only' link in our header on reductress.com.
Secondly, if anyone has had success leveraging an existing Wordpress site into an app, we'd love to know how it went for you.
Otherwise, thank you for supporting Reductress!
Additional comments
I think the future of web monetization is going to be huge, especially as we see how Web3 unfolds. We're all excited to see how the technology expands and becomes commonplace for the average, non-technical user out there!
Relevant links/resources (optional)
Members Only - if you are signed up for Coil, you should be able to register on Reductress and view Members Only. If you aren't signed up for Coil, why dontcha now?!!