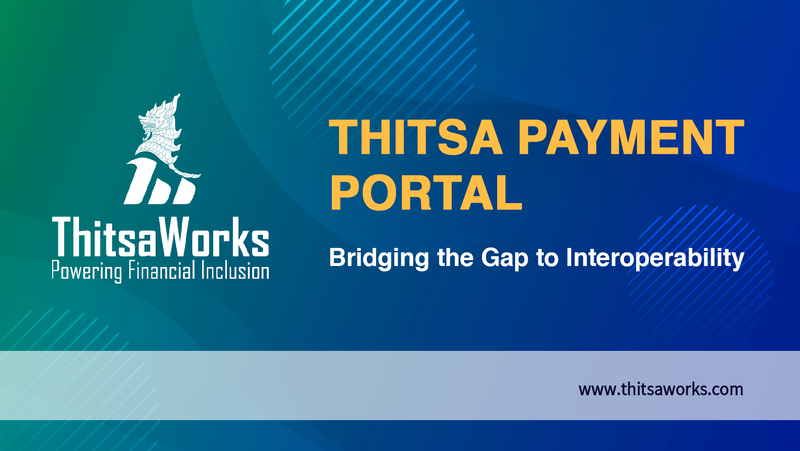 Brief Project Description
Greetings from ThitsaWorks!
ThitsaWorks is leveraging the Mojaloop technology to develop the first ever interoperable real-time payment platform in Myanmar that enables microfinance institutions (MFIs) and their borrowers to disburse and repay loans using any wallets, banks, or payment solutions. Mojaloop, an open-source platform built on the Interledger Protocol, facilitates the settlement of digital payments among multiple MNOs, commercial banks, or a central bank, regardless of their network variations.
This shared and open platform is designed to make it easier and more cost-effective for financial institutions to transact with each other, thereby promoting financial inclusion in Myanmar, and increasing additional financial nodes into the Interledger Network. While we wait for the final regulatory approval for this real-time payment switch, we turn our attention to a growing need for MFIs in connecting to a real-time payment switch.
Project Update
We are thrilled to share the progress of our work dedicated to enabling microfinance institutions (MFIs) and its borrowers in Myanmar accessible to a Mojaloop enabled interoperable real-time payment switch.
ThitsaWorks has researched and designed an innovative solution to address the needs of microfinance institutions (MFIs) that lack an API-capable core banking system (CBS). Our proposed solution, Thitsa Payment Portal, is a cutting-edge product designed to meet this unique challenge faced by such institutions. The main purpose of Thitsa Payment Portal is to serve as a middleware layer for MFIs without the API capabilities with a core banking system or without core banking system to connect to the interoperable real-time payment platform built on the Interledger Protocol.
One advantage is that we won't be subjected to regulatory requirements from the Central Bank of Myanmar for the creation of this portal. It will serve as a middleware, facilitating the upload and download of bulk payment data by connecting to the interoperable payment switch. The primary legal framework for KYC (Know Your Customer) in Myanmar is established by the Central Bank of Myanmar. However, only financial institutions and designated non-financial businesses and professions (DNFBPs) are required to conduct customer due diligence (CDD) measures to verify the identity of their customers and assess the risks associated with them. Since ThitsaWorks is neither a financial institution nor a DNFBP, all KYC and CDD requirements will be met by the MFIs utilizing the TPP (Thitsa Payment Portal).
The biggest struggle we have had is collecting micro data regarding the number of MFIs who lack core systems and API capabilities and the specific details of them. Some of them would prefer enclosing their data close to themselves instead of sharing with us. In this regard, we had to refer to the secondary data unless ThitsaWorks had found them in internal research.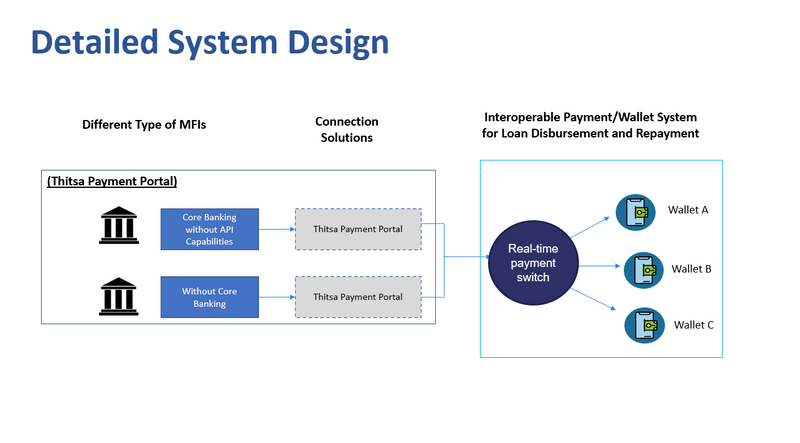 Architecture of Thitsa Payment Portal
Project Impact & Target Audience(s)
Banking services are limited in rural areas of Myanmar whereas the uptake of other formal non-bank products has doubled largely driven by credit from MFIs and Cooperatives in 2018 compared to 2013. Only 22% of rural population has access to financial services while it is 29% for urban population.
However, urban population in Myanmar is found to be triple where nearly half of the population will be under national poverty line. (People's Pulse Survey, UNDP, 2021). The need to serve the unbanked and the underbanked has become more urgent than ever for the last 10 years.
We recognize the need to strike a balance between profitability and social performance. We do so by establishing a continuous feedback loop with the MFIs so that we can continually tailor the product and service to our clients' needs. We are always mindful of the need for transparency, service quality, and fair pricing to retain their trust. Only by treating all in a respectful way can we continue to optimize the value chain and lower cost for those in the BOP (Bottom of Pyramid).
In a nutshell, our target audience will be MFIs and its borrowers, and This solution will unlock economic growth in the sector that needs it the most. ​ It will serve more than 2 million unbanked and underbanked in Myanmar in the short term with the potential of serving 13 million in the long term. A large number of them will be women.
Progress on Objectives, Key Activities
Our main objective is to build a bridge for microfinance institutions (MFIs) that lack core systems and/or API capabilities to connect to a Mojaloop enabled payment switch. This will unlock economic growth in the sector that needs it most. This will serve more than 2 million unbanked and underbanked in Myanmar immediately and the country's potential market of 13 million in the future.
Market Analysis: To start off, we did a market analysis in Myanmar's microfinance sector to draw out the needs of MFIs and to see the value we can add to the sector and its end users. Being the largest FinTech in the country, we have a network of clients – the MFIs that we are serving. While working on the real-time payment switch, we met with them and discussed what can be done to involve all the MFIs in the interoperability which will move us forward by means of financial inclusion. Our study shows that more than 80% of 180+ MFIs, serving 2 million out of the total borrowers 5 million, lack Core Banking System (CBS) and/or Application Programming Interface (API). This excludes them from joining the interoperable open payment platform.
Product Development: We came down to developing Thitsa Payment Portal which will enable the MFIs and its borrowers to connect to real-time payment switches. Our Business Analysis team worked on the system design after talking to some MFIs who gave us ideas on what their needs are. We took into consideration the process of how most MFIs are saving data. Some of them are still using paperwork, some of them are using Microsoft Excel, and some of them are using a core system with API capabilities. Taking these into account, we designed a system where they can simply upload a file to disburse loans and receive messages when loan repayments are made through mobile wallets. We have designed a wireframe to develop a minimal viable product.
Business Plan: Thitsa Payment Portal will be equipped with the basic features of core banking systems which allow uploading and downloading the required data for bulk payments such as repayment and disbursement use cases. Out of 180+ MFIs in Myanmar, more than 100 MFIs do not have a Core Banking System. About 20% of them use a Core Banking System and some of them do not have an API.
Using TPP, the number of MFIs which can join a real-time payment switch will increase enormously since they can join it with modest fees compared to the cost of installing a core banking system. This middleware solution will serve more than 80% of the 181 existing MFIs in Myanmar allowing indirect participation of small financial institutions to effectively increase transaction volumes in an inclusive and sustainable way. Thitsa Payment Portal will enable 181 microfinance institutions in Myanmar, serving five million clients with approximately three million women, access to financial services.
Our target audience will encompass more than 80% of MFIs in Myanmar, which collectively serve more than 2 million borrowers.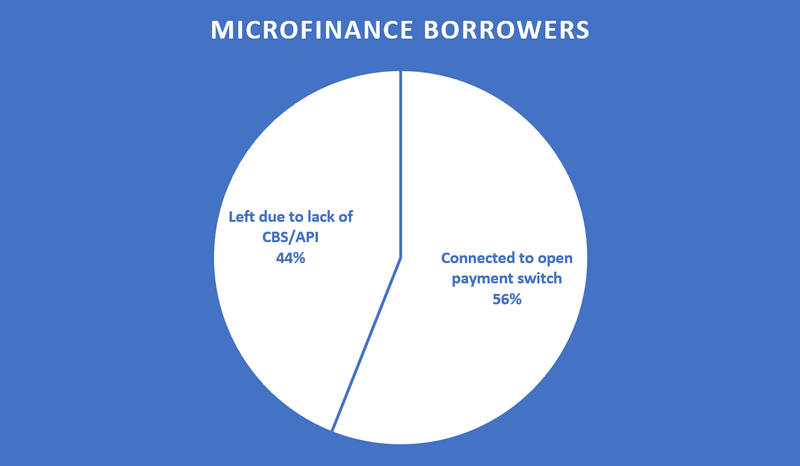 Addressable market of Thitsa Payment Portal
Communications and Marketing
Thitsa Payment Portal is a data-transferred web-based portal powered by Mojaloop technology for financial institutions to connect real-time payment networks to perform digital payments without the necessity of acquiring a core banking system. We have been introducing the concept of Thitsa Payment Portal when we onboard clients onto the real-time payment switch. The need to create the portal itself came when we started onboarding the clients. Every MFI who learned about our initiative were very happy that there will be a portal on its way which connects them to the platform if they did not have an API enabled core system or if they chose to connect through a middleware instead of using their CBS for their convenience.
As we continue marketing the payment switch among MFIs, Thitsa Payment Portal will be introduced as an accompanying offering. The target audience of the portal is approximately 150 MFIs who do not have API capable core systems with end users of about 2 million borrowers. Once the payment switch is regulated, the portal will be onboarding more than 100 MFIs with an addressable market of 2.2 million. The news has already been spread with word-of-mouth referral. We have designed the system of the portal and once it is fully developed, it will be available to be tested.
Given the need for an interoperable payment switch in many emerging countries, may it be Asia or Africa, we will continue to dedicate our work towards financial inclusion – mainly by means of building interoperable payment platforms. When we operate different projects around the world, Thitsa Payment Portal will be included as an integrated component as our comprehensive package. We aim to expand the market for Thitsa Payment Portal to become a connector to Mojaloop enabled payment networks around the world.
What's Next?
What is left for us to do is we will collaborate with a few MFIs to test the feasibility of the portal in order to collect feedback and reiterate the development process until satisfactory. As we go along, we will continue to update the business plan so that the portal can be sustainable given any situation, may it be a political or economic crisis.
Moreover, we will prepare to test the portal with real-time data and add another use case, which would be a cross border use case by integrating the portal with Rafiki as a settlement, for Phase 2. For that, we will keep you updated in the final report. After careful real-time testing and upgrading, we aim to launch the product by mid-2024.
Community Support
We have been studying Rafiki and other ILP components in search of ways to integrate them with our portal. Community calls have been really helpful in filling knowledge gaps for us.
Relevant Links/Resources
Website: https://www.thitsaworks.com/
LinkedIn: https://www.linkedin.com/company/thitsaworks/
Facebook: https://www.facebook.com/Thitsaworks?mibextid=LQQJ4d