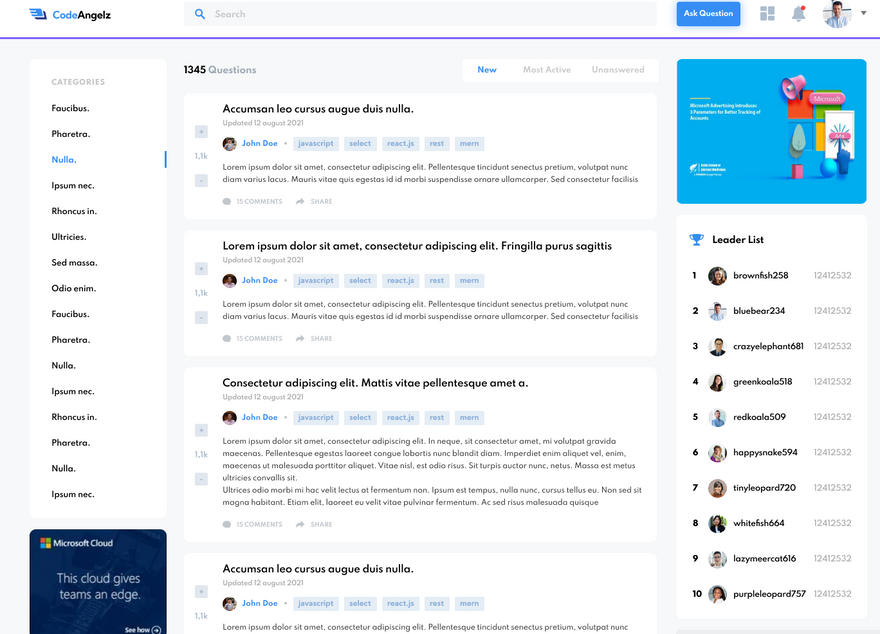 Project Update
Let me start by introducing Code Angelz, which is a developer based Question and Answer website. That allows registered users to ask questions in real time and the developers who answer the questions are rewarded with micro-payments.
As far as the timeline goes I probably about a month behind where I expected to be, although we have a basic CMS working to control the website and some functionality of the Question and Answer site there is still a bit to do make it polished.
The main problem I had initially I found it hard to find good developer contractors that would do the amount work I required for the budget that I had. Another issue I had was that I lost some contractors due to me wanting to wait for the grant funds to clear before they started. In the month before I received the funds I had done a lot of the groundwork with regards to working out the architecture and technology used on the platform. Once the funds had cleared I found myself a great UI designer who worked with me to come up with the UI / UX experience. Once that was complete I was back on the hunt for some developers I increased my budget and manage put a great team of developers together.
Progress on objectives
Of the all the objectives we originally there are 3 core elements that are not complete.
The first is the ability to hide adverts for users who do not have have Coil enabled.
The second is the ability to send a XRP tips a person who has provided you with a useful answer.
Lastly, not all the infrastructure is in place at the moment we don't have the Continuous Integration pipeline to push builds to a staging and production environments.
Key activities
We have Alpha and Beta release to be shared with a small number of developers once the missing core features are added to the platform. After each release there will be round bug fixing, to the expedite the process of finding we may offer a bug bounty.
Communications and marketing
The plan is to become more active on Social Media and use the marketing budget to promote the platform. Blog posts, video tutorials and meetup events are all in the pipeline.
What's next?
At this point in time we need to complete the missing features and make the platform more stable. Then complete the key activities, the communications and marketing plan.
What community support would benefit your project?
Once we are into Beta we will posting to the community to get some feedback and to get users involved in the bug bounty.