Project Update
This two year project was focused on harnessing open technologies to power new revenue models for quality news organizations as they do the important work of journalism, which is vital to healthy communities, economies and democracy.
Starting in August 2020, the first phase of the project was dedicated to:
1) Engaging news media companies of all sizes to explore alternative decentralized revenue models.
2) Working with publishers to implement foundational DML technology, enabling the creation of publisher networks that could facilitate testing new technologies, including Web Monetization.
For the second phase of the project in 2021, we did the engineering work to build a multi-party payment system designed to incentivize content sharing across distributed networks. For the initial payment pointer platform, we partnered with UpHold to provide a flexible multi-party financial transaction platform and tested the pipes. We created DML managed accounts for each of the publishers involved in the initial trial with a plan to transfer those accounts to the actual publishers if the trial proved beneficial. See Grant Report #2
Once built and to further test the model, in January 2022, we launched the experimental payment system across the Covering Climate Collaborative, a project managed by the Local Media Association and funded by Google.
The Covering Climate Collaborative supports and amplifies the work of local newsrooms reporting on critical climate issues. At this point, the collaborative has over 20 publishers contributing content to embeddable collections through the DML curation platform and is embedded using DML distribution technology on ten local news publisher websites across the U.S.
We wanted to pick a topic-based journalism collaborative to better understand the potential economic value from multi-party payments for engagement with a specific topic that may lend itself to consumer subscription, donation revenue and corporate sponsorship models.
Additionally, collaborative journalism projects have two challenges this project directly addresses:
Limited economic sustainability beyond grant funding.
Not enough incentives for partners to share each others' content beyond grant mandates.
While hundreds of publisher websites now have DML code embedded, this limited test's goal was to implement a payment model that would allow us to track economic activity based on user engagement across a discreet content sharing network. The level of activity would determine whether this was a model that had the potential to scale and power new and meaningful revenue streams for quality news organizations and local news publishers.
Progress on Objectives
As outlined in our original proposal, our key objectives were to establish a scalable revenue model for content syndication between national and local publishers and to empower the news publishing industry to benefit financially from Web Monetization. We were able to establish the model on the technical side by meeting our implementation objectives and on the business side with national and local publishers through a successful pilot.
In our original proposal, we were expecting a relatively straight forward implementation of web monetization, but issues on the browser side led us to modify our approach.
When we launched the test in January 2022, we set it up to receive notification from UpHold for each financial transaction.
In the first few months of the year, hardly any notifications came through and activity was low in the pilot group of publishers.
Then, in June, Graham Media Group, which owns several local TV stations in the South East, placed climate collections on their weather pages. Engagement grew exponentially due to the popularity of the weather page on local news sites for people in hurricane zones.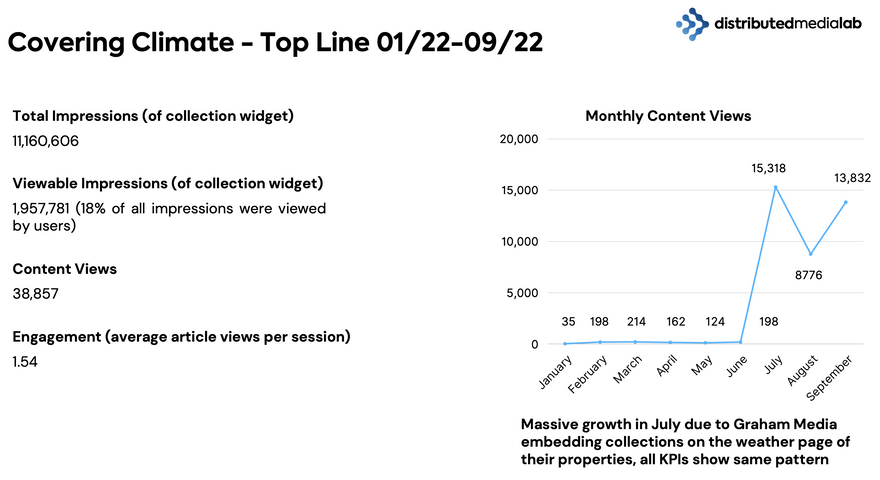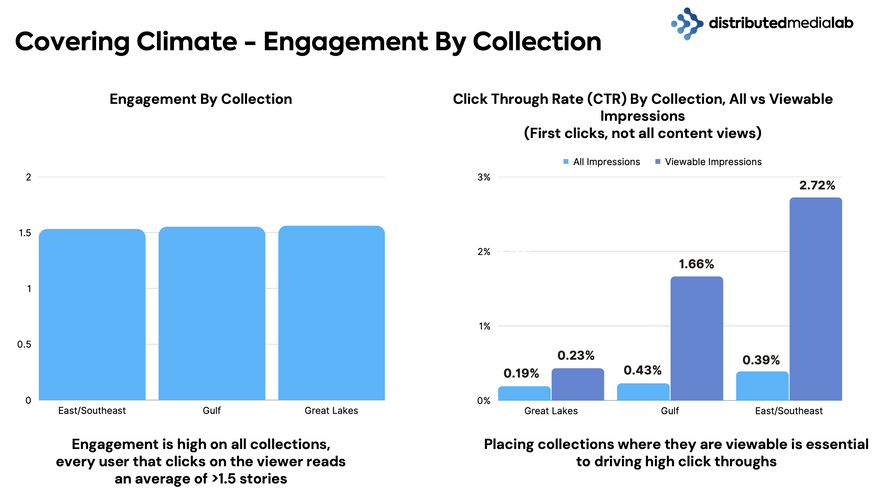 We also found that the economic model benefited different partners in different ways. For example, some partners provide content, but do not embed. Others embed, but provide fewer articles. This payment model rewards both ways of participating, so that niche news outlets that produce high-quality journalism but do not have a large reach can leverage the reach of mainstream partners. Likewise, those mainstream partners still benefit from their audience reading quality third-party content through the DML on-site reader experience without linking away. The outlets that participate on both sides of the marketplace benefit the most.
These findings emboldened us to develop the model further.
Key Activities
Our key activities focused on developing national and local publisher partnerships, implementing the technology needed to track and remit payments and testing the model for potential scale. We were able to complete these activities.
Based on the strength of the Climate Collection performance, showing meaningful audience engagement with the content, we then developed a plan to roll out the payment model more broadly and across more content topics.
We are now working with potential funders to support the work to scale the distribution/monetization network in 2023 using the multi-party payment model to power new revenue streams for local news publishers and contributing content creators.
As the network scales, new and sustainable funding sources across consumer payments, foundations and corporate content marketing budgets will all be leveraged to grow a new revenue model that is more aligned with the decentralized architecture of the web serving quality news organizations and content creators.
Communications and Marketing
During the test from January 2022 to date, our public communication about the project was limited. DML already had sufficient scale to measure the system's performance in a limited and controlled network.
Now that we are planning to extend the system much more broadly, we are in discussions with various funding sources to catalyze network growth through publisher engagement. With that funding, we anticipate much more business development, communications and marketing activity in the coming months.
We have shared this work with industry association staff and various foundation staff through presentations and will soon release a case study on the Covering Climate Collaborative.
What's Next?
On top of the technical foundation built with funding from the original grant, we are now excited to grow a new and material revenue stream for local news publishers in the U.S. based on a multi-party payment system that consumers, foundations or corporate sponsors can fund.
Additional Comments
At Distributed Media Lab, we believe a multi-modal revenue model is fundamental to the future of local news media specifically and quality original independent journalism in general.
This project was an essential step in demonstrating potential economic models derived from content sharing and has helped us make a case for expanding the implementation of Web Monetization in the form we've developed.
Being more naturally aligned with the inherent disaggregated audience and economics of the open web, we believe this new multi-party payment model will serve the work of journalism, thereby empowering democracy.
And there's no time to waste!