Image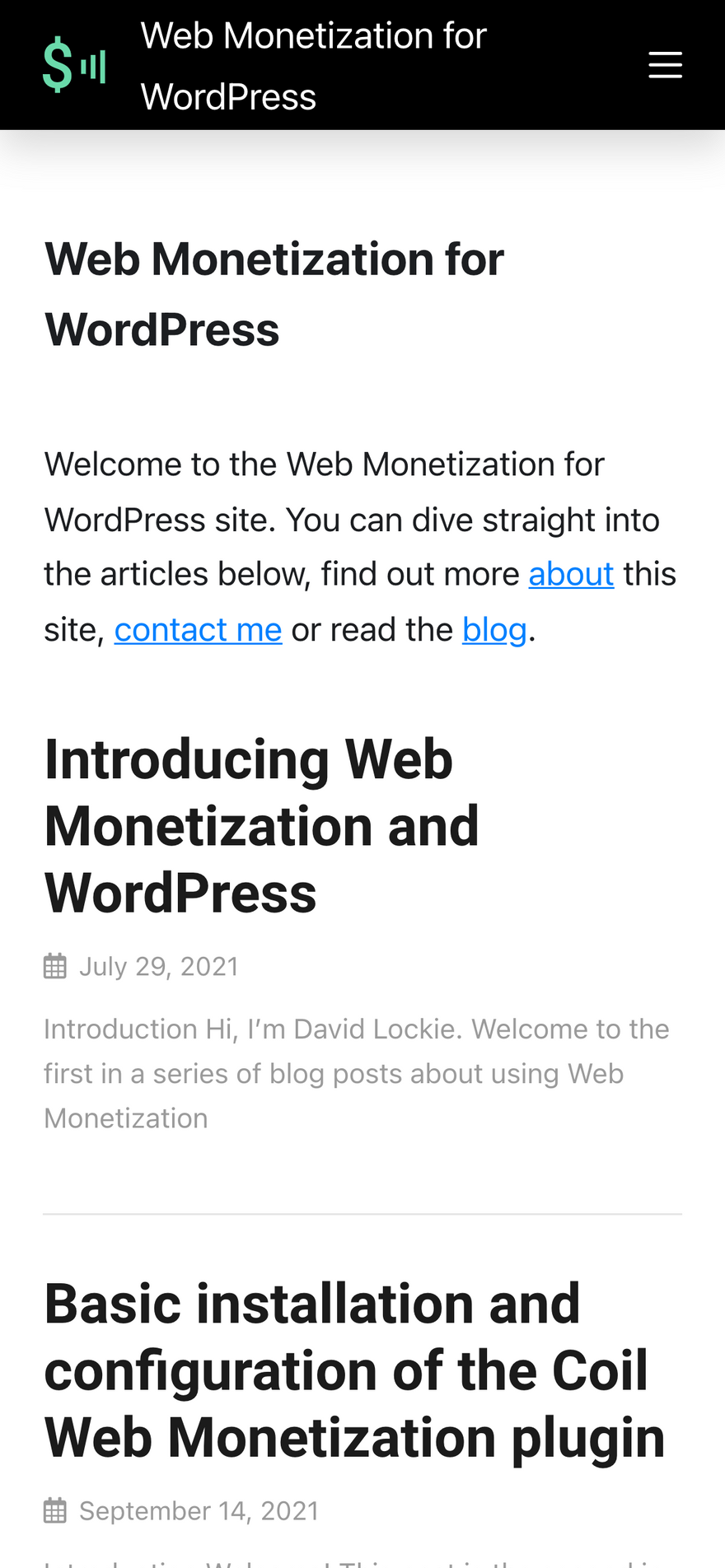 Project Update
My ambassadorship is drawing to its end. My main focus over the last year (more or less) I've created https://webmonetization.dev/wordpress/ - a microsite dedicated to Web Monetization and WordPress. It runs right from an introduction to both technologies through to sophisticated usage of the Coil plugin that allows anyone to easily yet powerfully Web Monetize their WordPress site.
The site's content is primarily written but I've also added videos and screenshots to help make the practical steps as clear as possible.
Alongside this, I've had many, many meetings with folks both within and without the Web Monetization community, helping to spread the word, figuring out opportunities for collaboration and understanding better the challenges that Web Mo faces in adoption.
Finally I have met every couple of weeks with the GftW team, feeding back my learnings and insight. I truly hope these sessions have added some strategic value to the whole endeavour. We've talked extensively about the challenges facing adoption and a number of ideas to overcome them. I hope some see the light of day in due course.
Progress on objectives
1. Increase awareness and understanding of Web Monetization in the WordPress space
This is hard to quantify or evaluate. I feel like I've been an active and vocal proponent for this technology within the WordPress community. The WordPress community is huge and naturally moves quite slowly so I've tried to strike the right balance of being a proponent without being spammy. Anecdotally I've had a reasonable number of people reach out or mention this work on a number of channels.
2. Increase the number of WordPress sites that are Web Monetized - whilst I'd like to put specific targets in place here I don't believe it's possible to produce SMART goals here without affiliate functionality or similar tracking being available.
Who knows here! As mentioned in the proposal, this is hard to measure. When I first started my ambassadorship the number of active installs of the Coil plugin was at 200+ - it's now at 400+. I doubt that's all down to me! Either way, I'm continuing to work with the GftW team to see if there are any ways of getting at least some qualitative results back.
3. Increase the sophistication of implementations of Web Monetization - i.e. encourage and inspire creators to go beyond simply web monetizing their whole site and instead to offer split or protected content in order to demonstrate the power of Web Monetization and the WordPress plugin
As per the previous objective, there's no way to assess this. However the website does make it as clear and simple as possible for people to evolve their usage of Web Mo implementation.
As of yet, it remains to be seen whether publishers will want to leverage protected/split content functionality as part of a Web Monetization strategy. It seems likely that if publishers can increase their revenues through WM-enabled visitors rather than standard ad revenues, then they will offer an ad-free experience for WM visitors. However, the first hurdle must simply be to get more sites using WM in any capacity.
4. Increase the amount and quality of feedback about Web Monetization, the Coil plugin, and the overall GFTW program
I would have to defer to the GFTW team on this point.
Chris Lawrence generously writes:
My regular conversations and brainstorming sessions are a creative catalyst for how we think about the program as we build it. Both practical solutions and prescient thought experiments have emerged from his counsel. We appreciate his effort and impact as a judge on our recent Call for Proposals. He helped shape what we believe is a very exciting cohort of new awardees.
5. Increase awareness and submissions to the GFTW grant program from the WordPress space
I have been promoting the grant and encouraging folks from the WordPress (and wider ecosystem) to apply. I know of at least one instance of a successful application from an open source project (not WP-related) that was directly off the back of my recommendation. I hope that there have been - and will be - more.
On the other side of the submissions table, part of my duties as an ambassador was to be a judge for the most recent cohort of applications. This was a really interesting process. I had not anticipated the sheer diversity of applications and the work quickly became more intensive and time-consuming than I had imagined. However I found it inspiring and awesome to see the imagination of individuals and organisations at work.
6. Engagement with key stakeholders in the WordPress space to seek collaboration and promotion through those channels as well as 'top-down' market entry opportunities
On this topic I would claim modest success. Of particular note was a connection made between the Grant for the Web team and the Openverse team within WordPress and some private conversations with some of the most influential stakeholders within the open source WordPress project.
Key activities
A publicly-available, attractive, and informative WordPress site
Achieved: https://webmonetization.dev/wordpress/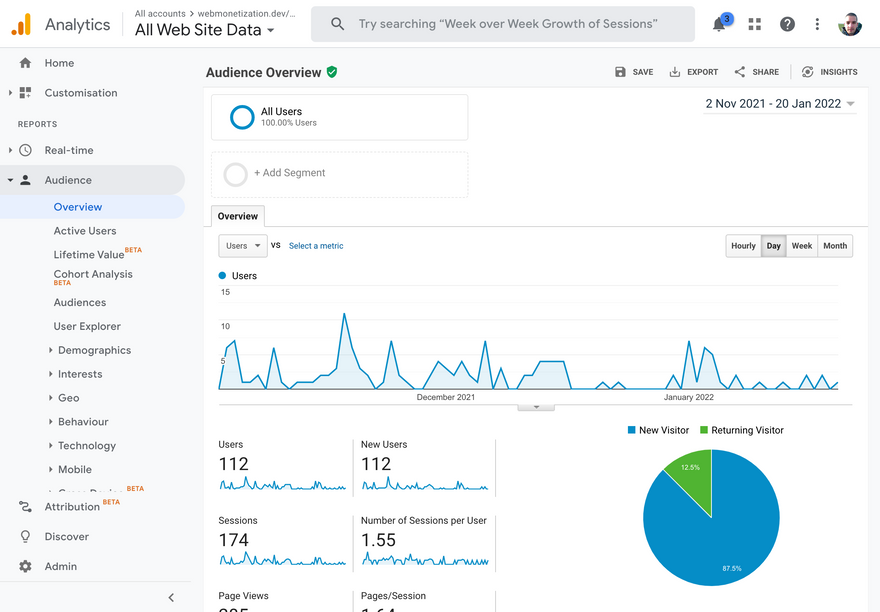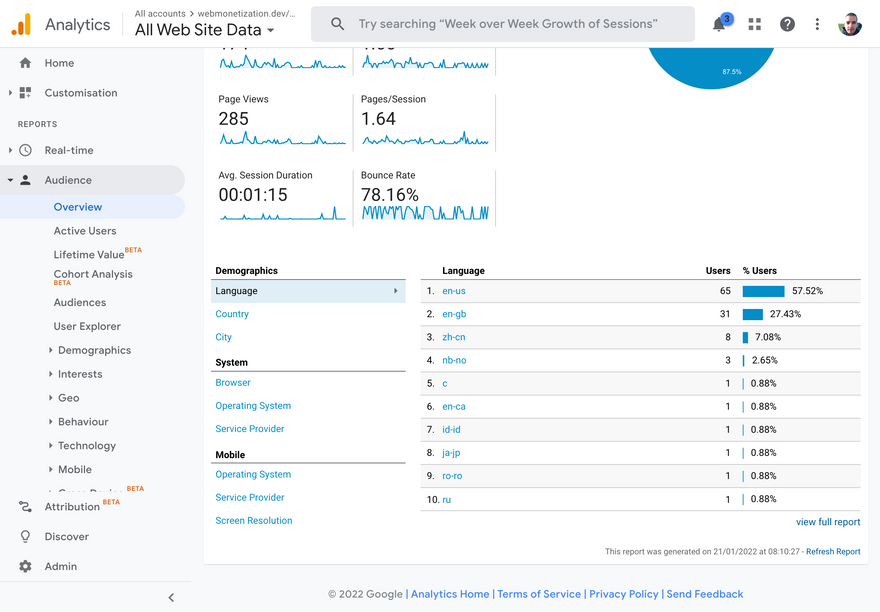 Did anyone actually look at it? Not many. Roughly a person per day since launch. I visited the site a lot myself (obviously) and am pleasantly surprised to see that UK visitors (which could be me) are a smaller % than I'd have guessed.
Perhaps more interesting, how much money did the site make? It was (of course) Web Monetized, so how much USD did I receive to my connected Uphold account?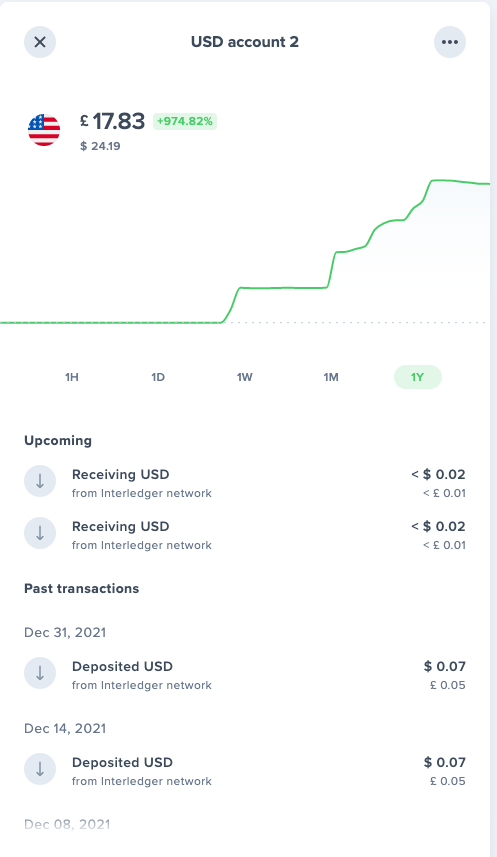 The Uphold account received about $7.50 (there were already some funds in my Uphold account when the website launched). That's certainly not enough to retire on ;)
But…$7.50 per ~100 visitors - now that is interesting. Sure - let's assume that those visitors are heavily over-indexed on being Web Monetized but still. That sort of income is vastly beyond what ad or subscription revenues would have been.
A number of content articles (1 every two weeks?) to take a website visitor on a journey from lack of understanding of Web Monetization through to having implemented the technology in a reasonably sophisticated way on their own website(s).
Achieved and on the website. I decided to add some general WordPress tips in amongst the Web Monetization content in order to add extra value.
A series of webinars/recordings to accompany the content articles above where folks can watch live or on-demand via recorded video - maybe on Cinnamon?
In the end I found the best use of video to be in-context with the guide.
Invite guest blogs and showcase 3rd party WM content involving WordPress and the Coil plugin
This is an open invitation and there's a showcase section on the site, but so far I've had no takers.
My personal time and attention to website form submissions and comments to establish dialogue and help individuals and to feed that information back to the website and the GFTW/Coil teams as appropriate
Done, although there was minimal activity here.
Creation and participation of discussions about Web Monetization in community spaces
Done. I've been active in a number of WordPress-related Slack and general digital agency spaces including Make WordPress, Post Status, BIMA and the Web Monetization Slack and forums.
Application for speaking opportunities as they present
Applied for at least three talks and delivered the talk (mentioned below) at WordCamp for Publishers.
Help design (and where possible promote) future GFTW grant opportunities such as being a WP resource for potential grantees, being a judge in Call for Proposal Reviews (Q1 2021), and promoting WP based WM projects
Done. I coordinated with Torque (a WordPress industry publication) to help promote the CfP.
I helped judge the proposals in the most recent cohort. It's lovely to see some of the projects I scored highly make it through to being grant recipients :) The GftW program staff is a small team and it was a privilege to work with the dedicated folks working hard to make this grant happen. I found all the judges to be very fair, objective and caring about their work. I hope that in some small way I've helped the program to evolve and to make sure grant funds make their way to some very deserving projects.
Communications and marketing
On a podcast with Zephr
In industry publication Velocitize
On Twitter
On the Web Monetization forum
In plenty of 1:1 conversations
What's next?
I hope to continue my relationship with GftW and am discussing different ways in which that can happen.
What community support would benefit your project?
I'd absolutely love some support to promote the site and content series. Loads of people use WordPress to create - let's get this guide in front of them so they can start benefiting from Web Monetization too!
Additional comments
I think it's clear that Web Monetization is struggling to gain traction (or at least is very early in that process). Why? Here are my thoughts:
Everyone is going crazy about web3 and crypto. WM and GFTW have purposefully distanced from crypto. Fine, but that leaves the technology in a big of a wasteland - too disruptive for mass market but not aligned with where a lot of pioneers are focused.
2-sided marketplace problem - how to catalyse this tech when it requires both publishers and subscribers to act? I have been talking to the GFTW team about this a lot and believe that a good experiment to try out could be:
Collaborate with a charity to generate a unique and valuable content series. (1) Help them Web Monetize their content, (2) Give them a bunch of Coil memberships to give out to their readers/supporters, (3) Publish the content series and - by encouraging their supporters to read the content, the charity receives funds. In this way we've created a microcosm of a 2-sided marketplace that could help highlight any remaining barriers to entry Use this microcosm to repeat with a larger charity/community
Rafiki and tipping isn't available yet. Once these developments are available, it might help generate higher revenues from publishers and in that way, drive interest.