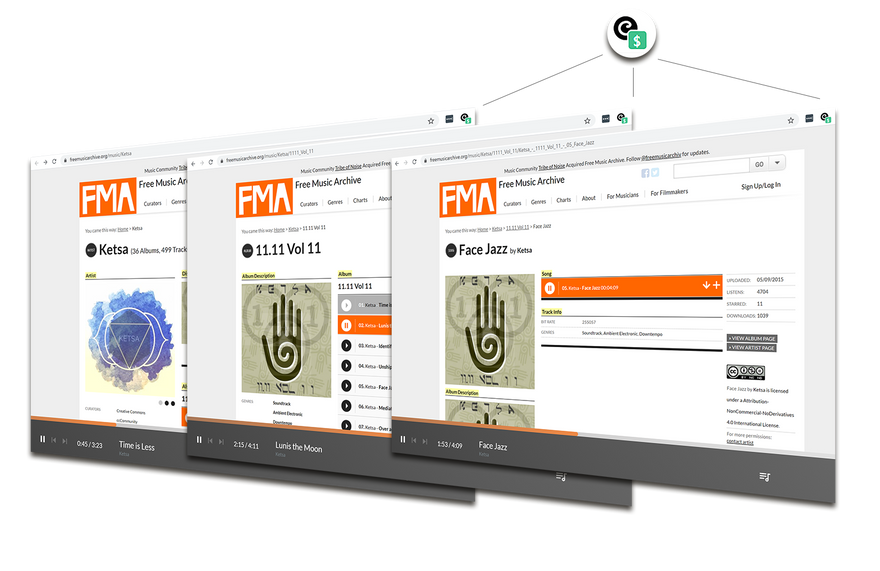 Project Update
Roughly six months ago we received financial support from Grant for the Web. We are still very thankful for their trust and support. Our road to success? This project is successful when Free Music Archive and Web Monetization enable creators to share content with the world under their own Creative Commons conditions and users can reward creativity, context and services.
It's still early days but we are extremely proud to announce that FMA today is ready to host unlimited amounts of CC licensed music while the musicians can enable web monetization on their artist, album and song page.
A great example of giving back control to creators without compromising free and open access, people's privacy and community norms.
Progress on objectives
The objectives for this project have been met:
Use cases and valuable insights based on FMA user research
We used surveys, round tables, one-on-one video calls, email, social media and old fashioned phone calls. Our research team spent months connecting with over 4,000 respondents. Amongst them are musicians, net labels, curators, registered members, Creative Commons enthusiasts and other stakeholders. What do they expect from FMA? Are users willing to "pay for free"? Can these groups feed us with ideas, cases and lessons learned? We are publishing and sharing results with the general public: More articles here
Relaunch FMA service with WM included
As some of you might know: Free Music Archive is an iconic platform and community attracting hundreds of thousands of people downloading 2-3TB of music every day. But FMA's backend was broken. So we are happy to announce that FMA is database driven again, all servers are running smoothly and the first group to upload new content (FMA musicians) are able to add a payment pointer in their dashboard. This enables web monetization on their artist, album and song page.
Please test these links yourself with the Coil plugin enabled in your browser:
Or check this teaser video.
Community outreach and training plan
On FMA we have roughly 500,000 registered users. The community itself is much bigger. FMA is a genuine open platform so end-users don't have to sign up to search, play and download music. What we have done in recent months is identify several different user groups in our community (end-users, musicians, netlabels, music curators, etc), set up groups in Sendinblue (a powerful Mailchimp competitor) and inform/invite them to participate. Outside of the FMA user groups we are sharing as many lessons learned with other open internet enthusiasts such as:
The Creative Commons Global Network
The Creative Commons Global Summit participants
New Music Industry (LinkedIn music industry professionals)
Other GftW grantees
Key activities
Hire a team, develop a new backend architecture
We hired a small team of 4 to work on building a stable, basic core able to serve millions.
Setup a research team and research framework (methodology, tooling)
We set up a very hands-on research team to engage with our target audiences.
Start research
The outcome is above all our expectations. We have learned about the willingness to pay for free available content and premium content. We also learned that FMA musicians who responded are eagerly searching for an improved FMA. Better UI/UX, more advanced tooling, a new digital home from which they can decide how to distribute content, manage their fans and monetize their content. It's a strong signal.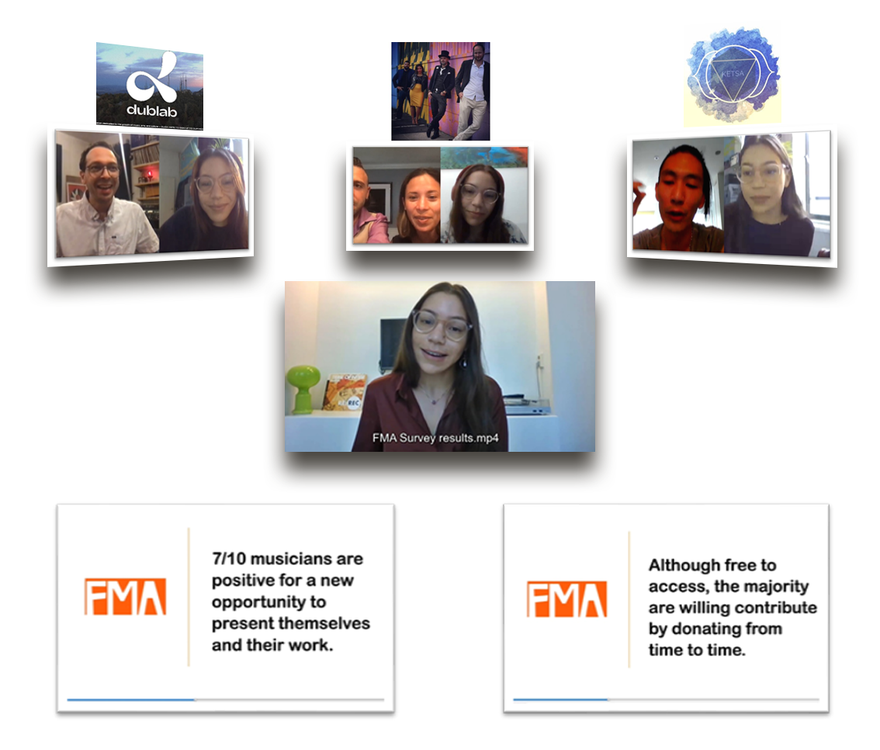 Build a new IT infrastructure (servers, hosting, CDN, caching) with WM capabilities
On October 22, 2020 we relaunched our infrastructure and services and are now monitoring traffic, bug reports and user experiences. Going well.
Invite key stakeholders and user groups to the table
Throughout the last 6 months we had many open discussions sharing our lessons learned, suggestions from our members and taking in ideas and knowledge from other grantees / stakeholders.
Outreach to the community (getting the message right)
The FMA message is strong: uploading new music equals tens of thousands of fans listening and downloading within days. What we also learned is that the original WM story (Coil, digital wallet, payment pointer) needed tweaking, so we did.
Finalize the project and invite the stakeholders in expanding the project
We are in this process right now. We want to grow the user base and expand the types of web monetization (tipping, pay for play, pay for curation, pay for trust/certified content etc.)
Communications and marketing
We have used most of the opportunities offered to talk about this journey but unfortunately due to the pandemic all of them were online:
Twitter updates (https://twitter.com/freemusicarchiv)
EUIPO (European Union Intellectual Property Office) sessions:
Creative Commons Global Summit
Slack channels
Creative Commons, CC-Music, CC-Summit
LinkedIn

Updates via our own personal pages with >5,000 1st connections
New Music Industry group with 12,800 members
Music Innovation group with 7,100 members

Sendinblue
SurveyAnyplace
Remaining activities
We are super proud to have used our time and budget as stated in the original project plan. We do feel that this is not the end but the beginning of more experiments, larger use groups, sharing more stories and experience and helping others to kick start their project.
What community support would benefit your project?
During the research we have been asking questions to our target audience about the language used in the web monetization world, if they understand the onboarding, if they can explain to their family and friends what this is about. As a result we wrote a document for Grant for the Web with a way to "position" WM in general and Coil specifically as one of the first enablers.
Grant for the Web grantees, their partners and end-customers need to team up to tell this story together: Web monetization is a new, friendly way to access exciting, original content while paying the creators small amounts for the time you are enjoying their content. Sounds promising, right? But that's not all. This payment method is used by other online platforms specialized in gaming, videos, audio books, articles etc. Ready to consume as much online premium content as you can handle?
Community support that would benefit a project like FMA:
Manage the ecosystem as a grassroots movement / global community / tribe.
Streamline the message:

The grantees position and explain Coil/WM all in their own words. A "branding kit" with the basics would be very helpful for new grantees.
When a techie talks to a musician about adding some metadata the musician will upload cover art or a bio. Not the payment pointer in the header code.

Financial support to experiment and when successful help the project to grow up fast so it can lead the movement for specific user groups.
Leverage. Some of the initial grantees are real disruptors but to have an impact / deliver alternatives for walled garden power houses they need to move from start up, to scale up to a proper open alternative for the world to enjoy. Help them to connect with other social investors, philanthropists and impact investors.
Broadcast. Get grantees, their partners and their power users in front of a camera (video series) or behind a mic (podcast series). Co-create appealing stories to share. Get the story of our movement in a Netflix documentary ;-)
Additional comments
After finishing this initial project, what's next?
Continue to lead by example, onboard more content creators
Develop additional web monetization models for musicians, music curators and net labels
Participate in open projects and push for fair, sustainable models to empower this and future generations of content creators
Help to grow this tribe. Energize policy makers, investors, entrepreneurs, content creators and individual consumers to roll up their sleeves and participate.
Relevant links/resources
Cover photo by @tenguyen