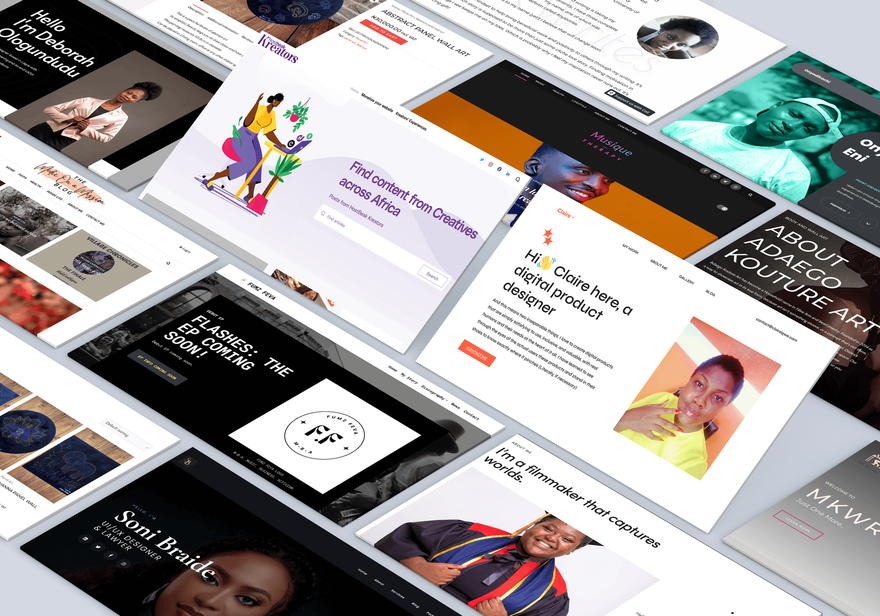 Project Update
Our grant period has finally come to an end. So far, we have had over 52 completed websites connected to Coil from the Kreators and others are almost done with continuous guidance from the community, resources and video recordings.
You can access articles from all the completed websites here: https://kreators.africa, we will continue to update the site as more kreators complete their websites.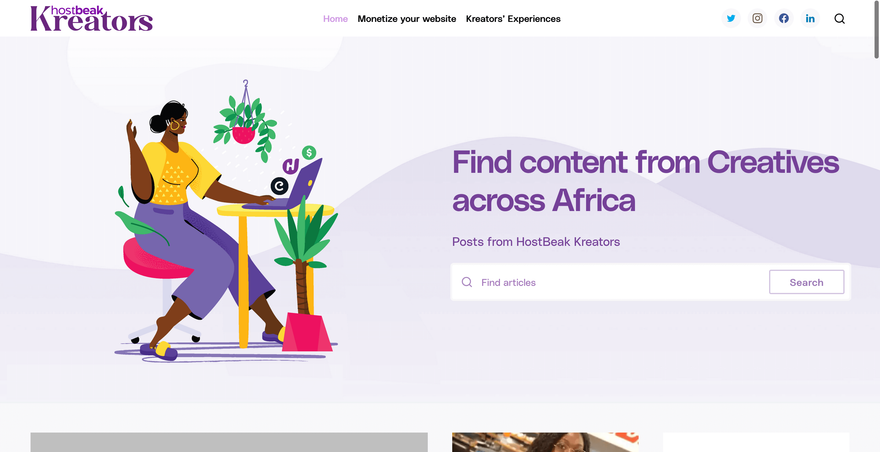 You can read some of the Kreators' experiences of the just concluded program here: https://kreators.africa/?s=hostbeak+Kreators
Here are some of the completed Kreator Websites already submitted:
https://claireigwe.com/ Product Designer
https://fumzfeva.com/ Singer/Songwriter
https://blacknerdproduction.com/ Film Maker
https://aquachenenterprises.com/ Farming/Agriculture
https://sonibraide.com/ Lawyer/Designer
https://themediconamission.com/ Faith/Life/Health Blog
https://musiquetherapy.com/ Music Therapy
https://maghealthinfo.com/ Health/Fitness Blog
https://www.adaegokoutureart.com/ Fibre Arts/Bead Jewelry Store
https://sholaskorna.com/ Podcaster
https://www.debbyblackdesign.com/ Product Designer
https://mukoyikwrites.com/ Author/Writer
https://techbyanon.com/ Gaming News
https://trendycampusfashion.com/ Fashion
https://tzfsone.com/ Support/HR/Virtual Assistance
Recap
The HostBeak Kreators Program set out to select 1000 Creators across Africa in their different spheres; fashion, entertainment, writing, blogging, design, photography, and whatever skill they excelled in and give them an opportunity to build their own personal website and monetize it via web monetization. The program offered Free Domain names, Hosting Plans, Training, Resources and Web Monetization.
After making our selection from the entries submitted, we sent Emails, and SMS to all the 1,000 Kreators. We also called the phone numbers of some that inputted wrong contact details out of which 276 joined the programme.
We resent newsletters/mails and SMS to those who didn't respond earlier.
Some later reach out to us weeks into the programme and we found a way to fix some into existing groups or handled them separately.
This program officially began with the selected Africans being onboarded and interacting with each other. Training began for them on the 2nd of April 2022. The Kreators were first introduced to the basics of what they needed to build their own website with no code. After several more classes with each being more interactive and practical than the previous, the Kreators were assigned to groups with each group having a designated Mentor.
During each LIVE Training, we interacted with the Creators, answered questions, ran polls to see if they were following the training.
Progress on objectives
Our goal was to create, educate and provide a community of 1,000 empowered African creators with personalized websites, their preferred domain name, and the ability to monetize their content on the web.
We could not reach the 1000 mark because not all selected creators responded and some that did weren't prepared to go through the program.
The program required them to dedicate time to join the LIVE Classes or watch the recordings, meet their mentors, build their site preferably with a laptop etc.
Here's an example of a selected participant who messaged us not long ago.


We trained all the creators that joined the program on payment pointers, how to manage their website, web monetization, web design, blogging, SEO and more.
We built the online platform after the training was over. https://kreators.africa which pulls articles from all the Kreator sites and directs traffic to the main article when clicked.
With this, we will be able to notice high-performing articles and track activities from other websites.
Key activities
We had General LIVE training 2 - 3 times weekly which were all recorded and sent to the announcement channel for those who missed after which the Mentors were brought in to further guide the Kreators based on the type of website they wanted to build, the brand they want to project, building their website, fixing errors, and have a go-to admin for help.
These Mentors were carefully vetted and chosen, having years of experience in Website building, WordPress, and impressive portfolios.
One of the mentors who really inspired us is Oreoluwa (OryG), a Mom and WordPress Designer who went as far as building a Learning Management System with online courses where she tracked her Mentees' progress with quizzes, tests, activities, etc.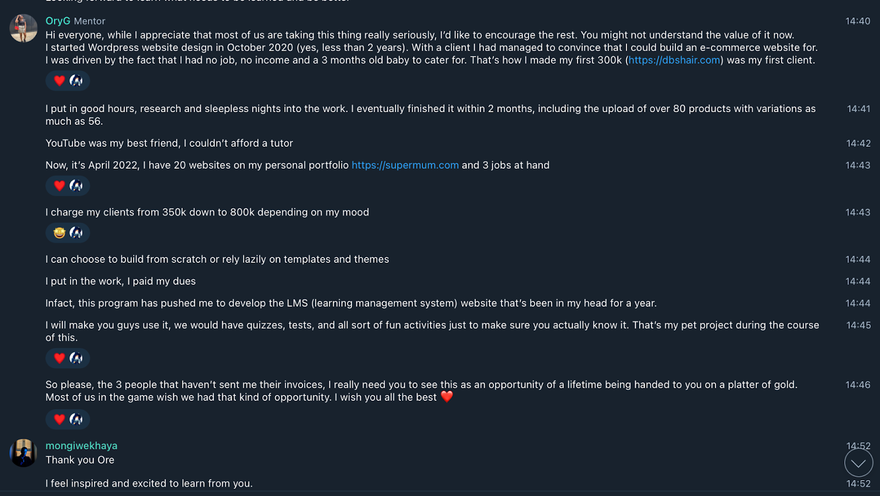 You can view more about her here: https://instagram.com/p/CeoLal5tAbq
Another was Matthew, who created custom videos and uploaded them to Youtube to guide his mentees, especially for those who missed his LIVE classes or still had issues.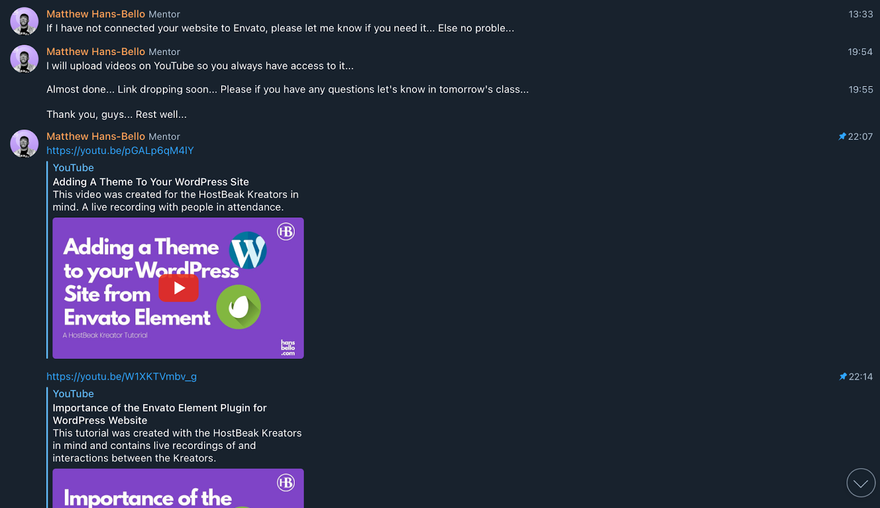 Another notable mention is Love Dennis, who decided to share a Calendly link for 1-on-1 Mentoring sessions for those who missed LIVE Meetings with his mentees.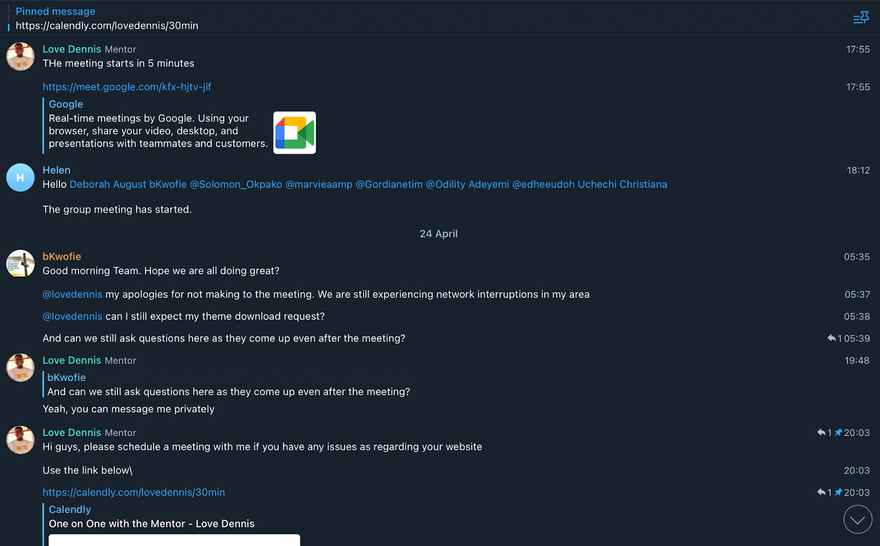 We noticed more mentees got interested in Web Design, using No-Code tools and were even looking into having a career in it. One of the Kreators who took this seriously was Onyedikachi Eni who after building his website: https://onyedikachi.com decided to take up web design jobs after the training.
We've decided to showcase all the Mentors(ongoing) and Kreators on all our Social Media handles.
We got a paid account with Envato, which gave us access to Premium WordPress Themes, Kits and Stock Photos. All the Kreators needed to do was choose the premium template/theme they wanted with guidance from their mentor and we provided them with it or simply connected their site directly to Envato's API so they could get access to Elementor Template Kits and Premium stock photos right within their website.
We had sessions with Kreators specifically on this and most had extra classes with their Mentors on deciding which theme was a perfect fit for their brand. This really helped in making sure they had professionally looking sites and focused more on customizing them to fit their brand and creating content.
Some of the topics we covered during the training were:
WWW, Domain Names, SSL and Hosting
CMS, WP.org vs WP.com
Intro to WordPress
Pages, Posts, Categories, Tags, Post Types
Blogging, SEO and Tips
Themes, Plugins, Branding
Ecommerce, Accepting Payments
Site Builders/No-code Tools like Elementor
Web Monetization with Coil
Optimizing and securing your website
The Training continued with both general training sessions and group sessions. The Kreators also had a LIVE training session with a representative from Coil, @uchibeke Director of Developer Relations at Coil who talked to us extensively about Web Monetization, how it could be used, the New Coil features and how to integrate it into their websites. He also answered questions from the community. Fortunately for us, Coil offered a 6-Months Free subscription to all the Kreators.
We offered free renewal of hosting plans and domain names to the first 4 Kreators who finished their website.

We also decided to renew Hosting for those who perform outstandingly in the coming months (We will decide this based on website traffic, content, consistency, etc).
All these are jeered towards ensuring they keep on posting articles and monetizing their website.
Communications and marketing
We ran another campaign to target selected participants that didn't check their mail or got the SMS notifying them that the program was about to commence.
We chose GSuite and Telegram for General Communication because we knew the programme was for non-tech-savvy users plus some of them might already have the app installed, this decision proved quite helpful.
During a meeting with the Mentors, we had a poll to decide which of these platforms to use: Slack, Whatsapp or Telegram?
Telegram got the highest votes so we went with it, one of the major reasons was most of the users might have issues getting acquainted with Slack in such a short time. And also because Telegram supported Video Meetings, Scheduling Events, Screen Sharing, and Polls which helped us provide support to the community easily. Some mentors had to resort to creating a Whatsapp group and calling their phone numbers to follow up with mentees that were very inactive in the programme.
We had the following Groups:
General Group: For all the Kreators
Announcement Channel: For sending out updates, resources, meeting links for those who didn't get to see the invite and video recordings.
Mentors Group: For discussing issues with Mentors and making decisions as regards Kreators and serving them better.
Kreators Training Groups: We split all Kreators into 17 groups with each group having a Mentor.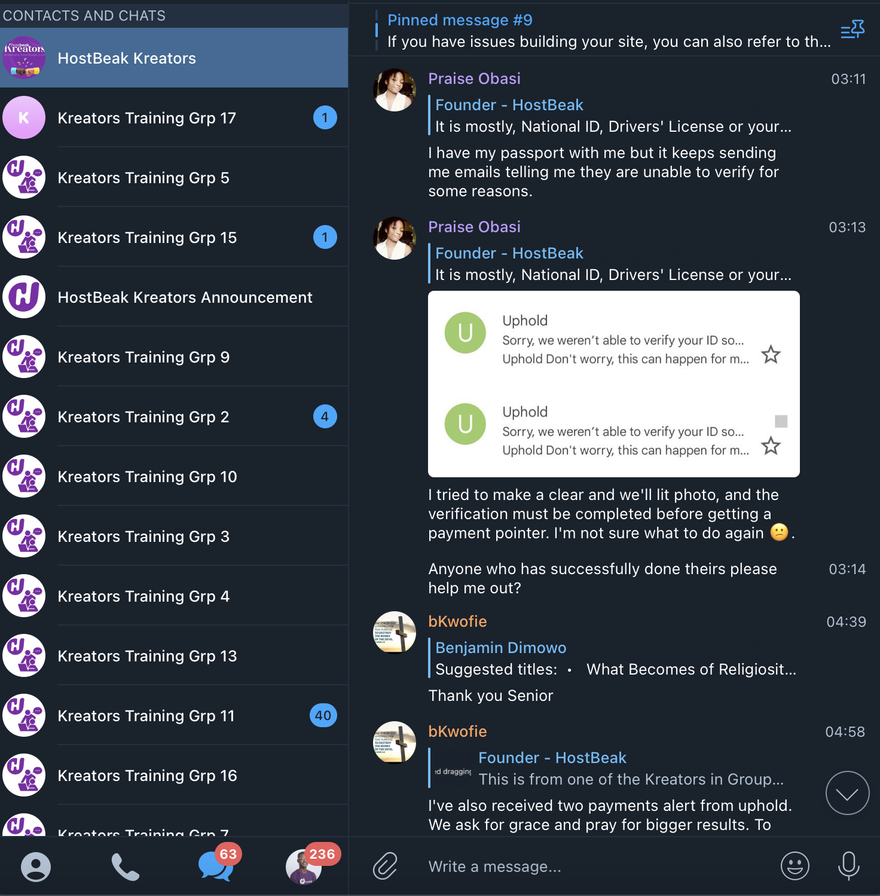 One of the very first things we taught the Kreators was researching and getting the perfect domain name that represented their brand, one that is globally accepted and easily accessible.
Still, there were issues with Kreators who didn't attend meetings or those that still didn't understand and picked existing or inappropriate domain names.
We solved this by mandating their Mentors to take another session with them and approve their domain name before we accept it. We had a shared spreadsheet with the mentors. This way we could also track the status, and know who was being inactive and who wasn't.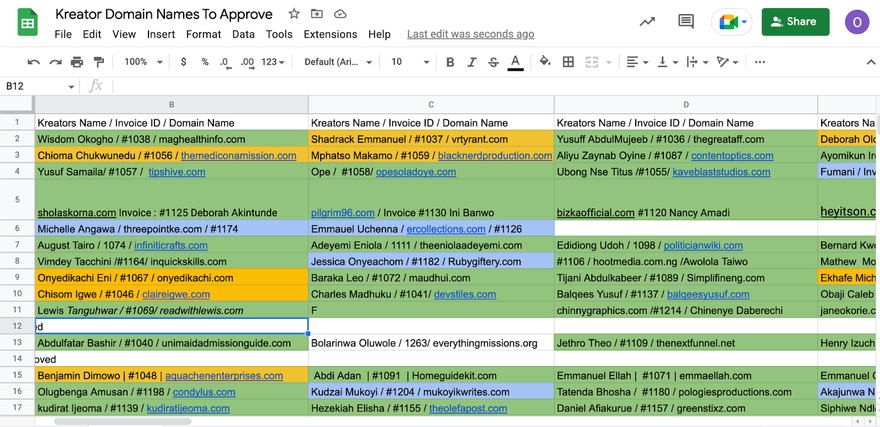 This particularly took a long time and even made us extend the project end date as we had to constantly educate Kreators and make sure they picked their approved domain names themselves on the platform.
We provided a Customized Managed WordPress Hosting Platform that didn't need installation or any previous technical knowledge to set up. The environment was a secured platform pre-installed with WordPress, Backup Tools, Malware Scanner and guides, etc. All they had to do was order the package from a link we created specifically for them without paying, once their assigned mentors approved their preferred domain name, we accept the request immediately from our end.
This enabled the Kreators to spend time with their Mentors, own their data and have control over it as no one did this on their behalf.
We also made sure to monitor every training group and informed all Kreators to let us know whenever their mentor wasn't responding. There were consequences for Mentors who did not respond to their mentees within a specific timeframe.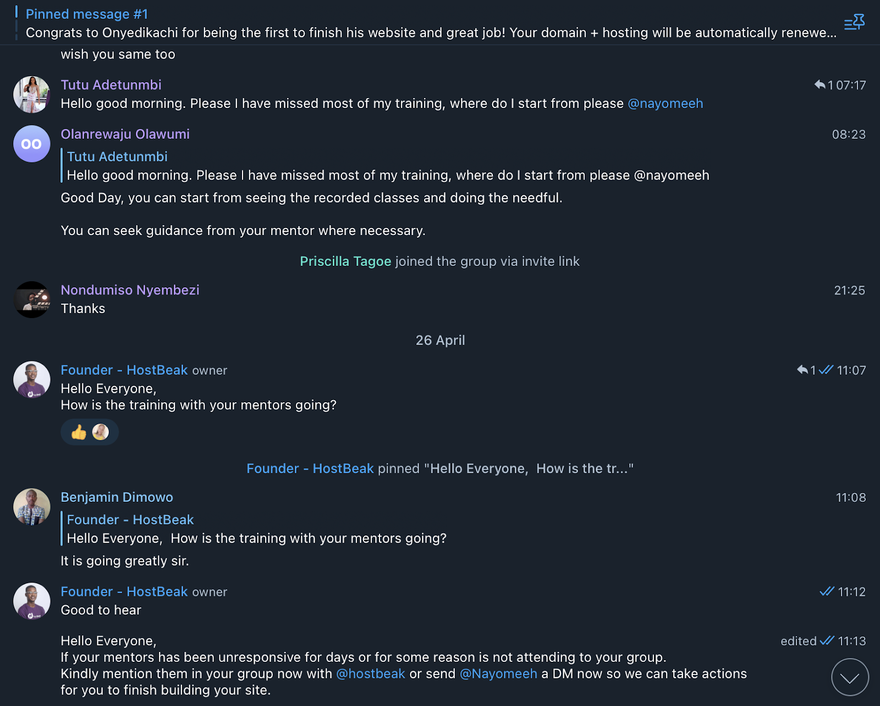 What's next?
Continuous support in the community.
We encouraged the Kreators to share posts from their sites with the community for us to read, and give remarks and suggestions. We receive posts almost on a daily basis.
Here is the most recent one from a Podcaster: https://sholaskorna.com/who-is-considered-a-young-person/

Though some couldn't join the programme due to their schedules, we have been able to provide them with resources and video recordings so they can catch up.
We are all looking forward to seeing more websites completed by the Kreators and a Public Showcase Event when they are done.
As promised, we built the Aggregator website that fetches posts every hour from all the active Kreator Websites: https://kreators.africa
Clicking on any of the posts automatically redirects you to the post source on the Creator's website. The site is not being monetized but simply redirects traffic to their articles. This has also inspired some to constantly post articles on their website.
For now, we have added only websites that are completed and have integrated Coil, we will add more as they get submitted.
This will help us in tracking the Kreators' Activities, consistency, how well they are utilizing the platform and also redirecting traffic to them.
What community support would benefit your project?
If you have a solution, training, program or opportunity that might benefit our community, we will be glad to receive you. We do this in the community and it has been helpful.
Problems Faced
We and some Mentors had to constantly reach out to mentees as some kept missing scheduled Google Meetings or didn't do as they were told. A mentor, in particular, had to create a Whatsapp group which helped to solve this to some extent.
We realized most of the mentees were more comfortable and accessible when using platforms they were already used to.
Next time, we might try a different approach like a custom platform with tasks and goals with incentives and automated Whatsapp/SMS Integration and Notifications.
Incentives, because we noticed an increase in activities when we announced that the first sets of Kreators to complete their websites would receive 2 years of Free Domain Name and Hosting instead of 1 year.
Another thing we did to make most of them finished their websites was letting them know we would send the Coil Promo Codes only to Kreators who had finished up and submitted.
Some Kreators started taking the programmes seriously towards the end when they saw receipts of payment from Uphold via Coil Payments from other Kreators who were already monetizing their websites.
After all the training, we welcomed feedback from the community and noticed some selected Mentees did not get the most out of the programme for the following reasons:
Lack of Required Tools: Some didn't have a laptop and had to do all we taught them via their phone which made it quite difficult for them to practice.
Internet Data: Some mentors who missed the meeting complained they had to consume lots of internet data to watch the recordings, and video resources to aid them in building their websites and some had poor networks which made joining LIVE Classes and connecting with us quite difficult.
Availability: Because the training was LIVE, and though sometimes we ran polls and chose the highest votes for meeting times, some were still not available to join our LIVE Classes and ask questions due to various reasons.
Some complained they didn't get support from Mentors as others did after the programme. We realized they were only sending the mentors private messages and didn't speak up, reach out to us or inform us publicly as we instructed them to. We had to personally attend to them the best way we could.
We realized most of those who had issues either did not attend our classes or that of their mentors and didn't watch the LIVE recordings or resources we made available.
Additional comments
In conclusion, we would really like to thank Grant For The Web for believing in us. Honestly, we never anticipated some of the challenges and how intense it could get as we needed more time but we are glad we scaled through them all.
We are still supporting the Kreators Community and we will continue to do so.
Thank you all for joining us in bringing Web Monetization to the doorsteps of African Creators.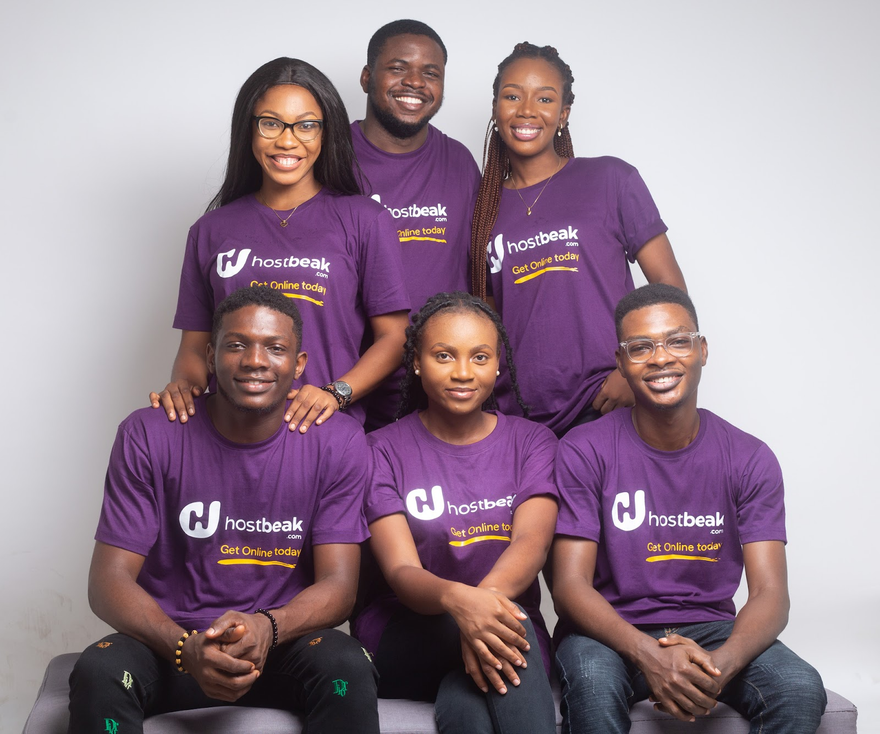 Relevant links/resources
About the Program: https://kreators.hostbeak.com
List of Kreators: https://kreators.hostbeak.com/winners
Articles from Kreators: https://kreators.africa
Kreators' Experiences: https://kreators.africa/?s=hostbeak+Kreators