Image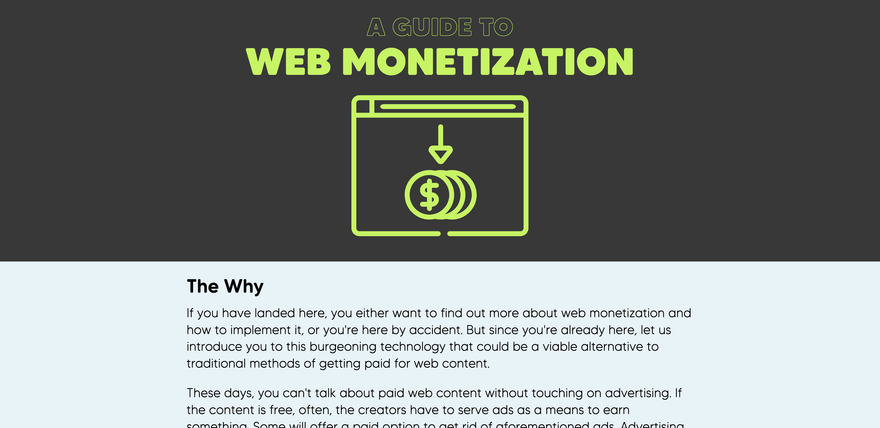 Project Update
This project is meant to serve as an additional resource to developers seeking to understand more about web monetization and more of the practical implementation details. As there as various different entities involved, it might be helpful to have a perspective that is detached from any of them to help provide a big picture understanding of the eco-system.
A challenge was keeping up with the changes of a constantly evolving technology, as well as the worry of overlaping with developer documentation coming out of Coil as well. That being said, this was not meant to be a one-off project and maintenance and updates will continue moving forward to keep this resource as relevant as possible.
Progress on objectives
The website is up and publically accessible at https://webmonetization.dev. Links to key resources are clearly stated in the footer of the site as well. For now, the content covers an overview of web monetization, and how to implement it on any website.
Key activities
The site is built on Eleventy, with all the source code publically available on GitHub as this is meant to be an open-source project which welcomes contributors. It will be constantly updated to use the latest version of Eleventy and kept up to date with platform versions (Node) as well.
Communications and marketing
This is one aspect that I have been lacking largely because during the second half of 2020 I severely cut back on social media for personal reasons. I hope to improve on this for 2021.
What's next?
As mentioned previously, the website will be continually maintained even after the grant period is over because keeping the resource up-to-date is valuable for new developers encountering web monetization for the first time.
What community support would benefit your project?
Suggestions on what information is helpful, or what questions require a lot of digging to discover the answer to. We can then make sure such knowledge is easy to find and formatted/explained clearly.