Hello
This is our final report of our six-month spark-level project. The inspiration for our project came from this question:
How can we help independent media in the UK to grow?
It's a big challenge. Media ownership in the UK is highly concentrated. Just five large companies dominate 80% of the media! Not a healthy situation.
To remain free from corporate or state influence, unlike mainstream media, independent media do not depend on revenue from advertising, nor from billionaire owners: Independent media is viewer-funded.
The Problem
However, we realised that some of the barriers supporters face are having to:
Discover what independent media that is out there
Visit multiple places to get their news
Set up site-by-site subscriptions
The solution: a web-monetised news aggregator?
Web monetisation is a new experimental technology that aims to provide a better way to fund the web.
Can web monetisation be a solution to the problem of funding our media? Our project was an experiment to find out.
Users create an account with a web monetisation provider, such as coil, and then whenever they visit a website that is web monetised they stream a tiny micropayment to the website as they read, watch or listen to the content. Creators get paid for their content and can hide ads or reward supporters by providing them with exclusive content.
Our idea was to create a basic prototype for a web monetised news aggregator - a site that streams content from multiple sources into one place for easy viewing, like the google or apple news app, but without any advertising, data tracking and exclusively for independent media. This way users can:
Discover and consume content from independent media sources all in one place, AND
Support multiple independent media channels easily through only having to set up one subscription.
Check out our prototype: www.news.glowbox.coop
The Glowbox Team
We are a team of three: myself, Jason, front-end web developer, Chris, a graphic designer, and Ranjana in a volunteer support role. We are members of a worker-owned digital innovation co-operative called Glowbox.
Summary of the Project
We're happy with the way the project has gone overall. I would say that the main struggles we've had were around the logistics of scheduling and organising interviews, thinking about the right questions to ask to get valuable feedback, and the difficulties of not being able to attend events or have any face-to-face interactions with end users due to the covid pandemic.
One of the big successes has been putting into practise a start-up tool, called a Business Model Canvas (BMC). We found the BMC to be a really helpful approach to structuring our ideas and for learning about the needs of our audience. It has involved a lot of experimentation and learning along the way. We'll definitely be using it again and would recommend it to others.
Although we were new to some of the technologies, we were able to build the prototype ourselves without needing any external technical help, which we initially had factored in. Another win was finding a solution to convert a print magazine into a digital format. Most platforms just use PDFs (not a great digital reading experience), so being able to find an approach to create a digital format was a great result, which has opened up another direction for us to explore.
---
Progress on objectives
Objective 1: To create a prototype web monetised news aggregator. DONE
Over the last few months we went through several build iterations. The prototype is a wordpress site. We designed and developed our own theme and adapted the WP RSS Aggregator plugin to be able to add media RSS feeds. Here are the key features of our independent news aggregator.
HOME - The main news page.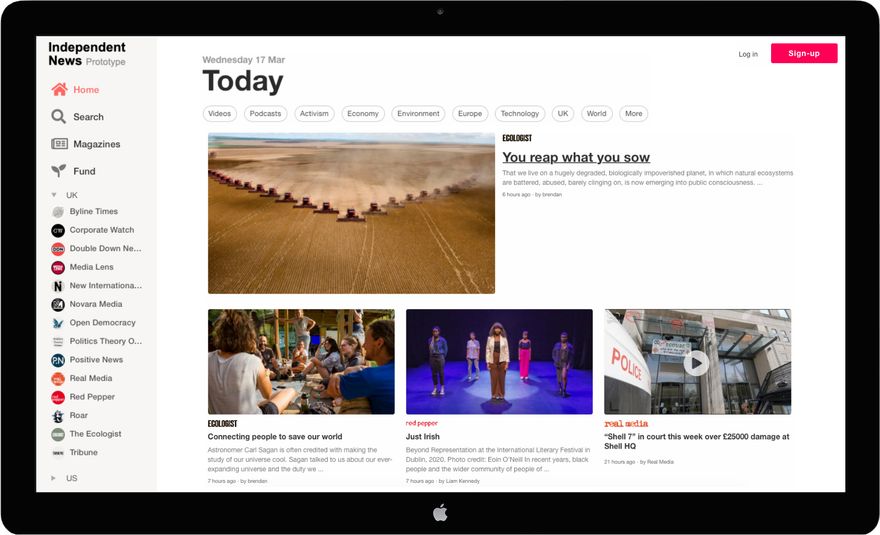 ARTICLE - An article, video or podcast.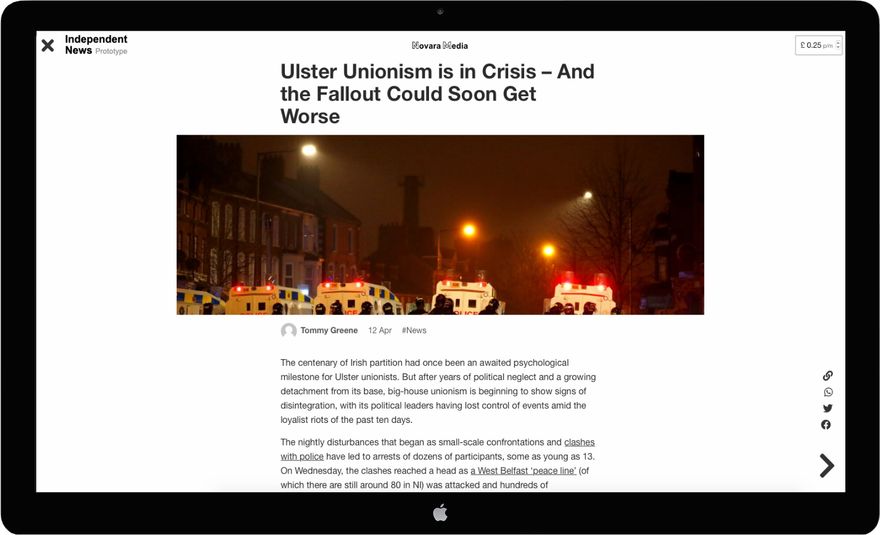 BROWSE - Users can search and browse for media channels, articles, topics and authors.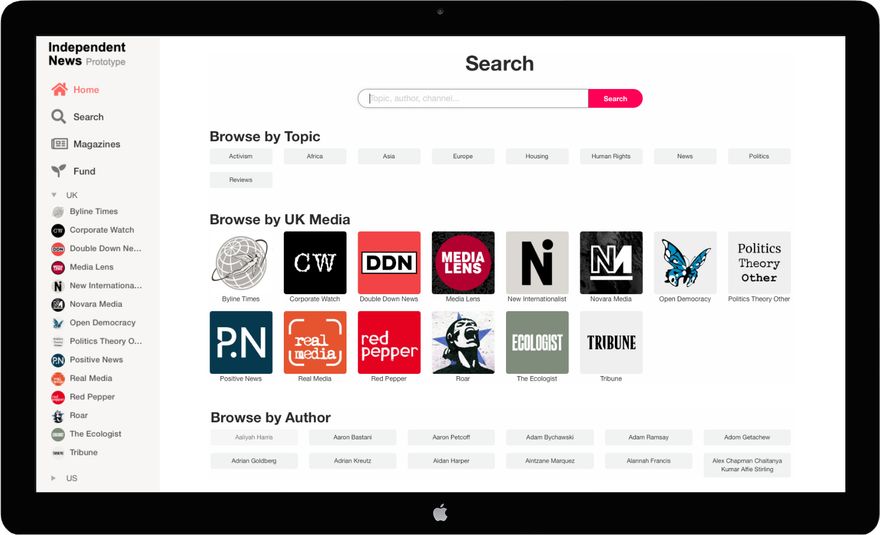 MAGAZINES - This is something we've only recently added. We discovered that while there is a growing trend towards people reading magazines digitally over print, most independent media digital magazines are usually only in PDF format, which is not an ideal reading experience for web. So we looked into this and found a solution for converting a print magazine version into a web friendly responsive digital version.
The New Internationalist, an excellent independent cooperatively-owned magazine generously gave us a copy of their latest magazine for us to use for testing.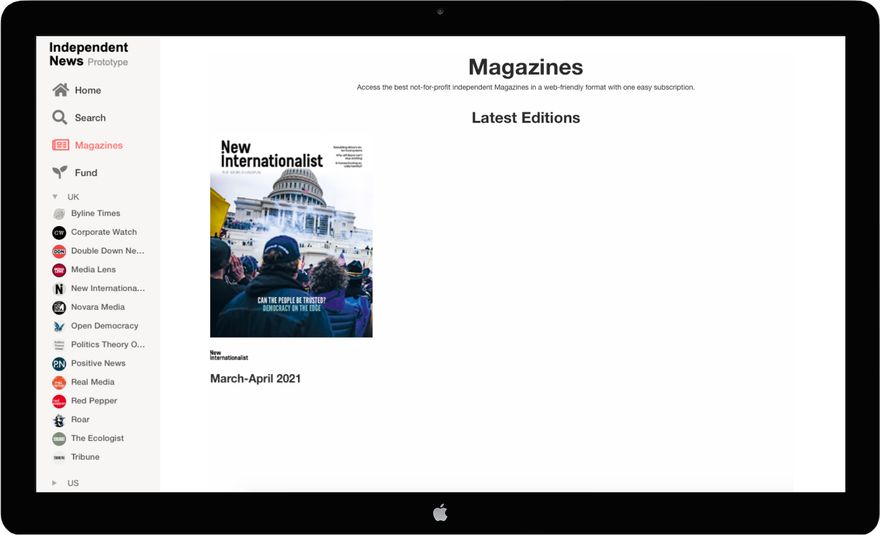 FUND - In the latest iteration we added a fund page. Users can currently support media in two ways:
Firstly, the site is web monetised so users with a coil account can support media by micro-streaming tiny payments to the publisher while they watch or read their news content on the site.

Secondly, we also wanted to test out the option for users to set up a fixed monthly subscription that they could spread to channels as they wish. The functionality is not fully implemented but it is enough to get feedback on the concept. We would also like to experiment in the future with a third option of tipping.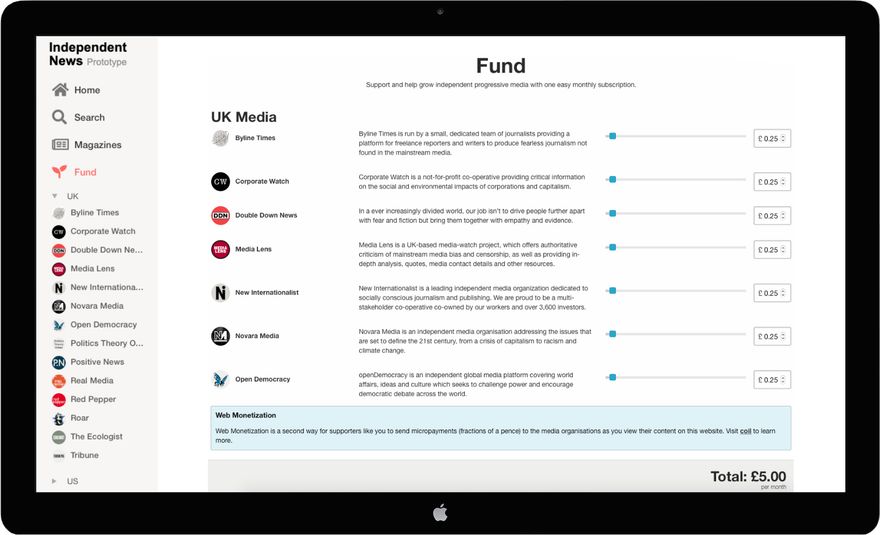 Objective 2: To introduce web monetization to independent media and end-users. IN PROGRESS
We had a group of around 40 testers and have introduced coil and web monetisation to them. We have around 20 media organisations that we have added to the site. Organising feedback sessions with them is on-going.

Objective 3: To gather feedback from users and document findings. DONE
Number of people interviewed via zoom: 40
Number of interviews: 58
Number of users who have created accounts on the prototype: 25
Number of media channels added to the site: 24
We have put some of our key insights from our user research in a lessons learned section further below.
---
Key activities
Our project was a proof of concept experiment and we followed a methodology that some start-ups use to test out their idea. The basic process is this: You create a set of hypotheses (a bunch of best guesses) about your startup idea that you capture visually on a table called a business model canvas. To test out your assumptions, you need to, as they say,
get out of the building!
Getting out of the building was a bit hard to do during lockdowns due to the Covid pandemic. We were restricted to virtual interactions, but thanks to video conferencing technology we were still able to talk to our audience, devise tests, gather data, and update the assumptions on our canvas to get more confidence that the value being offered addresses a real-world problem.
We'd highly recommend anyone with a start-up idea to check out the business model canvas.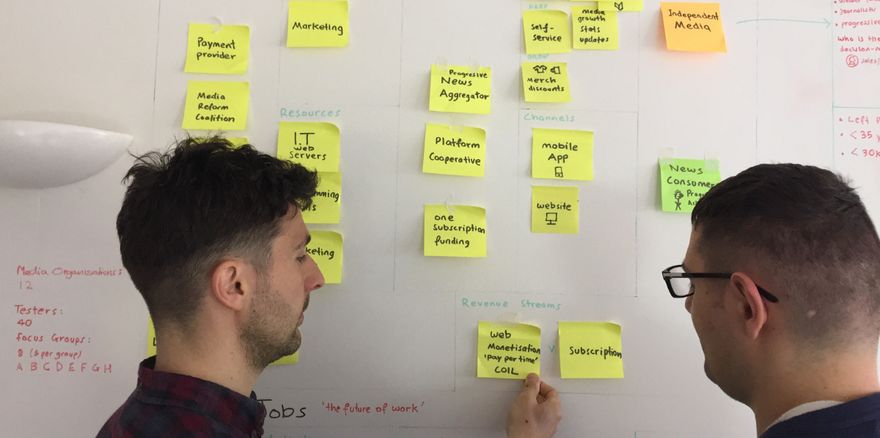 Customer Discovery
We approached people we know who were consumers of news from independent media and we devised a list of questions to interview them on zoom to find out about their news habits, and to learn about their "pains and gains".
Design
We designed wireframe sketches and user interface designs.
Build
The web development of the prototype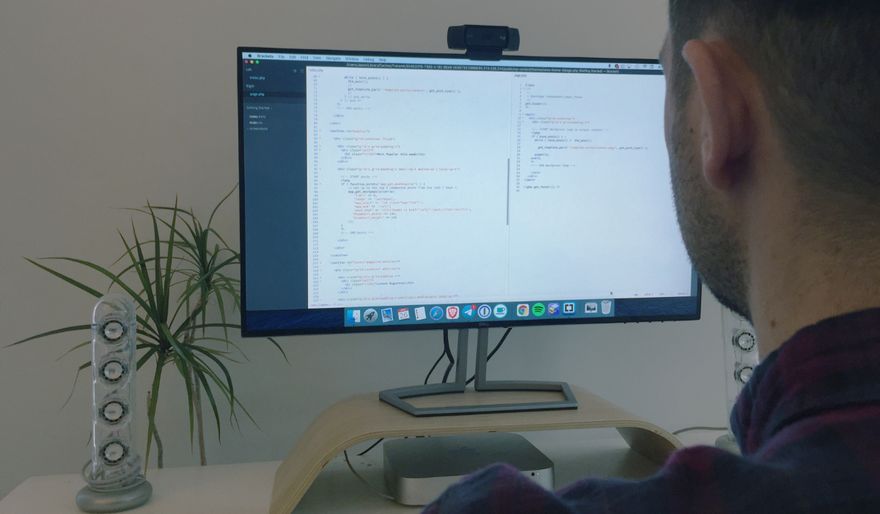 We Web Monetised the site by adding a meta tag, created an account with Coil and a digital wallet with Uphold.

Feedback and Repeat
We then got feedback from our users and made updates to the site and business model canvas over several cycles, following a customer discovery process.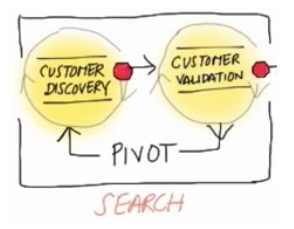 ---
What we've Learned
Here are some of the key things we've learned from our experiment:
Obstacles and challenges around early adoption of web monetisation
"Why do we need to create two accounts to use one site?"
We asked users to sign up to create an account on our news aggregator and then to also create a coil account to support the media on our site. Users finding it an extra hassle to have to set up two accounts to use one site is to be expected at this early stage as web monetised sites are not yet ubiquitous. One nice feature could be to be able to embed or integrate signing up to a coil account in your website. This would reduce the friction for the user to have to visit another site if they do not yet have a coil account.

"How do I add a browser extension?"
Installing a browser plugin extension was a challenge some users experienced who had not yet used browser extensions before. Future native browser adoption would be an important step in reducing a barrier of use.

"Can I use it for moblie?" This question came up a lot. Most users consume news on their mobiles so not yet having web monetisation for the mobile browsers (except puma) is an issue for a mobile centric news website.

"Is web monetisation on?" Users were not sure when web monetisation was activated. Is the coil icon too discrete? Users were also not sure if the web monetization was still taking payment if they had the site open but they navigated to a different tab or window.

"How much is it taking?"
Users were not sure how much they were paying. The icon only tells you that you are paying, but it is not clear how much. While you can find out on the coil website that payments are streamed at $0.34 an hour, we think this could be made even clearer if this information was added to the coil browser extension dropdown menu.
While there are clearly early adoption barriers, as you would expect, support in the concept and logic of web monetisation was overall positive, and our experiment should provide more confidence in support for web monetisation as a viable long-term funding model for the web.
For the short to medium term, until there is wider adoption, we believe a hybrid model is a best option to use for a website such as a news aggregator. Because adoption of web monetisation will be a long-term process, therefore using a combination of funding models will be necessary. For example, we are looking at using web monetisation in combination with subscription and tipping.
From a content publisher's point of view, implementing web monetisation to their website is very low cost; the time to add a meta tag and set-up up a digital wallet account. This makes sense to do for a media publisher as it adds an additional revenue stream, and as more sites web monetise this would further increase adoption and move web monetisation closer to a critical mass.
The Media
There is an established website hierarchy and people have established routines for accessing their news.

The Independent media sector in the UK is small. Funding is their number one issue. This limitation of funding sets the depth and scope of news stories they are able to cover. Users who support independent media also visit mainstream media in order to get a gist of current events.
News Aggregator
A news aggregator would work best as an app. Ease of access and notifications are important factors: the ease of clicking an icon on your phone, accessing content off-line, a faster and smoother experience, receiving notifications of breaking news or top articles.

Tailoring news content to users. This was beyond the scope of this project, but enabling users to see content they are most interested in, either using an algorithm or choosing channels or which topics to follow are important.
---
Communications and marketing
We have been in communication with a number of independent media organisations throughout the project and we will be sharing this report with them. However, because our project was an experiment to test out the concept, other than our reports, we have not engaged in any wider marketing or promotion. This would be for a future phase.
---
What's next?
Our next steps are to:
Organise further meetings with independent media organisations. The viability of the project will depend on the backing and support of independent media as partners. We will explore whether the project could be a platform cooperative - a website that is collectively owned by members, which could be the media organisations, or news readers, or both.
Get feedback from more users. Our sample size has been around 40 testers, but we want to expand this to hundreds more people in our target audience. We will be doing this by sharing the prototype on targeted channels and groups, and sending out more surveys and arranging interviews. Depending on the pandemic situation we will aim to attend relevant events too.
Make a decision on whether to turn this prototype into a product. We would look into building a progressive web application.
Offer assistance to independent media organisations with help to add web monetisation to their websites if they would like our help to do so.
---
What community support would benefit your project?
What do you think?
It would be great to know what you think of our project or if you have any questions. Please take a look at the prototype and leave a comment below.
Connect with us
We will also be looking for more like-minded people to network with or even join our team for the next phase of the project. Are you a developer? Do you have expertise in creating progressive web applications or in web monetisation/the interledger protocol? Do you want to help grow independent media? Get in touch if you'd be interested in working with us.
---
Additional comments
Finally, we want to say a big thank you to Grant for the Web! Thanks to this funding we have been able to put our idea into practise and have learned lots on the way.
We also want to say a special thanks to the New Internationalist for allowing us to use an issue of their magazine for our testing.
And last but not least, thank you to our group of testers who have provided invaluable feedback.
---
Relevant links/resources