---
Read Jeremiah Lee's BlogPost: Interledger joins the fediverse
Jeremiah writes…
In the last 6 months, millions of people started using Mastodon. It's a new type of social network that allows you to follow friends and interesting people without intrusive advertising or questionable algorithms deciding what you should see.

The biggest difference between Mastodon and Twitter is that it is decentralized. No single company controls the social network. Instead, Mastodon uses a network of thousands of independently managed servers. Once you join a server, you can interact with people who use any other server. It's similar to how we can send email to each other without having to all use Gmail.

This decentralized technical architecture is called federation. Each server is autonomous, but uses the same W3C technology standards to be able to work together for the greater good.
To learn more about what Jeremiah is working head over to his blogpost to read in full.
---
Watch now! Open Payments Huddle with Jeremiah Lee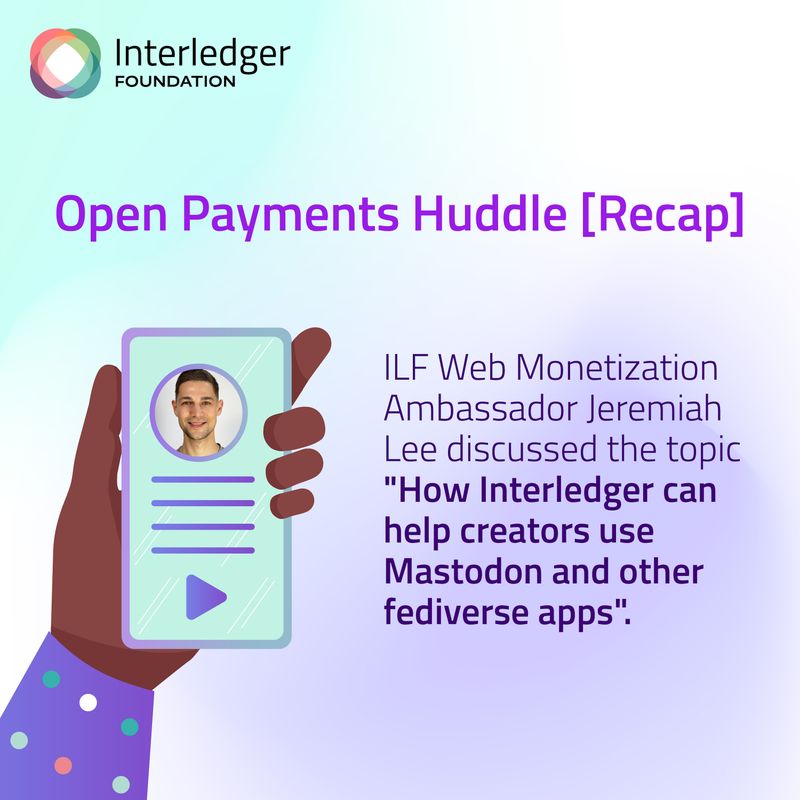 ILF Web Monetization Ambassador Jeremiah Lee discussed the topic How Interledger can help creators use Mastodon and other fediverse apps. Jeremiah gave an insightful presentation about federated social media going from outlier technology to being used by more than 12 million people on thousands of servers in just a few months. He also discussed digital creators having their own social media presence, distribution, and relationship with their audience and the need for monetization.
You can watch the recording here.
Join the ILF-fediverse Slack channel
We also have a dedicated fediverse slack channel ilf-fediverse you can join here
---
Interledger Community Call Meeting Minutes and Recordings
Here is a recap of our June 21st, 2023, Interledger Community Call with Meeting Notes and links to recordings.
Recording and Podcast
Updates included details on the ILP Summit, new ILF Grants, Igalia & Web Monetization, and a Rafiki update!
---
ILP Summit 23: Registration is now open!
Whether you're passionate about financial inclusion, the ILP tech stack, or both, #ILPSummit23 will create an environment to celebrate Community, Inclusion, and Open Tech.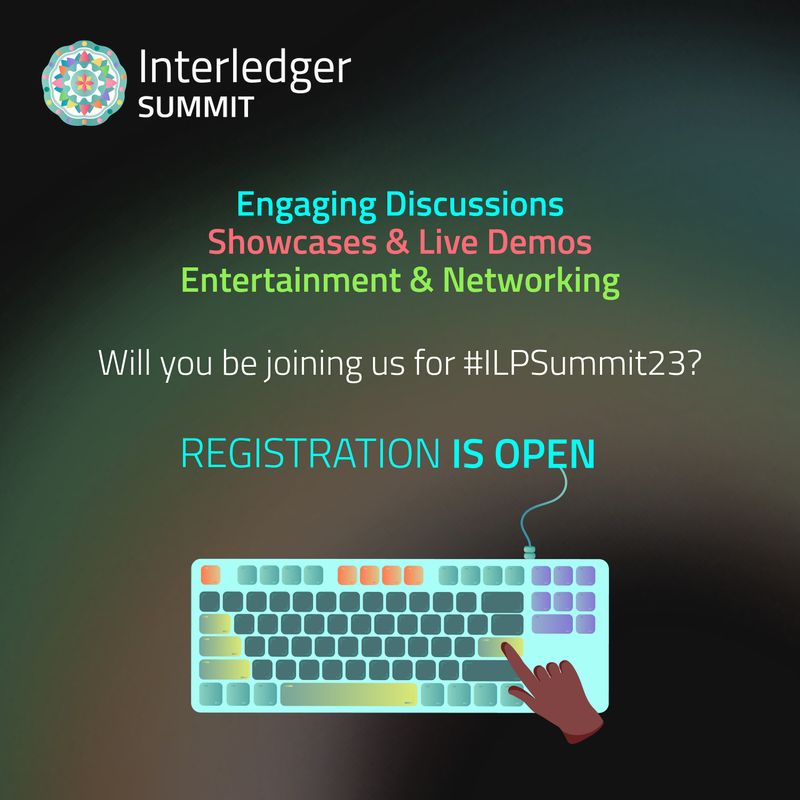 Over the three days, we'll showcase how ILP is solving issues in their communities, sharing insights and experiences of the regulatory environment and learning more about the funding landscape. Our action-packed agenda will culminate with a full-day ILP Hackathon on day 3, where you will have the opportunity to get up close and personal with the newest and most exciting developments in the ILP tech space.
Register your interest to participate here: https://ti.to/interledger/ilp-summit-23/
---
Join an office hours session to learn more about our new Open Call for Proposals
2023 Call for Proposals: ILP-enabled Financial Services
All registered entities or collectives, with a compelling concept for an innovative, open-source solution, are being encouraged to submit their applications to receive up to $75,000 USD in funding. This grant seeks to support the development of consumer-facing services that will activate as ILP nodes making sending money as simple and easy as sending an email.
This Call for Proposal opportunity will be accepting applications until November 21, 2023, at 11:59 pm (EST). Interested parties can apply here
We will convene several Info Sessions to provide prospective applicants with the opportunity to connect with the ILF Program Team to get further details on the grant and/or the platform for questions/queries to be answered.
You can watch the recording of the Info Session held on June 27th here.
To attend for one or more upcoming sessions, please register here.
Office hour dates
Monday July 10, 2023 at 4:00pm EST
Wednesday, July 19, 2023 at 9:00am EST
Monday, August 14, 2023 at 6:00pm EST
Friday, September 1, 2023 at 2:00pm EST
Time Zone Conversion: https://www.worldtimebuddy.com/
2023 Ambassadors Call for Proposal
The Ambassadorship program has been developed to support the Interledger Foundation with identifying and lessening obstacles to entry and potential adoption of ILP. This grant opportunity will award up to 5 Ambassadors for a six-month project timeline. For their dedication to this program, each Ambassador will be awarded with $30,000 USD and a stipend of $10,000 USD to implement their proposal.
We are accepting applications on a rolling basis. Submissions for the year 2023 will close on Tuesday Nov 21st, 2023 at 11:59 pm EST. Apply here.
We invite you to attend the Office Hours Session for the new call for proposals for ILF Ambassadors. The next office hours session is Thursday, July 13, 2023. This is a great opportunity to drop in to ask questions you may have about the application.
On June, 28 we held our first session,. You can watch the recording here.
To attend one or more upcoming office hours, please register here
Office hour dates
Thursday, July 13, 2023 at 3:00pm EST
Monday, July 31st, 2023 at 9:00am EST
Thursday, August 17, 2023 at 10:00am EST
Monday, 28th August, 2023 at 3:00pm EST
Tuesday, 12th Sept, 2023 at 1:00pm EST
Tuesday, October 3, 2023 9:00am EST
Monday, October 23, 2023 3:00pm EST
Time Zone Conversion: https://www.worldtimebuddy.com/
---
We'll be back next week!