We are excited to announce that the Interledger Foundation's Future|Money Arts and Culture grant has awarded eight exceptional and multifaceted artist. We asked pioneering artists from around the world to explore through their work the future of financial inclusion.
Please join us in welcoming these inspiring projects to the Interledger Community!
---
RESIMULATE: Economic agendas to (get rich and) stop worrying about the future.
Juan Carlos León, Felipe Brugues, Ana Rodríguez
RESIMULATE explores the effectiveness of financial and economic programs popular in the self-help business literature and in various worldwide political policies in generating financial inclusion. With the use of interactive computational simulations of economic models, RESIMULATE directs two large-scale 3D clay printers. Through the expression in the sculptural possibilities, the voids, weaknesses, and even strengths of financial systems and strategies take shape and become self-evident.
About The Artist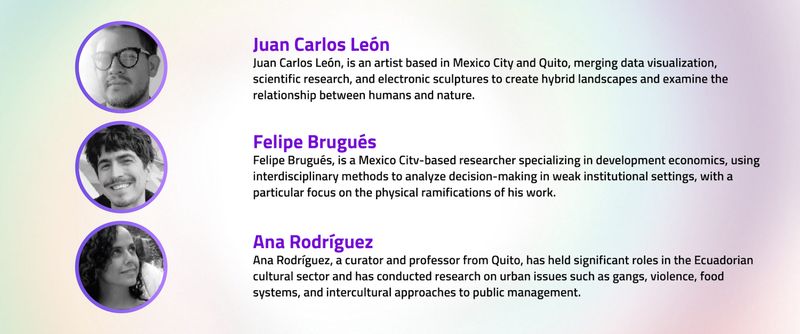 For more information on the Artist follow these links
Juan Carlos , Felipe Brugues.

Sikhula Sonke: Living Archives of Afrofuturist Village Banking.
Esther Mwema, Jon Adam Chen
The audio-visual art exhibition will build an imagery that shifts mindsets about wealth and how it is defined. Sikhula Sonke is an isiXhosa phrase which means 'we grow together.' The living archives will present stories of elders from Southern Africa whose knowledge can inform Afro-futurist financial systems that are not centered on Capitalism. The mixed media visual artwork will depict alternative systems based on archival research on the same topic so that the Afrocentric storytelling will serve as a continuation of archives, hence becoming living archives shaping an Afro-futurist imagining of financial systems based on village banking.
About the Artist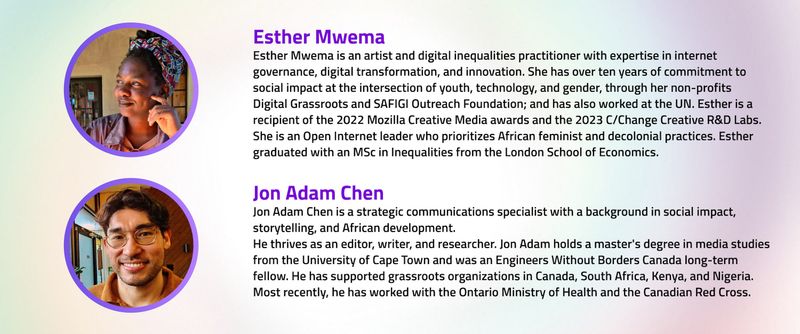 For more Information on the Artist and their practise please click here

Liminal Matter
Lena Ghaninejad
Liminal Matter is a mixed-media installation combining grains (barley), black obsidian/coltan and 3D hologram technology. The installation aims to illustrate the evolution of money from tangible matter that originates directly from the Earth (grains, food & stones), into an increasingly immaterial entity which leaves more people behind as financial systems complexify and access to technology remains limited -thus asking the question: how can we best share the planet's resources?
About the Artist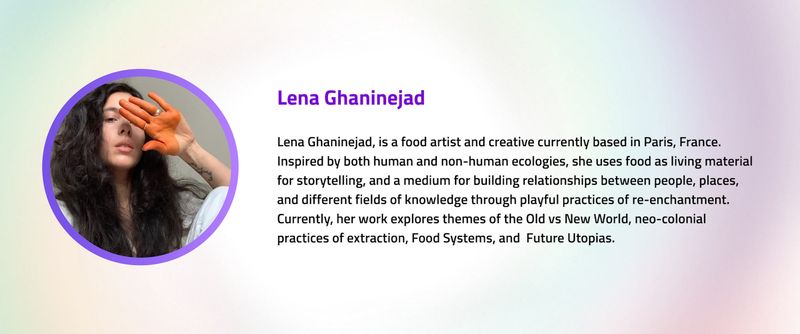 For more Information on Lena and their practise please click here

** Bringing Down A Hill**
Subhashish Panigrahi
Bringing Down A Hill: is a documentary short centered around the idea that "financial inclusion is a right, not a privilege, and that financial systems should work for
everyone, everywhere". The film would reimagine with communities how they would want to make digital payment systems work for them and move exclusionary barriers, while critiquing India's Unified Payment Interface (UPI). UPI amounts to 52% of India's digital transactions and has helped many first-generation mobile users transact conveniently. But, it also excludes a large number of people due to linguistic, literacy, tech fluency, frauds and many other barriers.
About the Artist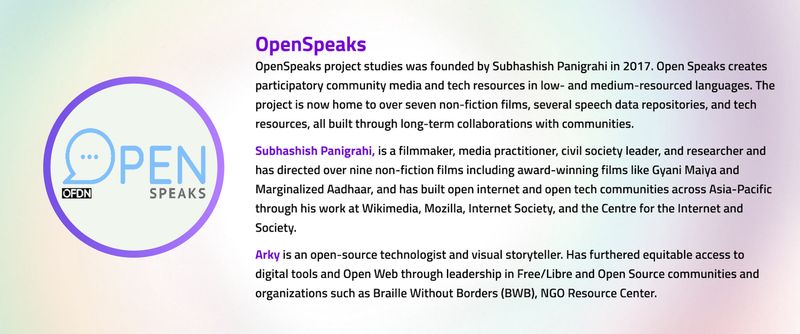 For more Information on Open Speaks and their practise please click here

The Parallel Society
Xiaoji Song
In what ways do a migrant who journeys thousands of miles from their homeland and a rural villager who has only known the town adjacent to their birthplace echo, despite their seemingly disparate backgrounds? The Parallel Society is a storytelling game that explores financial inclusion and equity by featuring the parallel fate of two characters, a Lebanese migrant in Barcelona and a villager in rural China's Henan province. The game sheds light on financial traumas, such as behavior patterns and psychological impacts as results of financial exclusions experienced by these two characters, and radically imagines a world where such barriers no longer exist, but the characters are still trapped in the old pattern.
About the Artist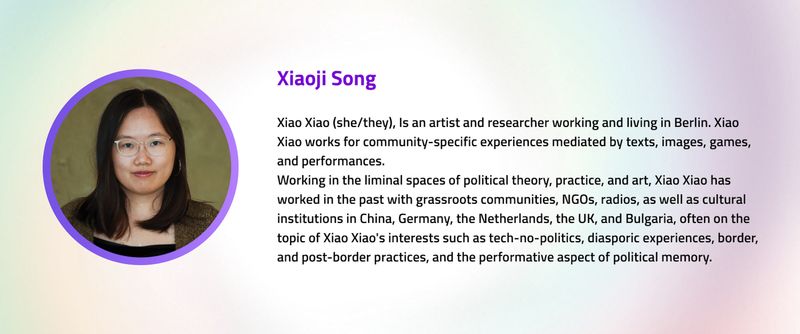 For more Information on Xiao Xiao and their practise please click here for her website.

Loose Change
Mia Wright-Ross
Loose Change (Chains) reimagines a structure by which the litter of Hope based lottery tickets can be collected, recycled, and reflected (by Black & Brown Community Liaisons) to question the theologies of money, poverty, wealth, gain, loss, and hope that persists through the Capitalist White Supremacist's systems that prevails within the history and legacy of the U.S. Lottery
About the Artist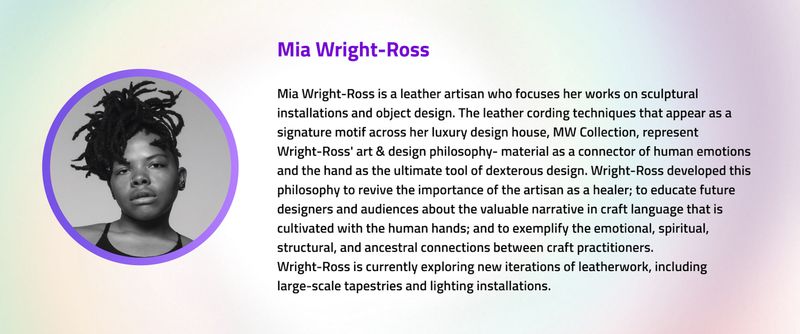 For more Information on Mia Wright-Ross and their practise please click here for her website.

Waterworks of money
Carlijn Kingma
Digital Media/animation. They are mapping three future scenarios in which new forms of digital money, payment systems, and systemic change play a pivotal role. By making the world of money more understandable for people without a financial or economic background we have noticed discussions on the design of our monetary system become more accessible. With our maps and the metaphor of water, suddenly people who were never interested in the topic join the discussion about other payments structures, CBDC and restructuring our capital markets.
About the Artist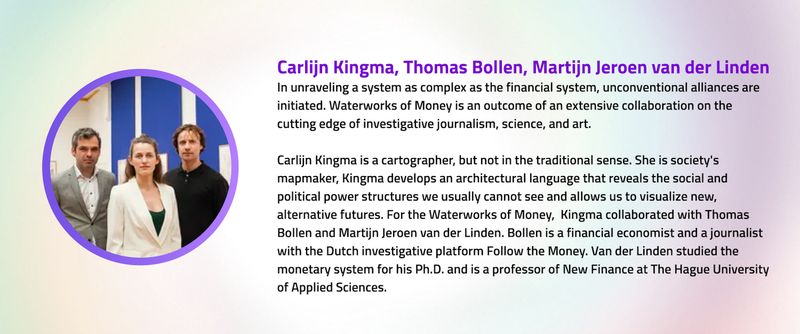 For more Information on the Project Waterworks of money please click here for her website.

Anemoia or Scenes from the Future
Gianfranco Fernández-Ruiz, Zach Johnson
Narrative short film. When a series of giant museums begin to appear out of thin air, housing numerous photographs depicting business and entrepreneurial ingenuity, the world slowly begins to understand the purpose of these photographs: a future that is not set, but could be attainable if financial inequity was reconciled. Can humanity rise to the occasion?
About the Artist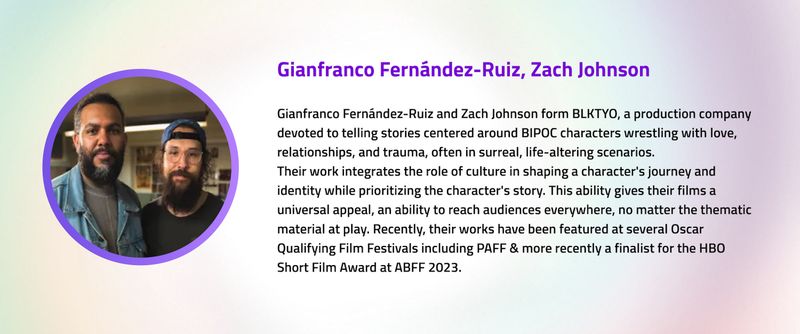 For more Information on the Duo please click here for her website.
---
Stay tuned for more details on the upcoming other grant opportunity and Office Hours on the Interledger Foundation's website and community forum.
If you have any questions, All are welcome to the Interledger Slack or contact us at info@interledger.org
---
Leave a comment below to welcome our new Cohort