This week…..a very big Announcement. Watch the Town Hall Meeting. Meeting notes and updates from the Interledger Community Call. Learn more about Instil Science. Plus, grant reports!
---
Interledger Foundation announces new Call For Proposals
Interledger Foundation is excited to announce our inaugural Inti/vation Grant: FUTURE|MONEY, which asks artists of any discipline to imagine what a financially inclusive future might be. To inspire and shape our mission at Interledger Foundation (ILF), we are asking artists to imagine a world using any medium and artistic discipline, where equitable financial inclusion for all peoples exists.
FUTURE|MONEY is the first in our new Arts & Cultural stream of awards, which we call Inti/vations. "Inti/vations" is a portmanteau of intention and innovation, centered on the idea that intention exists within the creative core, acting as a catalyst for empathy to evoke positive human reaction. Through empathic, intentional expressions of a financially inclusive future, new systems of economic justice can emerge through the liminal scenarios created.
The FUTURE|MONEY art and culture grant opportunity will open on February 23, 2023, and accept applications until March 23rd.
We are looking to grant eight artists $25,000 each in unrestricted funds and a platform to showcase their realized work, in a paid exhibition at the 2023 ILF Annual Summit.
To learn more about this exciting opportunity, please visit the link to get more information and share with your networks.
---
ILF Town Hall Meeting
Last week the ILF team met with the community in a Town Hall meeting to discuss the Coil closure and where Web Monetization is heading.
If you were unable to attend the Town Hall you can watch the recording here on our YouTube channel. You can also review the T*own Hall Q&A* and Public Note Taking Document.
The document will remain open, we welcome your comments or questions.
---
Interledger Community Call
For those new to our community, ILF stands for Interledger Foundation. We are a community of technologists, digital creatives, researchers, entrepreneurs, and educators working to build new pathways to financial inclusion and equity through digital transactions.
Here are some highlights from last week's community call
Chris Lawrence will be joining Vineel in facilitating Community Calls
ILF update on Coil and What's Happen's Next!
Web Monetization Standard update
ILF and Fynbos are excited to finalize a deal to subsidize early scale-up and user adoption rates.
Rafiki infrastructure and knowledge transfer are in the process of being transferred to ILF.
It will be easier for people to develop with Rafiki and test integrations through a publicly available test network.
Grant opportunities coming out through the year
---
The Grantee Report
Imagine a peer review system where researchers can have their preprints reviewed by other scientists for input and discussion. Thanks to Instill Science, this is possible via its community platform.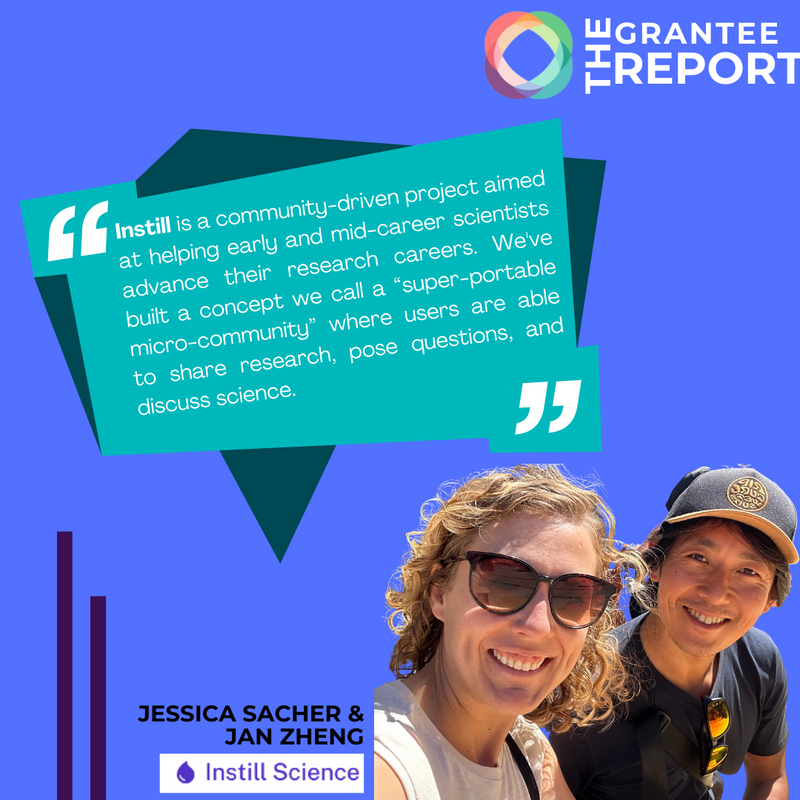 This #granteereport has valuable insights and possible areas for collaboration with community members as Instill Science explores how to expand its features into non-academic communities and build out its rewarding systems
Get more details here.
---
Grant Reports from New Media Rights and Addis Futures
Metasebia Yoseph for Addis Futures shares the final report for research project Digital Gojo.
Background
Digital Gojo (DG)is a research and development project exploring use-cases for a web monetization ecosystem focused on high-quality Ethiopian cultural content. The goal of the project is to serve as a virtual "home" / "gojo" for accessing a variety of content according to the user's interests, such as news, music, e-books and magazines, audio books and podcasts, art, children's content, games, and other original media.
Project Update
Our platform has finally launched and can effectively demonstrate value to the creative community by monetizing multimedia content, as well as, to its audience, who will be able to access a curated selection of cultural content. DG's premier content offering, Fun with Fidel, a tool for school-age children to learn Fidel (the Ethiopian Alphabet with Ethiopic/ Ge'ez script) was also successfully tested and launched since our last report. Since then, we've been receiving amazing feedback and positive reviews from users.
The platform has been released through traditional channels. However, due to on-going setbacks integrating ILP's prescribed wallets, we've yet to connect our platform with the ILP main-net. While we work to resolve issues with the respective wallets, we've brought-to-life the DG creator portals via the Rafiki testnet (link coming soon). After weeks of refining the UX and UI, we've finalized a design that channels the core values of ILP and GftW by centering the user's privacy, data, and monetization metrics.
As we continue to expand our user base we are also exploring new use-cases for distributing and monetizing content on the platform (check out the what's next section for the next content model we are looking to on-board).
New Media Rights Final Report details supporting and advising clients
Project Update
We connected with and advised quite a few projects that use or are exploring alternative forms of web monetization. The web monetization community has been critical to connecting folks to our legal services. We worked on 17 different matters during the grant period.
Progress on objectives
Our proposal was to serve as a support to creatives and innovators experimenting with web monetization, and so far, we have steadily been accomplishing that. We expected to put in at least 200-250 hours of legal services, and we provided 214 hours. Clients have ranged from startup web services, to nonprofit educational projects, to filmmakers and other creatives. These individuals and organizations need exactly the kind of intellectual property, open licensing, contract drafting, and privacy legal work that is our specialty. Some came directly through the Grant for the Web community, others came to us directly through our website.
We'd like to thank Metasebia Yoseph for Addis Futures
and the New Media Rights team for being Interledger Foundation grantees. Your work influences the direction of an emerging payments ecosystem that is more equitable, more open, and more beneficial to individual creators and publishers.
---
Stay tuned next week for more details on Interledger Foundation's first Art & Culture Grant FUTURE|MONEY!