Project overview
Matters is a decentralized, cryptocurrency-driven platform for creative work and public discussion. Matters aims at reconstructing the content value ecosystem around public issues and knowledge production: build a supportive and friendly community, protect the copyright of creative works, allow users to discover quality content through humane ways, and enable creators and participants to acquire sustainable revenues.
All works published on Matters (excluding comments) are stored in the InterPlanetary File System (IPFS) to realize the distributed storage of the contents, completing the first step of returning data to the creators. Creators can then receive donations through LikeCoin or fiat money. And now, thanks to Grant for the Web, creators can setup their payment pointer, receive donations from any clients that can access IPFS and in any currency Interledger Protocol supports.
Although many functionalities still requires a centralized server, Matters community is already operating in a decentralized fashion at the organization level: activities are initiated and organized by users using community public funds, rules and guidelines are discussed and revised collectively, and punishments on bad behaviors are proposed and judged by all users. Many of the rules operating on Matters are still formed and enforced in a traditional way, but with more and more experiments become successful, we will develop them in the form of smart contract to lock them open.
Project team
Matters was founded by a group of award-winning journalists, editors, and veteran engineers. Our team is fully remote, and our members are from China, Taiwan and United States.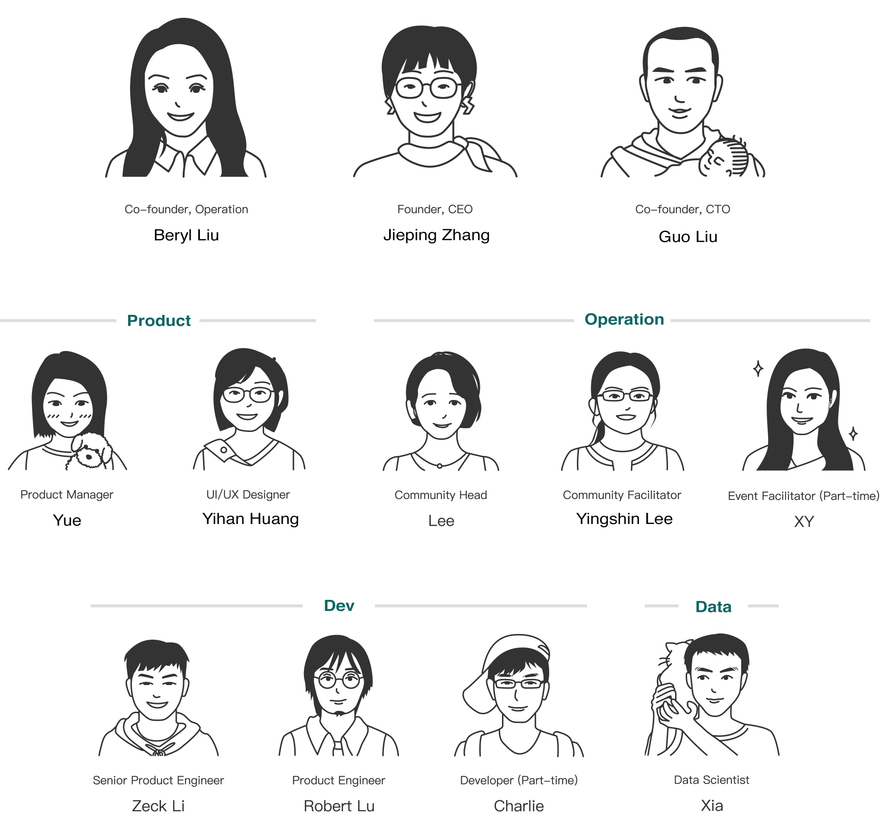 In October 2019, Matters and LikeChain joined forces to introduce LikeCoin, a cryptocurrency based on writers' creativity, into Matters to give reasonable revenue back to authors.
What we are doing
For the past 4 months, we integrated Web Monetization standard into our system, and developed the English version of Matters website with the ability to translate any articles to the user's local language. This allow us to serve users with different monetization needs, as well as English speaking communities.
Another exciting feature is the launch of Circle this week, which enables creators to start subscription services and form spaces for more in-depth communication. In the past the structures and spaces on Matters are entirely public, similar to the textual of a buzzy plaza. With circles, creators can create and organize invitation-only rooms, semi-public fan clubs and anything in between, while generating revenues from their supporters.
Started from writers and journalists, the most popular form of creation on Matters is article. However we have been expanding to painters, illustrators, photographers and podcasters. We are in the process of further generalizing our open-source infrastructure and developing clients that specialized in particular mediums such as audio.
What community support would benefit your project?
To reach a decentralized and humane content creation ecosystem, we still have a long way to go. This is where both challenges and excitements come from, since many different efforts are helpful in reaching this goal.
One area is the wider and more diverse availability of Web Monetization providers, wallets and integrations. The diversity is needed not only in the number of provider entities and forms of integration, but also in the cultures and languages of user communities. Standards such as Web Monetization are essencial parts of a generation of decentralized cyber identities and are indispensable for keeping the world connected in a time of increasing nationalism, localism and censorships. The flexibility of use cases and diversity of players are preconditions for the adoption of such standards.
Another area is the communication and discussion of standards friendly to decentralized network. Decentralization has far reaching implications beyond the connection between content creators and audiences, but has few direct benefits on near term financial gain. It is therefore important to explain to non-technical creators about the rights and power they can regain from a decentralized system. One effective way could be projects using Web Monetization partner up and explain different aspect of the benefits, and showcase different examples of its usages.
We know that changes has to come from ourselves, so we are actively working on both areas. In additional to being a service provider that simplify the usage of these great standards, we will also invite other Grant for the Web grantees to join force with us in promoting Web Monetization and other decentralization-ready standards. Please stay tuned for our developments!
Link Round Up!
Matters website: Matters website will select English or Chinese based on your browser setting. Most of the articles are in Chinese, but if you are an English user, you can click the translation button under each article title to see the English version.
About Matters: more information and media coverages about us.
Grant for the Web report 1: more information on how are we integrating and utilizing Web Monetization standard
Highlight other projects
LikeCoin is a blockchain project that Matters works closely with to achieve an open and decentralized content ecosystem. They are also a grantee of Grant for the Web. Check them out if you are interested!