Mukto Library is an open platform for everyone who loves books. It is for readers, authors, publishers, designers, and everyone around. You can read open licensed books here for free, write notes and reviews about any book or just add books and build your own virtual library.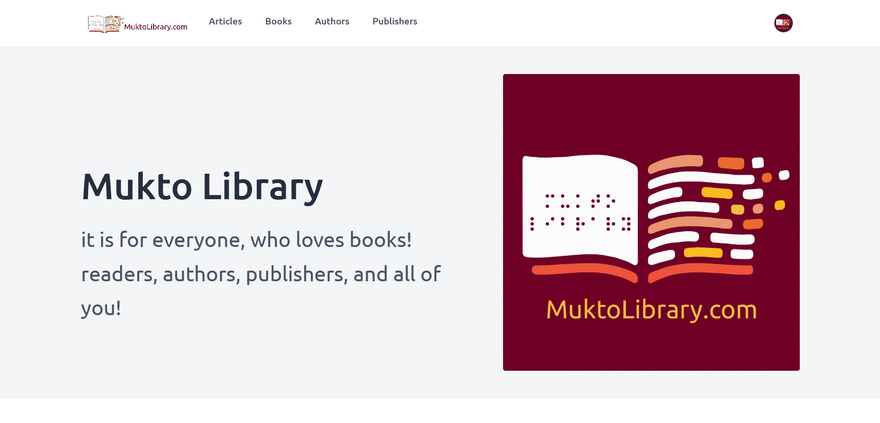 Project Update
When we started the project we set some milestones for each month. So far we covered most of that. The progress of the project is good. Though we planned to make some additional progress at the beginning. But we are confident that at the end of December 2021 we will be able to complete all the features.
Progress on objectives
We have two major objective in this project. First one is to build that platform. It is a custom web application which we are developing to meet all the necessary features.
Offline activities
We want to build that platform based on the feedback from the community members. From the very beginning we are communicating with a number of group of community members. We are working with a community of around 50 village library. While we talked to those librarians of those village libraries and that community we found some interesting information. They said there usually a small group of reader and larger circle of general people around libraries. Sometimes they use the library premises as common gathering place as well.
We are a good contact with some of these communities and we take their feedback while building the platform.
Building the platform
Initially we had an application with some features. At the very beginning we changed the design of the application and started to add more features.
Not all the features are for public use rather we needed to build some tools which will also help us to maintain it as an open platform. We mentioned earlier that we do not moderate any user generated articles or comments. But at the same time we do not want anyone to use this platform to spread any hate speech. So we built an option to report any content to us. If we get any report on any content we will look into that. Along with that we are also planning to build a feature to automatically detect the hate words and send notifications to us as well as the person who has created that content.
Add more data
We are building an open platform to discuss on any and every topic our user wants to. We will not moderating or guiding anything. What we suggest is to like a book with the articles.
Adding new book data will be a continuous process. We expect those will be added by the users of this platform. But at this beginning stage we are adding more and more book. This may help the users to know about new books and they may only focus on their content.
Communications and marketing
We set a strategy that first we will try to on board the existing reading circles and similar communities. We have contacted with a number of such communities. This will benefit us to find the right members. Also we are focusing to those communities who are not much active in online platforms right now. We are trying to introduce this platform as a tool where they can learn from as well as spread their thoughts to others as well.
What's next?
Here are a list of major milestones/ goals
Make the platform more complete by developing the necessary features
Try for new funding opportunities to continue the project. Six month is a small time to build a platform and make it self sustainable as well
Reach more communities and on board them here
Add more and more contents of different genre from which users can be benefited.