Image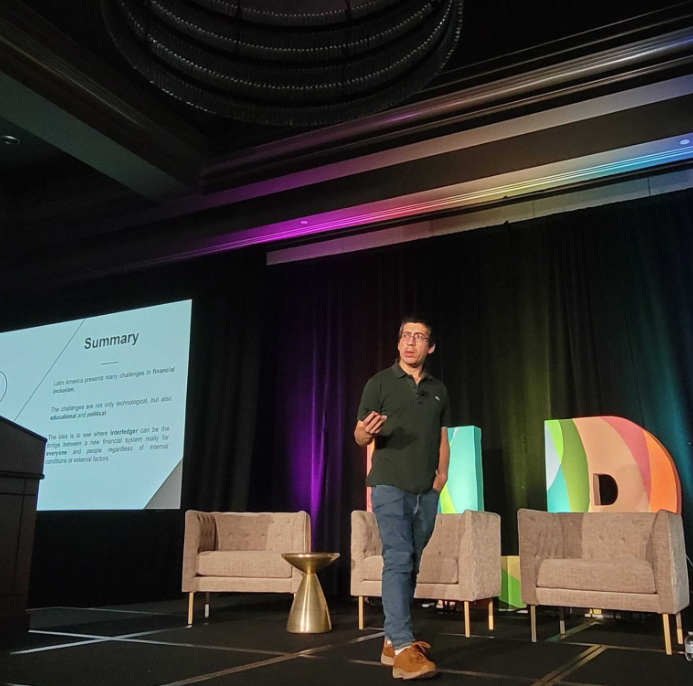 Introduction
I'm Nestor Campos, from Chile. I am the founder of PeerPay.
I participated in the Interledger Summit as an attendee and speaker, managing to learn from highly prepared and motivated people with the evolution of money, financial inclusion and access to opportunities for all.
Key highlights about your participation at the Summit
In my case, I presented on Sunday about the opportunities that are presented with Interledger in Latin America (I think I could have presented better, but I managed to share my ideas and experiences after building our PeerPay project).
I participated in some discussions (as an assistant) in order to understand more about the experience of other grantees and exhibitors from other parts of the world, as well as generating technical and commercial contacts so that we can continue advancing in promoting our initiatives/projects from now on.
Highlight your key takeaways from the Summit
The event was spectacular in general, there were many new things learned and a spectacular network of contacts.
I think Open Payments technology is very good, but it's a long way from being more popular for use (just because it's not as well known as other technologies).
I also believe that all of us who are working with these technologies, when exposing them to non-technical people, should stop using words like Web3 and more (the massification of technologies and opportunities has to be without technical terms, otherwise it will always be for a group select people).
Finally, and I think it is very important, to start generating regional meetups in different languages to continue extending Interledger everywhere (but that is the responsibility of us, the grantees and those who are motivated to help in some way).
Indicate topic(s) if any, you thought could have been covered but were not.
For me it was a fairly complete summit in which all the topics were covered, but I would include topics related to how the future of cryptocurrencies would be more related to the Interledger Protocol (there was a little talk about that in some talks, but I mean topics more specific).
Let us know how you might be interested in participating in ILPSummit2023.
Of course yes, yes or yes I will be at the next Interledger Summit to continue learning, show more of our project and share our experience with everyone.
What have you done post-Summit to showcase your participation in the Summit?
I have shared on my social networks (Twitter and LinkedIn) about my experience at the Summit (links below).
Also from LinkedIn I have been contacted by some people from Chile, Argentina and Peru who want to know more about Interledger, so we are coordinating some virtual events and teach about Interledger Protocol, Web Monetization and Open Payments, both in specific events and related to more topics. general, such as Web3 (when the events are available I will share them here).
I am going to create more videos on my YouTube channel about the technologies seen at the Summit and share the projects that use Interledger with the communities I manage (always in Spanish).
Any next steps and/or leads emanating from your participation at the Summit?
In addition to reconnecting with the people I met, I am going to further strengthen the relationship with the Interledger Foundation, helping to create content in Spanish to bring the Latino community closer (this 2022 I already made a video and a meetup about Interledger Protocol) and it is time to enhance it.
At the same time, we continue advancing with our project, and thanks to the fact that we won the Ripple hackathon on CBDC technology with PeerPay, now we are going to take an additional step and we are going to test using the Interledger Protocol with this new type of assets (Central Bank digital currencies ) to understand the possibilities and see a concept that I explained in my talk, about monetary portability, that is, being able to connect and move one's own money between fiat, crypto and CBDC currencies.
Relevant links/resources (optional)
Posts created and shared on social networks: