Hello everyone! 👋
It's time for our final grant report, and we have so much to share with you all. In the past few months, we've been busy with tech development inspirations, traveling, forging amazing new partnerships, and figuring out our roadmap for the next couple of years. It's not too much to say we've been just on fire the last couple of months (and mostly in the good, passionate kind of way). 🔥
We're still are committed to build Web Monetization into Elementari and making it more accessible, collaborative, and open as possible.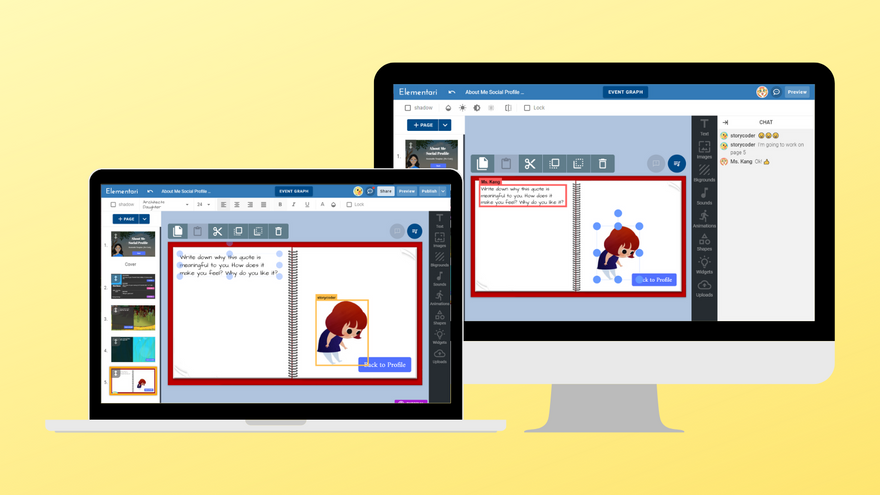 Project Update
While there were some bumps starting (and still some bumps going), we have loved being part of the Web Monetization community (I'm definitely a lurker reading the posts). The Grant for the Web has not only enabled us to build in a new Web Monetizable pathway for educators and artists to contribute their content, but also allowed us the freedom to reflect about how we can make our platform more accessible and open for all users.
The Flops and Struggles
🤔 For us, the largest struggle has always the UI/UX, and in particular the proper messaging of what exactly is Elementari to our target audience - K12 educators.
This struggle has also extended to Web Monetization as a whole. We have learned that the struggle is not just about adopting a novel idea; it is about not being vetted by known institutions, not being currently used in mass, and not being able to clearly answer the question of "what's in it for me - right now."
🎨 One of our key activities, Art Contests, unfortunately turned out to be a flop. What sounded like a good idea on paper turned out to be not a good use of our time or resources. We ran the Art Contests a total of 3 times and terminated them. However, we hope this is a blessing in disguise, as we now have the opportunity to do something bigger in conjunction with national and state level partners by funding micro-grants to create Web Monetized lesson plans for our platform.
The Wins and Highlights
💻The software development side of things is "as expected". So it counts as a win? When developing software, we expect bugs, and typically a solution is pretty straightforward (though it often takes more time than planned). All in all, we've completed the majority of our software development and have developed additional features to make Elementari just more accessible and fun.
👥 Attending two education conferences was a turning point for us, as we were able to directly engage with education influencers and decision-makers. This gave us a better vision of where we want to take Elementari, how we can integrate Web Monetization, and how partnerships can spearhead these efforts moving forward (more on that in Communications).
Overall though, our struggles have led us to a deeper reflection and are now considered essential growing pains. We are therefore grateful for Grant for the Web in allowing us to learn from these failures as we continuously improve.
Progress on objectives
Though our overarching objectives did not change, some of our approaches towards them have especially regarding communications. See the Communications section on how we've made the change of promoting our Contests to Partnerships with Micro-grants.
📋 Quick Recap! 📋
Help Center completed and source code released.
Web Monetization for artists and educators completed.
New lesson plan library creation flow
Web Monetization discussions with key K12 educators
Contests Failure => New Collaborations + Microgrants? See Communications Section.
Elementari Boosts. See What's Next Section
We're extremely excited since the last couple months have been a breakthrough for us. We're starting many long term collaboration projects with national and state level educational organizations, many who serve underrepresented students (more in Communication Section). We've also done a lot development outside of the grant scope on our authoring tool to make Elementari more accessible and fun (check them out below because they are cool).
Key activities
ℹ️ Help Center Completed ℹ️
Thanks to the Interledger Foundation YouTube Channel, we were able to find awesome intro videos by the Artist Rescue Trust. It was exactly what we were looking for from our first Grant Report.
However with to the recent news on Coil, we have removed those articles. Until Fynbos or another Provider is ready, our Help Articles related to Web Monetization will be hidden, and we will be on standby. We still keep our general "What is Web Monetization" and include Web Monetization in our "How to be an Elementari Contributor" page once we have rewritten them without the Coil focus.
Help Center Development Stack:

Nuxt 3 for Full Static Generation
Nuxt Content for easy article writing in markdown
Vuetify to make everything pretty
Automatic deployments through Netlify
Zero running costs - it's totally free!
Check out our open-source Help Center repository! 👀
✍️ Lesson Plan Editor ✍️
Our lesson plan editor is completed. However, this may evolve (again) in the next few weeks after meetings with different organizations as we focus on being accessible to students of disabilities / diverse learning needs and aligning to the new state standards for computer science.
💰 Web Monetization Enabled for Educators and Artists 💰
Web Monetization is enabled for contributing educators (lesson plans) and artists (art or music). We do require all artists or educators to first be whitelisted by us before being able to contribute to Elementari, mostly for safety purposes as most of our users are children. We still see lots of potential in the educational world adopting Web Monetization. More on that in communications.
** 😎 Just Some Cool Development on Elementari 😎**
Make reading literally interactive. From what we've heard and investigated, we seem to be the only creation tool that implements speech recognition as a way to interact with content - pretty cool.

Elementari

@elementari

🎇Create interactive

#readaloud

books! By using our new

#coding

event block - "On pronounce", you can have the computer listen for certain letters, words, or phrases.

We even have templates (such as the one in the video) to help you get started!

#STEM #reading

22:22 PM - 03 Jan 2023
Awesome pre-made templates to speed up creation

Elementari

@elementari

🎉Jumpstart your interactive story or game with Page Templates! With 60+ templates to choose from~

Let us know what kind of

#coded

templates you are looking forward to next!

10:41 AM - 04 Jan 2023
We've also added 9 new text effect animations and a new event block, On Collision.
Communications and marketing
🌟 Consulting and Marketing Outreach 🌟
We've contracted Rachelle Dené Poth, JD, MSEd, Twitter @Rdene915 for some educational consulting work and widening outreach for our art contests. She has included Elementari in her many conference presentations such as the past ISTE, TCEA, FETC, and more. She has also included Elementari her recent blog posts such as the one on Getting Smart.
🎨 Art Contests Failure 🎨
The Art Contests sounded like a wonderful plan. Running them would increase the number of diverse artworks on our platform, market Elementari to a wider audience, and introduce the concept of web monetization to educators, students, and artists alike. A win for everyone right? Well unfortunately - it was just a flop.
Despite heavy marketing (through social media promotion, webinar mentions, conference mentions, newsletters, mailing lists), we did not have many submissions past the first contest #UseTech4Good. There were very little submissions from classrooms and almost no submissions from adults. From those submissions, there were almost no art of quality that would benefit the platform and for others to use without intense clean-up on our part. Furthermore, we did not see views of the art contest convert into an increase in sign-ups while running the art contests. and felt that those who landed on the page just bounced out. Therefore, we decided to shelve these contests after running it for 3 times as the return on investment was just not there.
If the primary objective was the increase the number of diverse artworks, it would be better to just commissions some artists (as is the case for many other grantees). However, we still want to be able to reach a wider audience with these funds. This has led to the idea behind micro-grants for Web Monetized Lesson Plans (see more below).
👨‍🏫 Conference Insights - Interest in Web3? 👩‍🏫
Like I mentioned, the past couple months have been exciting. In January, I exited my development cave to directly talk to educators in person. I attended TCEA (Texas Computer Education Association) and was on a panel at Infosys CrossRoads which has led to key insights to the state of K12 Computer Science Education and many educators' desire to learn more about innovative tech - Web3, AI, crypto, NFTs to name a few.
In one session at TCEA, "Blockchain, Metaverse, NFTs, Web3: What do Educators Need to Know? Bring STEM to Every Classroom", there were probably a hundred educators in the room. A common theme amongst the questions at the end of the sessions was "How can we prepare students for 'the real world'"? and "How can we enable our creative students ways to monetize their work?" The presenters mostly focused on the creation and then selling of NFTs. I, of course, brought up Web Monetization after the talks. 😉
I am though very intrigued by the amount of sessions and the amount of people who were interested in these topics at a conference geared for K12 educators. There was even a featured speaker session that included Web3 as well (see below post). It would definitely be worthy of investigating if there is a similar interest in Higher Ed conferences.
Steve Isaacs

@mr_isaacs

17:09 PM - 31 Jan 2023
👨‍🏫 Partnerships with Nation/State-wide Organizations 👩‍🏫
What is great about conferences though is that the person you talk to usually can't run away or just be too busy to even answer your email. They have their time blocked off to be there, and it is easier to establish a first contact or move forward with a partnership. From the two conferences, I have established a long term partnership to demo/train Elementari for state-wide policy makers and teacher trainers. We also plan to co-develop lesson plans according their new state learning standards. I am currently setting up schedules for New York and Florida, and possibly in talks with people Texas, Iowa, among others. These of course are long term partnerships - some with rollouts in 2024.
Infosys USA

@infosysusa

16:22 PM - 07 Feb 2023
Nicole Li

Looking forward to joining this discussion with fellow distinguished panelists at the 2023

#InfyXRoads

! Stay tuned as we uncover how

#storytelling

,

#games

and hands-on activities can ignite interests in

#CS

that are personal and meaningful for students.

@InfyFoundation

17:43 PM - 04 Feb 2023
🤝 Improving Accessibility through Collaboration 🤝
I am also establishing collaborations with Deaf Kids Code, Tech Kids Unlimited (for neurodiverse), and an accessibility expert/researcher for the blind. These collaborations aim to make Elementari more accessible and also create lesson plans for teaching computer science to all students. Once again, the micro-grants has been of interest to all of these groups.
Through these collaborations, we have gained valuable insights, identified areas where we can improve our practices, and ensured that our project is accessible to as many people as possible.
What's next?
🚀 Elementari Boosts - Web Monetization 🚀
In our original proposal, we wanted to experiment into Elementari boosts (similar to Cinnamon Boosts). Unfortunately from the state
of Fynbos from the IFL calls in December and January, it didn't seem ready yet. We still believe that this is the way to go with Elementari - as we will profit share our paid subscriptions with our contributors.
💰 Micro-grant Lesson Plans - Web Monetization 💰
We'd like to repurpose our contest funds to become micro-grant funds, which we'll use to fund the creation of web monetized lesson plans. We're in talks with different organizations to set each lesson at around $50-100 per one-hour lesson. We hope that these large governmental / non-profit organizations can spread the word of the micro-grants and Elementari.
For all of our Web Monetized endeavors, we will be waiting for Fynbos or another Provider. I'm looking to hear all the updates in the ILF calls (I was only able to make the past December and January ones).
🌟 Accessibility and Inclusivity 🌟
We're particularly focused on collaborating with others to improve accessibility. Our goal is to make Elementari as inclusive as possible. We want everyone to have the opportunity to access and benefit, regardless of any disabilities or other barriers.
What community support would benefit your project?
🤝 Collaboration with the Community 🤝
Collaboration is key to our project's success, and we're always looking for like-minded folks to join forces with us. 🤜💥🤛 P.S. We're always on the lookout for people who can help us make Elementari more accessible!
📣 Sharing the Love 📣
We're grateful for any support from our community in spreading the word about Elementari. Whether you're a teacher, student, or just someone who loves interactive stories, we think you'll love our project! 😍 We're also on the lookout for artists who want to collaborate with us to create even better stories. So if you're an artist, reach out and let's make something amazing together! 🎨
Additional comments
Thoughts on Web Monetization - Ramblings
It's late at night and I want to just share a rambling. I've noticed some similarities between the adoption of Web Monetization and educators adopting Elementari on a large scale.
One of the biggest challenges with Elementari is the fear of the term "Computer Science." It's unfamiliar, and some people are intimidated by it. However, if I just say Elementari is like Google Slides, but you can make it interactive. For some reason, it works. And after teachers make their first interactive page, you can tell them that created an algorithm and it aligns to Computer Science learning standards. They coded - and they didn't even know it. 🤯
So bringing it back to Web Monetization - As Web Monetization is still not part of our vocabulary (even among very tech oriented folks), maybe the key is having creators Web Monetize their content without even knowing it?
At the end of the day, creators want to know "What's in it for me," and we need to focus on incentives, as @graeme mentioned in his post.
Our approach to Web Monetization will be to make the parallel to traditional publisher (something that's more familiar with people) - we pay creators a micro-grant to develop an open lesson plan and they'll receive something similar to royalties through Web Monetization. It'll just have all the additional benefits of supporting open web, privacy, and micropayments that come with it.
I feel extremely lucky to have the opportunity to journey into Web Monetization with Grant for the Web. I'm looking forward to how the Web Monetization landscape will evolve and how we can grow with it. Elementari is here for the long term, and we're always excited to grow and build with you all for a more open and inclusive web. 💕
Thank you for believing in us and supporting us. We can't wait to see what's next! 🚀