Greetings, ILP Community! We're thrilled to present our final report for the research phase, which highlights the progress we've made with utmost dedication and effort.
Wallet Guru is a US-registered technology company specializing in delivering real-time payment solutions to utility companies throughout Latin America. Our cutting-edge payment streaming platform, Paystreme, empowers millions of unbanked and underbanked individuals by providing seamless access to the Internet of Value (IoV) and pay-as-they-go for essential services like cell phone coverage, broadband internet, pay-TV, and on-demand streaming content. Initially focusing on utility companies in Latin America, where there are approximately 551 million aggregate prepaid subscribers across these four industries, Wallet Guru aims to address the needs of users who typically face higher rates compared to post-paid clients. By leveraging an ILP-enabled payment system like Paystreme, these individuals can enjoy significant benefits, including easy access to subscription-less services at competitive rates.
Project Update
These past few months have been remarkably impactful and significant for the Wallet Guru team. We have not only expanded our team by bringing in key and invaluable members, but our understanding of the market has also grown exponentially. Now, more than ever, we are thrilled to embark on the next phase of our development and create a product that will not only make a meaningful impact on the community but also revolutionize the industry as we know it. This report will encompass key activities and provide updates on the latest changes in our project. We would like to extend a special thanks to the ILP members and community for actively engaging with us during these past few months and for offering valuable feedback and engaging in constructive conversations. We genuinely appreciate all the time and effort you have contributed.
Project Impact & Target Audience
Wallet Guru is proud to share the intended and actual impact our project is having on its target audience and communities, including marginalized groups. One area where our project is making a significant difference is in promoting financial inclusion in Latin America at scale. By partnering with utility companies that have millions of subscribers, Paystreme expands its reach and impact on the target audience. These partnerships enable us to provide a seamless and inclusive financial experience to individuals who may not have access to traditional banking services. Also, through our integration with MoneyGram, Paystreme empowers traditionally excluded cash users to seamlessly convert funds for banked deposits or USDC at over 450,000 locations worldwide.
Another way we create a positive impact is by providing a more efficient way of dealing with prepaid customers for utility companies. This has the potential to benefit approximately 400 million prepaid mobile carrier subscribers in the region. Our research has shown a direct correlation between the cost of mobile data and the number of prepaid users in a country.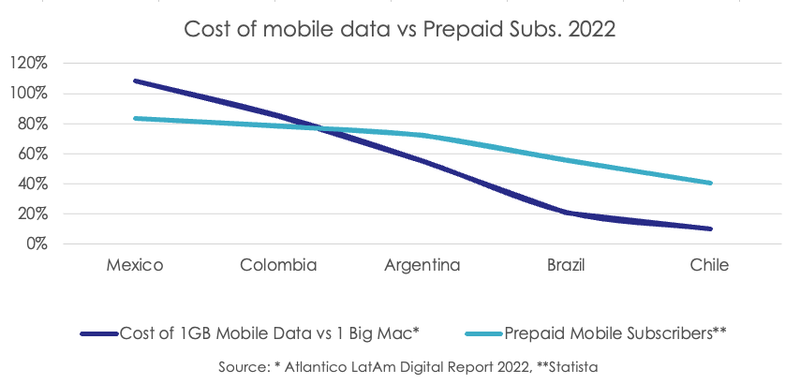 For instance, as illustrated in the figure above, Mexico, with the largest prepaid customer base, faces the challenge of exorbitant mobile data costs. In fact, the price of 1 MB of mobile data in Mexico amounts to a staggering 108% of the cost of a local Big Mac. In contrast, Chile, which has the lowest prepaid base, enjoys significantly more affordable mobile data prices, accounting for only 10% of a local Big Mac.
Through our project, we are not only leveraging innovative technology and promoting financial inclusion, but we are also addressing tangible challenges faced by marginalized communities. By reducing mobile data costs and providing a more efficient payment solution, Wallet Guru's Paystreme has the potential to improve the lives of hundreds of millions of prepaid subscribers in Latin America and contribute to a more equitable digital landscape.
Progress on Objectives, Key Activities
We continued to make considerable progress on most objectives specified in the original plan:
1.- Business & Technical Requirements:
As our research has delved deeper and our knowledge has expanded, our technical and business requirements have become more robust and comprehensive. The goals and objectives below guide the technical design of the initial release of the Paystreme system, integrating the Interledger Protocol for streaming payments. The focus areas include:
Seamless Integration: Achieve smooth integration of the Interledger Protocol into the Paystreme system's architecture and infrastructure. This ensures efficient stream payments across different networks by seamlessly interacting with ILP components.
Seamless Cross-Ledger Transactions: Enable easy fund transfers between USDC and fiat currencies, leveraging the Interledger Protocol. Integrate with multiple blockchain networks and ledgers to support a wide range of digital and traditional currencies.
Robust and Secure Infrastructure: Establish a strong and secure technical foundation for the Paystreme system. Implement stringent security measures, including encryption, secure key management, and authentication protocols, to safeguard user funds, transaction data, and personal information.
Reliable Transaction Processing: Design a mechanism that guarantees reliable and consistent transaction processing. Minimize transaction failures to ensure seamless and uninterrupted payment flows between parties.
Scalability and Performance: Develop the Paystreme system to be highly scalable and performant, capable of meeting growing user demands. Enable efficient handling of a high volume of stream payments, horizontal scaling as user numbers increase, and consistent performance during peak loads.
Developer-Friendly APIs and SDKs: Create intuitive and well-documented interfaces, such as APIs and software development kits (SDKs), to facilitate easy integration and application development on the Paystreme system. Empower developers to leverage ILP functionalities and build innovative payment solutions.
Compliance and Regulatory Requirements: Ensure compliance with relevant financial regulations and industry standards. Design the Paystreme system to support measures such as anti-money laundering (AML), know your customer (KYC), know your business (KYB), know your transaction (KYT), and transaction reporting, while safeguarding user data privacy and security.
Interoperability with External Systems: Enable seamless integration and interoperability with external systems, including banking networks, payment gateways, and digital asset platforms. Facilitate streamlined fund transfers and compatibility with existing financial infrastructure.
Continuous Improvement and Innovation: Foster a culture of continuous improvement and innovation in the technical design of the Paystreme system. Regularly assess and incorporate new technologies, industry best practices, and user feedback to enhance functionality, user experience, and performance.
2.- Overview of the money flow from legal and license perspectives:
We have strategically incorporated a hybrid design into our platform architecture, ensuring that we can adhere to both local and international regulatory standards. This innovative approach also allows us to leverage the expansive network of over 450,000 commercial agents under the MoneyGram umbrella, amplifying our reach to unbaked or cash-based users.
3.- Followup on OFR financial license application:
We are actively following up on our application for a Money Service License to the Florida Office of Financial Regulation (OFR). As we patiently await feedback on our application, we eagerly anticipate the next steps in obtaining the license that will enable Wallet Guru to operate as a legitimate money service business in Florida. This milestone will empower us to expand our offerings by introducing new financial products and services to better serve our customers.
4.- Funds flow between participants
We have strategically incorporated a hybrid design into our platform architecture, ensuring that we can adhere to both local and international regulatory standards. This innovative approach also allows us to leverage the expansive network of commercial agents under the MoneyGram umbrella, amplifying our reach and effectiveness.
5.- Leverage our relationship with new contractors:
Wallet Guru has appointed ErgonStream Services LLC, led by Mr. Emilio Otermin, to spearhead its software development initiatives. ErgonStream has formed a partnership with a reputable development company that played a crucial role in the development of the Chivo Wallet for the Government of El Salvador.
Key Activities
The most important activities we have since our last report are the following:
With our newly onboarded contractors, the Wallet Guru team is now fully equipped to confidently tackle any forthcoming challenges. We are deeply enthusiastic about our continued growth and hold unwavering confidence that our product will surpass all expectations. The development team completed a detailed technical plan that serves as a guiding resource for the development team and stakeholders involved in the project. The document outlines the technical goals, objectives, and scope of the project, ensuring a clear understanding of the technical design and implementation.
Wallet Guru has successfully completed a comprehensive business plan that will serve as a strategic blueprint, guiding us in formulating effective strategies, assessing future financial requirements, and attracting potential investors.
Also, our We have maintained regular and ongoing communication with the Florida Office of Financial Regulation as we eagerly await feedback on our application. Due to the substantial number of applicants, the process has been extensive, but we remain optimistic and confident that we will obtain approval in the coming months.
The technical discussions between our tech/development team and Alex Lakatos have proven to be highly valuable and integral to our team's progress. We deeply appreciate the invaluable knowledge that has been generously shared with us.
Engaging in ILP community calls and open payment huddles has been an invaluable experience. The monthly ILP calls provide a wealth of insight and inspiration, shedding light on the multitude of ongoing innovations within the community.
Communications and Marketing
Wallet Guru was selected by the Interledger Foundation to participate in the Global Digital Development Forum, during which we engaged in discussions on the topic "The Power of Place and Open Payments: How Solutions for Financial Inclusion are Being Built with the Communities They Serve." This forum was co-sponsored by esteemed organizations including USAID, Chemonics International, IBM, Deloitte, DAI, Google, RTI International, Save the Children International, Interledger Foundation, Bixal, and Palladium on the TechChange platform.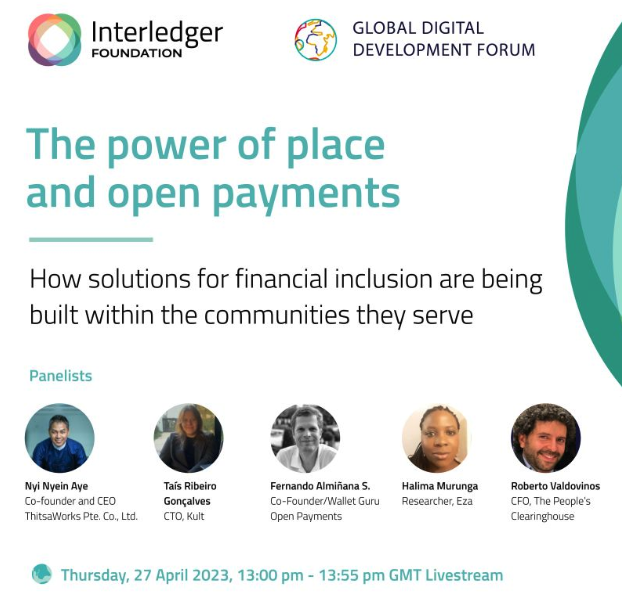 We have been inundated with inquiries from various news and publicity outlets, demonstrating a keen interest in conducting interviews about our project through multiple social media platforms and direct contact. We genuinely appreciate the attention and are humbled by the level of interest shown. However, at this stage, we have made the strategic decision to postpone public interviews. As the development of Paystreme progresses significantly in the coming months, we will intensify our allocation of resources and efforts toward marketing communications. Rest assured, you can expect a powerful and impactful display in our marketing communications endeavors.
What's Next?
We are thrilled to share the exciting developments that lie ahead for Wallet Guru. Following years of meticulous research and preparation, we have successfully devised a robust, secure, and scalable payment streaming platform. This groundbreaking solution is poised to revolutionize the management of millions of prepaid subscribers in Latin America, offering exceptional efficiency. With our comprehensive technical plan firmly established, we are now prepared to enter phase 2 and commence construction of the platform.
In the coming months, our focus is on obtaining our license in Florida — a significant milestone that will greatly facilitate our operations and expansion. This strategic move reinforces our market presence and enhances our ability to serve customers throughout Latin America.
Furthermore, we value the ILP community as a source of profound knowledge and shared visions, providing valuable support in strengthening our project. As we venture into this next stage, we are enthusiastic about expanding our team, attracting top talent to further elevate our capabilities. Concurrently, we will initiate strategic marketing initiatives to drive awareness and adoption of our innovative solutions. We eagerly anticipate engaging with you and hope to have the pleasure of connecting at this year's summit. The future holds great promise for Wallet Guru as we continue to pioneer advancements in the payment industry.
Community Support
As we embark on building out our project, we strongly believe in the power of collaboration and the strength of community support. We invite our readers to actively engage with us and become part of our journey. Your feedback, questions, and suggestions are incredibly valuable to us, and we are gratefully appreciative of any contributions you can make. Together, we can advance our work and create meaningful connections that drive innovation and progress. We humbly acknowledge that we will be leaning on the support of this community as we navigate the challenges and seize the opportunities that lie ahead. Let's join forces and make a lasting impact together.
Additional Comments
In closing, we would like to express our sincere gratitude to the ILP community for their invaluable support. Without your collective contributions and unwavering dedication, we could not have transformed our dreams into a reality. We firmly believe that our project is destined for success, and we invite each of you to join us on this transformative journey as we shape the future of digital wallets and payments together. Your support and the time you have invested in us over the past year have been truly invaluable. Thank you for being an integral part of our journey.
Relevant Links/Resources
Follow us on social:
ILP Channel: https://community.interledger.org/paystreme
Twitter: https://twitter.com/WalletGuruLLC
Linkedin: https://www.linkedin.com/company/mywalletguru/
Website: https://www.mywalletguru.com/
Email:
Fernando: fernando@mywalletguru.com
Emiliana: emiliana@mywalletguru.com
Revised Paystreme Ecosystem Infographic