POWER PLAYS is a podcast that charts how important decisions about the Internet's infrastructure and institutions have been made. In season one, the podcast spoke with Internet pioneers like Erika Mann, Stephanie Perrin, and Sarah Deutsch.
With the support of Grant for the Web, POWER PLAYS has been developing a second season that imagines a future era where the web is monetized in different ways.
Project Update
Over the past few months, we have conducted structured conversations with various subject matter experts exploring the web monetization ecosystem, most recently angel investor and philanthropist Esther Dyson and economist Richard Hill. We are continuing with these interviews over the next week and are almost ready to put a wrap on recording.
We've thought a lot more strategically about how to produce POWER PLAYS, planning out episodes, identifying growth goals, and exploring new growth and distribution mechanisms to expand our core audience. Among other new ideas, we connected with Danny Holman from Cinnamon and launched a new distribution channel for the 'outtakes' of our podcast.
We also participated in On Deck's eight-week podcasting fellowship, from February to April, which allowed us to cross-promote our existing episodes with podcasters with larger followings to raise awareness that we exist, to take part in storytelling masterclasses where we refined our editing skills, and to collaborate with influencers and others to build our brand.
On May 26, 2021 we will publish every episode of season two of POWER PLAYS on Cinnamon and on our website for Coil subscribers to exclusively binge listen to. One week later, we will begin distributing these episodes one week at a time through podcasting apps like Apple Podcasts and Spotify to POWER PLAYS' existing audience and other non-Coil subscribers to consume and to become acquainted with web monetization technologies.
Progress on objectives
We have made progress on our core deliverable of producing professionally-produced podcast episodes. The eight episodes will be between 40 and 60 minutes once edited. We have also been expanding our audience and now have approximately 3,000 downloads per episode. The goal is to expand this number significantly.
Key activities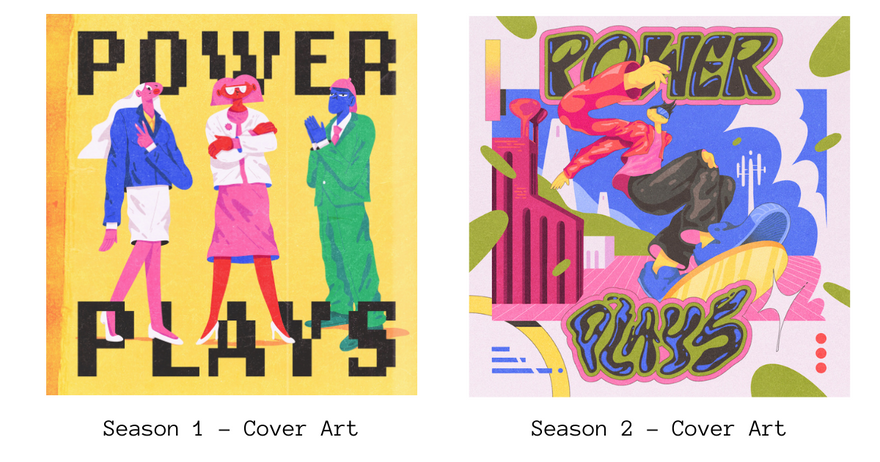 Aside from the basics of producing new content (which is by far the most time consuming component of this project), we commissioned new cover art for season two of POWER PLAYS, designed by the Argentine artist Nahuel Bardi. We are in the progress of redesigning our website to match this new branding. We thought it was important to adopt a new cover for season two of POWER PLAYS because it's what every listener sees on their mobile device and our previous cover didn't communicate 'web monetization' at all. In the new cover, it is more metaphorical about the future of the Internet but includes a coin motif to make a clear reference to the season two theme.
Communications and marketing
We will primarily begin marketing season two of POWER PLAYS on the day it is available on Cinnamon and to Coil subscribers. However, one week ahead of this, we will distribute a two-minute trailer to existing subscribers across monetized and unmonetized channels in order to raise awareness of the existence of the launch of the new season.
We have also connected with product managers at Apple to formally request that POWER PLAYS be listed as 'podcast of the day' in the U.S. Apple Podcasts app on the day that episode one of season two is distributed on the platform. At this time, we are pencilled in for June 2, 2021, but this could change and the exact scheduling is outside our control.
We have purchased an advertisement in Netflix writer Sonia Weiser's industry newsletter - which reaches over 6,000 journalists a week from top-tier publications across the U.S. and Europe - to promote the podcast on July 6, 2021. Unfortunately, no earlier slots were available, but the intention here is to source new listeners and raise awareness of the web monetization ecosystem and not to generate press. (As of February 2021, this newsletter has an average open rate of 45.9% and average ad click rate of 18.3%. It only has one ad per newsletter, right at the very top of the email.)
What's next?
There is still a lot of work to be done on this project -- podcast episodes need to be edited, some interviews still need to be conducted, and we need to make contact with podcast industry blogs to try to generate some more buzz for the season launch. But while we are a little behind schedule, we're on track for a successful season two launch.
What community support would benefit your project?
I'm looking for a few more guests to interview. In particular, I'd like to speak with an economist who can speak about Interledger specifically, rather than more generally about the economics of the Internet. I'm also looking to speak with someone using Coil in a really quirky way -- there's a lot of room for interpretation there, but basically not just blogging. Using Coil like no one else is.
And while there's almost a wrap on season two of POWER PLAYS, there's no harm in interviewing more people for season three! If you - or someone you know - would make a great interview subject, please consider completing this super short form to add your/their details to our bank of potential guests. Thank you!
Finally, if you could leave POWER PLAYS a five star review on your favorite podcasting app, that would help us immensely in growing our audience. Those algorithms and recommendation engines really respond well to positive reviews! (You can find us here on Apple Podcasts.)
Additional comments
Thanks for supporting POWER PLAYS.