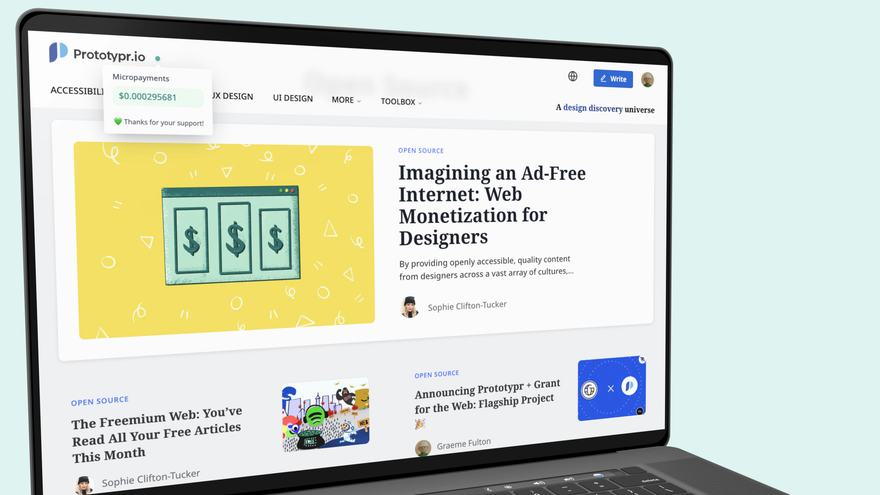 Project Update
Overall, we found our project to be very ambitious, but thanks to the extension on our project timeline, it's looking in an excellent position. Some big wins were:
🇪🇸🇺🇸 Localisation/Internationalisation: the platform supports Spanish and English (and is extendable to more).
📝 New Editor: we built an amazing new editor for our writers to make publishing easy.
Educational content: we've published some great articles on Localisation, Internationalisation and creating an Ad-free web.
We ran into a lot of underestimated technical work that are key in making our platform open and accessible. For example, building in multiple language support took a lot of working out: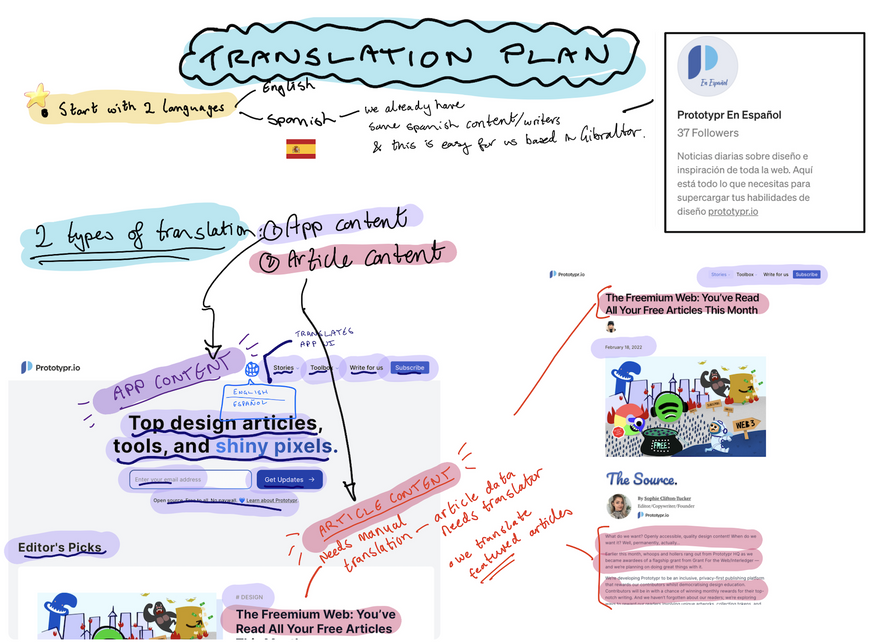 However, these delays gave us time to reflect and understand how Web Monetization can be best used on our platform:
Pivoting our Web Monetization messaging:
Initially, our messaging promoted Web Monetization as a replacement for paywalls - in the sense that it would enable creators to earn money from their writing (just as much as a paywalled platform).
However, writers that publish on paywalled platforms typically earn around $50-$200 per article (sometimes more). In comparison, the payouts received from Web Monetization are too small for us to promote it as such a paywall alternative. It almost feels like we'd be misleading writers, since we're aware that Web Monetization (WM) needs more time and adoption in to truly rival a paywall for payouts.
Pairing this issue with the learning curve involved in setting up a crypto wallet creates a barrier to making a payment pointer. Therefore, we need different incentives to encourage writers to create their payment pointer (it's a bit of a chicken and egg situation).
Alternative Model
During these early days for WM adoption, it seems a better idea to focus on perks that Web Monetization can give a user of our platform - rather than payouts. For example:
Editing tools: a Web Monetized user could get access to different colours, fonts, layouts, and other customisations in our lovely new editor.
Article feedback service: Our editors could offer web monetized writers more reviews and feedback on their articles
Access a discord server: Web monetised users could be given access to a chat section on our site
The overall benefit of WM remains - all the articles on our site remain open for anyone to read. Of the above ideas, we'd have to go with the option with least design and engineering work involved.
The timing is right for Open Source design
The delay we had also worked in our favour in that the attention to Open Source projects in the design industry has recently seen a huge spike, which I wrote about here. Since our platform is totally open-source now (thank to this grant project!), we're well positioned to help in this push for Open Design - people are much more interested now.
---
Progress on objectives
Our project objectives for the first half of the project were quite ambitious, but with the extension, it looks like we are on track.
With so many different aspects of the project going on, we set up a microsite to track progress and categorize things. See it here:
👉 Grant for the Web Microsite: Prototypr Open.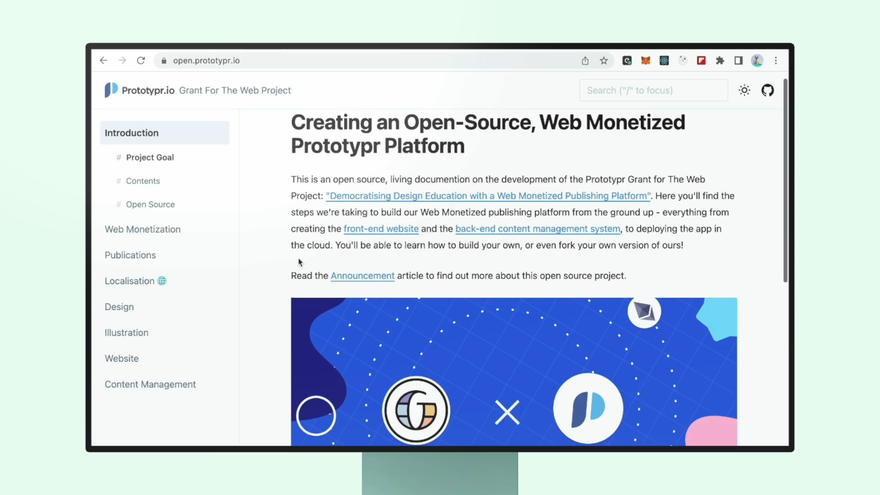 ---
Key activities
The following 2 sections show key activities that we achieved, and then the key activities we are still working towards:
1. Done:
The following are key activities that we have achieved:
✅ Implement payment pointers
Writers can paste in their payment pointers in their account settings, and it will be attached to anything they publish.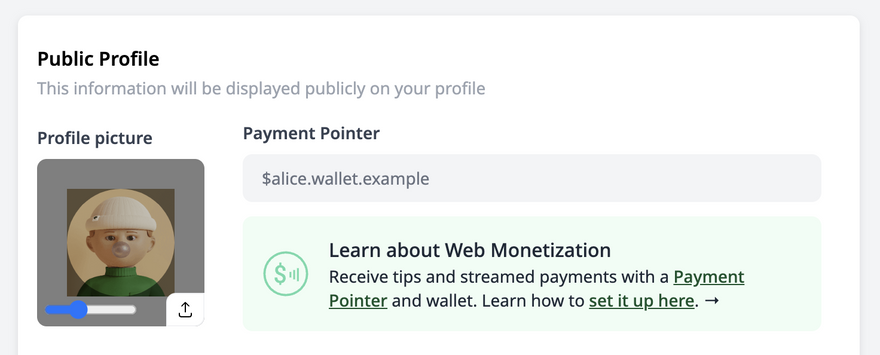 ✅ Newsletters on Web Monetization
Each newsletter, we now add a Web Monetization banner, and a link to survey to apply to become a Web Monetization contributor. There's also been some campaigns featuring on Web Monetization:
Prototypr 👁️✨

@prototypr

17:54 PM - 16 Mar 2022
✅ Web Monetisation onboarding
There's a short 3 step Web Monetization introduction when a user signs up. It's a good first effort, but it needs much refining:

✅ 😕 Publish articles from Writer Outreach programme
Part of the grant involved reaching out to writers and publish articles on our new platform. We did it, but missed an opportunity: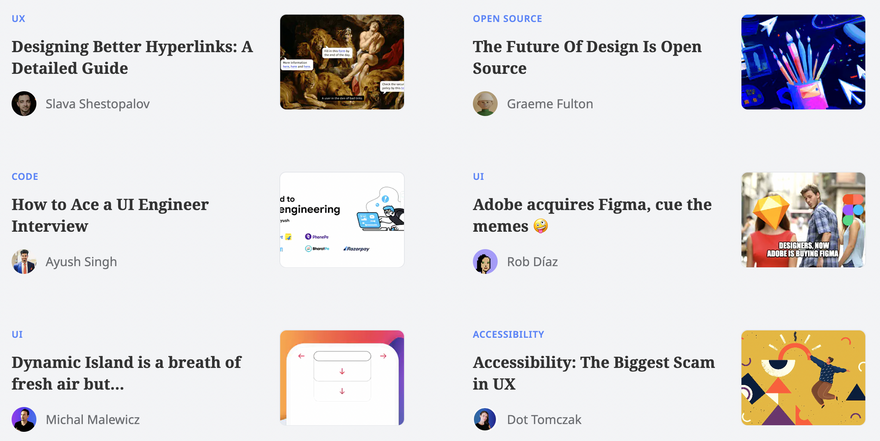 Because the publishing part of the website was not ready, we had to manually import articles on behalf of contributors, and set up profiles for them from an admin dashboard.
That meant the users did not get control of their profile, and couldn't attach a payment pointer. They also didn't get an onboarding for Web Monetization - only information in an email about what we were doing. This meant the Web Monetization aspect didn't get enough attention and interest, and so no payment pointers were added. We were very stretched with building necessary aspects of the platform.
✅ ⭐️ Improve editor and publishing experience
As shown above, the editor is the key to our project goals, and we only managed to achieve this in the last week of this period! Now we have really good editing experience, that makes it possible for users to manage articles and drafts.
graeme

@graeme_fulton

New open-source @prototypr editor coming along, borrowing a lot from cousin

@LetterHQ

. Just done:

❝ blockquotes ✔️

🔗 link insert ✔️

13:54 PM - 30 Sep 2022
✅ Add documentation and Web Monetization CTAs
We have Web Monetization callouts in the menus of the site:

---
2. Done to some extent/could be better:
The following are key activities that we didn't quite reach, mainly due to the limitations of our platform:
⬜️ Reach 20 published contributor articles
We published around 40 posts, but most of these were written by our own team rather than external contributors due to the limitations of the platform.
Now we have user accounts, and a great editor, this is going to be a lot easier going forward.
⬜️ Publish Web Monetization guides
We have published a number of articles around Web Monetization, but it's not a complete guide that we wanted.
Publications can be seen here. They touch on Web Monetization, but also focus more on Open Web topics such as Localisation and Internationalisation.
To solve this, I have found a great editor who is passionate and knowledgable about creating an open and fair web, and has in interest in Web Monetization. Hopefully, she will start within this month, and we can co-produce the 'Web Monetization for Designers' guide that we wanted.
⬜️ Remove ads for web monitized visitors
We haven't been running ads on our platform during this period. However this is very easy to add now, having already experimented with the Web Monetization API. Here we display a Web Monetization counter for Coil users: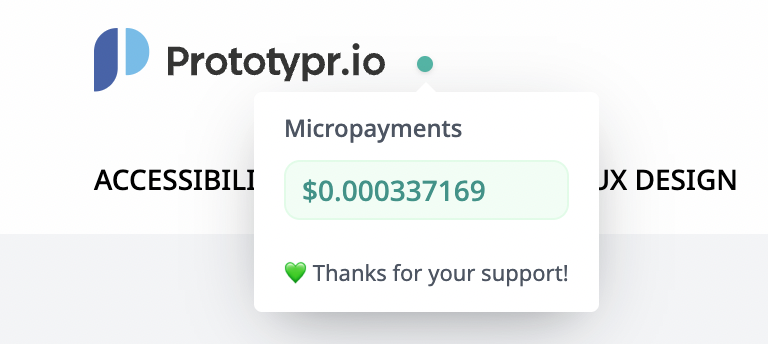 ⬜️ First writer bonus payments sent
Again, due to the state of the Publisher and User Accounts, we didn't manage to run any writer competitions that would pay bonuses. We're ready to start this in the next week!
---
Communications and marketing
Communications was part of our key activities. We've sent numerous newsletters with messaging on Web Monetization, and use Twitter as our main social channel to share the progress.
*Social Media: *
Tweets about our progress.

Prototypr 👁️✨

@prototypr

17:54 PM - 16 Mar 2022
graeme

@graeme_fulton

Playing with micropayments API on

@Prototypr

👀, it's really cool!

🟢 added a lil green dot showing a live stream of $ 👇

It's called Web Monetization, a proposed W3C standard that makes building a fair and open web (no paywalls) possible!

@Interledger @Coil @GrantForTheWeb

03:33 AM - 04 Oct 2022
graeme

@graeme_fulton

10:35 AM - 18 May 2022
graeme

@graeme_fulton

11:57 AM - 27 Sep 2022
Announcement Articles
---
What's next?
Launch the editor
Firstly, the new editor is not officially announced. You have to visit the link: https://prototypr.io/early-access to sign up. Signup is intentionally hidden a bit on an Early Access link as we are looking to invite trusted writers to try it out for the first week.
After that, we'll add a prominent button in the top right of the main nav for new users to register, along with an official announcement.
Invite more writers
We have not grown our Web Monetized user base so far, as mentioned in the first section. Therefore, that's the next primary focus. In preparation, we have been running a survey to find writers who are interested in helping. Here's a look at the results:

86% would like to contribute with writing and publishing blog posts (108 people)
75% of respondents are interested in learning more about Web Monetization
We will work through this list of respondents and help the higher quality ones (e.g. those who left an email address and have left article examples) set up a payment pointer, sharing more about the benefits doing so will provide.
Grow WM User Base
We're going to pivot our messaging to focus on Web Monetization as an enabler for alternative business models on the web, rather than something that is going to replace paywall income (at least for the short term). Setting up a pointer will be more like a membership that gives access to certain platform perks, and also let writers enter our giveaway competitions (e.g. top 3 articles get $ prize from our budget).
A guide on Web Monetization will help push this, and we'll build a campaign around it. Overall, here's a few key next goals:
Stats: Add writer stats dashboard so they can see how many views their posts have got.
Notifications: Set up email notifications to inform writers of events. E.g. 'Your post was featured in the newsletter', 'Your post has been published', 'Your post has x views'
Bonus programme: Launch Writer Bonus programme for publishing Web Monetized content
📗 Guide Create the 'Web Monetization Guide for Designers' with the help of an expert on the topic (already found her, but waiting for confirmation!)
🚀 Launch – Now the platform is ready, we can officially launch on Product Hunt, and share it far and wide.
Translate more articles too!
What community support would benefit your project?
We've realised that it will be beneficial to approach users who are crypto-friendly and already knowledgable about wallets.
Even though WM is not to be confused with Web3, Web3 designers and developers are going to be easier to onboard to Web Monetization due to their understanding of wallets.
If anyone can point us to that type of audience, it'd be a great help!