Project Description
Exquisite Garden is an interactive, Web Monetized collaborative storytelling experience. It is inspired by the parlor game Exquisite Corpse created by the surrealists over 100 years ago, and reimagined as a "digital garden" built on social linked data (Solid), in which multiple stories can branch and grow concurrently with links between each contributor's work.
Exquisite Garden invites participants to reimagine the story of the Web. What would it look like to wander through a vibrant, lush, and equitable Internet? Where would the footpath take you? What would you see and do along the way? We believe it's time for the foundations of the Web to be rebuilt, and encourage everyone to join in to share your vision for its future.
Image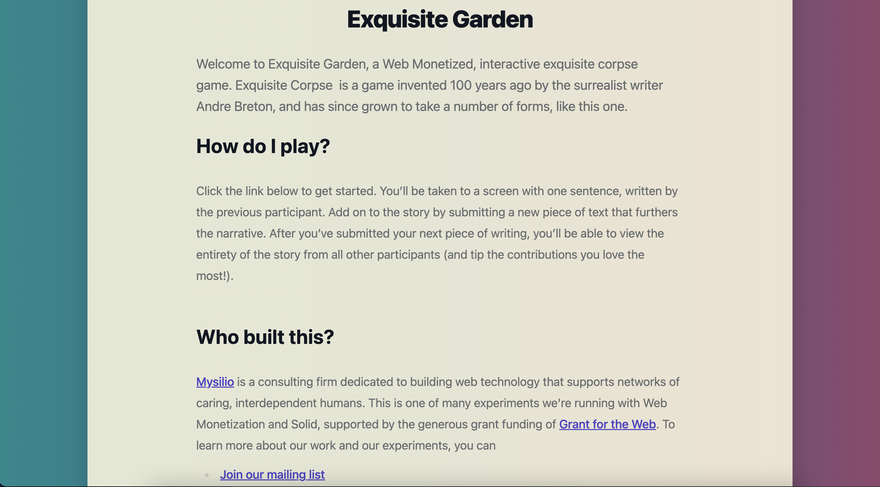 Web Monetized Resources at MozFest
Exquisite Garden: https:/exquisite-garden.mysilio.page/ (You can also check out the code we used to launch this experience here.)
Mysilio Garden: https://mysilio.garden - We invite all Mozfest participants to become early beta testers by signing up for a Mysilio Garden account and adding their payment pointer to create new notes + publish basic static sites with their writing
Ways in Which I Am Web Monetizing These Resources
All MozFest attendees who participate in the Exquisite Garden exercise have the option of adding their payment pointer to their content contribution, or choose one of the organization payment pointers being promoted by the festival. Once the final story is published at the end of MozFest, any time someone visits the page we will randomly select one of the participants' payment pointers, weighted by how much content they contributed to the overall story.
Participants can tip user submissions they find particularly valuable by selecting that line and using their Coil extension to tip. We hope this will both encourage quality content submissions and act as a de facto voting system where users can rank which ideas they find most appealing.
Participants will also be encouraged to try out Mysilio Garden, a digital gardening app where users can create interconnected notes, images, files, and bookmarks, and publish their ideas to static sites. Once a user adds a payment pointer to their garden all of their Garden pages are Web Monetized, including any published static sites.
The Mysilio team's website is also Web Monetized, and we will direct people there to learn more about the work we do and the types of products we're building. We'll post updates about our learnings on Web Monetization from the Exquisite Garden exercise in the Web Monetization community forums, and produce some blog content that is Web Monetized to help a wider audience understand what it is and how it can be used in their web development.
Images That I Would Like to Accompany My Web Monetized Resources in the MozFest Galleries
Copy for a Tweet About My Web Monetized Resources at MozFest
Feeling inspired at #mozfest? Come visit the Exquisite Garden & add your ideas! https://exquisite-garden.mysilio.page/ This collaborative writing experience invites everyone to rewrite what our digital worlds could look like. Built by the @my_silio team on @project_solid and #webmonetization
My Payment Pointer Supports this Internet Health or Social Good Initiative
The Exquisite Garden landing page and Mysilio Garden are monetized with the Mysilio payment pointer, these funds are used to help further our development of decentralized platforms built using Solid and Web Monetization.
Each participant in the Exquisite Garden experience is invited to select a payment pointer from the list of social good initiatives promoted through the Grand Monetization experiment at Mozfest, or they may add their own personal one. After submitting to the game, each person will also be able to view the entire story and vote on their favorite contributions by tipping those creators, funds will be directed to whichever payment pointer the contributor selected when adding to the Garden story.
I'd Love the Community Support with this Project By ...
Be on the lookout for our Emergent Session where we'll discuss our "Art&D" process of prototyping new products built on Web Monetization, social linked data, and the latest in decentralized tech (likely will be held sometime Thursday March 10).
We are also looking for additional alpha testers for our app, Mysilio Garden. This project is the core of what we've been working on for Grant for the Web, and we'd love to get more folks input on useful product features and feedback on how to improve the Web Monetization UX.
Let's Stay Connected :)
Follow us on Twitter and Instagram @my_silio, contribute to the project on Github, or sign up for our newsletter to stay in the loop on our product development!