Snake Nation Web Monetization & ILP enabled VNM Wallet for Creators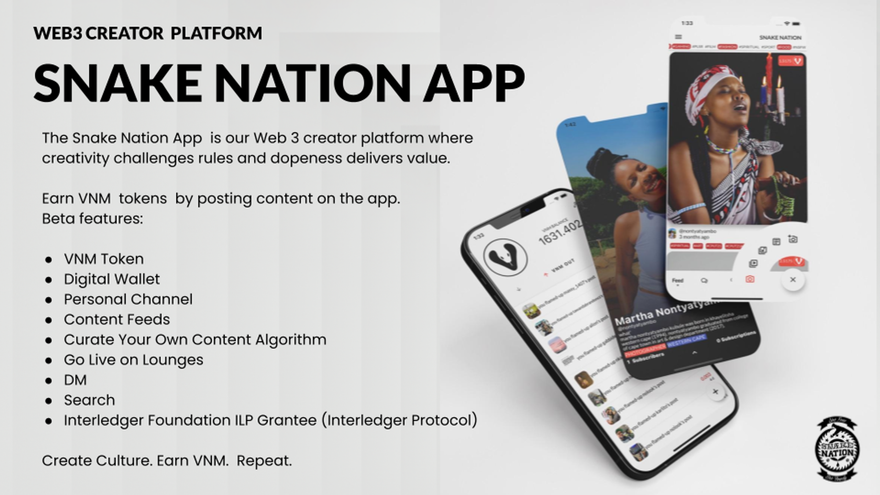 Project Update
It has been over a year since we started our project; "making our wallet ILP capable", which saw busy months with a lot of research and experimentation with tons of community engagement. Our goal is to allow creatives on the Snake Nation platform to participate in WM without needing an additional (outside of the user assigned VNM wallet) wallet to handle ILP earnings.
Brief refresher, Snake Nation is a culture, content and technology company with a mission to build a pathway to the digital creative economy for Multicultural Millennial (M2) creators as a way to reduce youth unemployment and poverty. Our creator platform allows our members to monetize their creative work and grow their audience, globally. We are focused on creating sustainable value in the creative economy, benefiting young creative rebels, emerging talent, and established professionals through the creation of an open and inclusive platform and community. The new shared creative economy will be defined by the direct connection between creators, their audience, and value driving opportunities within the Snake Nation platform.
The use of both traditional and digital platforms for the distribution of the creative content, ultimately promotes unrestricted economic growth and freedom of expression for creators. This will enable the establishment of sustainable future careers for the M2 creatives. The Snake Nation Platform is an application for content tracking, rewards, and ownership that uses blockchain technology & now Interledger protocols to transfer value. It is an extension of the existing Snake Nation community which comprises real-world places, university societies (clubs), and digital platforms helping to create an unrestricted globally inclusive creative economy.
While we have our platform available, mostly as native apps on the Playstore and AppStore, the goal for this project was to allow our members to obtain a payment pointer from their wallet. This would also be accompanied with integration instructions on their external websites, allowing them to integrate WM on their personal websites and blogs. Since their payment pointers would be connected to their Snake Nation account, their WM earnings would automatically be streamed to their VNM wallets.
Progress on objectives
Project research, consultation and fact gathering: We have moved from research and fact gathering into market testing with early versions of the Snake Nation App. Current research has been based on user feedback, conferences, and ongoing interviews with users and influencers on what features are needed.

MVP development, Cloud infrastructure & ILP connector configuration: The MVP was initially supposed to be a showcase of our ILP integration on the testnet. We managed to set up a local ILP network during our research phase, however, because the research phase took longer, with the experience we now have and support from our development partners we are going to move directly to a Mainnet integration.

BETA launch of Mobile App at CPUT University

Promotion of Web Monetization and ILP to our Student members through Hackathons and other means such as our own platform: We have executed multiple events, panels and hacks with our app and community. A hackathon in Cape Town, where we explored the future of financial technology and participants would integrate fintech into their business, with a focus on looking at ILP and WM. We also hosted a panel themed "Creative economy and web monetization" at the 2022-AIC (Africa in Color) MOCA (Movement of Creative Africa) in Rwanda, where we where joined by local & International artists, leaders from gaming companies, music and tech industry. There in Kigali we also spoke about the intersection of fintech with the digital creative economy.

We educated upwards of 1200 users on FinTech and ILP, specifically how they use their wallet to participate in WM. To date we have had 14,804 transactions utilizing the app and micropayments tied to social media activity within the platform. We have been focused on increasing the utility of the app, wallet and VNM token which also increases the adoption of the ILP payment pointers and micropayments.
| Hack & Workshop | Content Contest |
| --- | --- |
| | |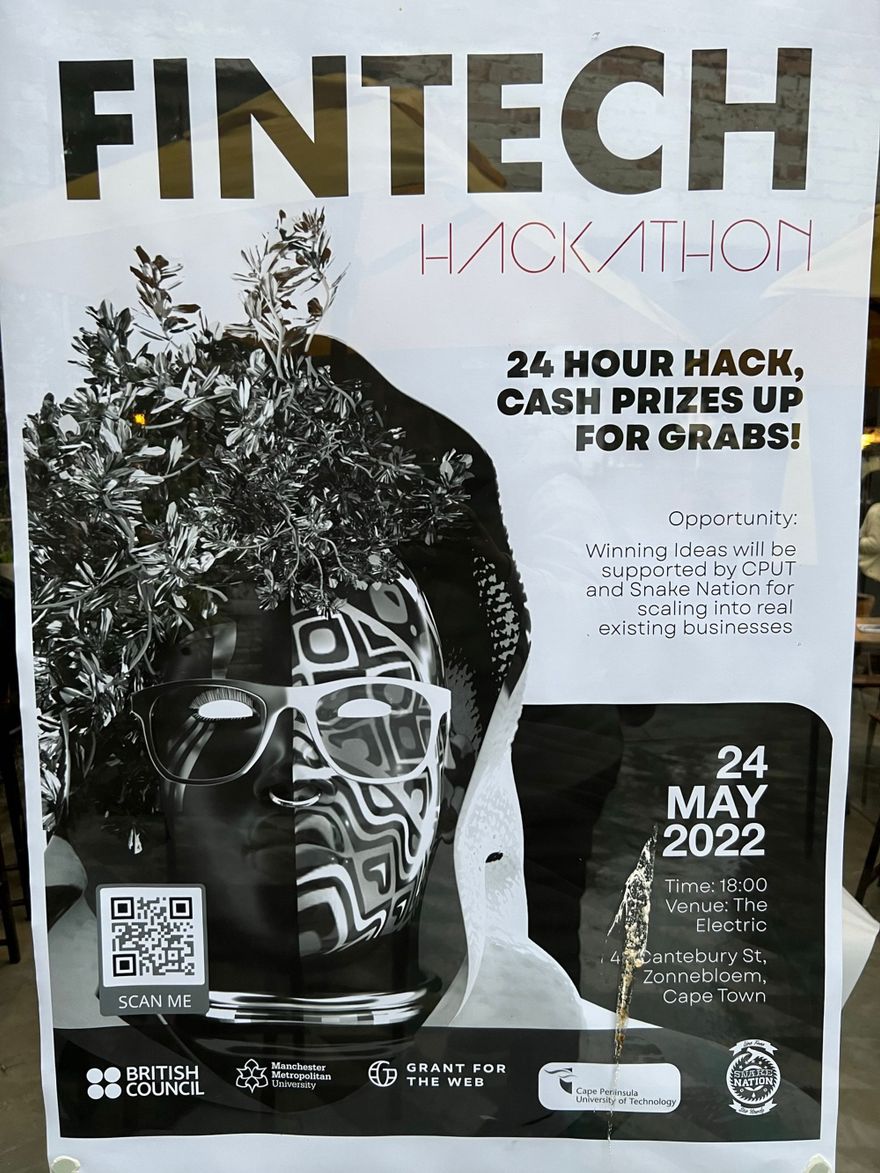 Key activities
Fintech Hackathon
Snake Nation held a 24h FinTech Hackathon where Students from Cape Peninsula University of Technology received a briefing on how and why Interledger is important to solving ledger problems in FinTech and also a talk by Cape Town municipal officer on economic development. Students grouped themselves by company where they ideated and built mockups and pitched their companies and creations. The winners were awarded R10k and opportunity to be incubated in the BIIC (Business Innovation Incubation Center).
| Pitching Session | Hacking Session |
| --- | --- |
| | |
(https://community.interledger.org/remoteimages/uploads/articles/mdvc0dvwicrhelg91poc.jpeg)
CPUT Pilot Program- Cape Town, South Africa
In Sept 2022, we executed a pilot program at CPUT which saw an increase of 750+ new wallet users during the pilot. We utilized the platform worked with students directly to create content challenges around Substance abuse. To assist the students in content creation, we created a studio on campus that accepts the VNM token from engagements to book studio time. The content creators were awarded R25,000 for the winning competition submission. Even though they accrued value via micropayments and VNM token, we had to pay them out using traditional off-ramps based upon tech readiness. In light of the timeline on Rafiki, our ILP integration was not yet complete. We have also made some headway on the user experience and front-end of the wallet living in the mobile app. Users are already able to see an ILP menu in their wallet that provides access to their payment pointer as well WM Integration Instructions.
Communications and marketing
We had a very busy years in 2021 & 2022 promoting the app "Rebel Release" to our early adopters and expanding awareness of Snake Nation. We have done multiple panels and events. Marketing was done largely peer-to-peer via our college societies at CPUT and our other campuses. We utilized word of mouth (the hardest to get and most important impression) and social media. PR was a big driver for us as well. We were featured on TV, Radio, Print and digital platforms with total reach over 1.7m households in South Africa. We have attached the final report for PR.
|

:-------------------------:|:-------------------------: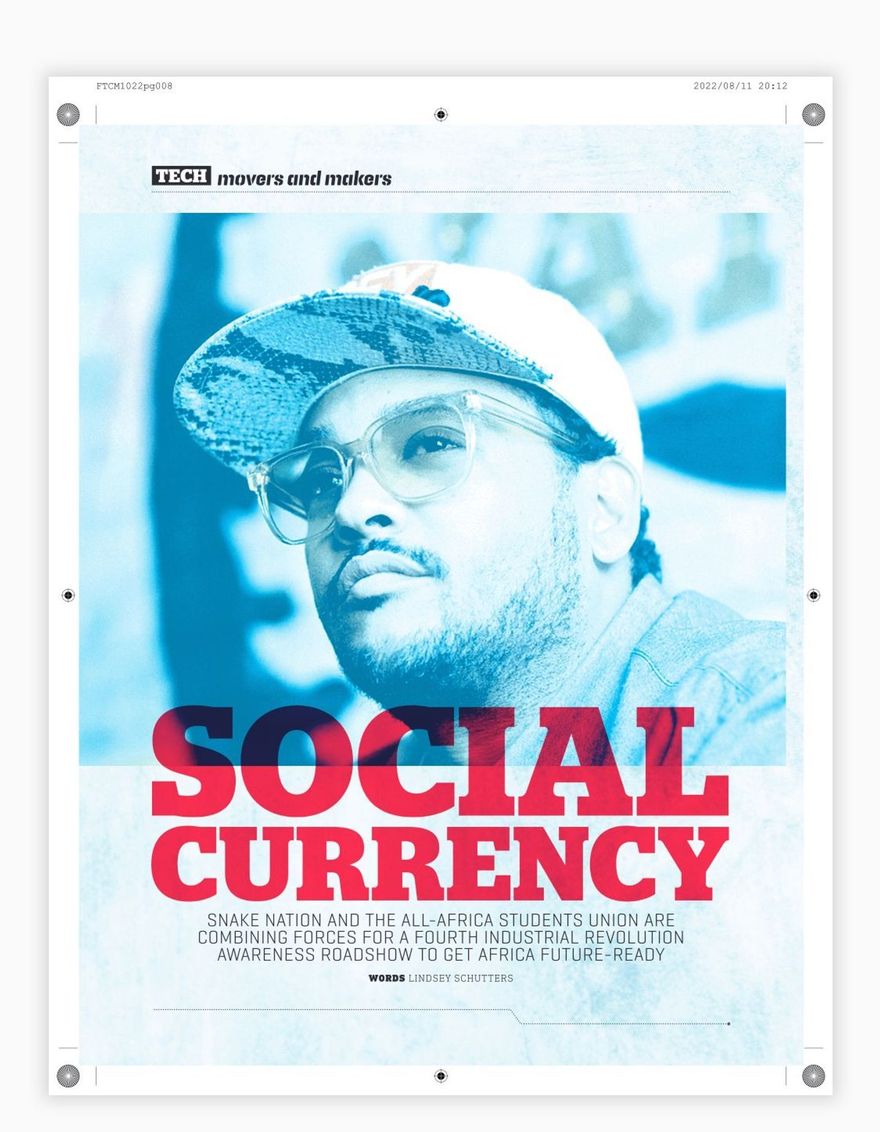 |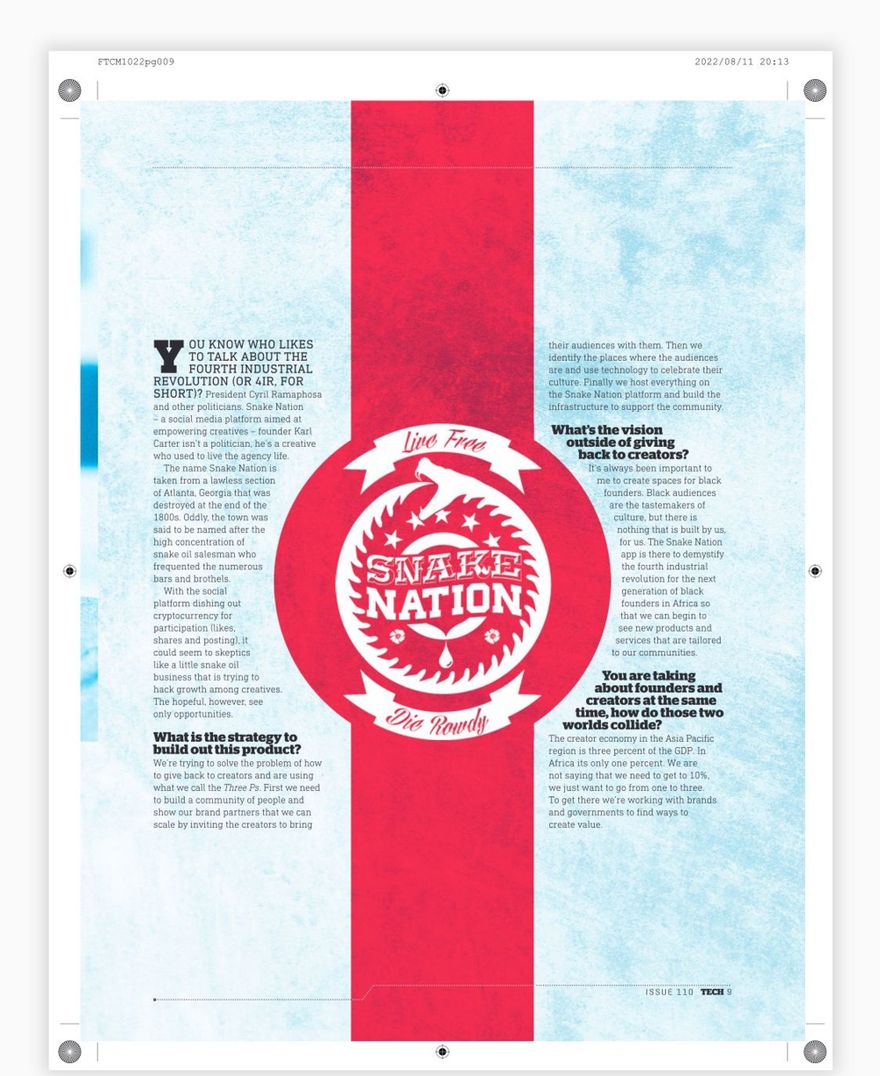 (https://community.interledger.org/remoteimages/uploads/articles/8tcnxzm588stnukn2tib.jpeg)
Partnerships
AIC MOCA , Kigali Rwanda
In June 2022, we partnered with the organizers of the 2022-AIC (Africa in Color) MOCA (Movement of Creative Africa) in Rwanda, to help bring awareness on our collective mission to create positive change and economic opportunity in the lives of young creators. We did interviews across TV, Radio and internet. Snake Nation participated in press conferences, hosted a panel themed "Creative economy and web monetization" at the where we where joined by local & International artists, leaders from gaming companies, music and tech industry. There in Kigali we also spoke about the intersection of Fintech with the digital creative economy. Interledger Foundation supported the event by bringing ILF Ambassador Lawil Karama from Amsterdam to attend.
(https://community.interledger.org/remoteimages/uploads/articles/xin631c0s291r2dfy0s1.jpeg)
Snake Nation Content Creator Program
In June and July 2022, we partnered with Mzi Xander a Snake Nation member and award winning music video director to create compelling content in Fashion, tech and music in partnership with local artists, producers and fashion designers. We utilized our creator hub Black Unicorns as the base of operations for the production and also in the content. Content created for the SN App channel. We see these content programs as key to the adoption of the Snake Nation app and ILP enabled wallet. Creating as much utility for all of our community is the goal.
What's next?
Our project heavily depended on Rafiki to provide access into ILP. This was the major reason we had to apply for a no-cost extension. After being accepted for the Financial Services Cohort last year, we are continuing our work in the new project where we are utilizing our community to run and maintain an ILP node network that could be utilized to deliver micropayments between users on the Snake Nation ecosystem. This includes users on the platform, our partners and service providers as well as ongoing conversations with interested banks.
During this grant period, we managed to do all of the work required to allow an ILP integration (Rafiki in this case) into our platform. At this stage, we are allowing users to view their payment pointer as an additional wallet address (payment method) as well as integration instructions on how to add this to their website. This is accessible inside every user's assigned digital wallet. In our workshops, panels and hackathons we educated our community on what this additional functionality was all about. Our conversations would be on the future of payments, monetizing creative content on the web and the role that technology such as ILP will play in that future.
Going forward, we are diving deeper into ILP as a technology, by working with our community to build a 'plug and play' mono-repo for joining our ILP network for our community members. The goal is to become a Tier 1 Interleger Services Provider for Africa, allowing us to provide routing services for nodes on our network into the broader ILP ecosystem ("the main net"). Currently, our work has been mostly in understanding the regulatory space, and experimenting in sandboxes access with larger financial institutions and partner universities. We are still keeping close tabs to Raifiki, as this would simplify this integration, but we are also exploring in parallel how to natively and sustainably get the same functionality we need from a bare-bones ILP Connector minimally building on top any missing capabilities. We are also quite excited about Dasie and are keeping close tabs as well, specifically around getting our community involved in the ILP network we're building. We'll be posting our progress on the Financial Services Grant next week so you can read more then!
What community support would benefit your project?
Most of our hurdles have been around regulation and policy, in the different jurisdictions we're trying to penetrate. Any contacts, information etc around how other grantees are dealing with this would be helpful! We're happy to share our findings and our coming report will highlight that.
Finding other grantees willing to participate in a 'test net' so to speak, where we'd all peer our projects together using ILP so we can test and play around with small amounts of real world value. This would allow us to test what we're working on in real-life, in a safe and protected environment for participants.
Additional links
FinTech Hackathon video: https://www.notion.so/Web-Monetization-Final-Grant-Report-19393edf76e64a1588c3c1029a540636#0efbeee8ddc549c3a4ed851f893d5975
Contest Contest Video: https://www.notion.so/Web-Monetization-Final-Grant-Report-19393edf76e64a1588c3c1029a540636#c33161ce663145e3996c900f018ac81f
CPUT x Snake Nation Competiton Awards Ceremony: https://www.notion.so/Web-Monetization-Final-Grant-Report-19393edf76e64a1588c3c1029a540636#471ef079fa624dc9a8db9da2e3bbeabb
Full Article: https://breezy-girdle-201.notion.site/Web-Monetization-Final-Grant-Report-19393edf76e64a1588c3c1029a540636