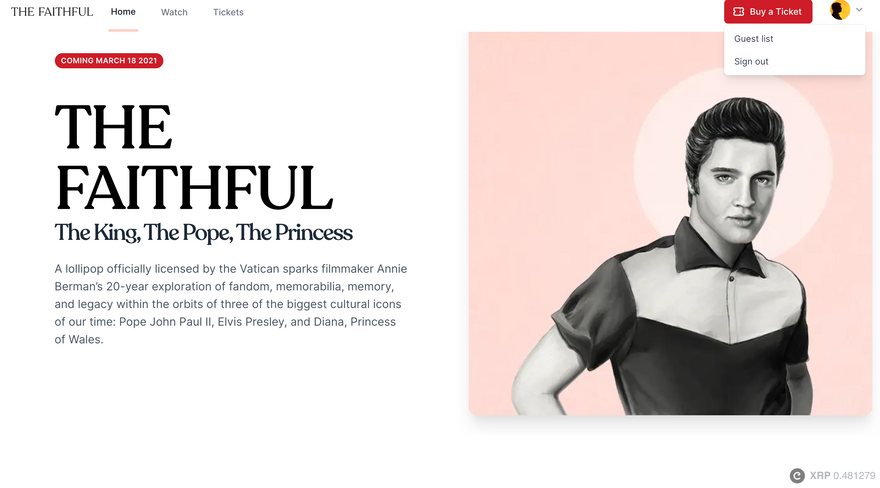 Project Update
Releasing a film in the time of Covid-19 was challenging, but we did it with the community's help, introducing new audiences to Web Monetization on both our own site's "virtual cinema" as well as the Cinnamon.video platform.
The premiere of our documentary, The Faithful, launched in a series of live events in March of 2021. Viewers had the option to watch free with a Coil subscription or purchase a single-visit ticket via a "traditional shopping cart" on the movie's website.
The Web Monetization community was given a special sneak preview on March 19th that was promoted on Coil.com. Over the course of two weekends we hosted eight live showtimes, each followed by a question and answer session with the production team and cast members. The premiere was co-hosted by UnionDocs' (a center for nonfiction in Brooklyn) founder and artistic director Christopher Allen.
In between the live screening events, the movie was available to stream for Web Monetization users on the Cinnamon.video platform.
Progress on objectives
While we've shown that it's technically possible to use Web Monetization as a mechanism to enable access to movie content, we haven't been able to have the scale of audience to prove that the revenue per stream is enough to compete against direct ticket sales. With profit of direct sold tickets above $7.50 and Web Monetization revenue below 50¢ / stream early indications point to needing more revenue per viewer in order to be able to support ventures with high production costs like documentary films. Compounding this is the fact that live events are logistically challenging which further underscores the need for a high revenue per viewer.
At the project's start we believed that the trade-off between less revenue per stream and more users would make the competition between direct ticket sales and indirect access via a Coil subscription more even. However, with the size of the current Coil subscriber base this wasn't realized. Despite a front-page marketing effort we found that the vast majority of our views happened on our own website (where we could control the marketing and conversion funnels) rather than via Cinnamon (where we didn't have as much of an impact on marketing). We would expect that as the Coil subscriber base grows this becomes more even, however as it stands, it's not currently a viable single-source of revenue.
In the production of The Faithful we've been able to talk with many other filmmakers who confirm that they'd like an open alternative to the distribution platforms that exist today. These conversations made it clear that there was no obvious "best practice" for distributing a film online. Filmmakers want to minimize "fuss" and maximize "revenue", and as such we believe that if a system can be created that brings theatre-equivalent revenue per user, and is easy to operate in a live-event setting. There is demand for it.
While largely created for these one-off events, the source code is available with an open license on GitHub. As part of this project an npm library was created as well, licensed via the MIT license.
Communications and marketing
We were able to garner press both for both the "tech story" and for the film itself. "Ruminative, haunting, and strange," raved Peter Keough in The Boston Globe in a Doc Talk review announcing The Faithful's Premiere. And, Brian Newman ran this story "The Unbearable Slowness of Technology" in his Newsletter Sub-genre, a forward looking critique of the film and media industry where he introduces many of his readers to the concept of micro-payments and throws his support behind our efforts to help advance this "possible future."
We participated in Coil's Sundance webinar on web monetization with Stefan Thomas sharing The Faithful's launch story.
We also began sharing the film and the story of its release with universities and art institutions including The University of Southern California's School of Cinematic Arts Program. 100 tuned in live, and the moderator and associate programmer declared the film "my favorite film I've screened in my past five years as associate programmer."
Matt Mankins, Producer and architect of our virtual cinema wrote this Medium post about his vision and its implementation.
Additionally, we continued to grow our community by posting original daily behind-the-scenes photos on Instagram and Facebook.
Additional Press
Radio interview Poppy & Leigh for Breakfast - Triple M Riverina in Australia on 4/5
Isaac Hu's Blog post "A Tale of Two Films: A New Dawn for Movie Streaming
Reddit AMA 3/17 with cast and crew
Neal Ungerleider's Context Collapse Newsletter
The Center for Independent Documentary Newsletter
The Flaherty Newsletter
The Hunter Integrated Media Arts Listserve
Robert Steiner live tweeted the premiere's Q&A
Review from curator Judith Tolnick Champa
Cinnamon.Video dedicated email blast and promoted exclusive banner
Additional Screenings
The Museum of Wild and Newfangled Art Biennial - opening night screening 5/1
PAUS.tv presented a screening and Q&A 5/2
Providence Art Club public screening and Q&A 5/6 - their inaugural film screening
The Maysles Theater, NYC, booked for the week of August 13th, 2021
University Film & Video Association (UFVA) Conference Workshop, July 27, 2021
Talks
Sundance Collab Webinar The Basics of Web Monetization presented by Coil, The Faithful participated as a case study, June 10, 2021
University Film & Video Association (UFVA) Conference Workshop, New Distribution Strategies using Web Monetization, The Faithful case study, July 27, 2021
What's next?
The Faithful opens in theaters across the US on Friday, August 13th including The Maysles Cinema in NYC. Screenings (virtual and physical) will correspond with the death anniversaries of Elvis Presley and Princess Diana (August 16th and 31st, respectively). The film's educational release begins this fall. In guest speaking engagements, the team will continue to speak about our non-traditional release and the potential we see in web monetization.
What community support would benefit your project?
Join the conversation on social media (links below).
Educators, recommend the film to your institution's library, book a screening - I'm happy to come speak to students about the filmmaking process and how we utilized web monetization for our premiere. Request the film through Kanopy
Recommend the film to your local art house cinema.
Relevant links/resources
The Faithful
The Faithful - Tickets
The Faithful - Instagram
The Faithful - Facebook
The Faithful - Twitter
The Faithful - Medium
The Faithful - Cinnamon
The Faithful - Press Kit