The Metagovernance Project — Grant Report #1
Hi GFTW community! I'm Josh, one of the founders of the Metagovernance Project. We're building a software toolkit, Metagov, that helps online communities build their own digital governance systems. Using Metagov, communities can spin up democracies, governance boards, reputation systems, juries, and even full-fledged economies (featuring Web Monetization!) with the click of a few buttons.
To clarify: Metagov itself is a "governance layer" for connecting, interoperating, and orchestrating a whole bunch of other governance apps and services. It doesn't work without those apps. That's why we're starting by integrating projects like Loomio, SourceCred, Open Collective, and the Stanford Participatory Budgeting Platform as Metagov modules alongside in-house modules like PolicyKit, CommunityRule, and Govbase, in order to pilot this experiment.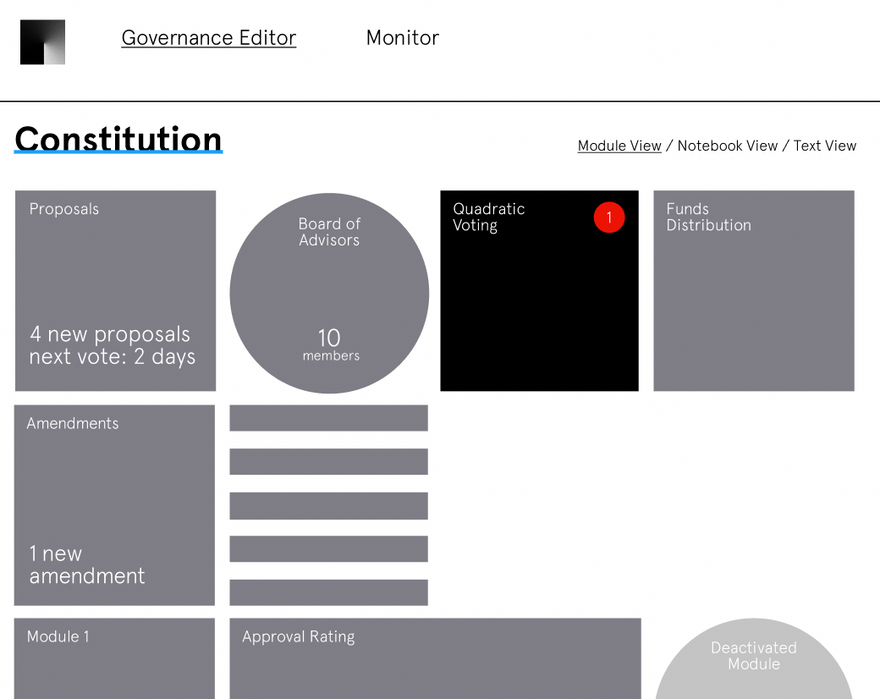 Project Update
In January, we brought on board Miriam Ashton as our lead research engineer. Miriam has a background in standards-based development at Spotify and Commure (e.g. working with healthcare standards like FHIR) and she's been instrumental in helping us develop the Metagov standard for online governance. She hit the ground running and helped us commit to a bunch of initial architecture decisions around the relationship between the Metagov Core (an API service) and the Metagov Driver—currently Amy Zhang's PolicyKit, but possibly folding in other drivers such as Shauna Gordon-McKeon's Concord—which directly enforces governance actions on a social platform. Now we're in the middle of the first phase of prototyping: we've hooked up governance apps like Loomio, SoureCred, and Web Monetization, developed a Discourse integrator for our driver, built a stable of use-cases, launched a reference implementation of Metagov on Discourse, and are testing a bunch of governance policies involving the external libraries we've integrated. In other news, we also just got a fresh infusion of funds from Stanford's Digital Civil Society Lab!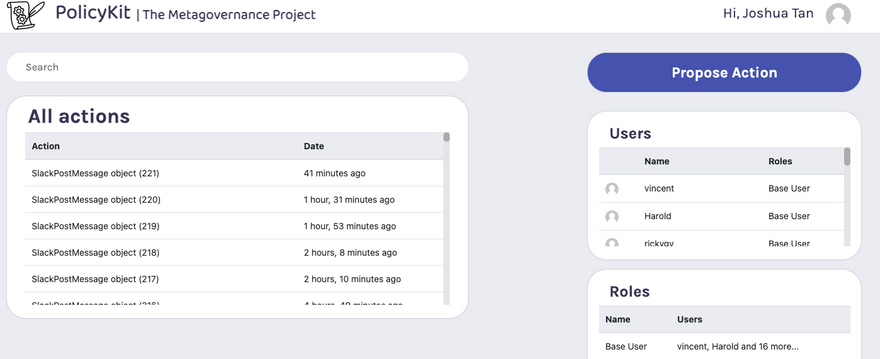 image - current policykit.metagov.org screenshot
Web Monetization Support
The prototype will include a module for implementing probabilistic revenue sharing, with weights based on an external reputation system such as SourceCred. Discourse will fetch this rev share so that the Discourse instance is monetized according to the external configuration, and changes to that configuration can be governed. We have spec'd out this module and will build it in March.
Progress on objectives
There were three mains goals outlined in the initial proposal:
To build a prototype that suits the needs of at least two of our diverse platform partners, creating the groundwork for what we hope will become a universal governance standard.
To experiment with users in the wild and better understand how to further hone the core logic of modular governance systems.
To better understand the monetization opportunities for the Metagovernance Project itself.
We've made good progress on the first goal, and are in the middle of implementing the prototype. But there's a lot more to do before we can deploy Metagov with live users on our "launch partner", DADA.art. In the meantime, we've built a series of architecture diagrams with DADA that explore the different kinds of institutional structures and governance systems that we might implement using Metagov and its associated tools.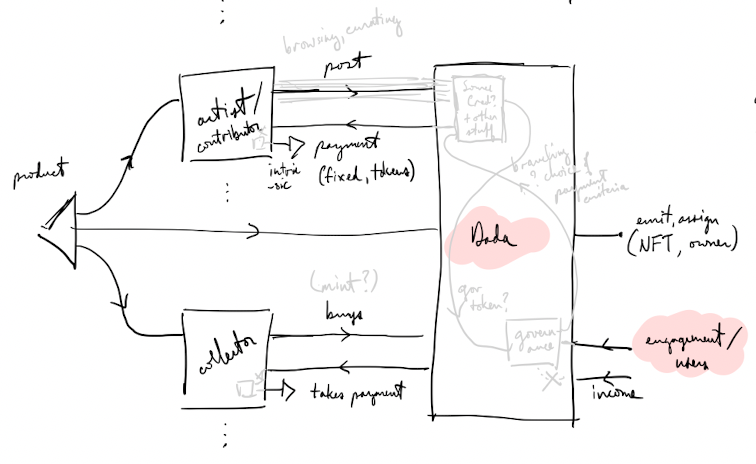 Key activities
In the proposal, we identified three key deliverables:
An open standard that allows platforms using Metagov to be interoperable and to share common governance modules
A software framework with which platform developers can easily implement a Metagov instance for their users
Test deployments with existing blockchain communities, Discord, and MMOs
Each of these deliverables are really just different ways of describing the core deliverable / objective: a prototype of a software framework. As mentioned above, for now we're focusing on the test deployments of the software framework. That doesn't mean we've lost sight of the two important requirements referenced in the first and second deliverables: cross-platform interoperability and ease-of-use. We're actually just this week building our first "cross-platform" policies, namely governance policies that take data and emit actions across multiple social platforms (in this case, forum posts in Loomio and forum posts in Discourse).
Communications and marketing
We recently hosted an AMA with Jazear Brooks of Sifchain, one of our platform partners. And look for an upcoming governance hackathon in late April that we are organizing with another one of our platform partners (announcement to go out soon!). The Metagov Slack community also continues to grow organically through our weekly seminars. Otherwise, we haven't spent much time on marketing in the first half of the project.
What's next?
There's a lot still to do! In March, we'll be building a Coil wallet integrator so that different Metagov modules can govern wallet interactions. Our partner integrations are slated for May; in April, we plan on introducing the prototype to Metagov's own community of platform operators and governance researchers.
What community support would benefit your project?
Stay in touch through our email list (just send a message to hello@metagov.org) and let us know if you know of a community or a platform that is thinking about governance. We're always looking for beta testers!