Image (optional)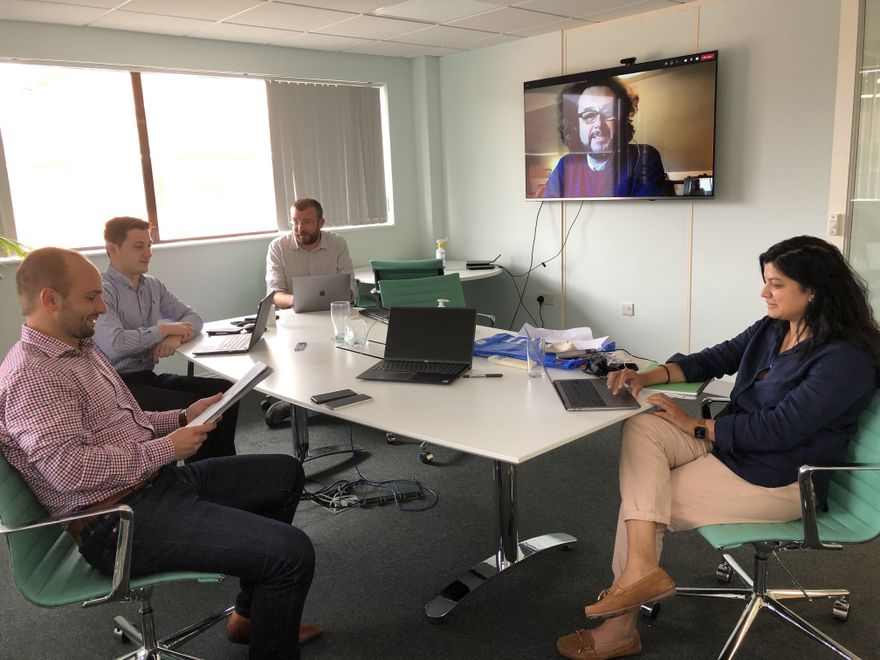 Project Update
We have made good progress on drafting the core suite of legal documents, having completed working versions of the website terms of use, consumer terms, record of data processing and privacy notice, together with text for the associated website and contract selection tooling.
Creating the documents was an unusual but interesting project for the team, which challenged some of our normal expectations about how we work as lawyers. We looked to free draft documents in an iterative and collaborative manner, without the usual focus on a particular party's interest, but rather how best to draw a fair legal balance.
A particular challenge is "free drafting". It's no secret that lawyers use pre-existing templates (precedents) as a starting point for many of the documents we create. This poses a problem: the template documents are usually subject to copyright, which means that our use of them is restricted by licence. That licence allows us to use them for client transactions, but usually prohibits us from making any documents based on the templates freely available. To avoid this, we've started with a blank piece of paper. In many ways, we feel this leads to a better-structured and easier-to-understand document, but the trade off is that it takes much, much longer to do.
Part of our plan was always to ensure that the documents were structured in a way which would enable them to be machine readable, with the various elements tagged so that they could be understood be various types of software. We adopted a form of schema which our sister company ContrAI Limited has developed. However, during the course of the drafting process, the UK government launched a UK Legal Schema, which is based on the Linux Foundation's Accord project https://accordproject.org (as is the schema we are using here). You can find out more about the Legal Schema here: https://legalschema.org. There are many similarities between the original schema we planned to use and the UK Legal Schema, but given the reach that the UK Legal Schema has achieved in a short period, and the fact that it seems to be the most mature project available anywhere in the world right now, we decided to pivot and adopt this schema instead.
So, in summary, we're about 90% there with the drafting now, and we are currently working on the final text and formatting of the documents, for compliance with the new UK Legal Schema.
Turning to our international collaboration with other lawyers, we have confirmed the role and involvement of lawyers in the following jurisdictions
• United States
• Spain
• Italy
We'll be announcing details shortly. We are also speaking with a number of other firms in the US, Finland, France and Germany potential collaboration, but aren't quite yet ready to announce.
Finally, on the technical side, we have registered domains for frosdot.com, .org, .co.uk and .eu. The domain is based on the name "Free Open Source Document Templates" and our developer is working on implementing the contract selection tool, which will link through to git.law for the actual documents. Git.law is already up and running: see https://git.law
Progress on objectives
We have made good progress to our objective of producing a suite of a key legal documents capable of use in multiple jurisdictions throughout the world and making these freely and easily accessible.
Key activities
We are generally on track and in line with our projected milestones.
The main evolution has been perhaps a greater focus on readying the complete core suite, with additional work on presentation in accordance with the legal schema and tagging. We had intended to commence US localisation of a single document, the website terms of use, at a slightly earlier stage, but preferred to create the combined suite in a common format, such that the US localised website terms of use would not need to be revisited to account for the schema work. We hope this will present our collaborators with a consistent set of documents, together with an explanation of the schema and tagging approaches, which are not currently widely adopted.
For those of you familiar with the Creative Commons suite of licences, we have learned lessons from them. The first iterations of the CC licences had different versions for each jurisdiction. They were cumbersome and difficult to use, with inconsistencies between jurisdictions. The later versions, and in particular version 4, are based on a single "international" licence which is designed to work across as many jurisdictions as possible. Our approach follows this, which is why we are working with lawyers across jurisdictions to come up with a core set of documentation which is universally applicable. Our foreign partners have also agreed to provide translations in (so far) Spanish, Italian, Catalan and (we are confident), German and French. Swedish and Dutch are also on the roadmap.
We've also been working on the decision tree to help select appropriate contracts. Our developer, CP1, has suggested that we may also be provide more ambitious functionality than originally envisaged, by leveraging some of the work they have done on other projects. This will include a simple contract assembly tool, and possible a contract editing environment. Although significantly beyond the scope of our original grant award, we feel we may be able to make significant progress on this within our existing budget. Watch this space!
Communications and marketing
We have had productive engagements with the legal firms in all jurisdictions listed above. We are nearly ready to launch the documents for public consultation, which will be accompanied by further marketing activity. We're launching them on Git.Law, and we are preparing materials to support the launch through social media and blog posts.
We have also engaged directly with other grantees, including Audiotarky and MOVA. They are both projects with some great ideas about monetising content (audio and video respectively), and we're planning to work collaboratively with them to make sure that our documentation works in the real world, and, in the case of MOVA, to integrate their excellent RSML (Revenue Sharing Markup Language) into our schema.
We're always happy to collaborate with others, and once we launch the initial set of documents and other information on git.law, we'll be reaching out to the whole community.
What's next?
The next steps are to continue our collaboration with our international partners and make the documents available for consultation in line with the project milestones.
In parallel with that, we are continuing to collaborate with Audiotarky and MOVA, and to develop the functionality on the git.law and frosdot.com websites.
What community support would benefit your project?
We would always welcome any input from the community, even if it is just for a quick chat or to discuss each other's projects. In particular, if you have any particular challenges with the legal documentation you need to launch your projects, please let us know and we will see whether they can be addressed in some way in our document suite.
Additional comments
We are making excellent progress with the core drafting and are learning the remarkable value of collaboration and cross-fertilisation across projects, both inside and outside Grant for the Web. We're very keen to continue this, and are looking forward to developing a vibrant community of users and developers.
Relevant links/resources (optional)
https://git.law
https://contrai.io
https://audiotarky.com
https://accordproject.org
https://legalschema.org
https://github.com/openvideotech/rsl