Project Update
Hi everyone! We're from COMPOST magazine. We're wrapping up our Grant for the Web grant in the creative catalyst track.
Short for the "commons post," COMPOST is a magazine that publishes creative works reflecting on the web as a digital commons. It's an intimate publication that covers stories about people building the web as shared resources. Our grant enabled us to launch and publish two issues of the magazine. Issue 01, Fertile Grounds, came out in March. And Issue 02, Inoculate, came out a couple weeks ago, in September. Both issues have Web Monetization integrated (check out our Web Monetization mushroom on the top right of the magazine)!
COMPOST Issue One cover, Fertile Grounds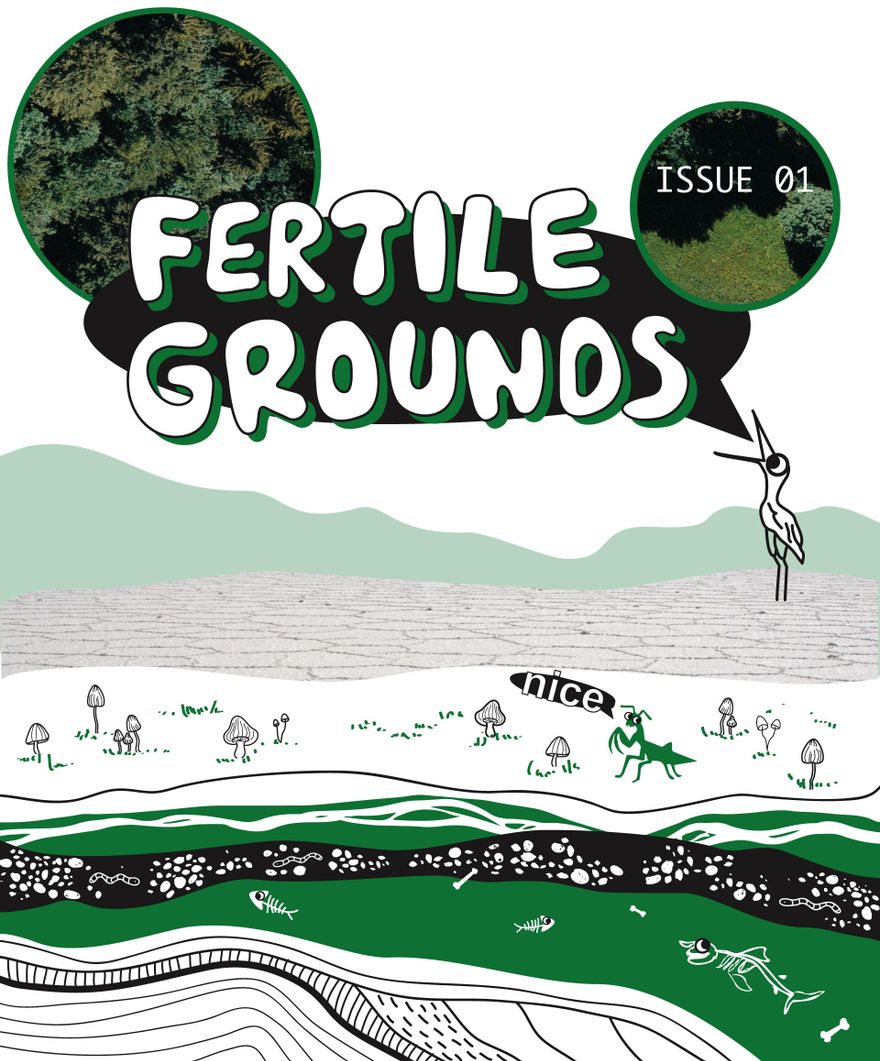 COMPOST Issue Two cover, Inoculate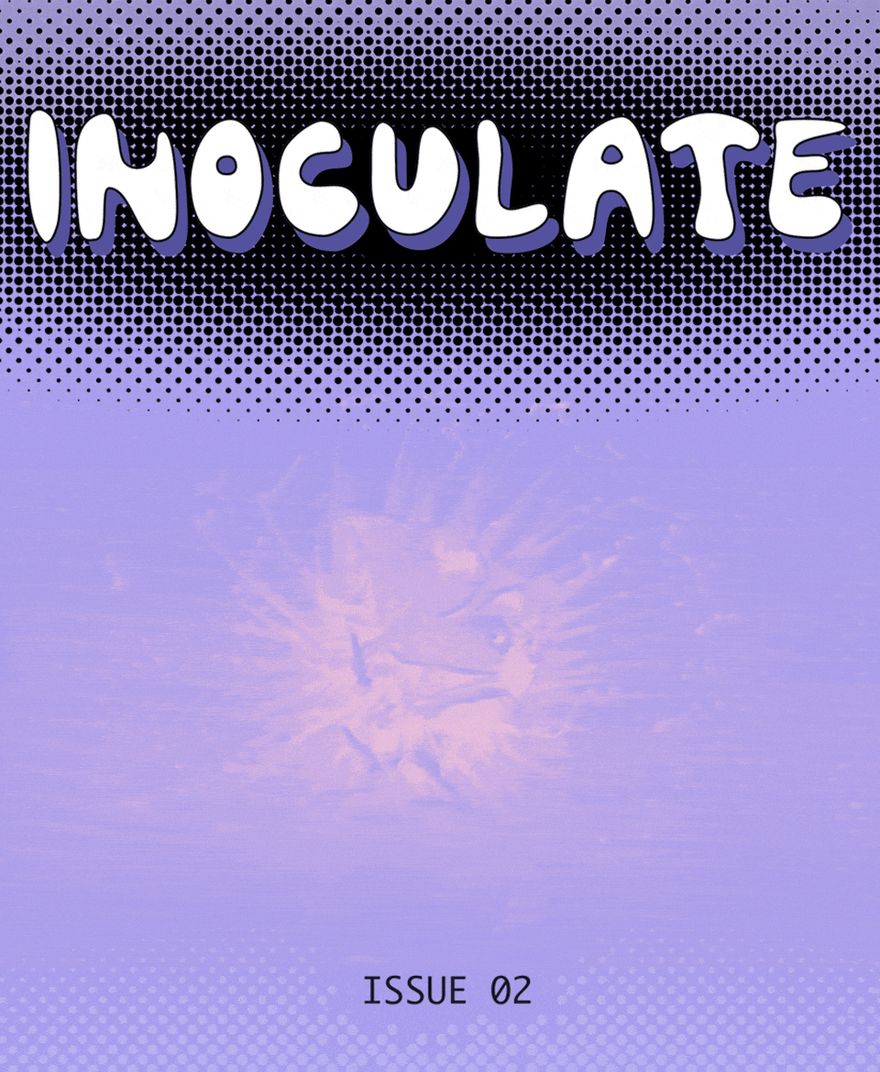 Overall, we feel very happy with our progress during the funded period. Our two issues have been well received and we have started to a build an engaged community around our project. Aside from a delayed timeline, we feel we have largely achieved our objectives and learned a lot through the process.
From the very beginning, we wanted to take an approach where we weren't just writing about the digital commons, but actively participating in commoning, practicing sharing our resources. We wanted to publish our tools and processes so that others could use and build upon them.
This approach has worked well. Through our sister project, Distributed Press -- which we have started to build using our GFTW funds -- we have created an open source tool to publish content to the Web as well as Decentralized Web protocols, which allow content to be stored and shared in a distributed manner. On the magazine side, working closely with contributors, we've been developing processes for collaborative editing, writing, promotion, and monetization. Sharing our tools and processes have helped us cultivate a small but growing community of like-minded writers, editors, technologists, and activists. We believe that this community can help us grow a patchwork of publishing projects -- magazines, tools, services -- that support each other in building the web we want to see.
COMPOST is a fruiting body of people who come from intersecting networks, and our deepest hope is that the ideas contained here scatter like spores in the wind.

- Issue 01 Foreword
Unsurprisingly, working remote through a pandemic has been challenging. The team and contributors all surfaced issues with burn out, particularly with video-conferencing.
Even still, working closely with contributors has been a highlight of our experience. We treat each issue as a lab, where we, the organizers and contributors of the magazine, experiment with ways of working together -- doing peer reviews, sharing readings, playing games, and collectively interviewing inspiring individuals. It has helped create a tight feedback loop between the development of our organization, our technology, and the real needs of creators. We think it's been fun for our contributors too. What can otherwise be an isolating creative experience, is now a collective process where peers share and learn alongside each other.
As many other grantees have reported, we were unable to generate any significant revenue through Web Monetization. We think it'll take a few issues until we're sustainably financed by our community and settle into a business model that works for us. Until then, we're excited to continue building on the foundations laid during this grant period. We couldn't be more grateful for the opportunity that was given to us by Grant for the Web.
Progress on objectives
Looking at our original objectives, we have largely achieved what we set out to do:
1 - Two web monetized issues published to the Web and DWeb
We integrated Web Monetization into two issues of COMPOST and distributed them via WWW and DWeb protocols, including IPFS and DAT/Hypercore, and validated the end-to-end monetization process from collecting payments from readers to distributing revenue among contributors. You can check out our web monetization mushroom on the top right corner both the issues, which animates when payments are streamed!
We developed and released open source software and associated documentation, which when deployed, enables authors and artists to publish and monetize their work through the WWW and a selection of DWeb protocols. You can check out the Distributed Press API for documentation!
This is a list of projects published using Distributed Press.
staging.compost.digital: Example website for Distributed Press
one.compost.digital: Website of COMPOST magazine Issue 01
two.compost.digital: Website of COMPOST magazine Issue 02
hypha.coop: Website of Hypha Worker Co-operative
sutty.ml: Experimental website mirror of Sutty
Issue 02 published via IPFS as viewed on the Agregore browser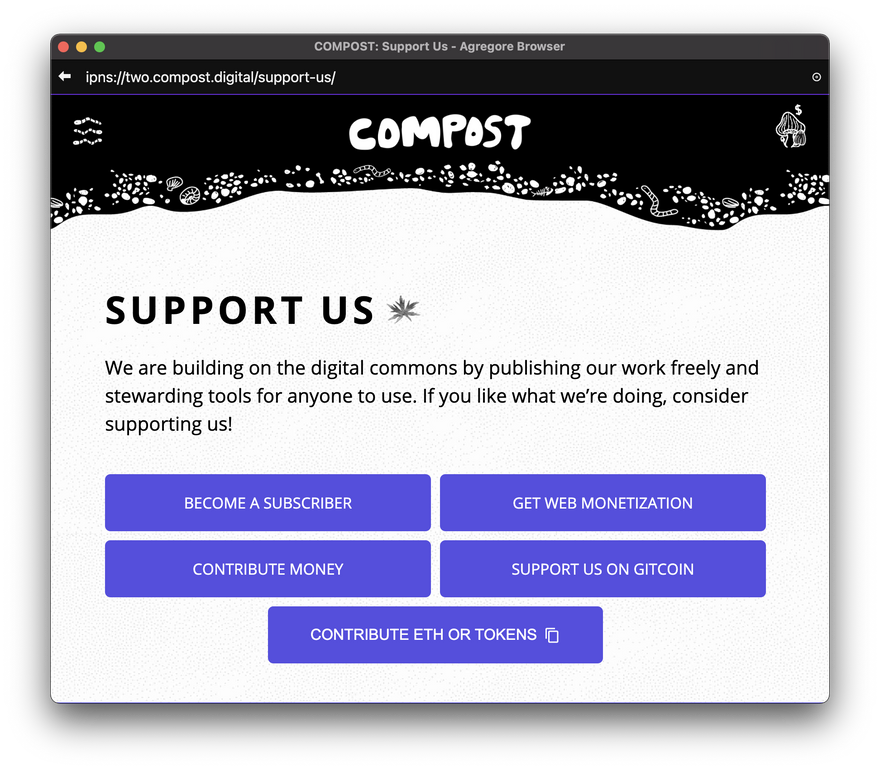 2 - Working towards an equitable publishing model
An important objective for us was to compensate the labor of all contributors equitably. We tried to compensate our contributors fairly while setting a flat rate for the organizing team. We used Open Collective to pay out contributors and keep the finances of our project more transparent. We will continue to see how and where we can make our processes more equitable for creators.
3 - Building a strong community
We are starting to build a supportive community of readers. We've been receiving positive, constructive feedback from readers through Twitter and Mastodon. We have started to grow a monthly paid readership through our Open Collective subscriptions
We've fostered a small community of editors, authors, and artists who are interested in developing our project further. We've started to apply to new rounds of funding with our growing team. We've received attention from our allies, press and media outlets, especially those focused on technology, the solidarity economy, and platform co-operativism.
4 - Experimentation with premium experiences
One planned objective we were unable to complete was using Web Monetization to unlock premium experiences into the website. While we stream payments for users who have a Web Monetization provider (e.g., Coil) enabled, we haven't created specific experiences that are gated by Web Monetization. We found that even by our second issue, we did not have a large enough audience with Web Monetization enabled to warrant specialized experiences.
Similarly on the creator side, we feel that reducing the burden on creators in the KYC processing and set up for an ILP-enabled wallet (e.g., through Uphold) would improve accessibility in the ecosystem. It would allow more experimentation with direct revenue disbursement schemes to individual creators who contributed to our magazine.
Key activities
COMPOST magazine community and editorial
As planned, most of our effort went into developing our magazine concept and working with two cohorts of contributors to publish two issues of our magazine.
Here's a picture from our Issue Two release party 🎉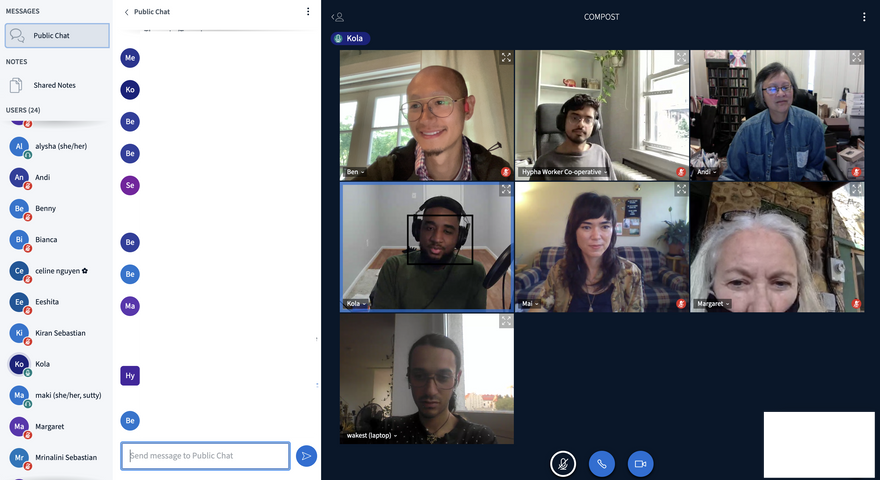 Technical development distributed.press API
We developed a publishing tool to:
host the project website on WWW and seed it to DWeb networks (i.e. Hypercore, IPFS)
serve the Distributed Press API on WWW and seed GET responses to the DWeb networks
experiment with Web Monetization on DWeb protocols, using Brave (with its IPFS + Web Mon extensions)
This tool also has a monetization endpoint, allowing us to display the magazine's revenues that are pooled to an Open Collective account. To check that out, visit our support us page for our Digital Bake Sale. This bake sale is a way for us to monetize our magazine according to goals that have been collectively set by the contributors of the magazine.
Aside from the API, we also developed an engaging front-end for our magazine with templates that are adaptable for future issues.
Project management and operations
Since our project had two distinct sides -- editorial and technical development -- the role of project management was to ensure that workstreams were synchronized.
We documented our editorial and organizational processes for COMPOST and Distributed Press in this Github wiki.
Communications and marketing
Surrounding the release of the two magazine issues, we gave talks about COMPOST and Distributed Press at several virtual events, including at MozFest, MozFest Community Fridays, and the Decentralized Web Meetups. We held two virtual parties following the release of both issues. One of our co-founders, Mai Ishikawa Sutton, was featured in LOGIC Magazine where they spoke extensively about COMPOST and Distributed Press.
At the beginning of this grant period, we did not have any following on any social media platforms. Due to our engagement, over the past eight months we have gained 1,020 Twitter followers, over 250 followers on Mastodon, over 115 followers on Instagram, over 50 followers on Are.na, and 24 backers on Open Collective.
Lastly, we have designed and produced physical stickers with the COMPOST logo and the kaoani aniGIFs produced by our Issue 01 visual contributor, Angelica Blevins.
What's next?
Since we have completed the objectives we outlined for this grant, we'd like to build on the success we have achieved over the past nine months to release more issues of COMPOST. We believe COMPOST can be a powerful means to strengthen the community of creators, developers, and designers who are imagining new ways to share labor and ownership over digital infrastructure.
We would also like to build Distributed Press into a reliable open source product that allows magazines like COMPOST, as well as other digital publishing projects, to easily publish to the DWeb. We believe access to audience and direct monetization are crucial to content creators, and would like to explore how Web Monetization will fit into emergent DWeb publishing practices.
What community support would benefit your project?
We'd like to talk with others who are working on creative projects that function cooperatively or horizontally with artists, journalists, academics, and others interested in publishing to the DWeb.
We've learned many lessons through our collaborative publication and transparent organizing process, and would like to learn how others are navigating the challenges that arise in more participatory governance/ownership practices.