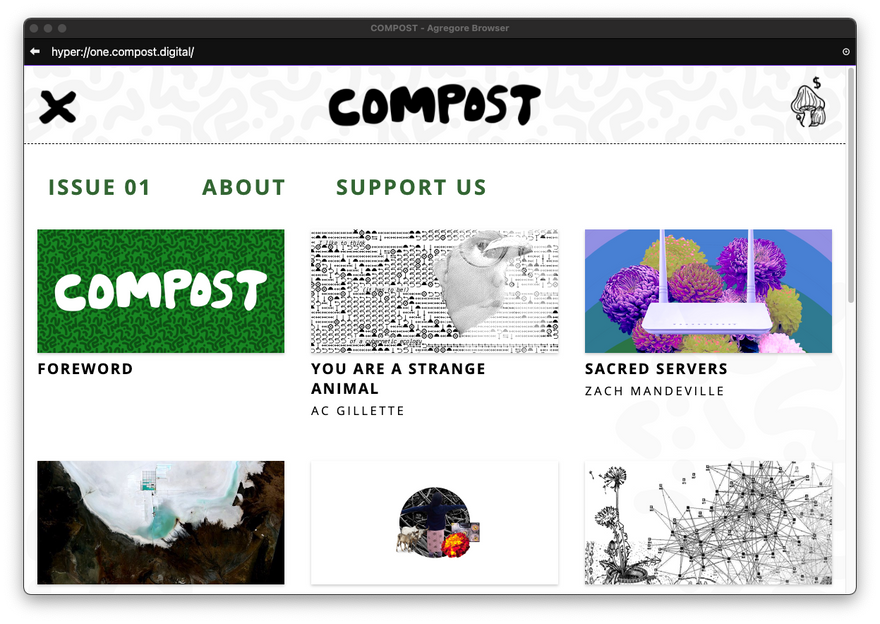 COMPOST magazine viewed over Hypercore on the Agregore Browser.
Project Update
COMPOST is a magazine about the digital commons that provides fertile ground for creative and collective experimentation. Our project is unique in that we not only publish on the World Wide Web, but we support Decentralized Web (DWeb) protocols like IPFS and Hypercore.
Last year in November, we had announced our inaugural Call for Pitches and received more than 100 submissions! From there, we found our co-conspirators and set sail for Fertile Grounds (the theme for our first issue!).
We are so excited to have launched our first issue with Web Monetization on March 8th, 2021! View it here 🎉 (more links to the DWeb at the bottom)
Progress on objectives
One of our key goals was to foster a small community of editors, authors, and artists, to join us in building an author-owned co-operative. After careful selection from the Call for Proposal submissions, months of co-working with our ten authors and artists across four continents, and feeling energized by the shared enthusiam for this project, we feel we have seeded a community beyond our expectation.
This magazine isn't a product, it's an artefact of a process that we feel is even more valuable than the issue itself. Through COMPOST, we're adding to an existing network of people, tools, experiences, and knowledge systems. Our team of contributors and collaborators work in and for solidarity economics, co-operatives, copyleft, free and open source development, IndieWeb, and DWeb. By creating the magazine and evolving tools, we are metabolizing the structures that are failing us. We use what's remaining — designs, protocols, and organizational practices — to build trustful networks of digital commoning.

---COMPOST Issue One: Foreword
Two key objectives in our proposal---publishing the magazine to the DWeb and holding an in-magazine crowdfund, are also accomplished with the launch of Issue One, and they are described in the next section. As proposed in our grant, we also expect to release a second issue this year, where we will investigate probabilistic revenue sharing to multiple payment pointers.
Another objective we hope to accomplish is to build a supportive community of readers willing to give us constructive feedback and pay for memberships. Well... this is where we'll need your help: tell all your friends about COMPOST!
Key activities
Building our magazine co-operatively
Along with the democratization of monetization mechanisms, we believe there's a need for participatory and democratic organizations to help ensure meaningful livelihoods and steward the web of the future. That's why we started COMPOST magazine. We approach COMPOST as a process to metabolize and renew our relationships with the web, to imagine and build interdependent, equitable, and solidarity-based systems of communication and knowledge sharing.
Each issue is itself an experiment: a lab where creators, organizers, and technologists support each other to build new spaces for dialogue and creativity. Together we test boundaries of governance, collaboration, and publishing online.

---COMPOST Issue One: Foreword
Having these collective discussions, in addition to indiviudal sessions planning for the content of the magazine, helped our young community build trust and expectations for our collective endeavour. Through this process, we generated new resources, some of which are published to our project wiki and more will soon be added.
Developing the Distributed Press
We built a new publishing tool for the Decentralized Web called Distributed Press to publish content to IPFS and Hypercore. Here is the source code and documentation, along with deployment Ansibles. Our instance hosted at Hypha is now used by several early-adopter projects to publish their websites to the DWeb!
Here is the COMPOST magazine viewed over IPFS on the Brave Browser with the Coil extension and Web Monetization active.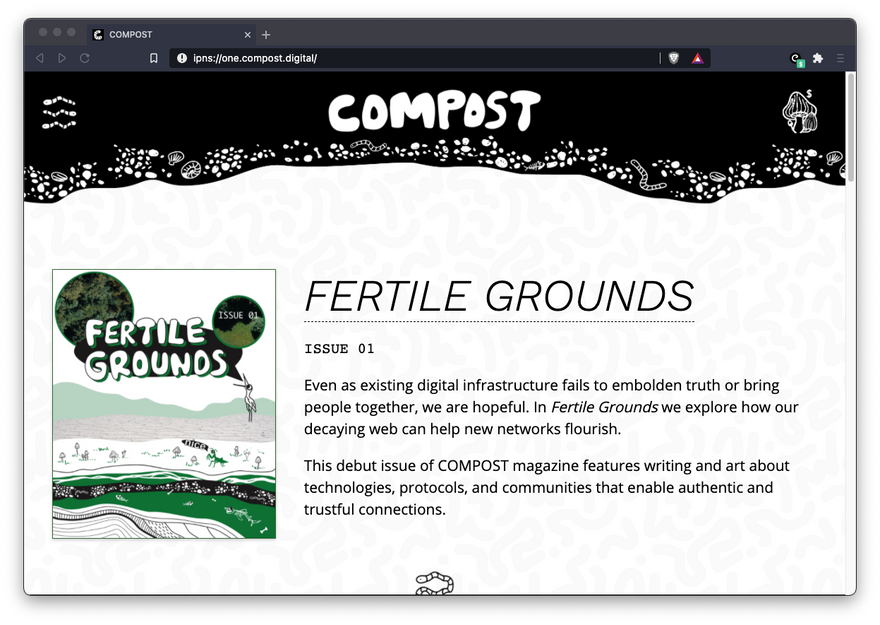 Running a Digital Bake Sale together
We need better business models for creative projects. We don't think we have all the answers, but with collective experimentation we can find a model that works for our community. We treat each issue as a lab for trying new experiments with fundraising.
As decribed in our proposal, together with our contributors, we built an in-magazine crowdfund and collectively decided how to allocate raised funds. We prototyped the end-to-end monetization process from collecting payments from readers, to distributing revenue among ourselves. Check out our digital bake sale in Issue One!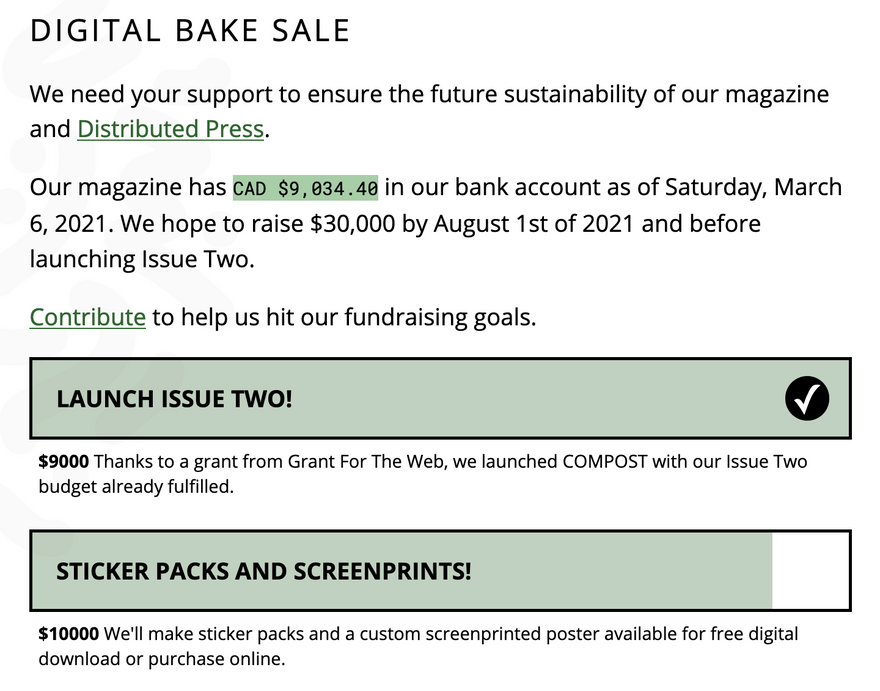 In this process, we also identified several friction points for individuals to adopt Web Monetization. The process to obtain a payment pointer, then transferring balances to a bank account, is both procedurally (e.g. KYC, understanding financial and legal risks) and technically (e.g. multiple new concepts, how do you test this) intimidating to an average person. We do not feel asking each magazine contributor to open an Uphold account and obtain their own payment pointer is the right approach and are investigating alternatives. We have documented some processes on two GitHub Issues (#12 and #16) and shared some thoughts here on using a fiscal host.
Another technical challenge we ran into is fetching real-time balances in Web Monetization accounts. Some findings are documented in this GitHub Issue #15 and discussed here.
Communications and marketing
What's next?
Over March and April, we will focus on the marketing of Issue One while exploring ideas that came about in the last couple months of working with contributors and other collaborators.
Distributed Press will start planning for its next set of features to support the publishing of Issue Two. This includes delivery of content into decentralized social networks such as Aether and Scuttlebutt. In parallel, we will start planning for Issue Two, where we will explore probabilistic revenue sharing and investigate ideas to streamline the Web Monetization -> Uphold -> Open Collective -> Contributor monetary flow.
Most importantly, we will continue spreading our culture, tools, and practices to like-minded folks who wish to work with us, and to build a better web together.
The people featured in Issue One show us that the web can be a place of personal growth and intense feeling. They challenge universalist views of technology, revealing how locally situated networks give voice and agency to marginalized communities. They show the web's potential to redistribute power and interoperate with other regenerative human systems. They explore how the internet is things.

---COMPOST Issue One: Foreword
What community support would benefit your project?
Share COMPOST with everyone! Tell them about our DWeb-native cooperative magazine of the future Web! Support us so we can reach financial sustainability 💰 We also made shout outs to several Web Monetization projects in this community on our Support Us page!
We build openly and love collaborating with others. If anything here interests you, and you want to explore collaborations, get in touch with us at hello [at] compost.digital.
Additional comments
This is our Web Monetization mushroom. It uses the exclusive content example as detection to trigger the animation. Find it at the top right corner on all pages of our magazine.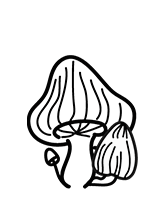 Relevant links/resources
Check out Issue 01: Fertile Grounds and tell all your friends!
Read more about our approach on our Wiki
Explore our DWeb publishing API with Distributed Press
Stay in touch through social
You can @ mention us at @COMPOSTmag (Twitter) or @compost@social.coop (Mastodon).