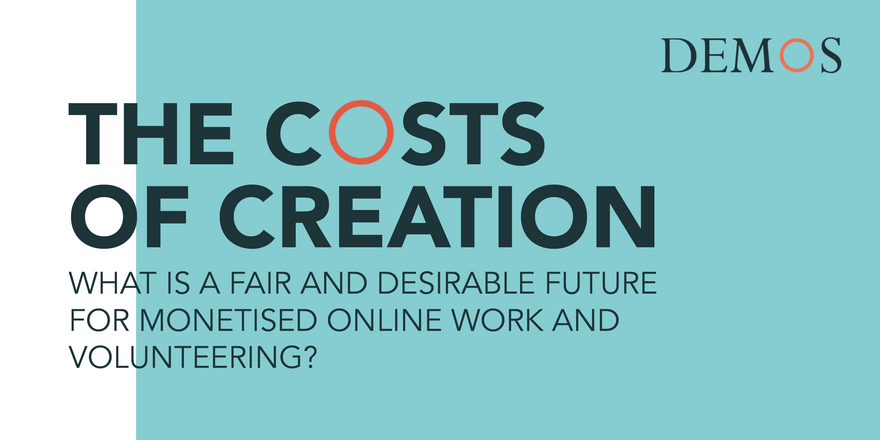 Project Update
Demos is pleased to inform the Grant for the Web community that our project has been completed and is available for all to see (and take part in!)
Our project sought to understand what a fair and desirable future for web monetisation looks like in the eyes of those on no or low pay from their online labour. This has come to fruition with the launch of our report, 'The Costs of Creation', an accompanying microsite (where you can offer your thoughts on what this future should look like), social media animation and graphics.
Progress on objectives
We aimed to measure our project's success primarily through two metrics: how many perspectives were represented and mapped through the project, and the level of engagement with our findings generated through our networks of civil society, government, standards setting bodies and industry.
On the first front, as our interim report highlighted, having completed the research itself, we can confidently say we have mapped a large range of perspectives for two reasons.
Firstly, we managed to include an optimum number of participants to match the research design. Moreover, these were chosen after careful, extensive consideration and prior research into who ought to be included, giving us a detailed sense of the perspectives that ought to be (and could be) in scope.
Secondly, our research methodology - combining a deliberative focus group format with the online polling tool Polis - has worked successfully. This methodology has allowed us to collate, in detail, the perspectives of the large range of participants in the research in two formats: transcriptions of discussions and Polis voting data.
Our subsequent analysis has further confirmed the above, with the combined methods in particular serving to act as a really thorough way to capture the detail of participants' perspectives.
On the second front, so far we have directly distributed our report to over 10 organisations covering politics, unions, developers and academics, as well as altering journalists to our report. We posted about the research on social media as both an organisation and individual researchers, currently having 17 likes and 5 retweets. While small, this engagement largely comes from researchers working in similar areas, suggesting the research is getting into networks where it can be circulated and built upon by others.
Key activities
Our project includes, in brief, the following overarching stages: research design, recruitment, interviews, focus groups, analysis, deliverables' design and launch. To date these activities have unfolded as planned, and at the time of writing we have completed and launched the project.
Communications and marketing
The deliverables of our project are a report, a microsite, an explainer animation, and social media infographics. Each of these are tailored to focus more or less on certain audiences. At the time of writing these have been completed and have formed the basis of our wider media strategy beyond the project's launch. The impact of these is described above in the progress on our objectives.
What's next?
Having launched the project and engaged with different audiences, we are continuing to speak to those who have reached out to discuss the findings of the research. Given the interactive element of the microsite, which allows people to add their voice to the conversation the project was concerned with, we are also continuing to explore engagement there.
What community support would benefit your project?
We've no issues which would benefit from community support, but we would love to chat with anyone in the GftW community who is interested in the theme of the research. So please do feel free to reach out!
Additional comments
Nothing to add!
Relevant links/resources:
Visit the report site here! http://costsofcreation.demos.co.uk/