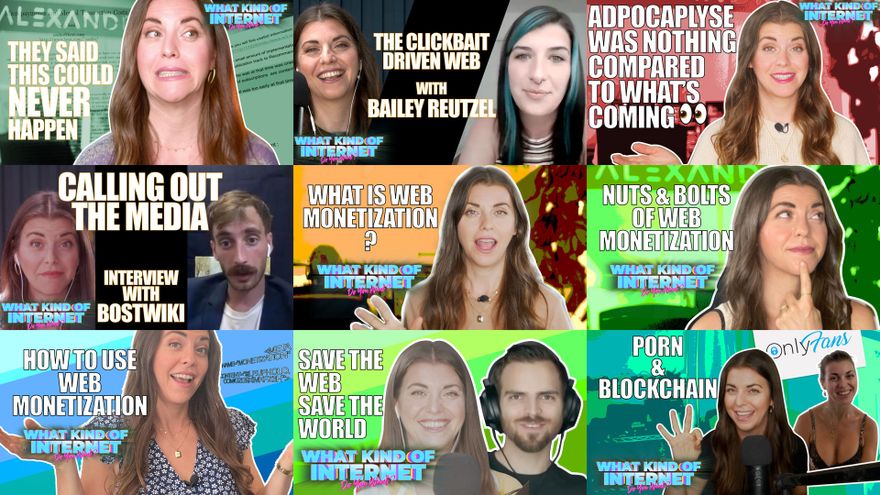 Project Update
We released a total of 10 videos, 7 direct-to-camera explainer videos and 3 interview videos via YouTube and IGTV as well as 7 instagram reels, and presentations at 2 virtual conferences: CoinDesk's Consensus and Miami Crypto Week. We built a camera and lights kit, as well as two different sets for self tape - one for direct-to-camera videos and one for interviews. We we were overly ambitions on our initial goals, but we learned a tremendous amount about how to sustainably create meaningful content for the Web 3 community.
Progress on objectives
We had intended to create 12 videos in total, 6 scripted & 6 interviews, but have only been able to release 10 during the funded period, 7 scripted & 3 interviews. Below are the links to the videos and marketing, as you'll see the number of platforms we published to reduced overtime. We learned that we need to make some strategic changes to sustainably make content & better meet the community's preferences - 1) shorten the episode lengths from 20min to 5min and 2) focus our efforts on fewer platforms as we get started.
Key activities
Links to videos & corresponding marketing:
Micropayments s02e01
Bailey Interview s02e02
Ad Monetization Episode s02e03
Bostwiki Interview s04e04
Web Monetization part 1 s02e05
Web Monetization part 1 s02e06
Web Monetization part 2 s02e07
Web Monetization part 3 s02e08
Stefan Thomas Interview 3 s02e09
Porn & Blockchain s02e10
Communications and marketing
We shared on Twitter & Instagram, and sent newsletters to our list with each video release, links are above. We also presented at CoinDesk's Consensus and Cryptonite at Miami Crypto Week. Unfortunately, the CoinDesk presentation is behind a paywall, and the Miami Crypto Week presentation has not been uploaded yet. And I did a podcast interview with Pierre Bourque on Blockchain Radio which can be heard at blockchainradio.co
What's next?
We are going to continue making videos, but change up our process a bit to limit the scope and focus our efforts. While I would love to crank out a 20 minute episode every week, its a tremendous amount of work between the research, writing, filming, editing, graphics & promotion and isn't a sustainable pace at this point. Luckily, we think that the community and audience that watches our content prefers shorter form scripted content. We also plan to start releasing clips, which will increase our output without increasing the amount of original content generation. And we plan to continue doing longer form interviews so we can explore some topics more deeply.
What community support would benefit your project?
Please subscribe to our YouTube channel or follow us on Twitter and Instagram :)
Additional comments
Thank you so much for supporting our work and advancing Web 3!
Relevant links/resources (optional)