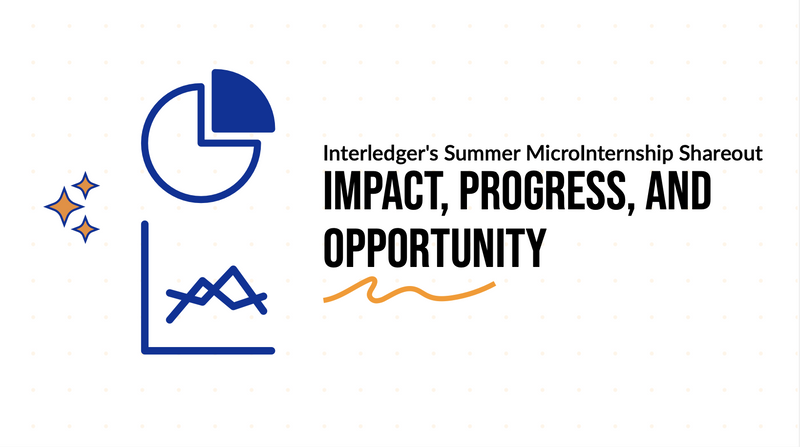 Brief Project Description
The vision is to engage more students at HBCUs in open protocols by expanding our program to include coursework, micro internships, supporting resources, mentorship, community engagement, and foster collaboration. This expansion includes student engagement, forming partnerships with HBCUs and other organizations, encouraging community support for students, and supporting student contributions to open protocols. The project developing talent, leadership, and coordination to establish a self-sustaining pipeline among the HBCU community along with under-represented talent that offers various interests, capabilities, and perspectives.
Project Update
Achievements
Spring 2023 saw the successful initiation of a small undergraduate Special Topics (BUIS 400) course focused on open-source and open-protocols with the goal of students contributing to the Interledger Protocol and the community as a whole. The students were proactive in participating through GitHub, actively committing to a project, and exploring a range of open-source, open-protocol, and Interledger projects.
On the graduate side, the project sponsored two students with their practicum project (INS 788) by studying and advancing the Interledger Protocol. They used XPRING services (https://wallet.ilpv4.dev/account/login) to construct a functioning GUI prototype using a low code solution, updated their code on a public GitHub, and provided comprehensive documentation on the prototype. Their significant achievement lies in testing the conversion between XRP, ETH, and USD. Their low-code GUI offered a user-friendly interface that allowed users to access the Interledger testnet, fund their wallets, and easily create a wallet account. Unique to their prototype, wallet accounts could be created using a unique username instead of GitHub as well as exchange other digital assets.
In the summer of 2023, the focus shifted to micro-internships and pairing students with Interledger-based projects. Through outreach during Spring 2023, 22 students signed up to participate in Micro-Internships. There was a concerted effort to enhance student skills in UI/UX, Project Management, Software Engineering including requirements gather and development, as well as digital communication while providing services to the Interledger community. Students were given the opportunity to select from a list of projects aggregated from the foundation, Kult, AgnostiPay, and gFam.live as well as research open-soruce and open-protocol projects including the Solid Project (https://solidproject.org/).
Challenges
There continues to be challenges re-engaging students and faculty post global pandemic. While originally presented as a project to build student clubs across organizations has become less effective and significant events on campus (not related to Interledger) have not been drawing students. This trend, as reported by BSU and other campuses as well as the Chronicle of Higher Education, presented an obstacle.
Proposed Path Forward
The proposed path forward included restructuring the approach from student-driven to sponsor-driven. The sponsor-driven approach is intentional recruitment and development versus student, if serendipitous, creation. Students were connected with the Interledger community and supporting collaboration on an individual level through emails, direct messages, and cross-group communication. The next step was arranging student collaboration on projects - starting separately and pulling together through iteration. The new strategy aimed to cater to students higher interests in jobs, internships, and capabilities development which has already show to be a driving force for their active involvement. The micro-internship movement created a roadmap for further recruitment at BSU and beyond. The opportunity is to use micro-internships as always open onramps for individuals to support the Interledger community regardless of semester or institution. Furthermore, we hope to expand to offer fellowships for students who are interested and able to expand the scope of their interests.
Project Impact & Target Audiences
Objective 1 - Revision of a course to require a contribution to open source communities
The BUIS 400 course curriculum was revised to make contributing to open-source communities a requisite for students. This involved restructuring course materials, providing tutorials and sessions on GitHub, and guiding students to actively participate in open-source projects. This has been successful with several students actively committing to projects. Completed Spring 2023
Objective 2: Update a course to encourage grants for web participation (BUIS 463)
BUIS 463 course is being revised to introduce content that encouraged students to apply for and leverage grants to boost their participation on the web. As part of eCommerce, students will be provided with resources and guidance to see opportunities to contribute to an open web. Fall 2023
Objective 3: Supporting student contributions to open protocols
We have implemented mentoring and support structures to assist students in understanding and contributing to open protocols using the Interledger Community resources. The students have been paired with projects, members of the Interledger community, and provided with resources, tutorials, and tasks to help them understand open protocols. On-going
Objective 4: Supporting the development of open protocol clubs
We have initiated plans for open protocol clubs to foster a community of enthusiastic students interested in open protocols. Given the general downturn in club activities across campuses, we have had to rethink our approach. As a solution, we are focusing more on individual collaboration and engagement with the Interledger community before setting up such clubs. On-going
Objective 5: Building partnerships and alliances [HBCUs and other aligned organizations]
We have reached out to other HBCUs and organizations to foster alliances and partnerships. These collaborations have helped build relationships that will help recruit more students into our project and have given us a broader base of support. On-going
Objective 6: Submitting a more significant collaborative grant with ILF, other HBCUs, and collaborators to NSF
We have initiated conversations and collaborations with the ILF, other HBCUs, and collaborators to compile and submit a more significant grant proposal to the NSF. The grant will aim to fund further student involvement in the Interledger project to build open-source ecosystems to harness the power of opens-source development Fall 2023
Objective 7: Sending students to the 2023 Interledger Summit
We are planning to send up to 10 participants to the 2023 Interledger Summit. The summit will provide an excellent opportunity for students to learn, network, and get more involved in the Interledger community Fall 2023
Objective 8: Launching an incubator for open protocol contributors, communities, and technologies
The launch of an incubator is still in its planning stages. This incubator will provide a supportive environment for students, contributors, and the broader community to collaborate, learn, and develop innovative solutions related to open protocols. The aim is to establish an ecosystem that fosters creativity, inclusivity, and active participation in open-source projects. Potentially Spring 2024
Proposed Additional Objective 9 - Creation of three student fellowships
Initiate the establishment of three distinct fellowships that support the Interledger community and protocol. These fellowships, focused on community development, protocol development, and a third area yet to be decided, represent an opportunity for students to dive deeper into the respective subjects and apply their knowledge in practical ways. Potentially Fall 2023
Communications and Marketing
There have been two community posts that discuss the microinternship work during Summer 2023:
What's Next?
Moving forward, the project will continue to enhance the BUIS 463 course to enhance open-source contributions and web participation, with a greater emphasis on practical applications and grant opportunities. We will persist in our micro-internship program, matching students with Interledger community members for real-world learning experiences. Plans are underway to facilitate a group of students' travel to the next Interledger Summit, offering a unique opportunity for learning and networking. Outreach will be a key focus, aiming to attract more students, faculty, and institutions to our project to expand its reach and impact. Finally, we will finalize and open applications for our three student fellowships in community development, protocol development, and a third area, providing our students with specialized opportunities to contribute meaningfully to the Interledger community.
Community Support
We want to grow the opportunities for others to contribute to the community and the microinternship model is resonating with those who want to help.
We are looking for MORE projects that be started today. We have two examples to follow: 1) from Adam at gFam.live
(https://docs.google.com/document/d/1MQD59WIK-K2hebanC3ELdc-t3awxybEMryqdo6nq38s/view) 2) from Jasper at AgnostiPay (https://docs.google.com/document/d/1tWpa7F2REWHI_YInYl75cb2O8AXu8jswhg_p6QJNL_8/edit?usp=sharing)
Additional Comments
The project is a community effort. The success of the project is only achievable through the support of the Interledger Foundation, Kult, AgnostiPay, and gFam.live. We would love to have your participate with project ideas or mentorships. Check our channel in slack #ilf-microinternships!