We're nearing the end of "Design Club: Reboot", our project funded by Grant for the Web. Here's a progress report - originally published on the Design Club blog.
Last September we were thrilled to win $15,000 funding from Grant for the Web after the pandemic had forced us to pause clubs in early 2020.
Of course, we were keen to reboot Design Club and this new funding has been crucial in helping us explore hybrid delivery.
What we've done
Rebuilt the Design Club website using Webflow
Added new resources (under projects and worksheets)
Created a playful Design Challenge Maker
Installed Web Monetisation (Coil)
Added information about Coil to our website
Run two Meetups: the first one introducing our community to Grant for the Web and Coil (Oct'20) and the second one looking at remote delivery updates (Jan'21).
Published four blogs charting our web monetisation journey: Design club wins funding, Reboot: idea definition, How can we best market Coil to our distracted, busy, creative community? - and this one!
Written our first grant report: Design Club: experiments in teaching design thinking to children
What we haven't done
We've also wanted to make mentor-led video tutorials, experiment with Web Monetisation through Coil and share our learnings with the community. But we realised these plans are very ambitious!
Best laid plans
Like most others, we've not spent the last 12 months firing on all cylinders. We've been very much in reflection mode: re-assessing, re-grouping and going back to basics.
In June, we asked Grant for the Web if we could extend our Reboot project until the end of November.
Here are our main reasons for requesting an extension:
1. It's hard to expect more right now
Design Club mentors are wonderful industry volunteers who already give their time and expertise for free. It's hard to expect more right now. Sharing their insights over video, being producer/ director/ sound recordist on their own work, and/ or taking out a subscription to pay for content (whether with us or elsewhere) has seemed like a few asks too many in the current climate.
2. We need time to rebuild
Our mentor community and delivery model were decimated by the pandemic. We need time to rebuild. All the momentum we gained and any word-of-mouth buzz was stopped dead in March 2020. Our outreach strategy has always been grassroots. Designers — like everybody — suddenly had a lot of other things to worry about.
3. Mentor onboarding is broken
Our mentor onboarding is best through shared, lived experience. This cycle was broken with schools and venues closed. We realised early on that peer-led Meetups work well. It's great for mentors to share their stories when they're currently running clubs. This works on a personal level: it's good to talk through and reflect on things while you're doing them, or as soon as possible after completion. And it works on an audience level too: when talks are fresh, passionate and insightful, more people are inspired to become mentors themselves, by starting or helping to run Design Clubs.
4. Planning is near impossible
The Covid-19 pandemic, and lack of clear government policies or timelines has made planning near impossible. It's been very difficult for us to plan the re-introduction of Design Club activities to schools and other venues, when the venues themselves aren't sure what's happening. Staff and especially teachers are already super-stressed. Extra-curricular activities have been parked or sidelined in nearly all cases.
5. Our end goal is still IRL clubs
Remote delivery is okay. But we've realised it's not what Design Club is for. Our mission is to take design thinking to as many children as possible, and to a diverse audience. While remote provides a great opportunity for busy mentors to get involved, it depends on existing real life relationships to work well. And digital exclusion means that one in five UK children do not have consistent access to a suitable device at home. Design Club IRL — in real life — is still best.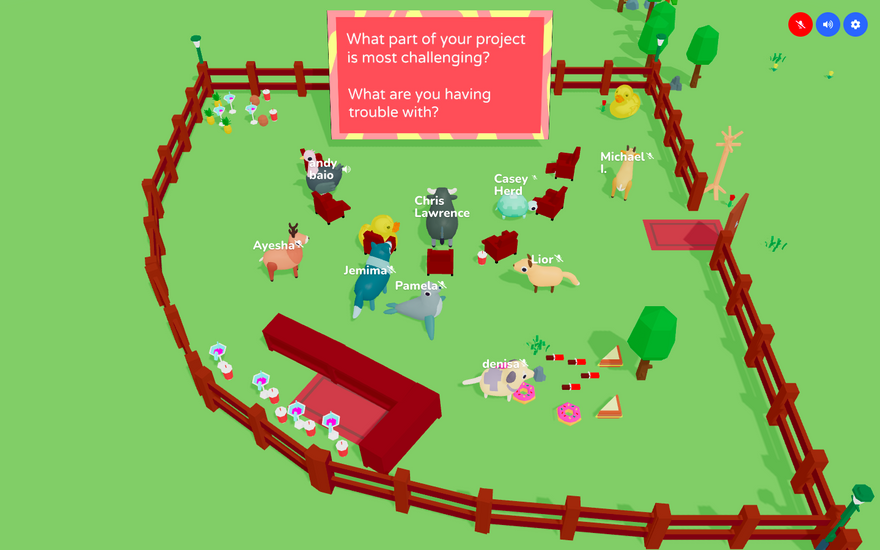 We've enjoyed the experimental nature of grantee hangouts — here I am (the sheepdog!) at one hosted by Skittish
Building an ecosystem
We've realised its very early days. Not just for us, but for the entire Grant for the Web community. As recipients of this funding, we're contributing to a privacy-centric, open and accessible ecosystem which aims to create a viable alternative to the advertising-driven web. As everyone will be acutely aware, these ideas are still new and ways of working are still emerging.
Since June, Noam and I have joined two grantee hangouts. These have given us the chance to actively engage with other members of the Grant for the Web community (like Skittish — above) and start to leverage community support for our project. We've enjoyed the experimental nature of these hangouts and are learning from other members that everyone is iterating together. We've all yet to find definitive answers.
In particular, we realised that we need more time to continue conversations about how we might best communicate the benefits of Web Monetisation, and how to encourage people to sign up to Coil in ways that are empathetic and engaging.
We're looking forward to continuing those conversations in more depth over the next couple of months. And sharing everything here, of course!