Image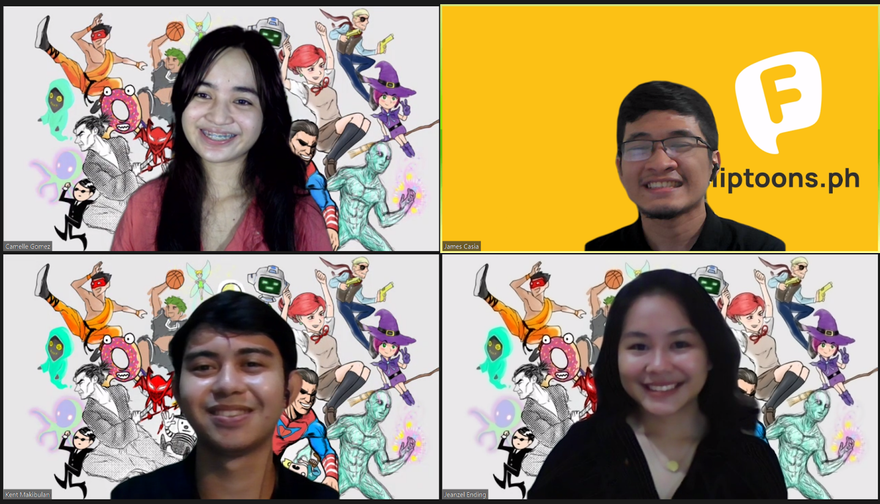 This image was taken right at the end of our livestream announcement of the winners of the Web Monetized Comic Challenge. Top Left(Camelle Gomez). Top Right(James Casia). Bottom Left(Kent Makibulan). Bottom Right(Jeanzel Ending - our friend who helped us host the awarding).
Project Update
We have finished the major features of the site, namely:
Comic reader page which have web monetization enabled if the author of the comic specified his/her wallet pointer
A web monetized comic title page which lists all necessary details of the comic and all its episodes
Creator dashboard which let creators create comics/shorts and manage them
Home page showcasing the Discover, Top Ranking, New Releases, New Episodes, and Continue Reading section
Feed page with discover, comics, shorts, and votes subsection all relating to the Web Monetization Comic Challenge
Voting system for the Web Monetization Comic Challenge
User authorization, authentication, and settings. We also implemented IP banning to minimize automated user creation and to optimize the integrity of the voting system
Blog site for important announcements
All in all, the site is now a fully functioning comic platform.
We have gathered comic creators and readers onto our site. We have achieved our goal of more than 50 comics (57 comics published as of Dec. 12, 2021 09:00 PM) and now have a whopping 856 registered users! Some additional milestones that are worth noting (as of Dec. 12, 2021 09:00 PM):
Total number of episodes read: 6062
Total number of creators: 93
Total number of creators with Web Monetization enabled: 16
Average monthly active users: 226
Over 12k site visits in the month of November 2021
Over 60k page views in the month of November 2021
We have concluded the Web Monetized Comic Challenge and identified and awarded our winners. Blog Article here. We have also collected valuable feedback from both our creators and readers. With us, they have shared their reservations. See Progress on Objectives
Progress on objectives
The objectives that we detailed in the proposal were:
(1) Determine if webcomics is a great fit to a micropayment streaming monetization model
(2) Give content creators more options to monetize their work and protect consumers from privacy invasive ads and the inconvenience from too many subscriptions
(3) To create more awareness, especially Filipinos, to the problem with the web's current business model and to introduce more people into web monetization
To answer our hypothesis and to achieve our first objective, we did three things
(1) First is we did the math to find if Coil is actually viable for comics. We actually did this before applying for this grant. Access it here. The premises haven't changed so we can still consider it valid. Web comics remains an ideal application to Coil's micropayment streaming payment solution.
(2) We set our metrics for success in our proposal and we were able to meet them. As we wrote in the proposal:
The goal of the competition is to acquire, and expose as many comic creators and readers to Web monetization as possible. The competition will be considered a success if the following are met:

All winner slots are filled
At least 50 web comics are published on the site during competition
At least 100 signups(inclusive of readers and creators) during competition
Now we don't know if we set the bar high or low. But we were able to meet them :)
(3) We conducted a survey on our users and here's what we got. Here are the most remarkable responses we were able to get(We picked the negative and the positive ones).
Can you tell us about your experience using the site?
I had difficulties uploading panels since it only accepts pre-cut images of 1080×1080, if the last panel is shorter than that it always give an error message, I have to edit it again (last panel) to fit the required size. But overall the website has a great potential.
The site is amazing. Simple UI that everyone can understandeasy to upload, user friendly
Its very easy but i always use a phone to manage comic creating, i hope someday the fliptoon become compatible for phone to create or edit publishing comic
I feel safe using it and I'll be able to earn money.
It has potential but it lacks some features.
So far its good that everytime someone fresh uploads gets displayed in features and its good. But the problem is sometimes it glitches when you try to read one of the comics.
What can you say about web monetization?(if they monetized their comics)
Interesting approach
My readers think it's still a difficult process setting up
I am able to recieve an amount daily via Uphold notifications. It's not really a huge amount but I can see the potential for my future works. I connected it to my Youtube too and tried to share video link the other day and I was surprised with the incoming amount too. I'm really happy and grateful for it because I'll be able to earn money even if it's just a little amount only.
Its hard to use due to membership thing.
Why didn't you monetize your comics? What are your reservations?(if they didn't monetize their comics)
Uphold is asking for a valid ID, I lost my wallet with all my cards and stuff so I had difficulties verifying myself there. Might have to get a valid id again next month
Not yet because i read bad reviews about uphold ..about how withdrawal is slow etc..just check their google playstore app. I'm also a little bit hesitant if my personal info will be safe in uphold
I was just planning to do so, but i would love to monetize a different story, not the one that i put as an entry. Im already working on my new story to be monetize by the way
Dont know how
My works are web monetized. Initially, I don't want to spend 10USD for both Coil and Uphold. lol.
For me, those who didn't monetize their comics they lose their chance to earn money.
The coil requires membership of $5 and dont have that kind of money.
Can you tell us about your experience in the Web Monetized Comic Challenge event?
It was amazing. While doing my entry for the Special Award Category, I had to really immerse myself to the web monetization. The missing part is the actual "web monetized" experience. So when I was given the promo code and experience beind web monetized, then it really opened a new horizon for me as a creator.
It is challenging for me because i find it hard to understand how it really works. But as I dive in in the topic, i finally understand what we monetization means. Hopefully more creators will monetize their comic.
It is quite challenging most especially I made my comics in a month.
It is a fun learning experience.
Do you have any other feedback for us, the team or the site(Fliptoons.ph)?
Keep up the good work! I know that your hard works will be paid someday and your goal being the number 1 webcomic platform will come true.
You did very well organizing this type of event. Kudos to you guys
For now none, stay strong and goodluck
Thank you so much for creating an online platform for comic/webtoon creators. I believe that artists need a place to get their stories be known to the world. Moreover, thank you fliptoons team for being friendly and approachable in replying to my inquiries.
I personally like the logo and branding look of the website btw.I suggest that the Fliptoons website will have a creator page where the visitors/readers can see all creators in one page being archived with their works. This could be the edge of the website. Also another suggestion is the interactivity part where the readers can comment on the comic chapters and to the creator's page. A forum would be great too in order to establish a Fliptoons Community where the creators and the readers can interact with each other. If a forum is not possible as of the moment, a Facebook group or Discord can be a great start.
Based on the survey we have thought that although $5 is chump change for people from first world countries, it still is a steep fee for most Filipinos. A lower subscription fee might help adoption a bit better. This way the barrier to entry is lowered and more Filipinos can have access to web monetized content.
Also, although we have done our best to let our creators be on board with web Monetization. Some still have valid reservations such as Uphold having bad reviews, Uphold requiring KYC, and some were misinformed(although we explicitly told them that it's not the case) that creators need to have a subscription to monetize. Partly to blame was the creator being greeted with the pseudo-paywall at the beginning. It may have repelled curious creators wanting to try Web Monetization out.
For objectives (2) we have achieved this to some extent through the creation of the site itself. A number of creators were able to have been given fairer ways to monetize their work through Web Monetization.
and (3) , We were able to achieve this to some extent through the Web Monetized Comic Challenge Shorts Special award. The special award was awarded to the comics that highlighted the problems with the advertisements business model and how web monetizations help solve them. We had a considerable amount of users reading out short entries. And we plan to share these shorts on our social media and on this feed real soon.
Key activities
The key activities for our project are the following:
(1) The site launch; and
(2) The Web Monetized Comic Challenge
We successfully launched our site last November 3. On launch day, we immediately had multiple comics uploaded to our site and tons of interested readers. Here is an image of our site(albeit not on launch day)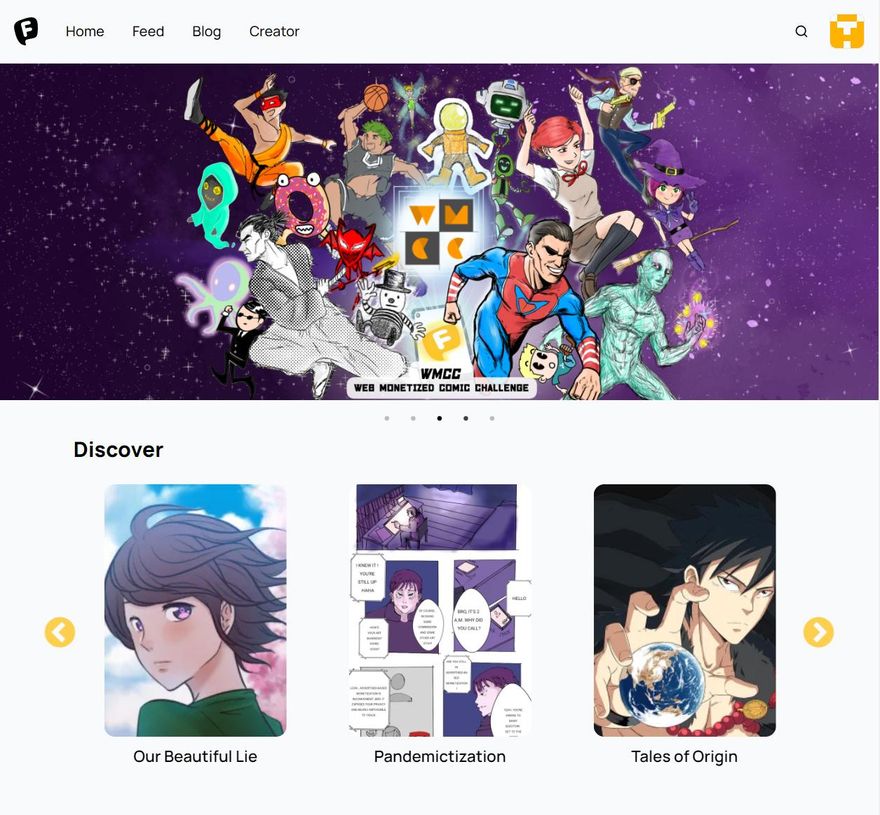 The Web Monetized Comic Challenge was our main marketing push for the site. We were giving out over $4000 usd in prizes to the best comics and to the ones that tackle the problem of the advertisement business model and how web monetization helps solve them. The competition included votings, so creators need to gather their fans from other sites to vote for their comics. We thought this was a good way to gain creators and readers at the same time.
Here is a the publication material we made for the competition: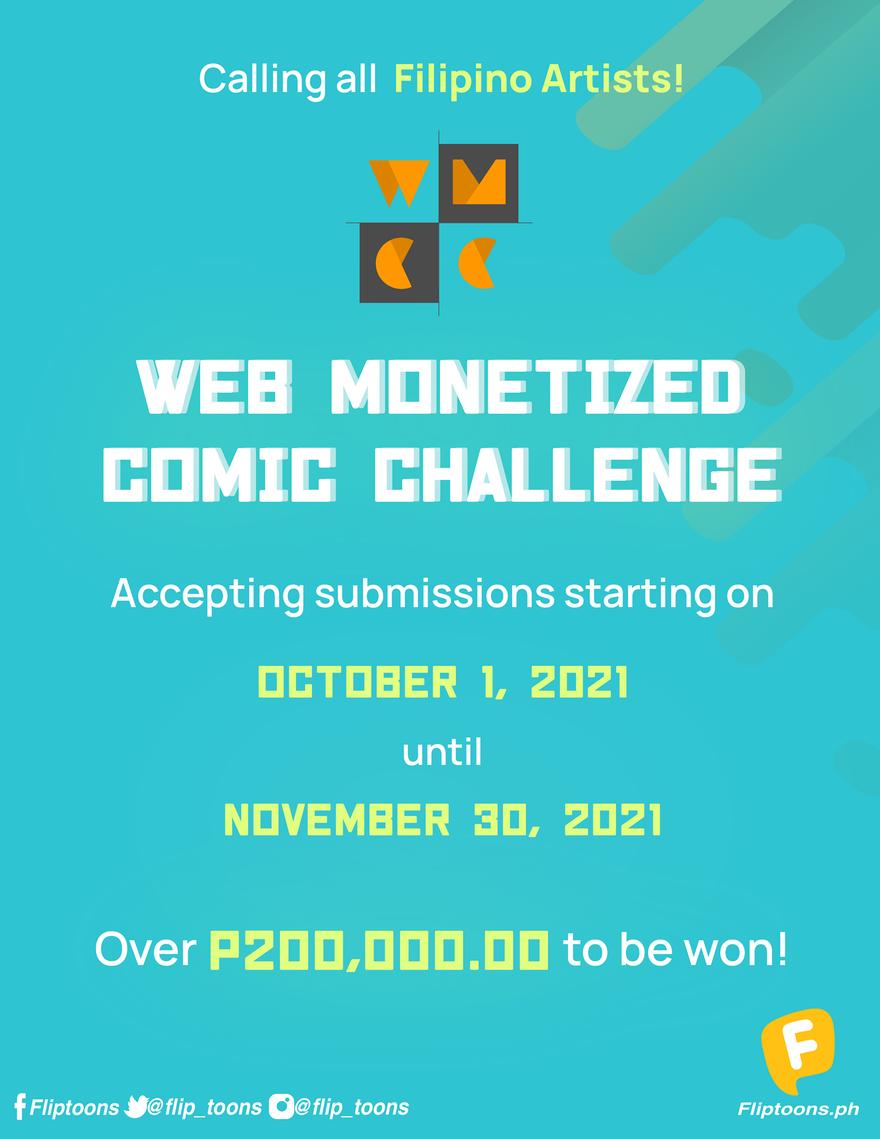 *The prize is in our local currency
We launched the Web Monetized Comic Challenge a few months earlier before our site launch, on August 30. We had a pre-enlistment form and were able to get 80+ pre-enlisters in the first few months. By the middle of November, creators were now able to submit their comics into the competition. We got 32 comic entries total for the main challenge of the competition and 7 for the Special award category.
Here is an image for some of the entries: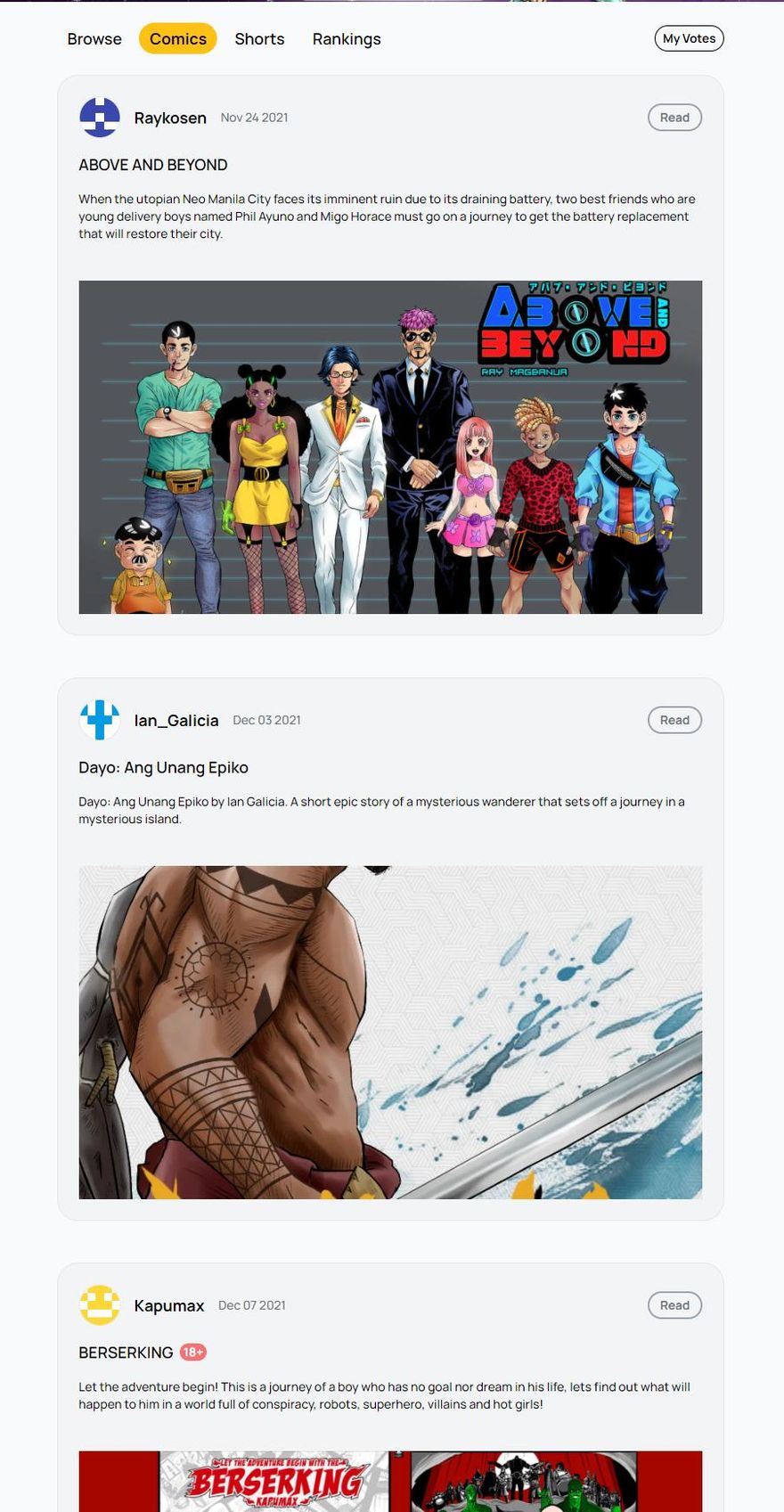 Here is an image for the rankings: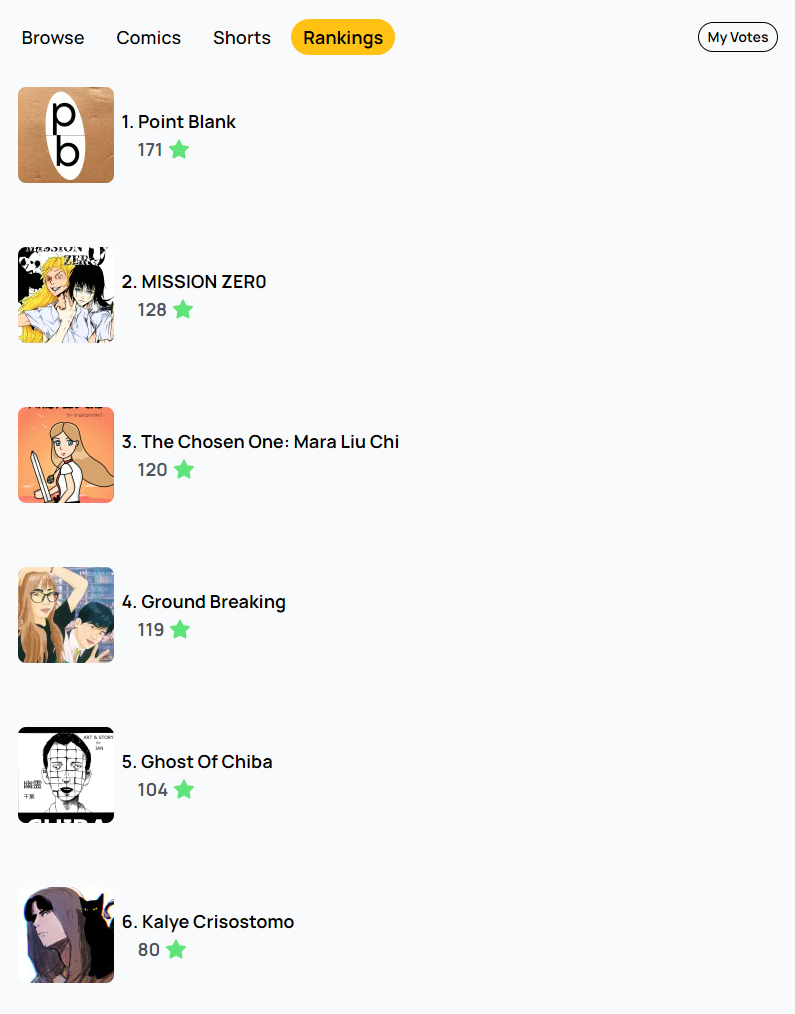 The Web Monetized Comic Challenge concluded on December 13. We announced the winners through a livestream on Facebook live(more details in next section). The top ten comics for the main challenge were scored based on the judge's scores and votings. The Special award which was a 3-page short comic about web monetization were decided by us, the core team. Overall, we think the event was a success based on the feedback we were getting and the success metrics we set.
Communications and marketing
We were interviewed by Jon Zamar, a Komikon organizer (annual comic book fan convention in the Philippines), and a comic book author with 15 years of experience in comic book productions (New Online Comics Platform: Fliptoons.PH).
We have also made videos in our Youtube channel on:
Our main channel where we communicate with our community is our Facebook Page https://www.facebook.com/fliptoonsph. Right now we're at 650 likes and we're followed by 689 people.

Here is an image of our page.
Within the last 30 days, we were able to reach 25,748 people, had 4,012 post engagements, and 86 page likes.

We also update our blog and share it on our Facebook page. Our blog page contains:

The announcement of the winners of the Web Monetized Comic Challenge took place live on our facebook page on December 13. As of December 15, we garnered 300+ views on that video, 120+ comments, 426 reactions, comments, and shares, and 326 people reached. Here is a snap of our live event

It is important for us to communicate effectively with our participants so we made it a habit to update them weekly. We update our Facebook, Instagram(@flip_toons), and Twitter(@flip_toons) accounts .We also manage a Facebook group (Fliptoons.ph ) for creators where we also share updates with more than 80 members already.
What's next?
We've completed our grant timeline. For the coming months, we plan to do basic work to maintain the site and community. We're gonna hold off developing any new features or events for now to take a much needed break (and also focus on our final semester in college). We are eyeing on getting a second grant though, in the second half of 2022 to scale our project, community and the team.
What community support would benefit your project?
There are three ways you can help support our creators and our platform:
Read the comics of our creators. And if you really like their comics, make sure to stay on their sites long as to stream more payments ;). We highly recommend the comics listed here for a start.
If you know anyone who makes comics, please share our site with them! The more creators we have on our platform, the more readers we'll get!.
If you know someone who likes reading comics, please share our site with them!
Additional comments
We would like to thank Grant For The Web and the Interledger Foundation for trusting us. Being still students with no major experience to back, our expectations were low,but we actually got this grant alongside the established and awe-inspiring other grantees. We hope that we get to work on this project more :)
Relevant links/resources
Sharing interesting comic/shorts we have on the platform about Web Monetization. We plan to post these comics one by one on this feed.