Hi,
The FMA team would like to thank Grant for The Web and Ayesha for helping us host the FMA Community Call.
Thank you to all participants that joined us on the 19th of April! We shared ideas, suggestions and received valuable input for Free Music Archive.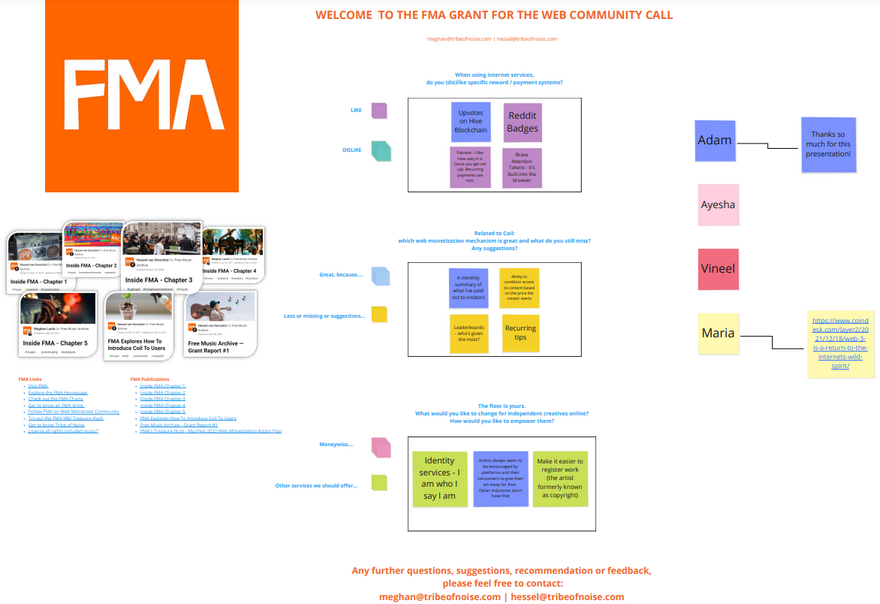 During the FMA Community Call, the attendees shared ideas and input via Miro Board, where we asked 3 questions:
When using internet services, do you (dis)like specific reward / payment systems?
A participant liked and suggested: Brave Attention Tokens - it's built into the browser
Related to Coil: which web monetization mechanism is great and what do you still miss? Any suggestions?
One participant stated: Ability to condition access to content based on the price the creator wants
The floor is yours. What would you like to change for independent creatives online? How would you like to empower them?
Another participant recommended: Identity services - I am who I say I am
Visit the Miro Board to check the rest of the suggestions and add your input for Free Music Archive too!
The Miro board is open and active for suggestions and feedback from the Web Monetization Community.
FMA Community Call Miro Board: https://miro.com/app/board/uXjVO7q0ttM=/
Incase a password is asked: fmanext
Thank you again to all participants! Our doors are always open for new connections with Grant For The Web grantees!
Any further questions, suggestions, recommendation or feedback, please feel free to contact: meghan@tribeofnoise.com | hessel@tribeofnoise.com
FMA Publications
Inside FMA Chapter 1
Inside FMA Chapter 2
Inside FMA Chapter 3
Inside FMA Chapter 4
Inside FMA Chapter 5
FMA Explores How To Introduce Coil To Users
Free Music Archive - Grant Report #1
FMA's Treasure Hunt - MozFest 2022 Web Monetization Action Plan
FMA Links
Visit FMA
Explore the FMA Homepage
Check out the FMA Charts
Get to know an FMA Artist
Follow FMA on Web Monetized Community
Try out the FMA WM Treasure Hunt
Get to know Tribe of Noise
License all rights included music?