The Interledger Foundation's Future|Money Art & Culture grant is closed! Our judges are so excited to review your submissions.
The judging panel for this grant brings together a wealth of knowledge and diverse expertise. The judges are seasoned professionals with distinguished careers in various disciplines, including but not limited to, visual artists, photographers, curators, choreographers, authors and educators.
Through our Meet the Judges Series, we will highlight the individuals that have accepted the call to assess this inti/vation grant opportunity. We will showcase a brief profile of each judge along with their interest in serving as a judge/juror for this grant.
We are pleased to introduce the first two members of the Future|Money judging panel ...
---
Charles Philippe Jean-Pierre
Visual Artist. Guest Curator. Adjunct Professor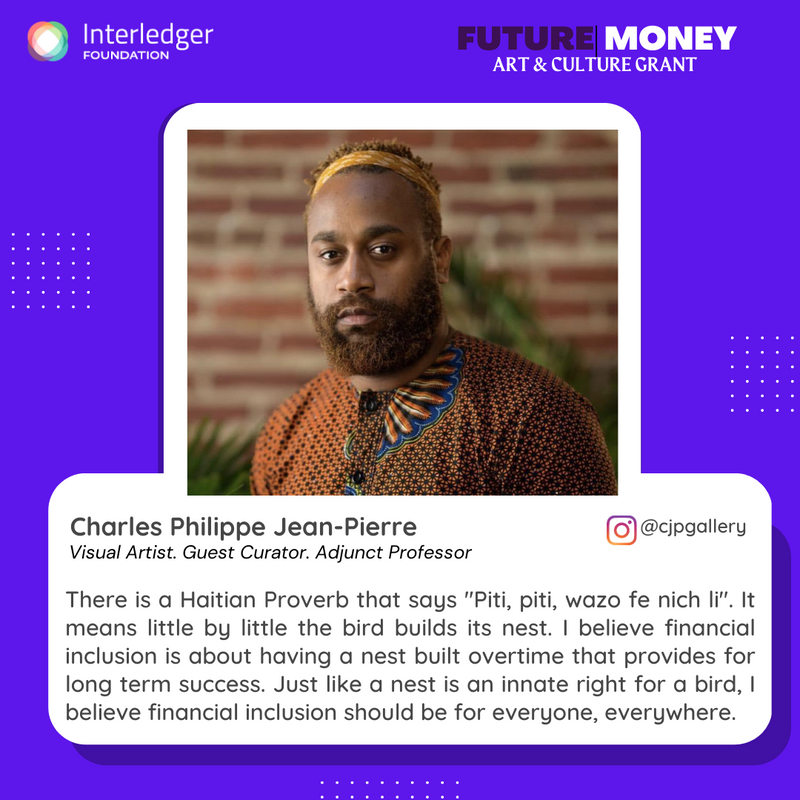 Charles Philippe Jean-Pierre is a Haitian American interdisciplinary artist groomed on Chicago's south side. He creates works that uncover our past at the intersection of community, spirituality, and systèmes socio-politiques. He draws inspiration from his Caribbean heritage, international travels, and academic research.
Jean-Pierre is an adjunct professor at American University and U.S. State Department Art in Embassies Artist. His works are featured in the U.S. Embassy in Benin, Malawi, and Niger. He also serves as a guest curator for exhibitions at The Embassy of Haiti. He has been featured in three Smithsonian exhibitions and was a Barack Obama invitee to the White House to speak on the role of the arts in youth justice.
In 2021, he was an invited featured artist for the 2021 Atlantic Festival. His works have been featured in The Atlantic, Black Enterprise, BET, Ebony Magazine, NBC, Netflix, The New York Times, and The Washington Post. Jean-Pierre public art has been featured in Cape Town, Pretoria South Africa, New York, Chicago, DC, Istanbul, Panama, Port-au-Prince, London, and Paris.
Jean-Pierre holds a Master of Arts from Howard University. Jean-Pierre's atelier & Galerie D'Art is located in Washington, DC.
Learn more about Jean-Pierre here: charlesjeanpierre.com
---
Kelli Rae Adams
Visual Artist (mural painting, ceramics, printmaking, and digital illustration)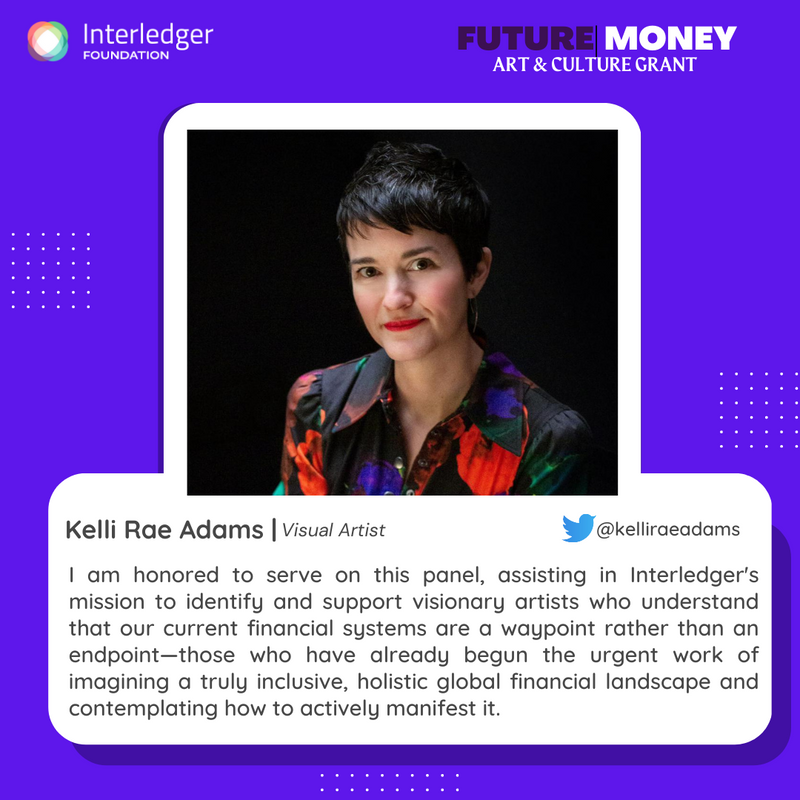 Kelli Rae Adams utilizes clay in various states of permanency—often alongside additional materials—to create installation-based works that examine prevailing economic systems and probe our existing relationships to labor, currency and value. She has exhibited both nationally and internationally at venues including MASS MoCA (North Adams, MA), the Corcoran School of the Arts & Design (Washington, DC), the David Winton Bell Gallery at Brown University (Providence, RI) and the Museum of International Ceramic Art (Denmark).
Adams is currently a Fields of the Future Research Fellow at the Bard Graduate Center (New York, NY), and she has previously been a fellow at Halcyon Arts Lab (Washington, DC) and the Virginia Center for the Creative Arts (Amherst, VA) and artist-in-residence at Anderson Ranch Arts Center (Snowmass Village, CO), Santa Fe Art Institute (Santa Fe, NM), the Studios at MASS MoCA (North Adams, MA) and Guldagergaard International Ceramic Research Center (Denmark), among others. In 2019, she served as Arts Envoy to Honduras for the US Department of State, lecturing & teaching in Tegucigalpa and jurying the XVIII Central American Sculpture and Ceramics Biennial. Her study of ceramics began in Japan, where she apprenticed over a period of five years with Tetsuro Hatabe, a master potter in the Karatsu tradition.
Kelli holds an MFA in Ceramics from the Rhode Island School of Design and a BA in Visual Arts and Spanish from Duke University.
Learn more about Kelli Rae here: kelliraeadams.com
---
Stay tuned for more profiles of our Future|Money grant judges.