It's Friday the 13th and your Weekly Roundup is here!
This week's highlights include a report of our HBCU course at Bowie State University, the grantee report, tech Tuesday, grant project and community updates, and next month's Open Payments Huddle. Plus a new opportunity!
---
Interledger x HBCU Course Grant at Bowie State University
Last year, Interledger Foundation partnered with Bowie State University to develop a course led by Dr. Andrew Mangle introducing students to Interledger through open web payments, web monetization, micropayments and tipping, cross-border payments, web3 (web 3.0), and interoperability. Dr. Mangle's students also had the opportunity to present their projects at the ILP Summit last November.
Since March 2022, BSU (andrewmangle) with @julaireh and @chrislarry, focused the course on introducing and supporting HBCU students for immersion into the Interledger community. All students used Coil to tip content providers and explore Coil-enabled projects using the Uphold wallet. As part of the grant, ILF funded students and faculty to travel and attend the #summit in November 2022.
In my 20+ years in academia as a student and faculty member, this grant offered THE BEST experience for students - materials, community support, and funded student travel. Out of the nine students who attended, I want to highlight a few achievements resulting directly from this grant:
Based on the student's global digital payments knowledge, an undergraduate student is starting at Northrup Grumman in January 2023.
An undergraduate student is starting an IT Auditing Position based on their knowledge of open payments architecture and eCommerce
A graduate student and Dr. Andrew Mangle published a preliminary analysis on the Interledger Protocol and Web3.
An undergraduate student is actively exploring and engaged with the Interledger Community (and a student who did not attend is also participating)
An undergraduate student actively explores opportunities in a niche combination of Human Resources and micro-payments through the Interledger Community.

The project may have concluded, and there is HUGE momentum for expansion, such as a special topics course in Spring 2023 focused on supporting students to contribute to the Interledger Protocol.
You can read the full report at the link above and please take a moment to shout out Dr. Mangle and his students for their great work.
---
The Grantee Report: Meet Dr. Andrew Mangle
Interledger's Pilot HBCU program with Bowie State University is a great success!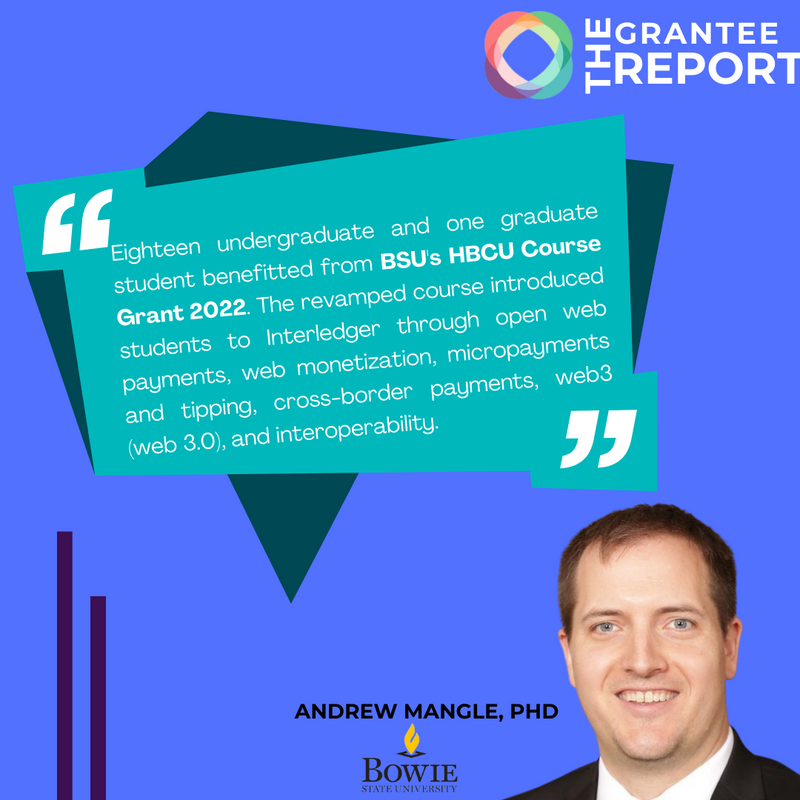 Undergraduate students explored innovative, open payment technologies and learned about ways in which more people can use the internet to gain greater financial access to goods and services.
BSU's Assistant Professor Dr. Andrew Mangle shares the journey and achievements of the program in this week's Grantee Report feature.
---
Project Updates
ILF Financial Services Grantee Jasper Voorendonk - AgnostiPayshares new update on project AgnostiPay
Every month we try to update the ILP community with our progress. We hope that sharing our progress in public helps to connect with like-minded individuals across the globe to make our shared ILP vision a reality. Because together is the only way we can truly make this happen. So if you think you can help us, or if you would like more information, don't hesitate to reach out to us directly. Find our socials and contact details at the bottom of this post.
Technical Feasibility Update
Over the last month, we wrote most of the content for our more technical White Paper. This paper describes our architecture and technical considerations. For the writing of our first draft we integrated various new research findings that were gathered by both deeply studying technical papers and writing code. By diving deeper into the underlying content we discovered more challenges in relation to our aim of creating a completely peer-to-peer architecture. For example, in what kind of ways should we standardize the adding of new providers to our client-side technology, taking into consideration the ease of adding new providers and keeping the flexibility to add completely new and structurally different providers. As we must assume that these will arise in future to which AgnostiPay must be adaptive to provide its value as a 'connector technology'.
---
Community Member Updates
gFam shares new gFam.live monthly progress report
Hi everyone!
December was completely chaotic for me, and so it was interesting to close out 2022 with everything being a little bonkers.
We still want to work with GftW grantees and the web monetization community to help with crowdsourcing marketing and creative work.
If you'd like our help, hit me up!
Here is the latest progress report...
gFam Monthly Progress Report - December
Thanks so much for reading...
Qwyre starts off 2023 with release of new book by Ghanaian writer Cheryl Ntumy, Gavin Chait shares details
Qwyre is starting 2023 with the release of Empathy, a new work of African speculative fiction by Ghanaian writer, Cheryl Ntumy.
In Empathy, a mother tries to save her son from himself in this haunting tale set at the brutal intersection of alien intelligence and humanity.
Cheryl's work is monetised and you can read it here.
Qwyre is a streaming payments platform for collaborative publishing, and an ereader, and received a grant from the Interledger Foundation. Tap left or right on the page to go forwards or back.
---
Updates from Interledger
Proposal Writing Boot Camp
The Interledger Foundation seeks to sponsor two (2) community members to participate in Candid's 3-week, Proposal Writing Boot Camp. This course will help you learn the practical skills needed to build the key components of a competitive grant proposal.
Interested applicants must submit a 1-minute video introducing themselves, their involvement in the Interledger community, and their interest in participating in this course.
---
Did you miss Interledger Community Call this week
Vineel shares new updates on Testnet, Rafiki, Coil plus a community project share out from Malcolm Kastiro
You can also watch or listen to the Community Call at..
---
Contribute to the Interledger project on Github
Hey Community Members,
We invite you to contribute to the Interledger project on GitHub.
Star #ILP project on GitHub: https://github.com/interledger
---
Stay tuned next Tuesday for more details on the February Open Payments Huddle and other community engagement opportunities.
Have a great weekend!