Image (optional)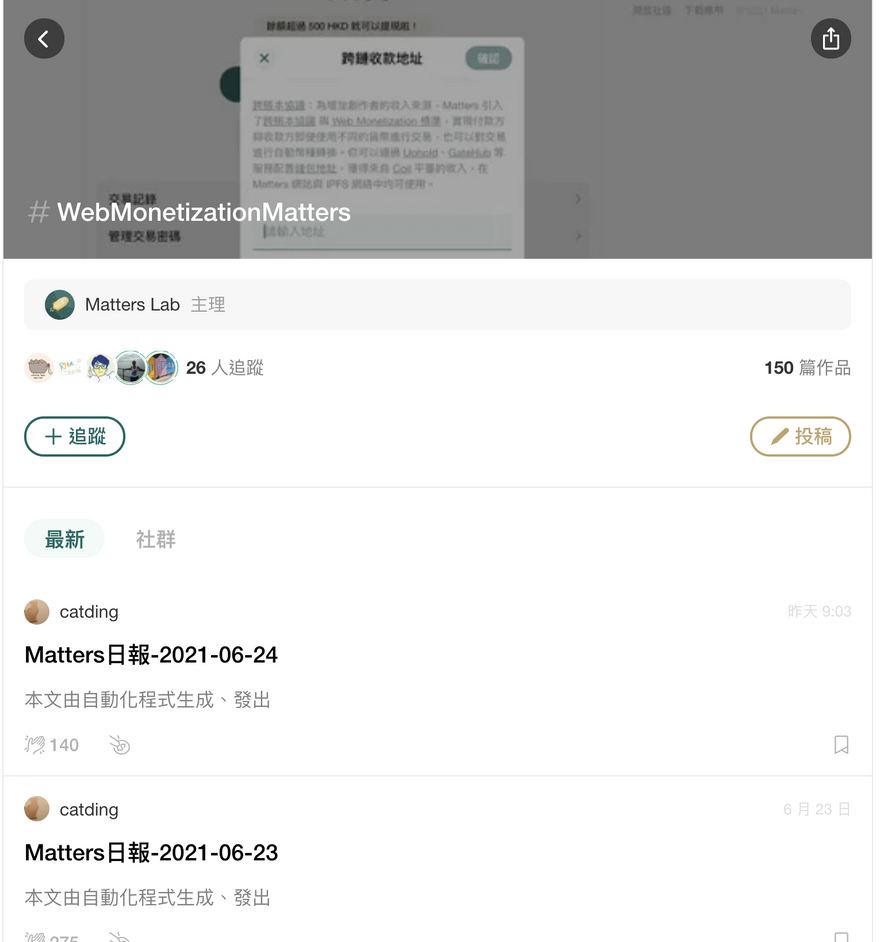 Project Update
The last phase of our project was promoting Matters' Web Monetization integration.
For content creators, the biggest obstacle of adoption of Web Monetization is the lack of content consumers that are paying with Web Monetization, which is especially so among Chinese speaking communities.
It is also a chicken-and-egg problem since the obstacle for content consumers to adopt Web Monetization is the lack of content that supports Web Monetization. Therefore we designed a bounty program to incentives creators to setup payment pointers as the start of a positive feedback loop.
Progress on objectives
We implemented a mechanism of distributing a total of $2000 fund to content creators who has setup payment pointers, based on the total reading time of the content they create.
When setting up the rule of the bounty program, we limit the eligibility to articles published between May 7th and May 20th to guarantee fairness of the fund distribution. In the end 37 articles was rewarded with our fund, with highest rewarded article receiving $194.
However, as long as the creator has enabled payment pointer, all of her/his work will have payment pointer embedded, which corresponds to a large number of content. Up to now 2,635 articles have payment pointers enabled, and the number is still increasing.
Comparing to our original plan, there is one goal we did not realize. In order to encourage our users to familiarize with Web Monetization, we planned to distribute the fund with Web Monetization directly, so the users can experience withdrawing funds to bank account. After research we found out that the only payment client available, Coil, does not support donation of custom amount, and it is non-trivial to implement at the application level. Therefore we ended up distributing the fund via Matters wallet.
Key activities
We first implement a mechanism to determine the distribution of the fund. The mechanism consists of recording read time of articles from user that has logged in to Matters, and calculated the final fund in proportion to the time been read.
After implementing the mechanism, we created an account and a tag for the promotion, and published an article explaining Web Monetization and our bounty program, as well as encourage users to explain and .
Lastly, we distributed the fund according to the calculated result, and published an article publicizing the final result. We then kept curation content related to the explanation Web Monetization.
Communications and marketing
The major goal of this phase is communication and marketing. The bounty program we designed turned about to be a powerful marketing strategy that enabled Web Monetization for nearly 3k articles.
As a user generated content platform, we not only communicated about Web Monetization by publishing content ourselves, but also by encourage users to write about Web Monetization. Users on Matters have written about the mechanisms, mental model and applications of Web Monetization, as well as novel ideas on general content monetization shemes.
Many of these articles are tagged with #WebMonetizationMatters. The articles were written in Chinese, but English reader can utilize our auto translation functions to read the English translation.
What's next?
We will continue to promote and curate content related to Web Monetization, in order to encourage adoption of the standard, especially on content consumer end.
What community support would benefit your project?
As mentioned above, donation to content creator is a common use case. If donation of customized amount is available, either by Coil or other community tools, Web Monetization as a standard will be much more useful in connecting creators and consumers financially.