New MG.Social Web App Interface Preview: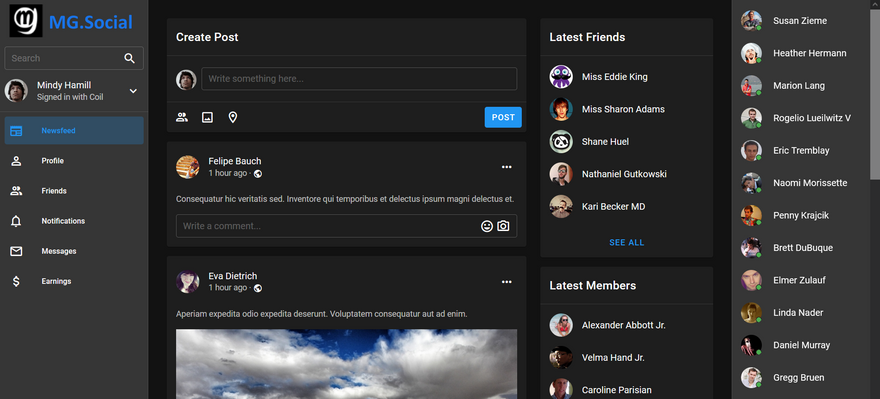 Project Update
Greetings Web Monetization Community!
It's hard to believe September is already here! This year has been flying by as we have been hard at work over the last several months on our 2021 roadmap for MG.Social.
In that time we have launched an MG.Social mobile app for Android and iOS, issued our own MGS utility token, launched our new Public Square decentralized web app, and ran a community governance vote that decided the next XRPL token to be incorporated for Xumm tips on MG.Social.
We continue to work hard on completing the items remaining from our 2021 roadmap and formulating a new roadmap for 2022 and beyond.
The biggest item we have remaining for 2021 is the launch of our new, entirely redesigned MG.Social web app which we plan to release before the end of the year (a preview image is pictured above).
Progress on objectives
Technical Objectives:
-An MG.Social iOS app released to the public: Completed.
-An MG.Social Android app release to the public: Completed
-A redesigned web-front end deployed to production: In progress
-Security audit: In progress
Marketing Objectives:
-Animated marketing video for MG.Social mobile app: Completed
-Animated marketing video for new MG.Social web app: in progress
-New images and banners for social media accounts and blog: Completed
Legal Objectives:
-Business registration: Completed
-Contracting agreements: Completed
Tax/Accounting:
-Consultation, compliance and filling: In progress
Key activities
We have worked with our developers to both enhance our existing products and launch new ones. To enhance our main subscription-based product (MG.Social), we now have our own utility token that we will use as a daily reward for MG.Social engagement. We are building use cases that will utilize our token. One such use case is a decentralized, pay-per-post social network (PS.MG.Social) and another is MG.Social governance voting (Vote.MG.Social).
We had the marketing team, Diburam Creativa, that created our MG.Social explainer video create a new promo video our MG.Social mobile app. We also created new and improved banner images for our blog and social network accounts that match the branding from our new marketing videos.
New Rights Media helped us to draft a new privacy policy and terms of service for MG.Social. New Rights Media also drafted contractor agreements for us for when we get further work done for MG.Social.
We worked with a Firm to incorporate MG.Social as an S-Corp in California. We are working with an accounting firm to provide accounting services and ensure we meet all tax obligations.
Communications and marketing
We have been sharing updates about our progress and the things we have in the works at:
-Our Web Monetization Community page
-Our own MG.Social platform.
-Our MG.Social Blog.
-Our Twitter.
-Our Cinnamon.Video page.
Interviews:
We had a great chat with Greg Hannan of Vivid IoV Labs about how we got to where we are and our vision and future of the MG.Social platform.
Below are links to the marketing videos created for us by Diburama Creativa:
Platform Inroduction
Mobile App Launch
Merchandising:
This is one area we did not address in our grant. We have recently designed and purchased MG.Social merchandise and will be launching an online store soon. The one logistical hurdle we've been trying to iron out is the costs associated with international shipping. Our online store platform is setup and ready to go and can be found here. We will add in products once we solve the shipping issue.
What's next?
For the remainder of the grant period we will work to complete and launch the new MG.Social web app. We will be meeting further with our accounting firm to ensure our tax compliance is met. We also still need to implement our local community engagement project. We have outlined the program and in the process of implementation.
What community support would benefit your project?
Anyone from the community is welcome to join MG.Social and give us feedback on how we can improve the platform and experience. If anyone has any questions about our experiences or need any guidance feel free to reach out to us through any of our channels listed below.
Additional comments
Thank you to everyone in the Web Monetization community for all your help and encouragement! Special thanks to Adam Waring of @gfam and @ericahargreave who have been particularly helpful to our project. Best of luck to everyone on their projects!
Relevant links/resources
MG.Social
PS.MG.Social
Blogs.MG.Social
MG.Social on Twitter
MG.Social on Cinnamon