Image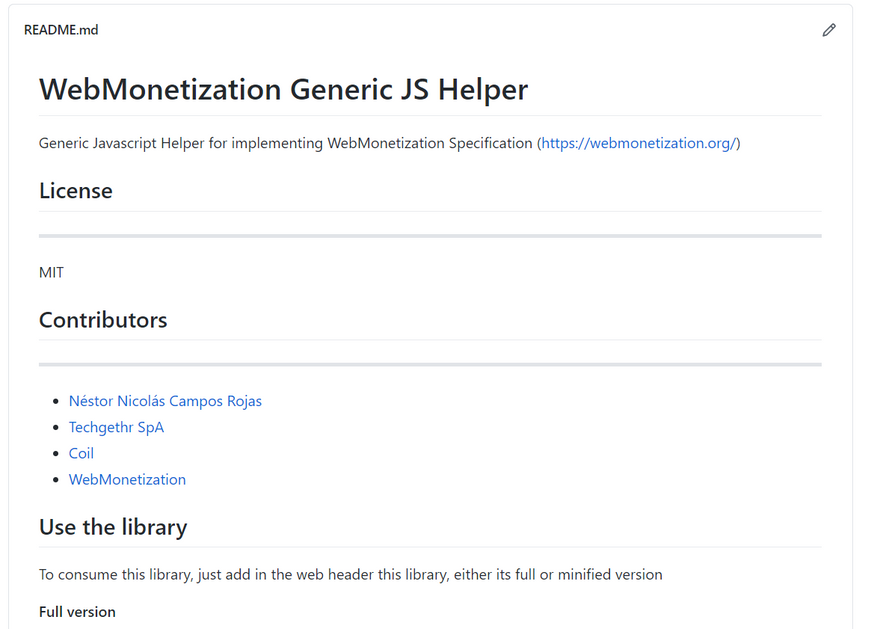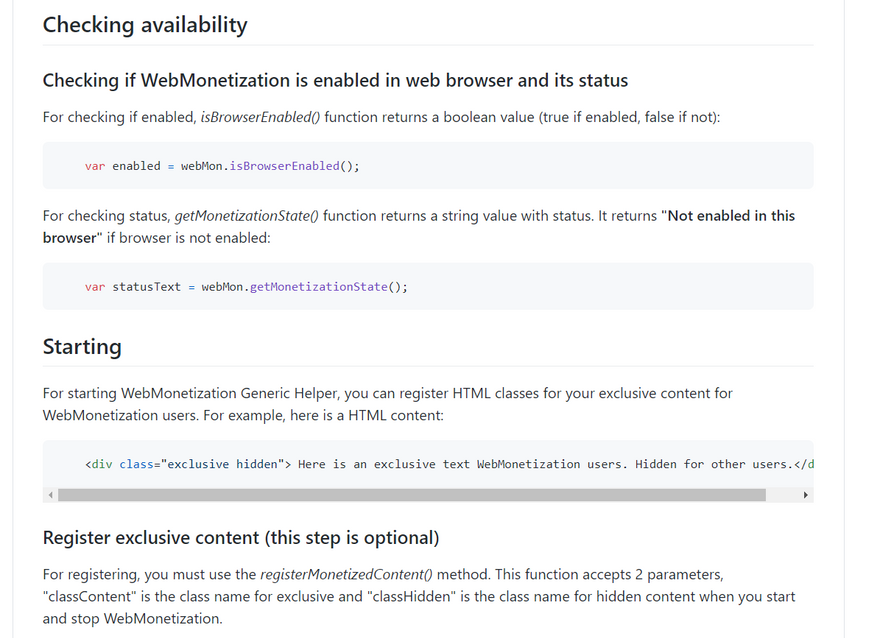 Project Update
This project is about designing helpers for different libraries in Javascript, to simplify the use of WebMonetization in new applications. Along with this, it involves promoting these technologies through events and hackathons, starting in Latin America.
Progress on objectives
Development: The design of the libraries proposed in the project has progressed well, in the coming weeks we will finish publishing the rest, along with examples to understand the use of technologies.

Events and marketing: This point has been a little slower, and has been delayed a little, because in Latin America at the time of this report, we are still in the summer period and the technical communities and students are also on vacation, which has not allowed to organize events with much people, therefore, since March a series of events starts for different parts of the continent. Also, we are acquiring some zoom accounts to be able to organize massive events without restriction of time or participants.

Software and hosting: We bought a private code repository on Github for the team to work on, before releasing it freely. To save cost, we are taking advantage of the support of a Chilean company with its own public Github account, to reach more people.

Hackathons: The amount for hackathon is still reserved for the period when it is made public and starts running.
The expenses incurred so far have been sent to the team. In this project, most of the fund goes to human resources participating in the different parts of the project.
Key activities
Technologies development: Several times a week we update the libraries developed and in the following weeks we will make the new libraries public. For those that are not yet public, we are in the validation and testing stage to confirm and correct any possible bug.Links are at the end of this report.

Events: We are putting together an event plan, which includes zoom calls and participating in other free software events, therefore, we depend on the technical team to design some examples with the technologies created to be able to show them.

Hackathon: We have been in contact with a couple of Chilean universities to participate and promote the hackathon since the beginning of March, when the students return to classes. We are also talking to some companies with technical communities in South America to promote the hackathon when it goes public.
Communications and marketing
We have created a community in meetup and the events will start soon.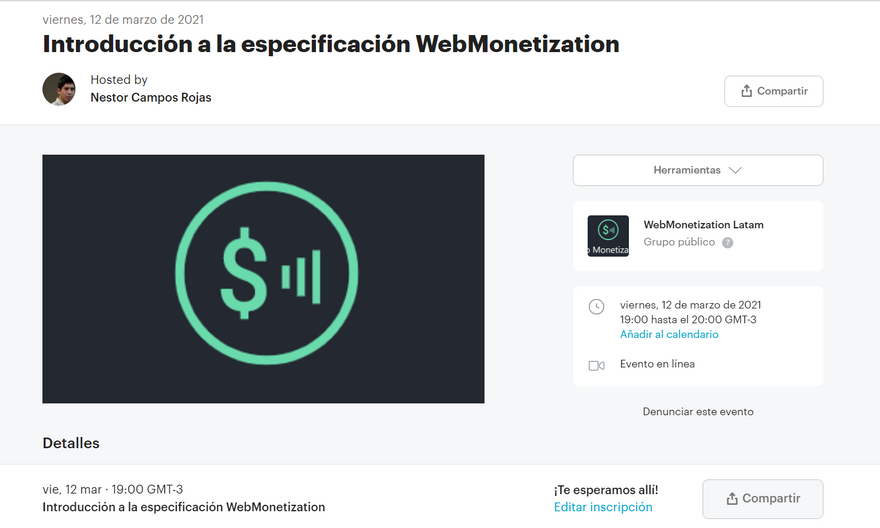 We are preparing a couple of hackathons so that the community in Latin America and students from all over the world can design applications taking advantage of the libraries we are building.
The amount allocated to marketing has so far been used to acquire the meetup.com plan (US $ 10) and the rest of the amount we are ordering to generate prizes for the hackathons.
What's next?
We are closing the development of the helpers for other Javascript libraries, Vue.JS, Angular and React.
In addition, in parallel, the team is building examples with the technologies we are using to facilitate the community to understand and use our developments.
In addition, we are fine-tuning communication details to publicize the first hackathon (it will start in late February) so that the community can learn about WebMonetization.
What community support would benefit your project?
The main objective of the project is based on technologies and events being able to participate as many people as possible, so the community can test our developments and promote the events found in the links below.
Relevant links/resources (optional)
Latam Meetup Group and events
Generic JS Library created
NodeJS Library created