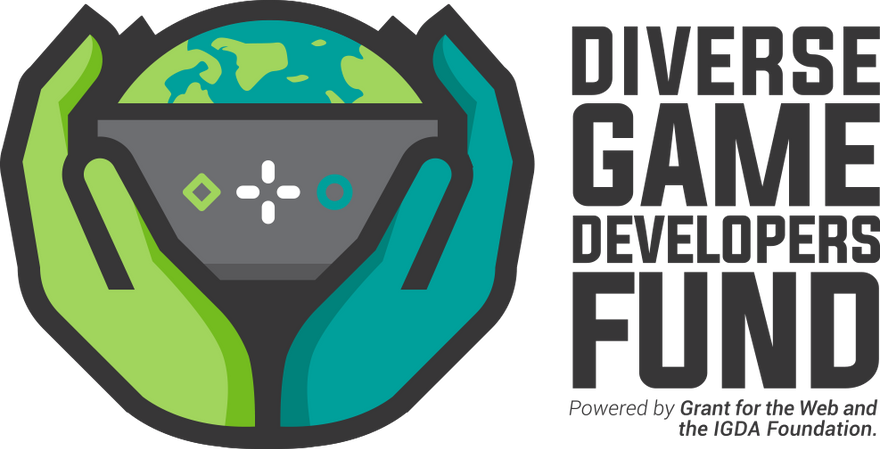 Project Update
In partnership with Grant for the Web, The IGDA Foundation, a diversity and inclusion focused video game non-profit, aims to support underrepresented entrepreneurs seeking access and resources for individuals and independent teams on a global scale. Through this partnership, we developed the Diverse Game Developers Fund, a three-part initiative dedicated to empowering and funding marginalized developers and students in the games industry. Our goal is to create pipelines for diverse, global innovators who suffer from compromising their intellectual property for minimal gain. With the guidance of a steering committee, composed of game and tech industry luminaries, IGDA-F and GftW seek to decentralize access to funding, increase awareness on monetization alternatives, and educate communities on the value of open standards.
After receiving 142 applications, both the prototype and scholarship programs are underway with a requirement of meeting four milestone check-ins. All prototype fund recipients have passed the two milestone reviews and are working towards completing their third milestone goals. Scholarship recipients are in the process of participating in their third milestone check-ins. This six month program is meant to creatively support global innovators who suffer from compromising their intellectual property for minimal gain.
Progress on objectives
The IGDA Foundation set out to execute on three objectives. Given theprogram's ambitious goalsm, we set to extend our planning milestones to adequately source the best possible candidates, partners, and thought leaders in striving towards key results. Progress on each of our objectives and how we plan to achieve key results are included below.
Objective 1 - Explore monetization experiments through prototype funding
Key Result - Fund and deliver 8-12 prototype monetization experiments
Update - A core objective of the program is to explore the possibilities with alternate monetization and business models within the games industry. A large portion of our funding was redistributed to 10 ten teams and recipients located in Chile, Columbia, Israel, Jamaica, Nigeria, Puerto Rico, and the United States. Crews are currently halfway through developing their prototypes and meeting their milestone requirements. A breakdown of the funded prototype games is included in the key activities section of this update.
Objective 2 - Increase awareness for monetization alternatives
Key Result - Run 2-3 game jams with the theme of monetization experimentation
Update - Early in the program, the IGDA Foundation sponsored the Global Game Jam which included a Web Monetization standard as an option for jammers to incorporate in their games. Following up with this event, the IGDA Foundation intends to host a second game jam specific to Web Monetization with cash prizes in August.
Key Result - Hold academic workshops for research papers on the topic of in-game monetization and economics.
Update - Due to COVID-19 and travel restrictions, the IGDA Foundation could not partner with conferences focused on gaming, digital entertainment, and interactive technology. Instead of sponsoring a traditional conference, we opted to award scholarships to students from Canada, England, Germany, Nigeria, United States, and Zimbabwe. These scholars are currently working on academic papers, local events, developing games, or building technology to explore alternative monetization efforts.
Objective 3 - Educate the community on the value of open standards
Key Result - Engage with 100+ partners and thought leaders of the IGDA Foundation community
Update - In an industry dominated by commercial engines such as Unity and Unreal, and platforms like Steam, Apple, and Google, it is easy for game developers to overlook the intrinsic value of open standards and the FLOSS community. Through our upcoming 2-day virtual August summit, we intend to raise awareness of these topics by incorporating them (including potentially material provided by GftW if appropriate/available) into our existing programming.
Key activities
Prototype Fund: Project Breakdown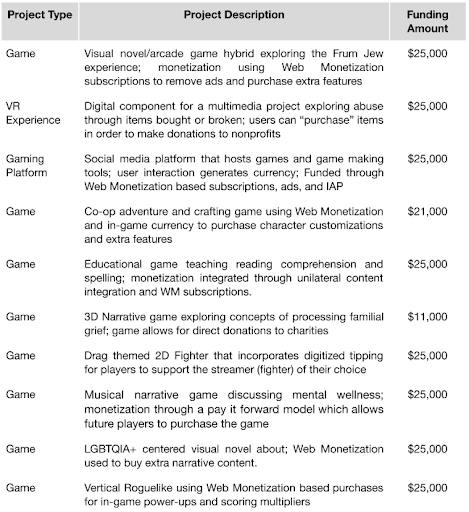 Scholarships: Project Breakdown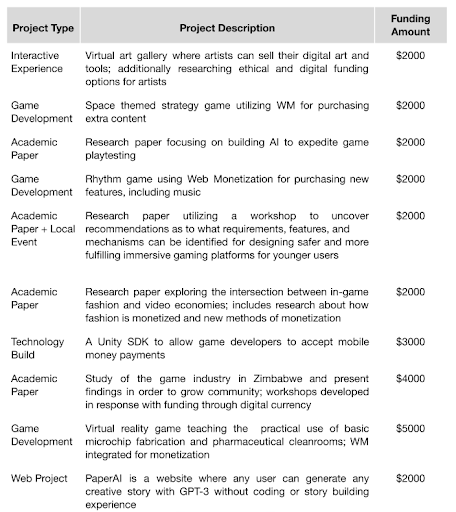 What's next?
The IGDA Foundation will spend the next two months finalizing current recipient projects, executing a game jam, and producing a virtual showcase. We are looking to host a focus on our game jam component of the fund in July or August. The showcase will serve as a vehicle to tell the story of the IGDA Foundation and the Grant For The Web Fund while highlighting the need for diversity, equity, and inclusion in the video game industry. Our virtual program will highlight the recipients of IGDA Foundation's Diverse Game Developers Fund and illustrate additional gaming grant recipients from Grant for the Web's community. This Twitch event will serve as an opportunity to increase education and awareness of alternative monetization methods in game development and game adjacent opportunities.
What community support would benefit your project?
We are incredibly grateful to Grant for the Web and their support for more diversity, equity, and inclusion in the video game industry. As we look forward, we would like to invite all other Grant for the Web gaming grantees from this community to reach out if they're interested in speaking or participating in our August virtual summit. Additionally, please let us know if you're interested in partnering with us on our global game jam. We're looking for judges, experts, and folks to support these efforts as we close out our programming. If interested, please don't hesitate to reach out to our program lead, Sarah Spiers, at sspiers@igdafoundation.org.