Image (optional)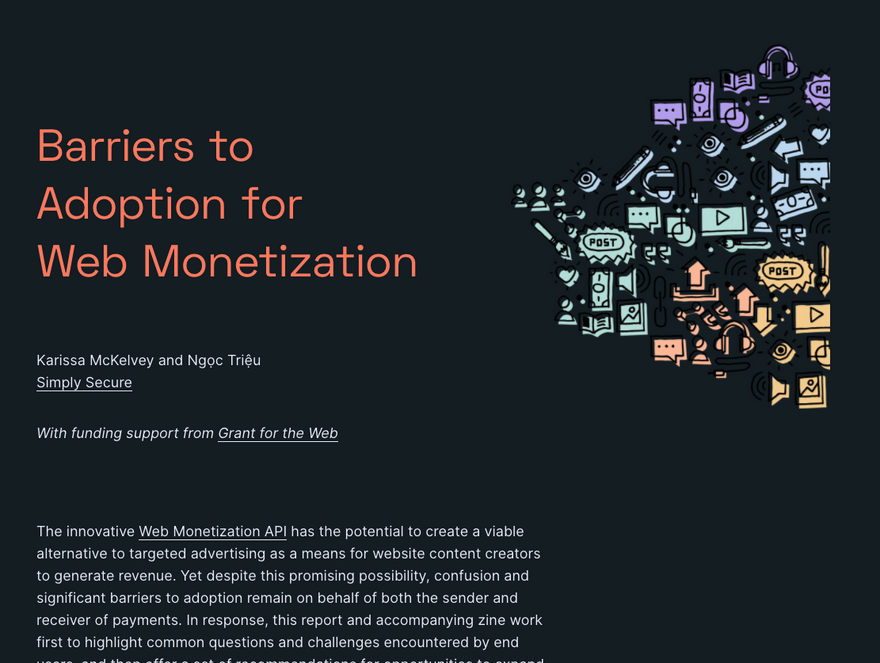 Project Update
Overall, our research revealed that web monetization is still in an early innovation phase with significant barriers to adoption ahead. Although the ultimate goal of the process is for the end user is to pay the creator, and for the creator to get paid, we found numerous hurdles to accomplishing this goal for either group. These include the unknowns of the user journey, the in-depth identification requirements and variance of centralized financial services, and the incorporation of new mental models.
Progress on objectives
Our research into the current barriers to adoption for the Web Monetization API revealed multiple opportunities to help expand adoption and mitigate end-user issues. If incorporated, the recommendations offered below would help reduce user confusion, increase transparency, and improve overall retention rates. The recommendations are organized by target user groups.
Streaming platforms such as Coil should:
Enhance subscription transparency. Provide real-time feedback in the streaming platform website (for creators) and in the web extension (for audience members).
Provide better wallet support. Support a more diverse set of options and reduce dependency on a particular type of financial wallet platform.
Add creator-friendly documentation. Provide step-by-step instructions, including screenshots, on how to start making money quickly with existing platforms (such as Patreon, YouTube, or Twitch).
Include a web extension walkthrough. Such a walkthrough could be displayed immediately after installation to help explain why and how the web extension is needed.
Automate the sign-up process. Implement a self-serve user interface with the ability for users to automatically enable OAuth and receive a developer key as part of a user interface.
Creators who want to use Web Monetization should:
Add a payment pointer to their website. After signing up, creators are provided with a payment pointer -- sometimes called a "Wallet URL" -- which is a series of numbers and letters unique to the creator. The creator should add this to the HTML of their website to start using Web Monetization.
Provide an ad-free option. Offer users a button that provides the option to "Remove advertisements" as either a banner ad or a blocking pop-up.
Inform their audience. Explain how to install the appropriate web extension or browser that supports web monetization by using a step-by-step process and links.
Maintainers of the Web Monetization API and Interledger Protocol should:
Remember developers are users. Mobile and desktop applications that support payee-payer relationships on their platforms could be potential early adoption partners if they are targeted and curated through better communication and transparency.
Design for built-in tipping. Enable tipping directly in the web browser itself by presenting a button that would allow for a tip to be sent directly to the creator of the content currently on the page.
Test recommended services. Creating a process for monitoring the quality for any of the services linked to on the main Web Monetization webpage.
Key activities
We published a report, 4 design patterns, and an explanatory zine for the web monetization community. It is all compiled here on https://decentpatterns.xyz/projects/web-monetization/
We also published 26 design patterns for decentralized applications thanks to the support of this grant, which you can browse here: https://decentpatterns.xyz/library
Communications and marketing
We are publishing a blog post on the Simply Secure blog as well as writing an op-ed about this work forthcoming in a 3rd-party publication.
What's next?
This is the final piece of our grant with Grant for the Web, but the Decentralization off the shelf project continues to produce design patterns for this space.
What community support would benefit your project?
If you are interested in future work and community calls, please sign up on our newsletter (https://tinyletter.com/decentpatterns) or follow our twitter account (https://twitter.com/dcentraldesign)
Contribute to any of the patterns! Each pattern has an 'Edit this pattern' button which directs you to the corresponding GitHub page.